Are you packing for Greece shortly and looking for ideas for the best photography spots in Santorini? We've created a list of the best photo locations in Oia, Fira, and Imerovigli and we have also included some useful tips for you.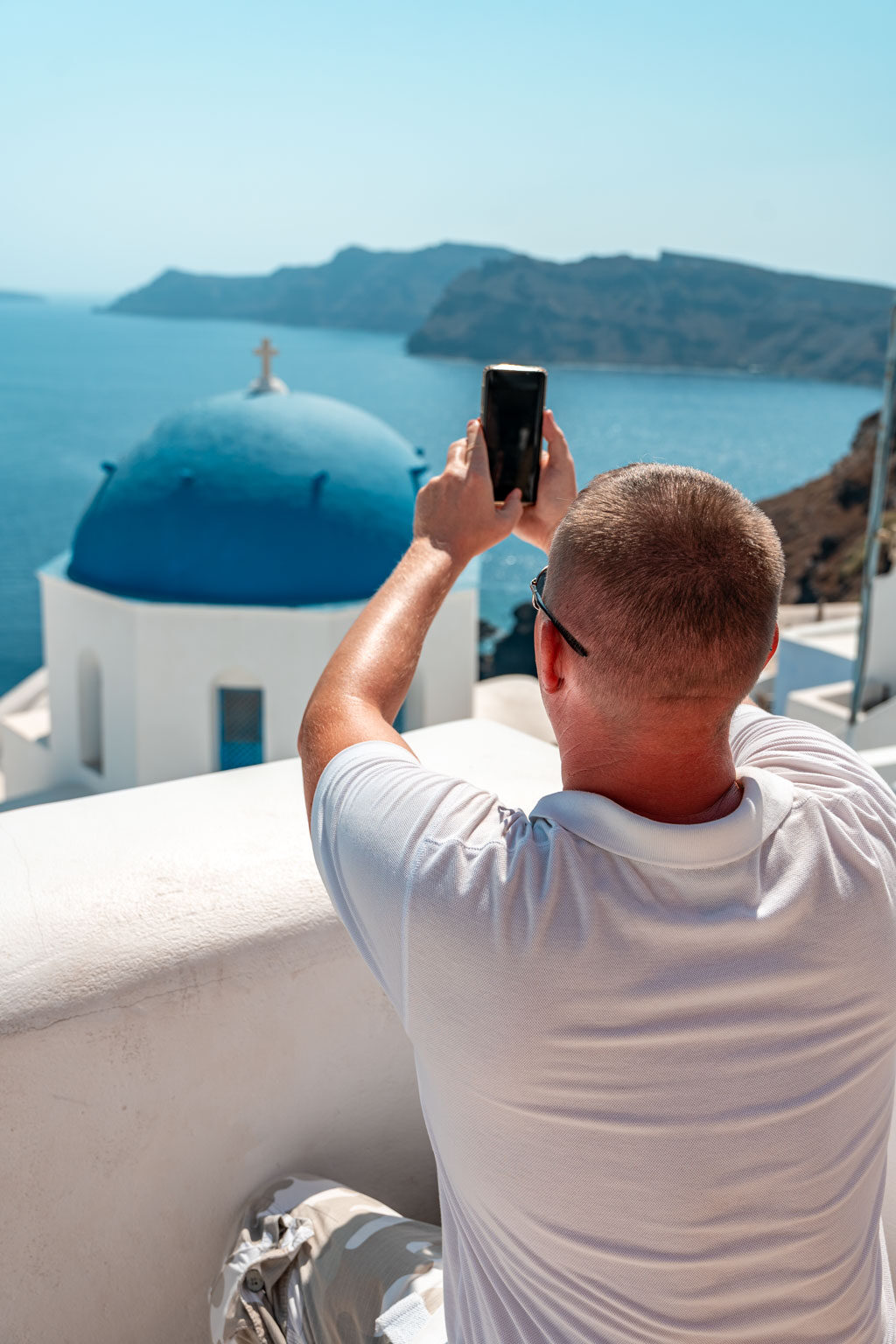 Let me warn you first: You will have a problem choosing the best photography locations in Santorini because there are so many of them!
When I was planning a trip to Santorini, I was worried if we would be able to find those beautiful places. But the truth is you can't miss them. Yes, you might miss one or two, but you will find the other twenty equally magical.
When it comes to choosing the best photography spots in Santorini, keep in mind that every person has different expectations. Some of you might be after the most Instagram-able photos of Santorini, while others look for unique photography spots or not-so-crowded places.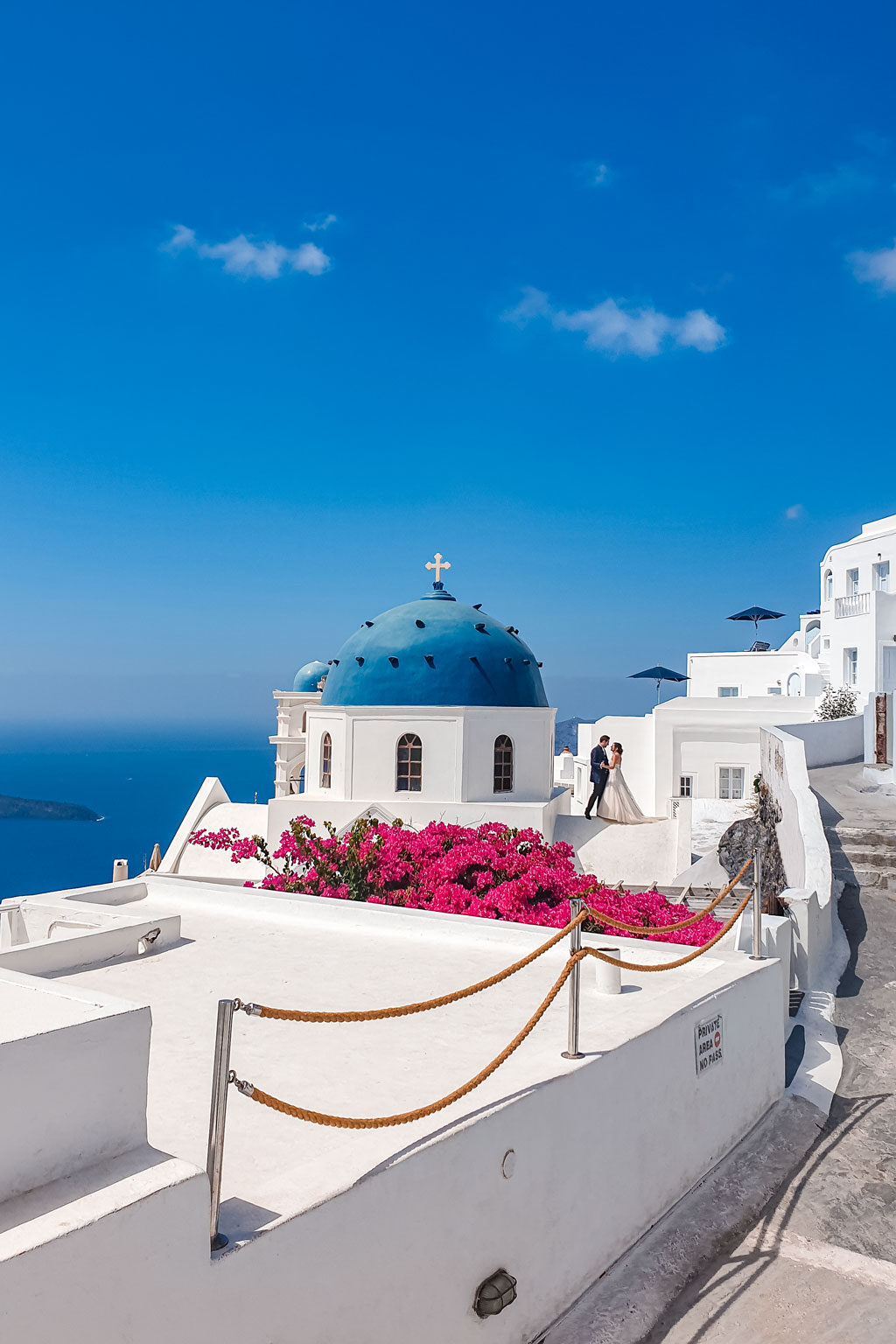 Where is the best view in Santorini?
In my opinion, there is no such thing as the best view in Santorini. The reason is simple: There are way too many beautiful views and the more you walk around, the more amazing places to take photos in Santorini you will find which makes it quite difficult to decide which one is the best.
Oia, Imerovigli, Firostefani, and Fira – these quaint villages on the west side of the island are the most popular spots for photography in Santorini, with Oia being the best of the best. This means that if you only have a day in Santorini, you have to visit Oia.
Tip: If you visit Santorini in summer or during the busy times (which is anytime in summer after 8:30 am) and are not sure where to go, you simply follow other tourists or cruise ship groups and they will lead to you the best spots to take photos in Santorini.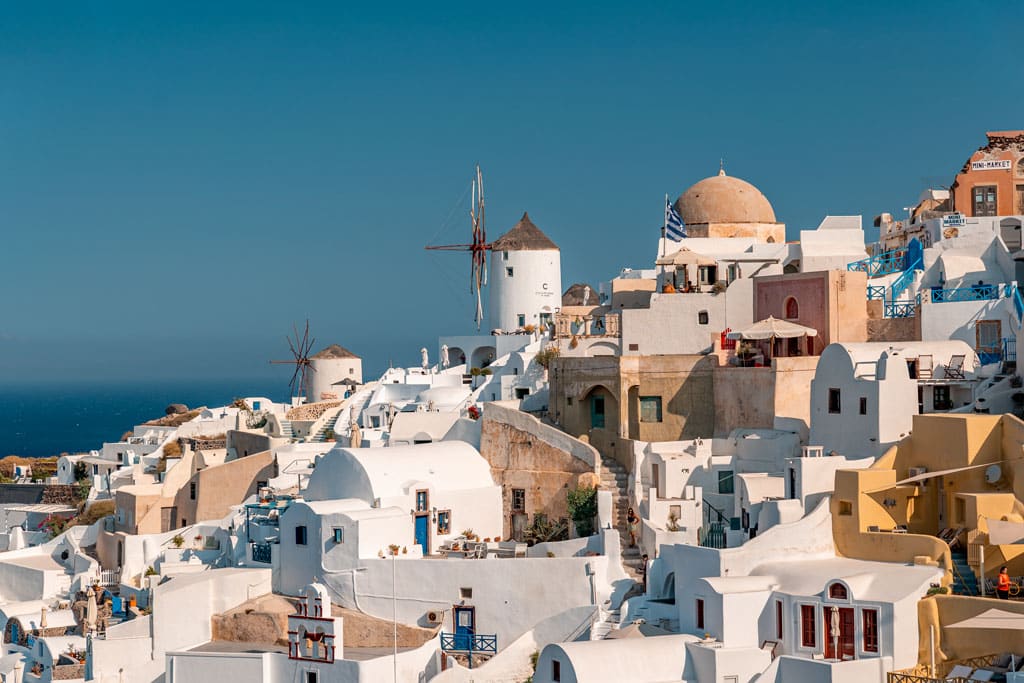 Where are the 3 blue domes in Santorini?
You will find them in Oia. You can't miss them because chances are, that you will have to queue to get a shot of them. Either from far away or nearby.
For the best experience, I highly recommend spending a night in one of the rooms nearby that overlook these churches. It's an unforgettable experience (See our photos. In case you are wondering where to book a room on this most popular Greek island, then I have a quick guide on Where to Stay in Santorini, if interested).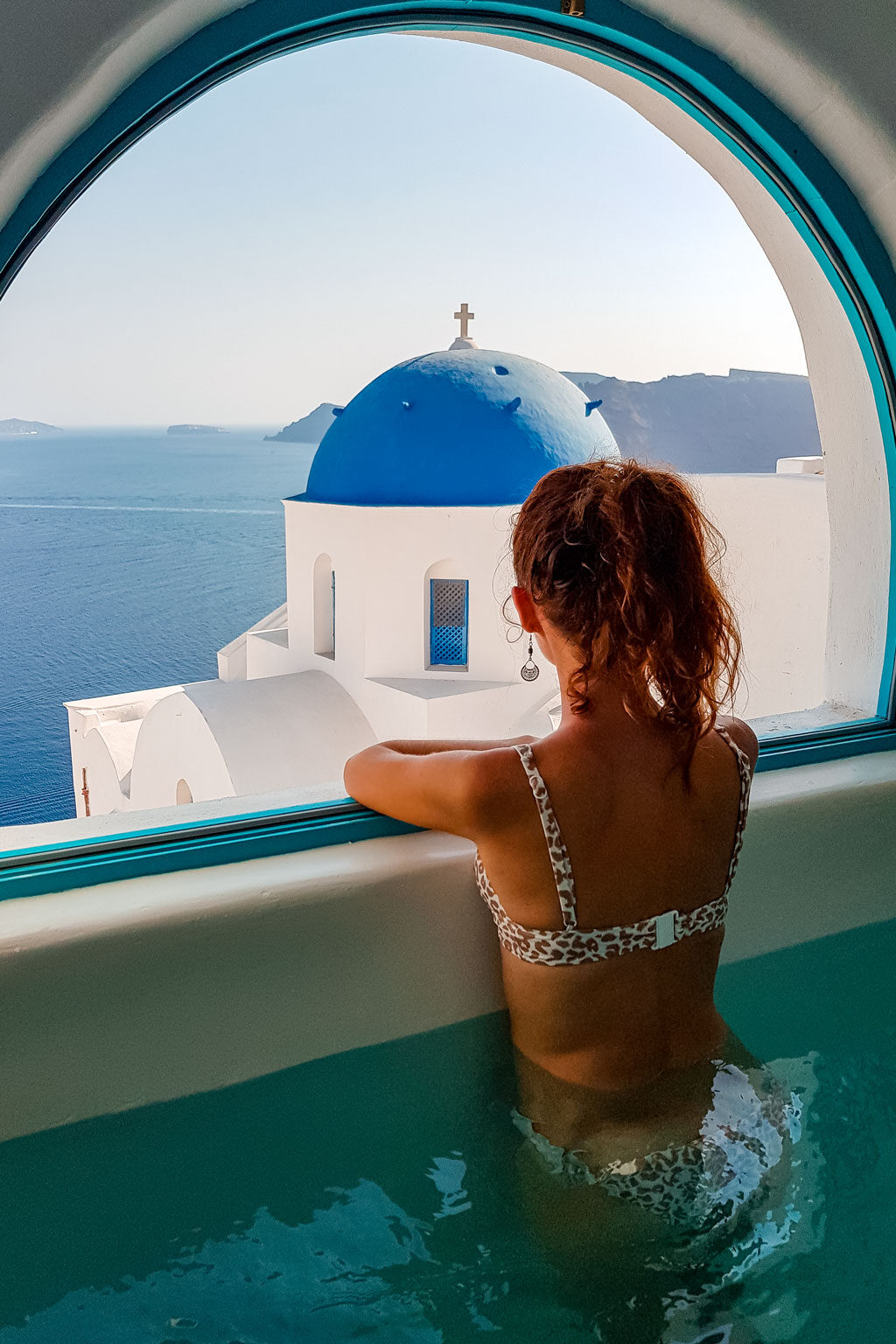 Our favorite photography locations in Santorini:
Oia:
Three blue-domed Churches.
Any quaint street with souvenir shops.
The windmills (either shot from Oia castle or from one of the narrow streets close by).
Atlantis Book Shop terrace – the area was pretty enough itself but the views from there were beautiful. Now, you can get the sea views from other places as well, just keep exploring.
White church/chapel in Oia.
Narrow street leading down towards the sea (close to the white church).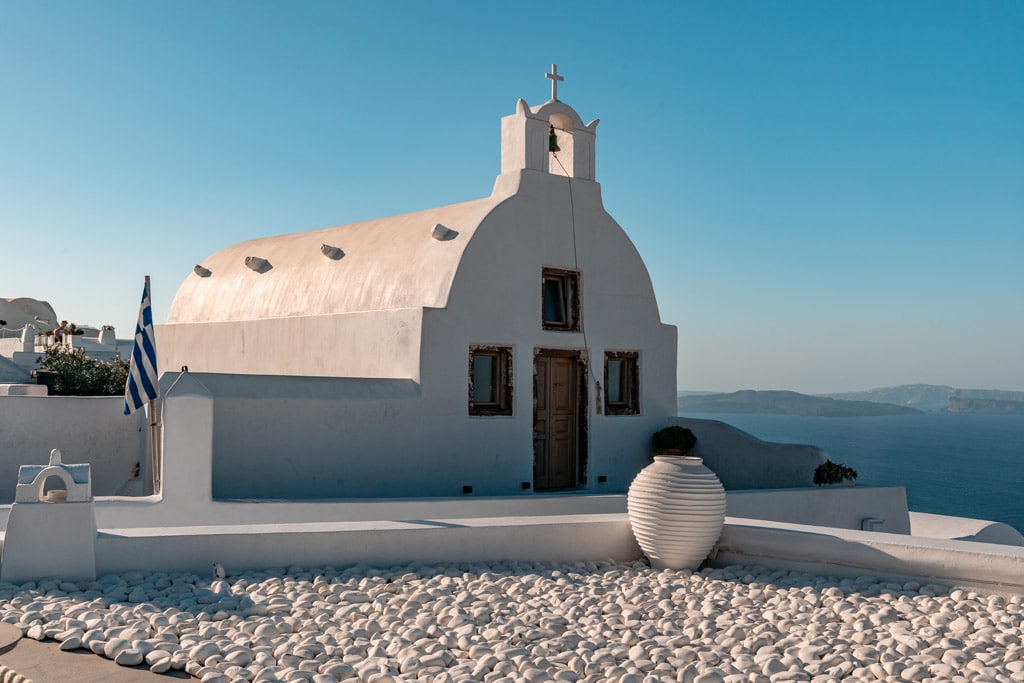 Imerovigli:
The Skaros Rock – there are some excellent photo opportunities from every angle there.
Blue-domed Anastasi Orthodox Church.
Narrow streets with sea views.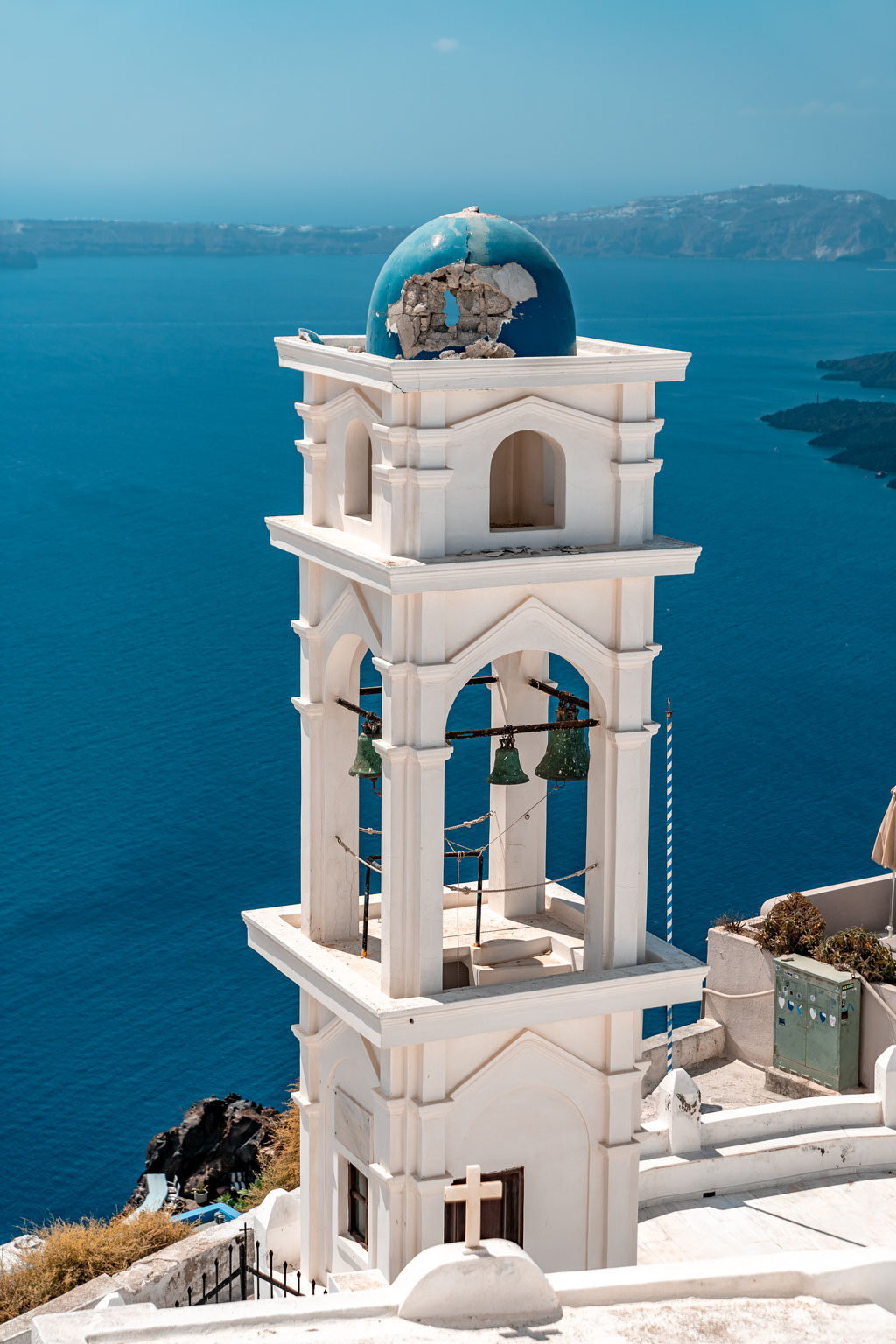 Fira:
Fira Main Square.
Church of St. John the Theologian (right under the Main Square).
St. John the Baptist Cathedral.
The Catholic Church of St. Stylianos.
Souvenir shops.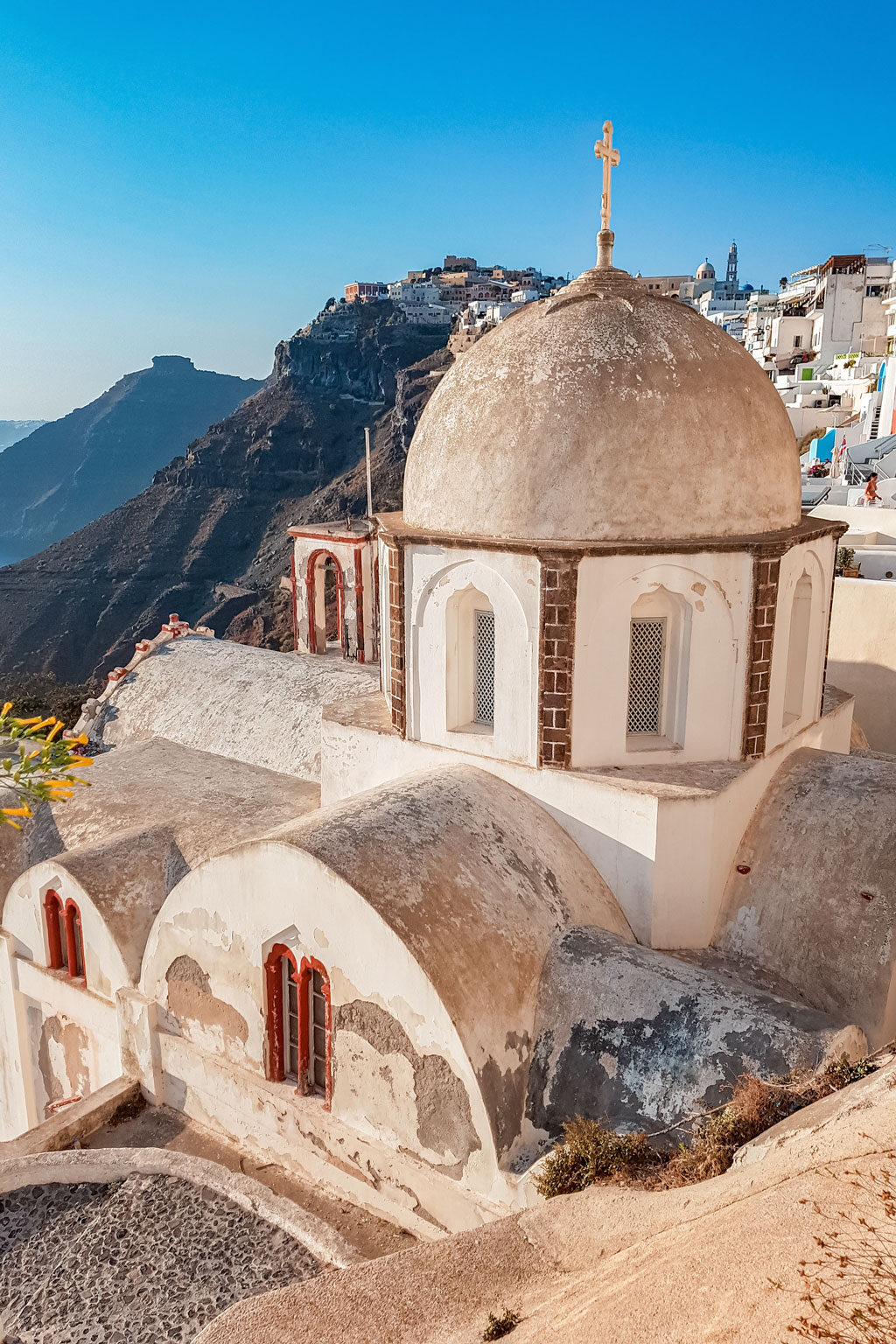 On the hike from Fira to Imerovigli:
Virgin Mary Orthodox Church or known as 3 Bells of Fira.
Old boat (close to the Virgin Mary Orthodox Church).
Plus, a ton of beautiful unknown spots on the hike that make you stop and enjoy the magnificent views. Because they truly are magnificent.
Tips for taking the best photos in Santorini
Start your day early in the morning to avoid having to queue to get the shots you are after. Groups from cruise ships start arriving in Oia as early as 8:30 am and by 10 am you will be surrounded by them (especially in high season).
Be patient. Everyone wants the same – to take amazing photos.
Some restaurants and cafes offer nice views (sunset, caldera views, domed churches, etc.) but these are extremely busy in summer so you might need to book ahead. We had breakfast at Lotza where you can sit outside on the terrace and enjoy sea views as well as blue-domed church views.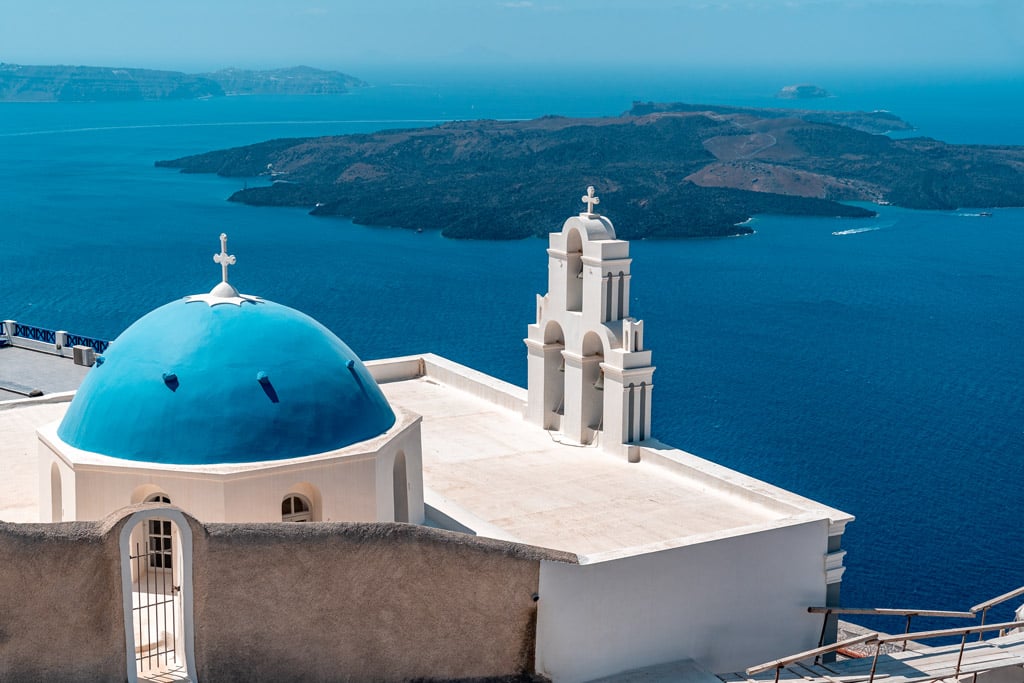 What gear we used
Camera Body: Sony a7 III – Full-frame mirrorless camera.
Camera Lens: Sony 24-70 mm F2.8 Full Frame G Master Lens – Full frame, ultra sharp, beautiful image quality mid-range zoom lens.
Lens Filter: Hoya Variable Density Filter – Enables more control over the exposure settings of the camera, for both still photography and video use.
Tripod: Joby GorillaPod – Flexible lightweight mini tripod that is easy to use and very durable. It can support cameras up to 3kg (6.6 lbs).
Memory Card: Sandisk Extreme Pro 64 GB – Transfer speeds up to 300MB/s for maximum workflow. Full HD and cinema-quality 4K video recording.
Phone: Samsung Galaxy S9 – Super speed dual-pixel camera phone.
* As an Amazon Associate and member of other affiliate programs, I earn from qualifying purchases.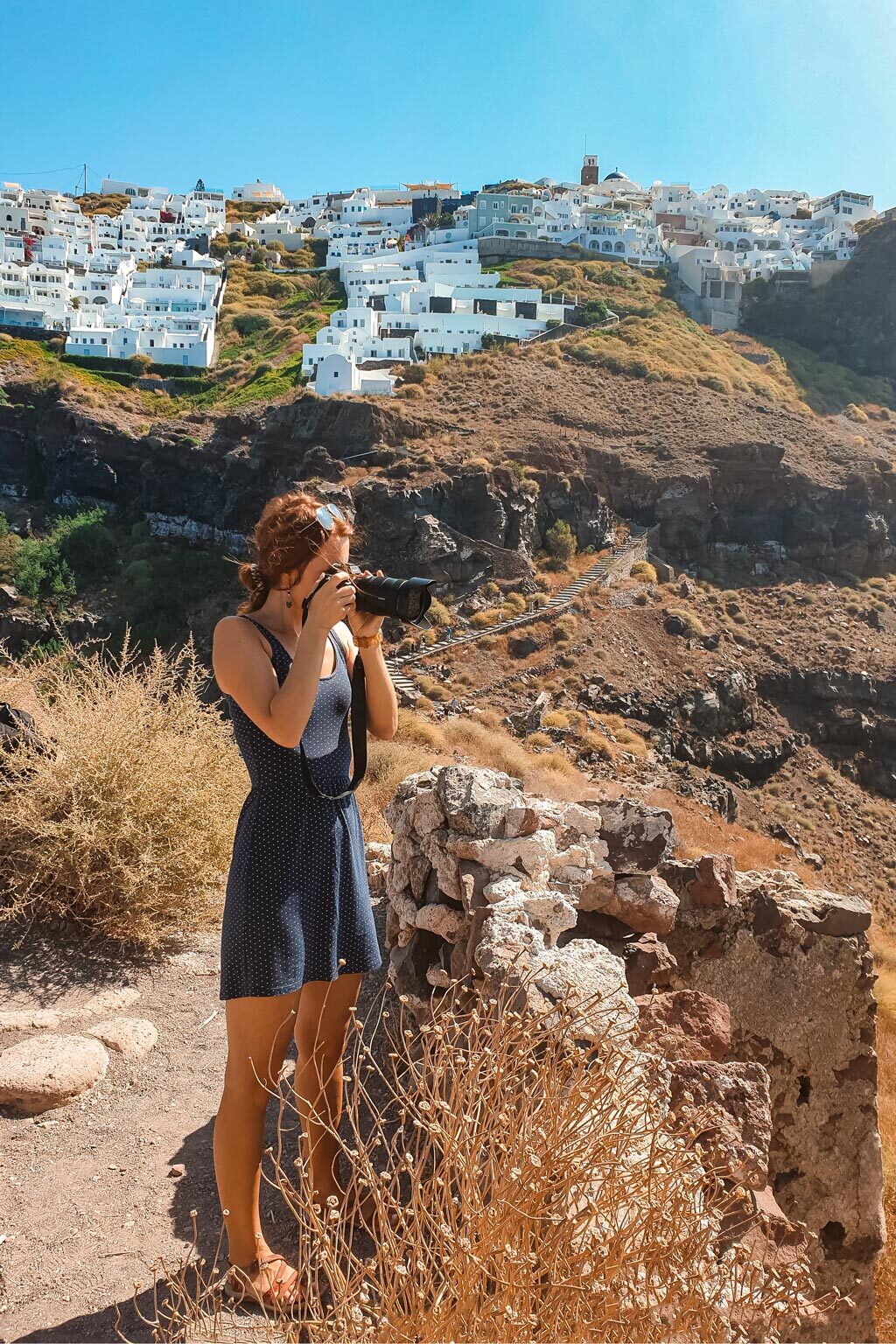 When packing for the Greek holidays we decided we would be traveling as lightly as possible. At first, we were not 100% sure if we can manage, but we managed to have one backpack each.
This meant that we also had to prioritize what photography gear to take with us. We did not take a large tripod with us, but we did take a small one (which we had not used at all by the way).
If you want to take one, just remember that unless you wake up before sunrise, you won't be alone there so setting it up in one of the narrow streets can be quite the challenge with people constantly passing by.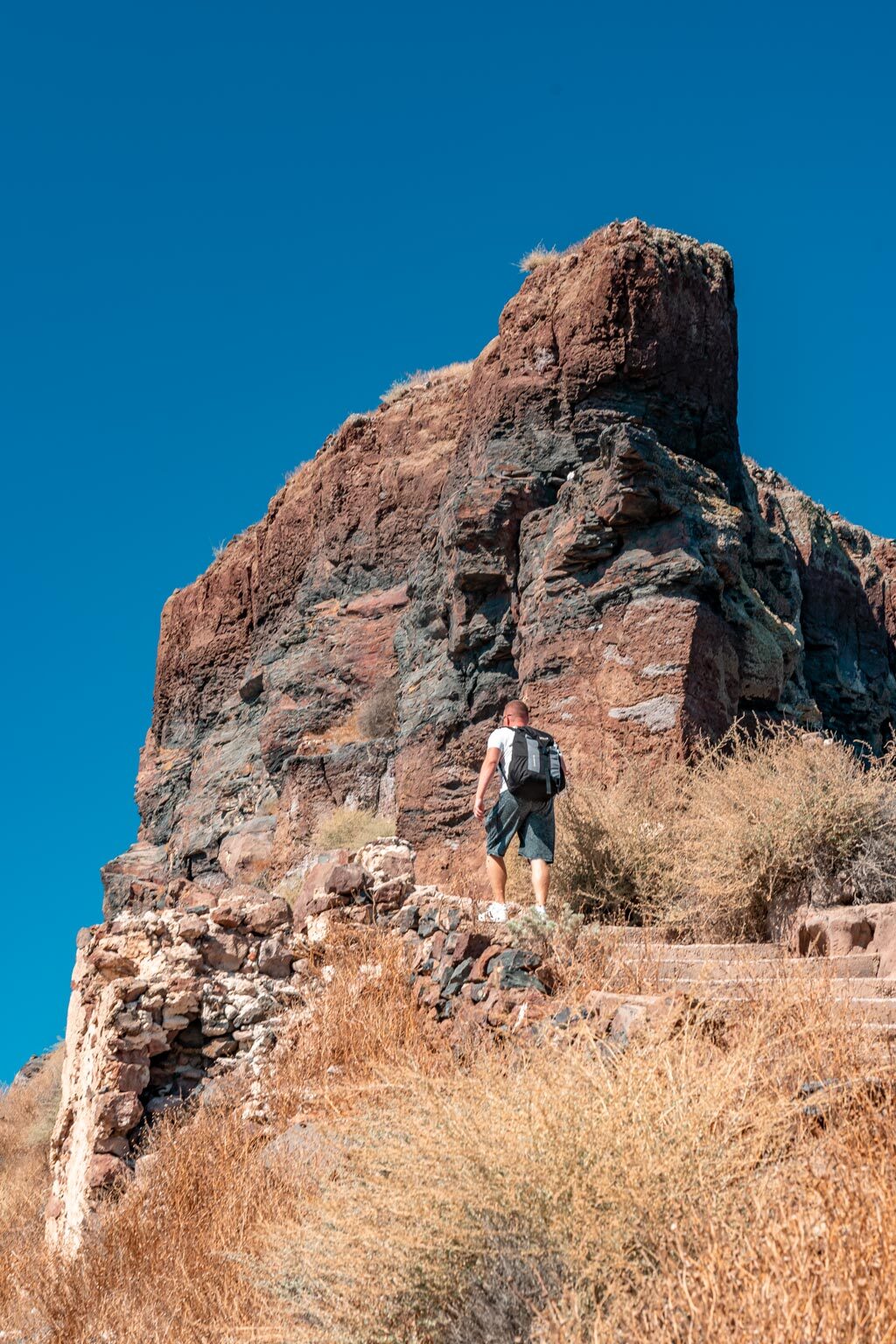 More posts you might find helpful when planning a trip to Santorini:
If traveling via Athens and thinking of staying a night or two in this city, I have some useful posts for you:
That's all from me for now,
Julia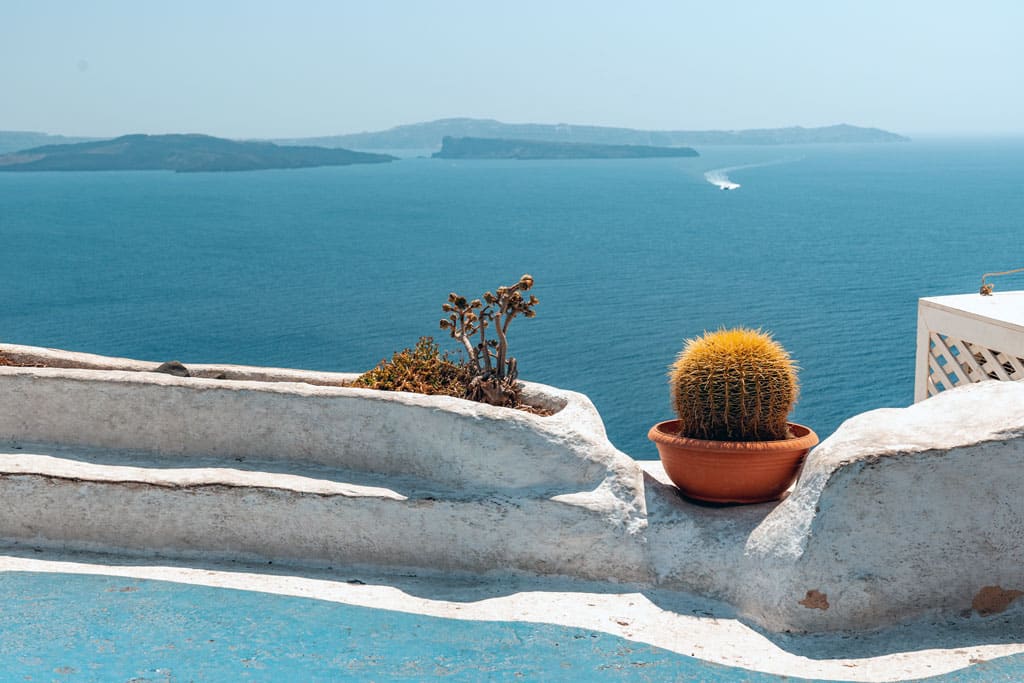 RELATED