Need help getting from Piraeus Port to Athens? This guide will explain everything you need to know about Piraeus Port and how to get from there to Athens, including valuable tips. (I wish I had known before I arrived).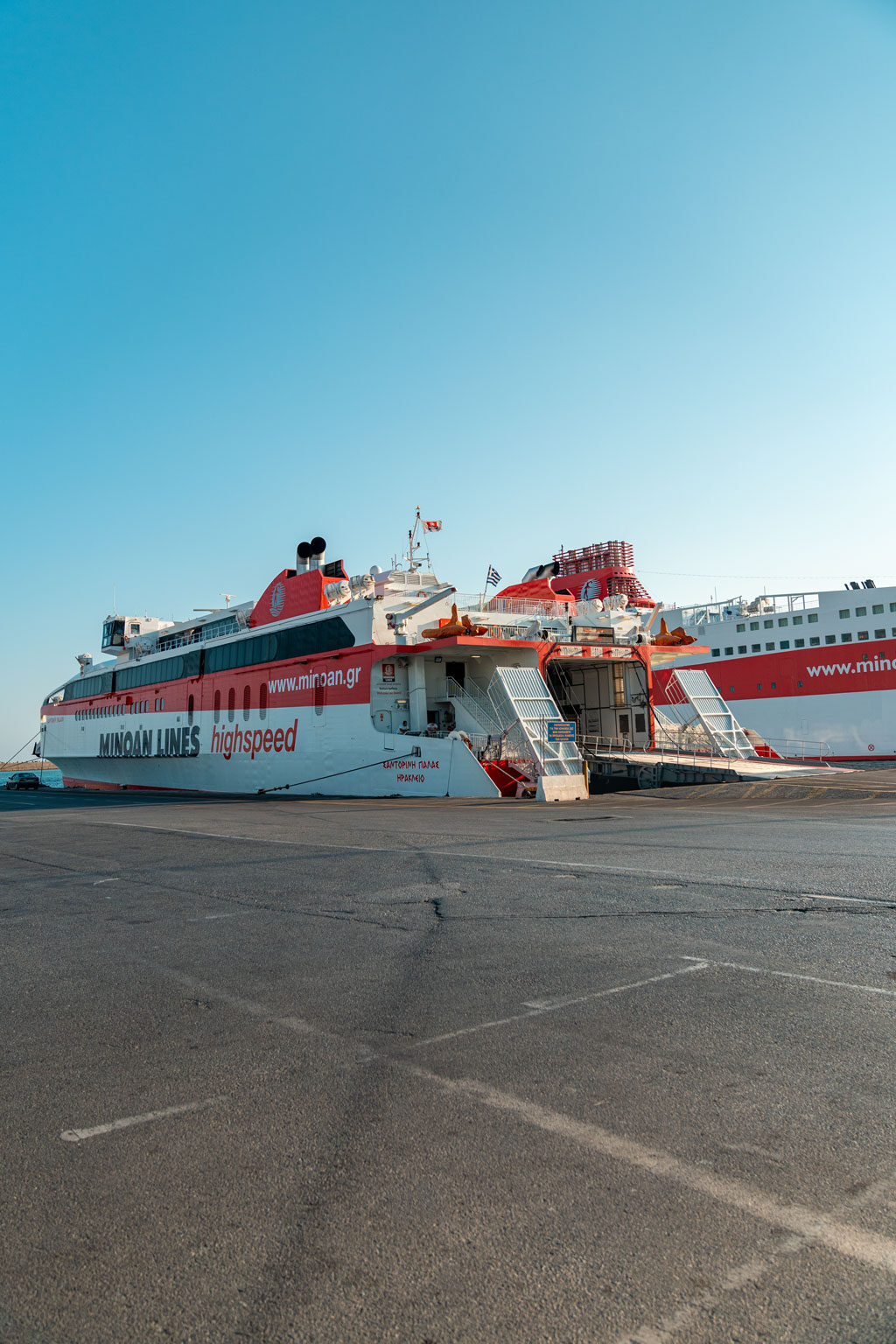 Now, you can get from Piraeus port to Athens by various means of transfer.
It is entirely up to you what you choose but let me tell you a few facts about Piraeus Port and getting from Piraeus Port to Athens first. Then, you can decide what option works best for you.
Piraeus port is huge so there are several terminals where all the ships dock. Now if I understand it correctly, there is a system in place so depending on what island you are arriving from, you will be docking there.
Say, you arrive from one of the Dodecanese islands or Cyclades, you should be docking at terminal E1. If your ferry comes from Heraklion (Crete), your ship will dock at terminal E2 or E3, etc. It seems to be a pretty straightforward system so you can easily plan how to get from Piraeus port to Athens.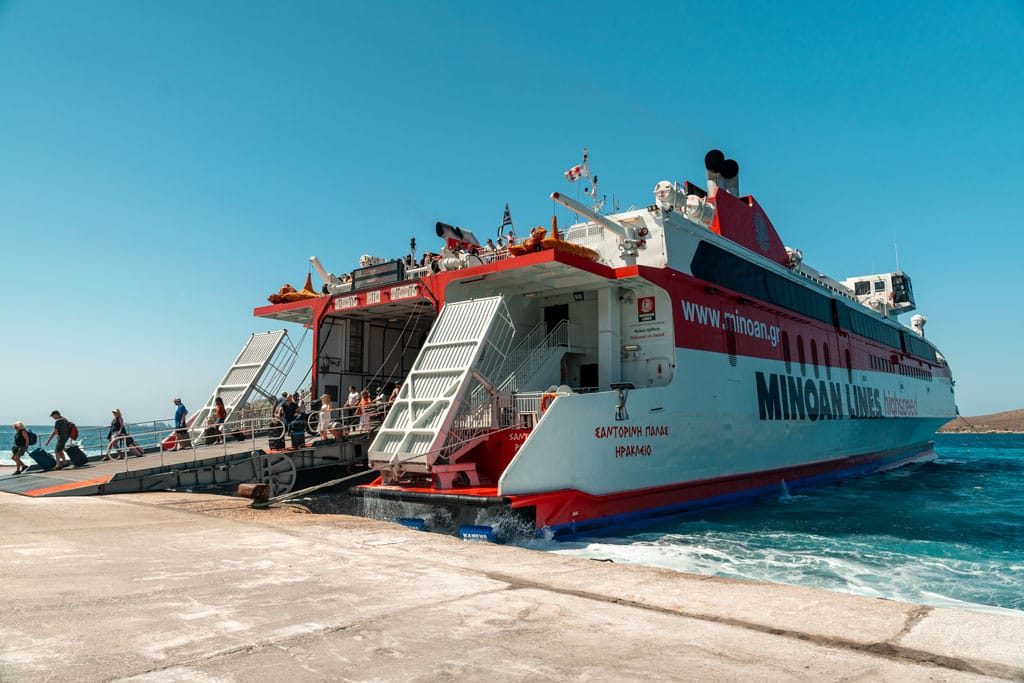 Can you walk from Piraeus Port to the nearest metro station?
Yes, you can. The length of the walk will depend on where you arrive. Terminal E6 is in the middle and it is the closest one to the metro station. It takes about 10 minutes from there by walk.
Terminal E1 is the furthest one (on the Northern side) and it takes over 35 minutes to reach Piraeus metro station. I don't recommend it so please read below for more information. E2, E3 & E4 as well as E9-E12 are also far from the Piraeus metro station.
I urge you to find out where your ship will dock and check a map for the location. Google map shows you exactly how much time you need so that is what I recommend.
Another map with detailed information is provided by the Piraeus Port Website.
But I found it hard to read.
There is also a good map from Blue star ferries, that shows exactly where the terminal/gates.
Or this one: Pireaus port map.
IMPORTANT: I don't recommend walking from dock E1 to the metro station! It is a long and quite scary walk, as after a while of walking, the pathway for pedestrians disappears so you end up walking alongside a busy road, crossing at places without designated crossings which makes it extra dangerous.
Apparently, there are some shuttle buses provided so find out if those also stop at dock E6. It's definitely not a walk you want to do with kids/in the heat of summer/ with heavy backpacks/suitcases if you are in a hurry.
Even though I did my research online prior to arriving at Piraeus port, I still failed to understand the size of the place and had no idea that it did not take 10 minutes by walk (like one of the blog posts stated) to get from E1 to Piraeus metro station.
Also, bear in mind that your ferry might arrive at a different area (ours did for some reason but they announced it several times while aboard the ferry).
From Piraeus port to Athens by private transfer, taxi, bus, or metro
You have to think through what option works best for you. The private transfer may be the dearest, but a guy will wait for you right outside the ship and will guide you to his car.
When you share with the other 3 passengers, the price for getting from Piraeus port to Athens is pretty reasonable. Plus, you get to your final destination quickly. The same goes for taxis. There is plenty of them when a ship arrives, the prices should be a little bit cheaper though.
Just for comparison: We booked a private transfer from the port to the hotel in Crete for 19 euros. On our way back we asked the front desk staff at our hotel to call a taxi for us. We paid 14 euros for the same route.
Getting from Piraeus port to Athens takes about 25 minutes (or longer with heavy traffic) by both these options.
Taking a bus from Piraeus to central Athens is way cheaper and there is an Express bus line X80 (summer only) that takes you to Syntagma, Acropolis, and other places.
However, from what I found out, this bus starts at the other end of the port (terminal B) which makes it convenient for cruise ships but not for travelers from ferries arriving at terminals E1-E7.
Apparently, there is also a bus 040 that runs 24/7 but after about an hour of research I did not find relevant information on where exactly the stop at port is so if you have more luck, please let us know. It takes about 50 minutes to get from the city center to the port.
Using the metro is pretty straightforward. You get to the Piraeus metro station, buy a ticket that suits your needs (a single ticket, 24-hour ticket, 3-day ticket …), get on the train (green line – direction Kifisia), and get off where you need to. A single ticket is valid for 90 minutes.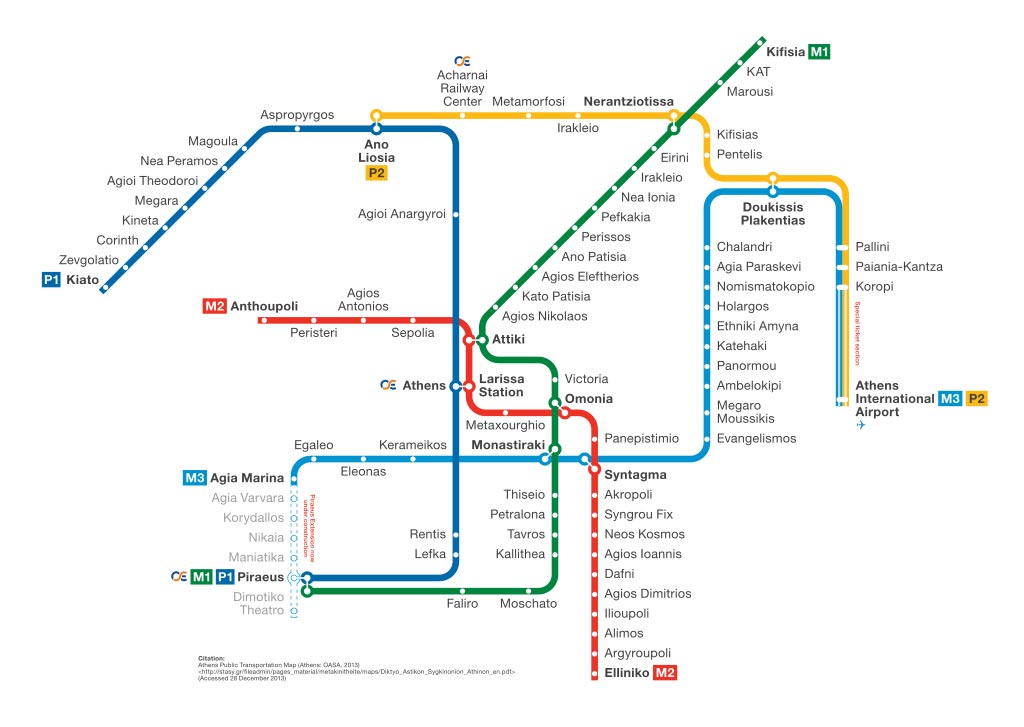 Is there an Uber in Athens?
Yes.
How much is the metro from Piraeus to Athens city center?
A single ticket = 1.20 euros (as of 2023)
24-hour ticket = 4.10 euros (as of 2023)
3-day ticket = 20 euros (not sure if this would be the best option for you but for more information, you might want to read this post: Athens in 2 Days.
Things to know before arriving at Piraeus port
Always do your research before you go! It will save you time once you get to Piraeus, especially if you are planning on staying in Athens for only a day or two. Getting from Piraeus port to the city center can be done in several ways, but the question is – which one is the best option for you?
If you did not get enough information beforehand or are still not sure, try to get some information regarding the docking port from the ferry staff once aboard. Ask them, if it's far from the metro/bus stop or if a free shuttle bus is provided. Also, make sure to ask where the last stop of the shuttle bus is (is it near the entrance/exit of dock 6 or is it further?
Be careful where you walk – Once you are out of the ship, it gets pretty chaotic. Cars driving and pedestrians rushing, there does not seem to be a system in place.
Yellow taxis are right outside waiting for passengers so you can't miss them.
If you are stuck for time or have a plane to catch in a couple of hours, I highly recommend taking a taxi.
Everything takes time so if planning a trip to Athens, make sure you count in things like: disembarking, late arrival (many times the ferries arrive later than planned – we took 3 ferries and all 3 were late), the time needed to get from Piraeus to central Athens or airport (check this online and add some extra to it), waiting for transfer/public transport, buying ticket (there are huge lines at Piraeus metro station after a ship docks at one of the terminals), perhaps a bathroom break or a quick snack break ….
Expect queues for taxis, metro tickets, shuttle buses, etc. Remember, there will be hundreds of people arriving at the same place at the same time as you.
If you are wondering what to do in Athens, you might like my other post: Athens in 2 Days.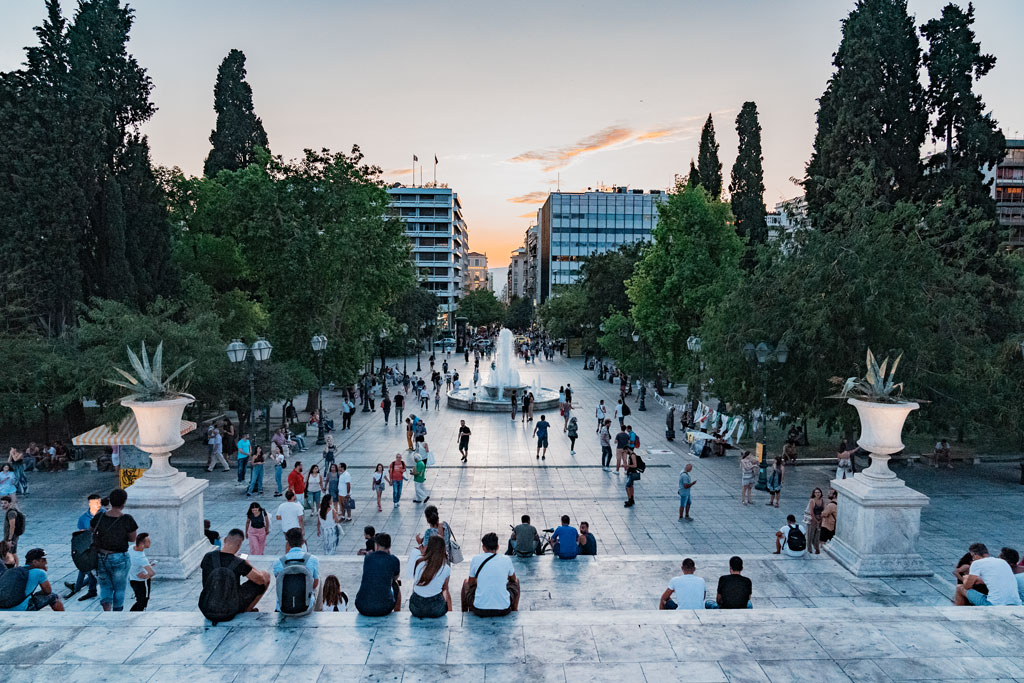 RELATED