Are you wondering what things to do in Santorini in 3 days? Or perhaps you are worried whether 3 days in Santorini is enough to see everything? We've got you covered!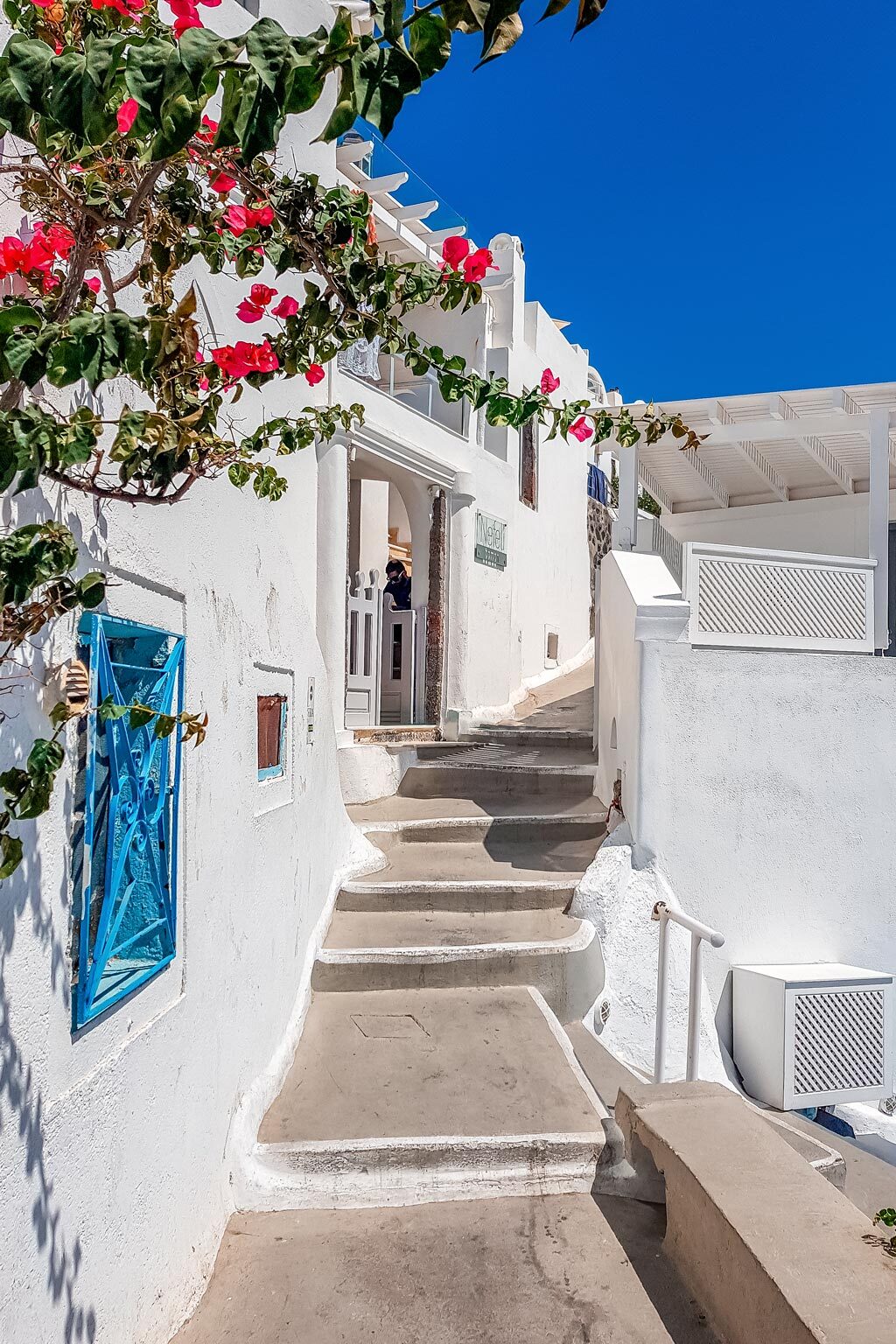 This post includes my personal tips and useful information about transport, accommodation as well as ferry tickets.
This Santorini in 3 days itinerary is based on a stay in Fira. However, you can stay in Imerovigli or Oia and customize it or take it as a guide to help you plan the perfect stay in Santorini.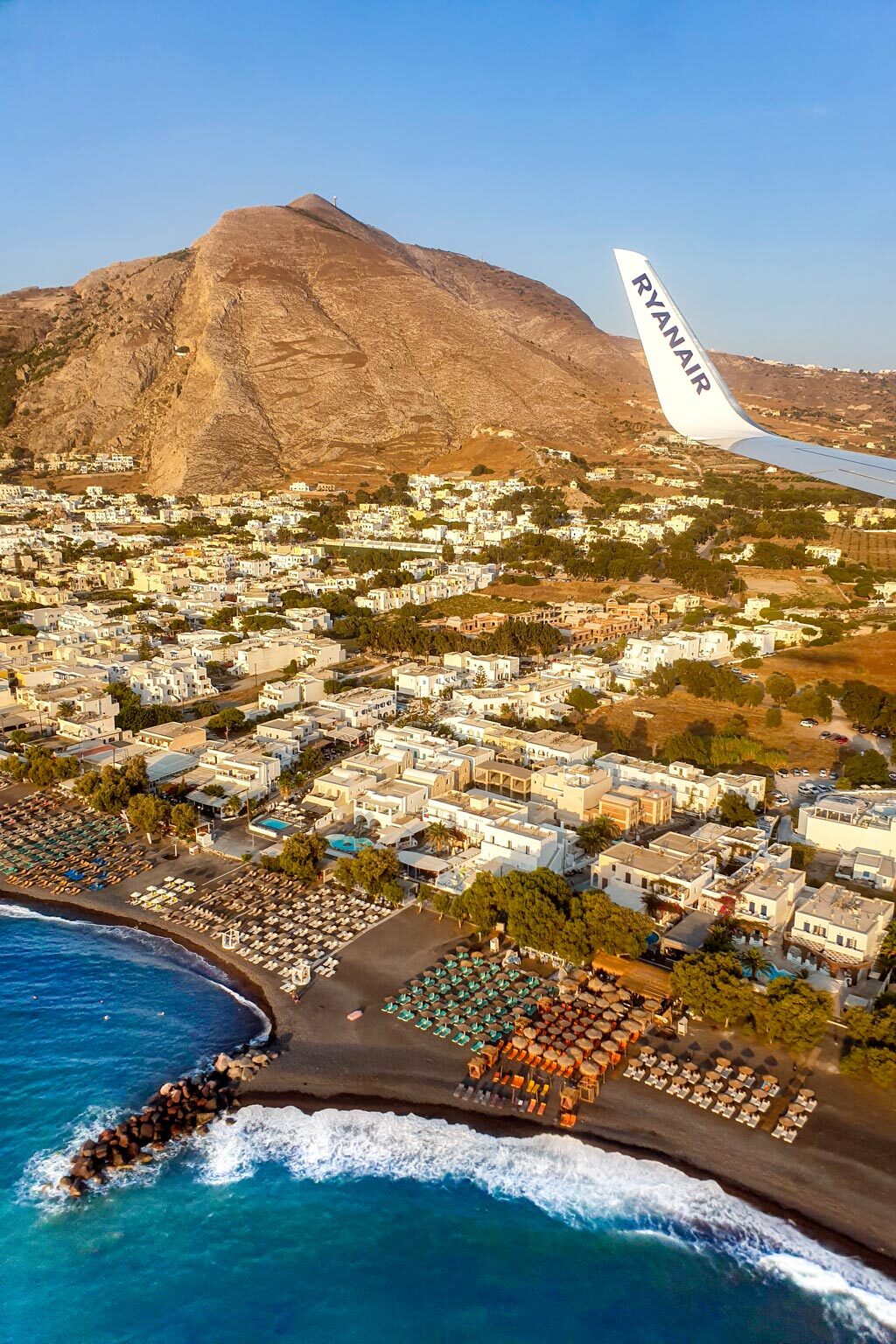 Day 1
Arrive at the port or airport. Take a bus (private transfer/taxi) to Fira. If arriving before official check-in and if possible, leave your luggage in your accommodation and start exploring.
Fira is packed with souvenir shops so if you are after a long flight/boat ride, you can take it easy by slowly exploring the shops and the area and taking lots of photos.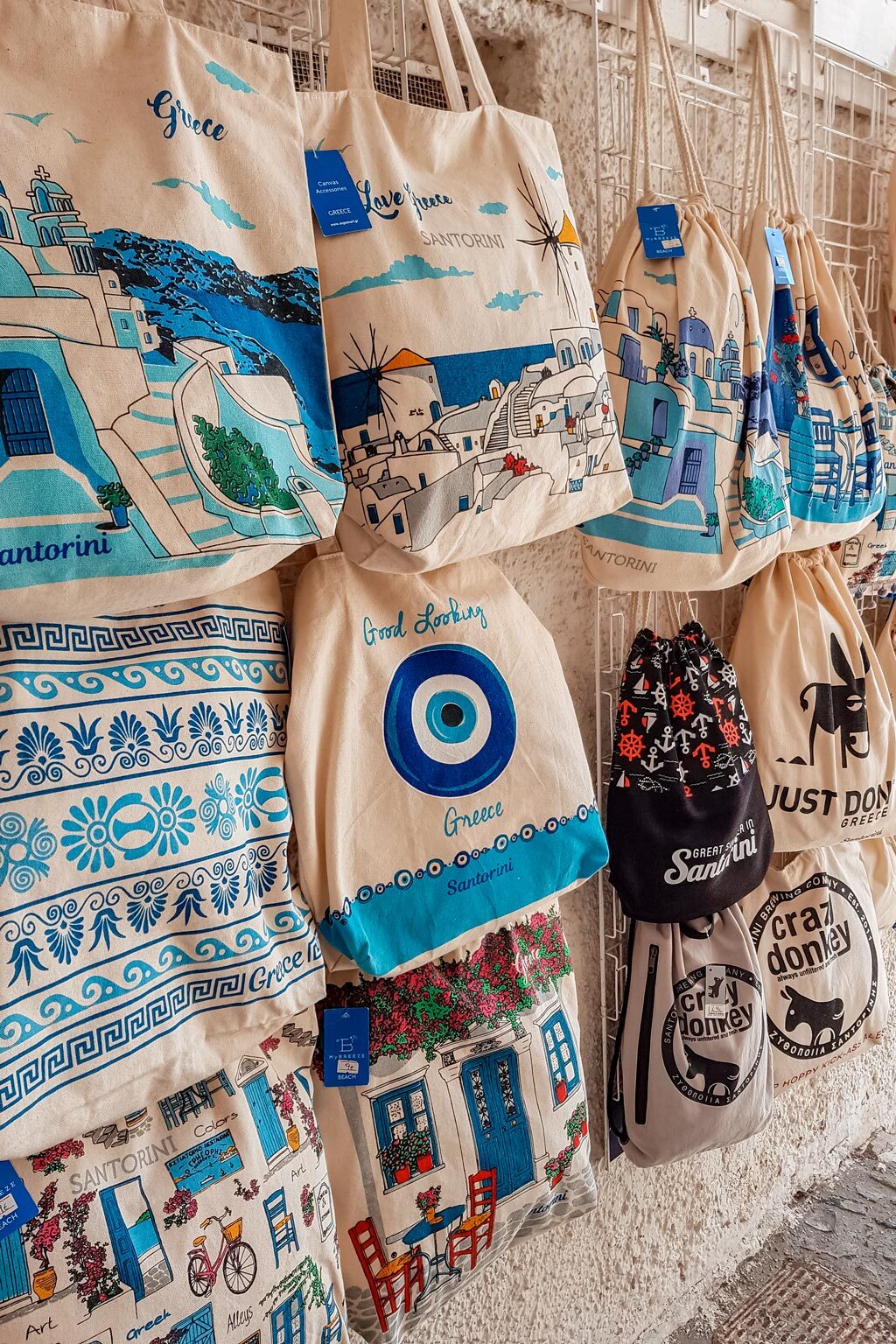 Have a traditional Greek lunch in one of the restaurants or just grab a Gyros in Pita as a quick snack. Gyros is a typical Greek fast food you must try when visiting Greece or any of the Greek islands. They are very reasonably priced (usually at about 3 euros = roughly 3 USD) and they are delicious!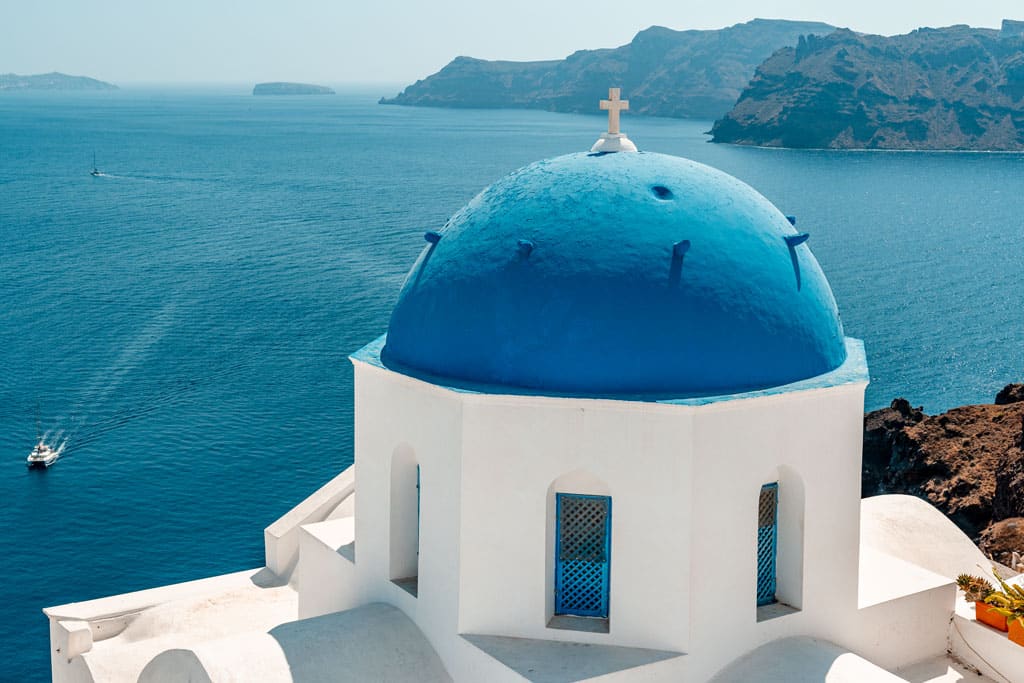 After lunch, check into your hotel/apartment and have a rest. You have a few options now. You can slowly walk from Fira to Imerovigli (it's the famous Fira to Oia hike but Imerovigli is about a 1/3 way from Fira).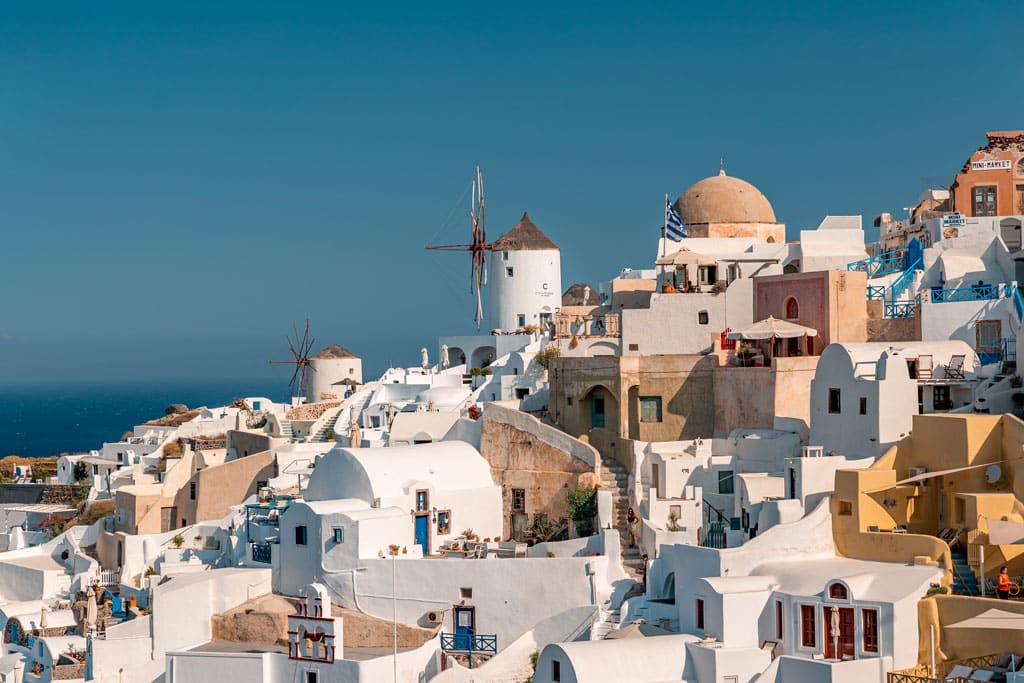 This hike will lead you along the east coast so you will have plenty of opportunities for taking Instagram-worthy photos and enjoying the views. If you don't feel like walking or maybe you have way too many things to do in Santorini in 3 days, then I recommend taking a local bus to Imerovigli.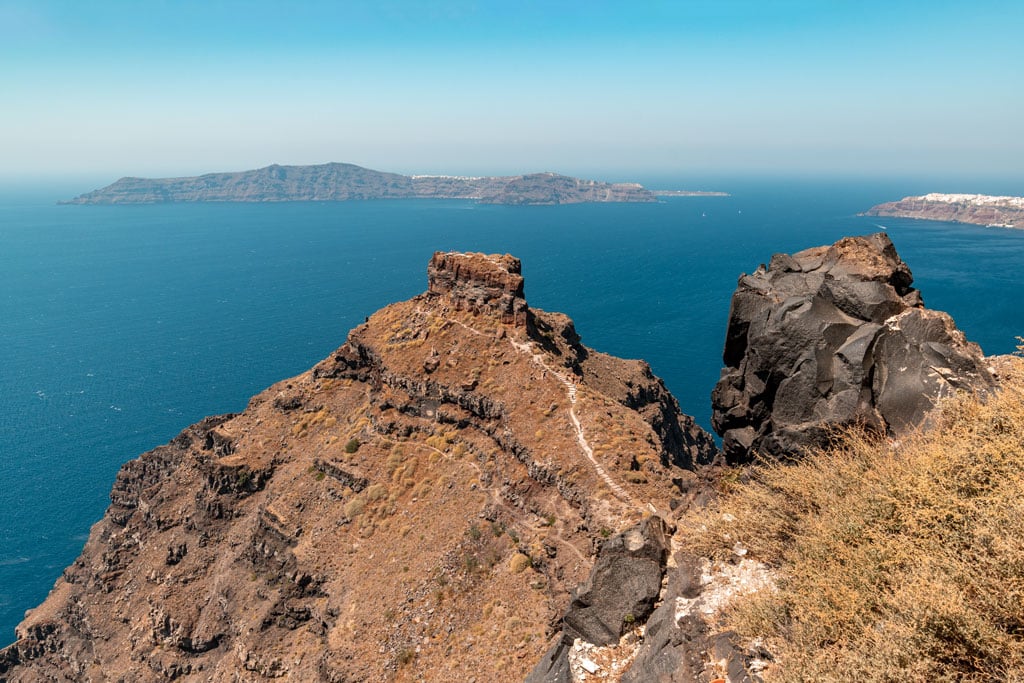 In Imerovigli, hike the Skaros rock (note that the last leg of the hike is quite challenging and not so safe, but you don't need to climb up to the top of the rock. The rest of the hike is pretty easy, mostly just conquering hundreds of stairs, passing a quaint church, and walking a bit farther to enjoy the magnificent views.
Find a local restaurant and order some of the traditional Greek foods (Greek salad, Baked Feta Cheese, Lamb, Stuffed Wine Leaves, …). Our favorite restaurant in Imerovigli was Kofini. I highly recommend ordering grilled octopus (the starter) that comes with fava (split pea puree) and salad or one of the lamb dishes they have on the menu.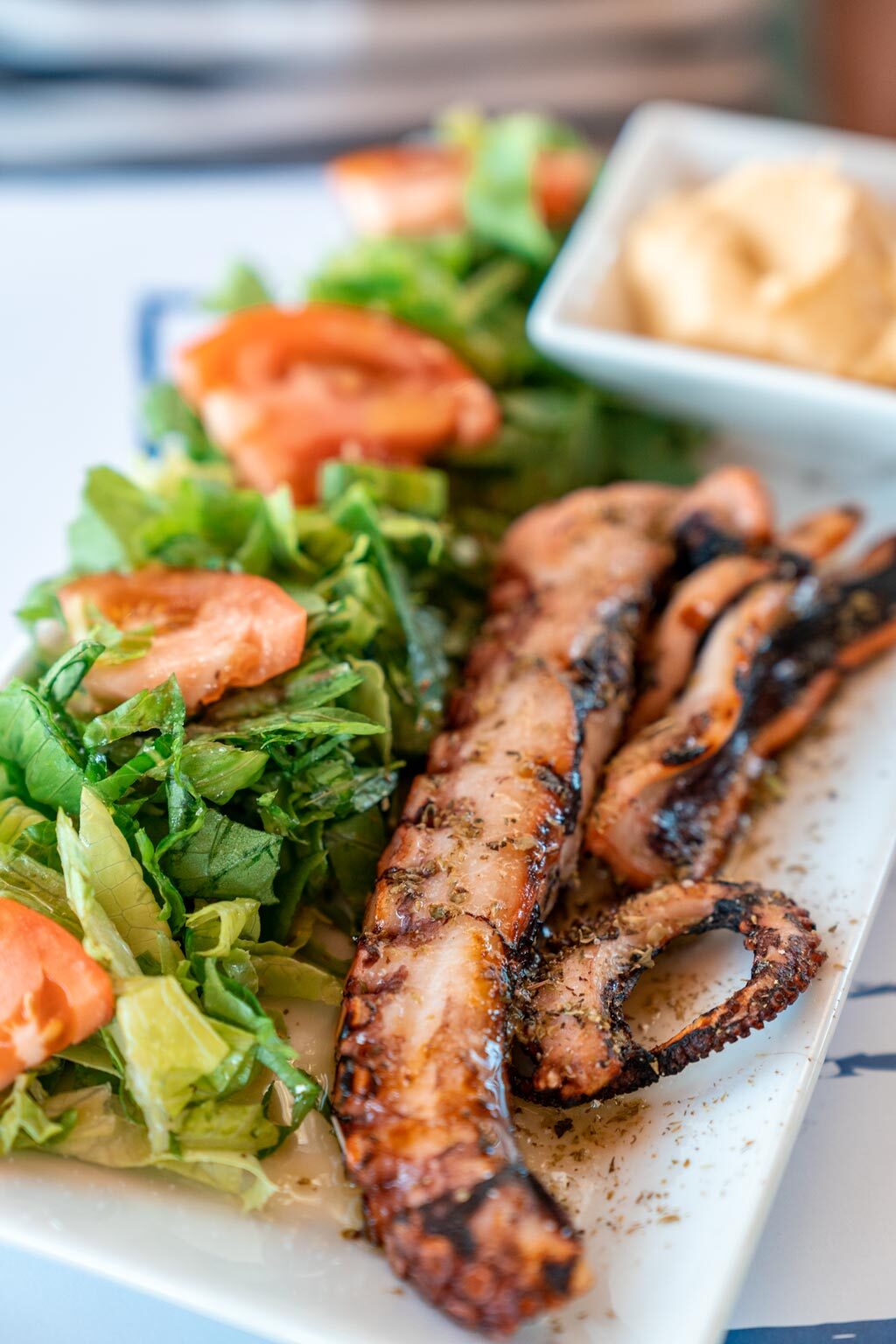 Take a bus back to Fira and spend the rest of the evening relaxing in your room or exploring the area a bit more.
Tip: For the best accommodation experience in Fira, we highly recommend booking a night (or two) in Angel Luxury Suites. You will be blown away by the hospitality of the owner as well as the amazing breakfast and attention to detail!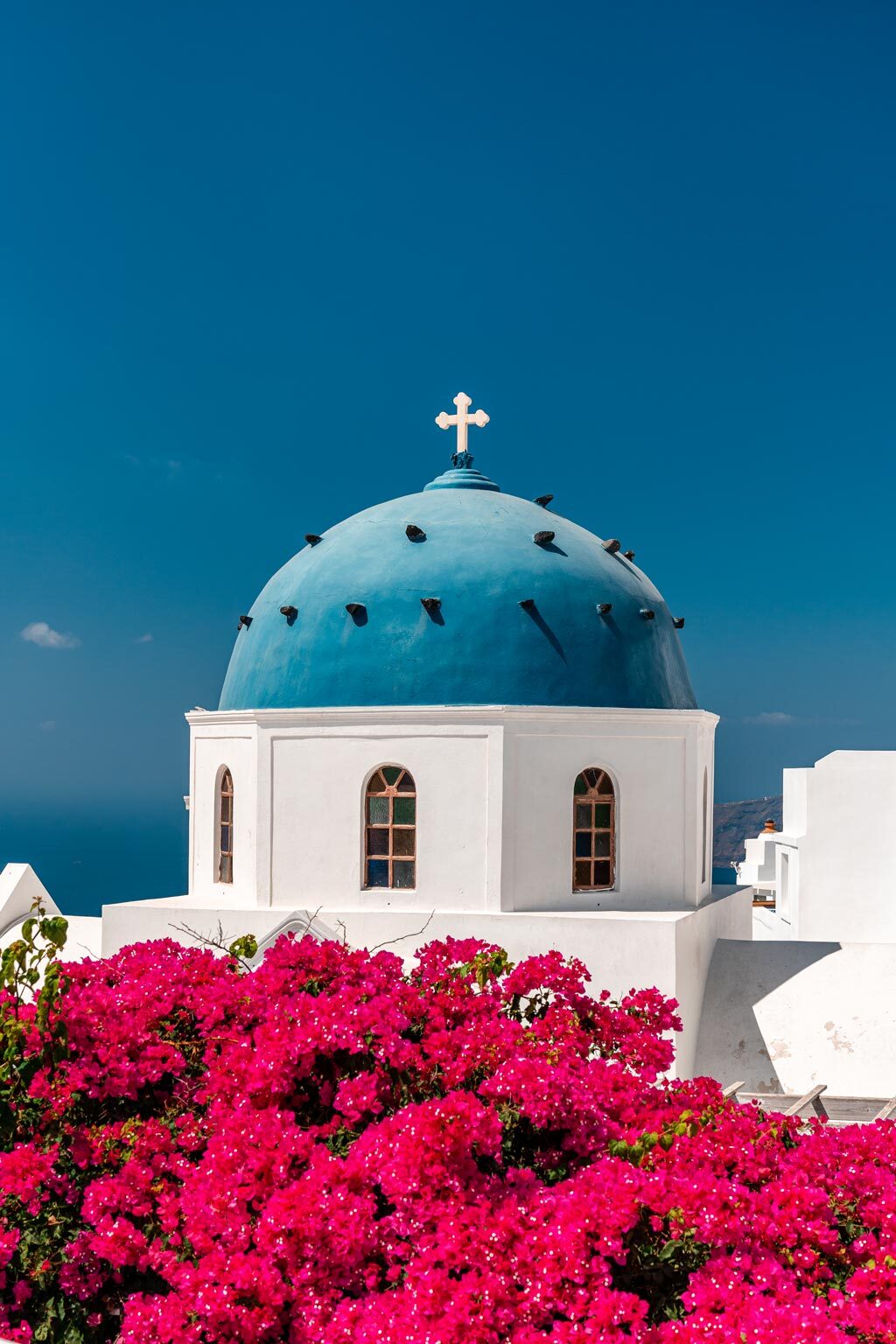 Day 2
You have 2 options: Either you decide to visit Oia in the morning or in the evening. If you want to be able to explore the area and not be bumping into people, then early morning is the way to go.
If you want to see the famous Oia sunset, then you should visit in the evening. Just know that the streets will be packed, and you might need to find a good spot as early as 3-4 o'clock in the afternoon (during the peak season).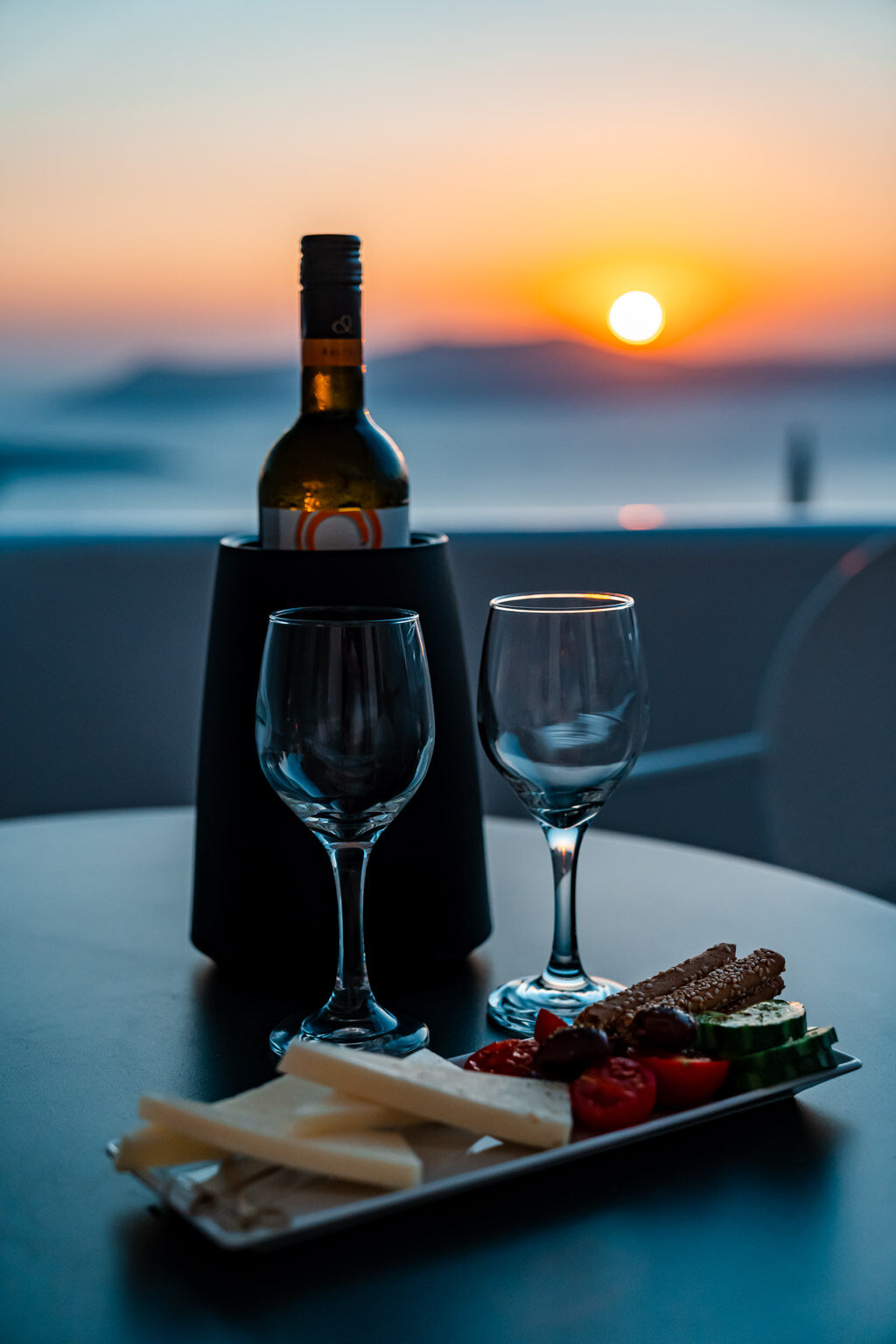 Tip: the sunset in Imerovigli and Fira are equally magical and the streets are not over-crowded. Stay at the Angel Luxury Suites and enjoy the sunset right from your terrace with a glass of local wine!
To avoid crowds, you might want to visit Oia as early as possible. The crowds from cruise ships start arriving as early as 8:30 in the morning so to avoid them, taking the 7 o'clock bus is the best. If you don't mind the crowds, anytime is good to visit. Count with half a day for Oia.
The other half of your day you can take a bus ride to the village of Pyrgos. It's another quaint village with blue-domed churches, beautiful views, and white-washed houses.
Day 3
If you are lucky enough not to be leaving for Athens yet (or another of the Greek islands), you can spend this day visiting and relaxing on one of the local beaches (Acrotiri, Perrisa, or Kamari). You can also book a catamaran sailing trip (this takes usually 5-6 hours). You can check the excursions in Fira and decide what you would like to do or search for them online.
A hike to a volcano crater and swimming in hot springs are also popular activities in Santorini (these are usually booked as one trip that lasts about 6 hours). During your 3 days in Santorini, you can also visit a local winery and enjoy some wine tasting.
As you see, there are so many things to do in Santorini that it only depends on you and what you like to do as well as your budget.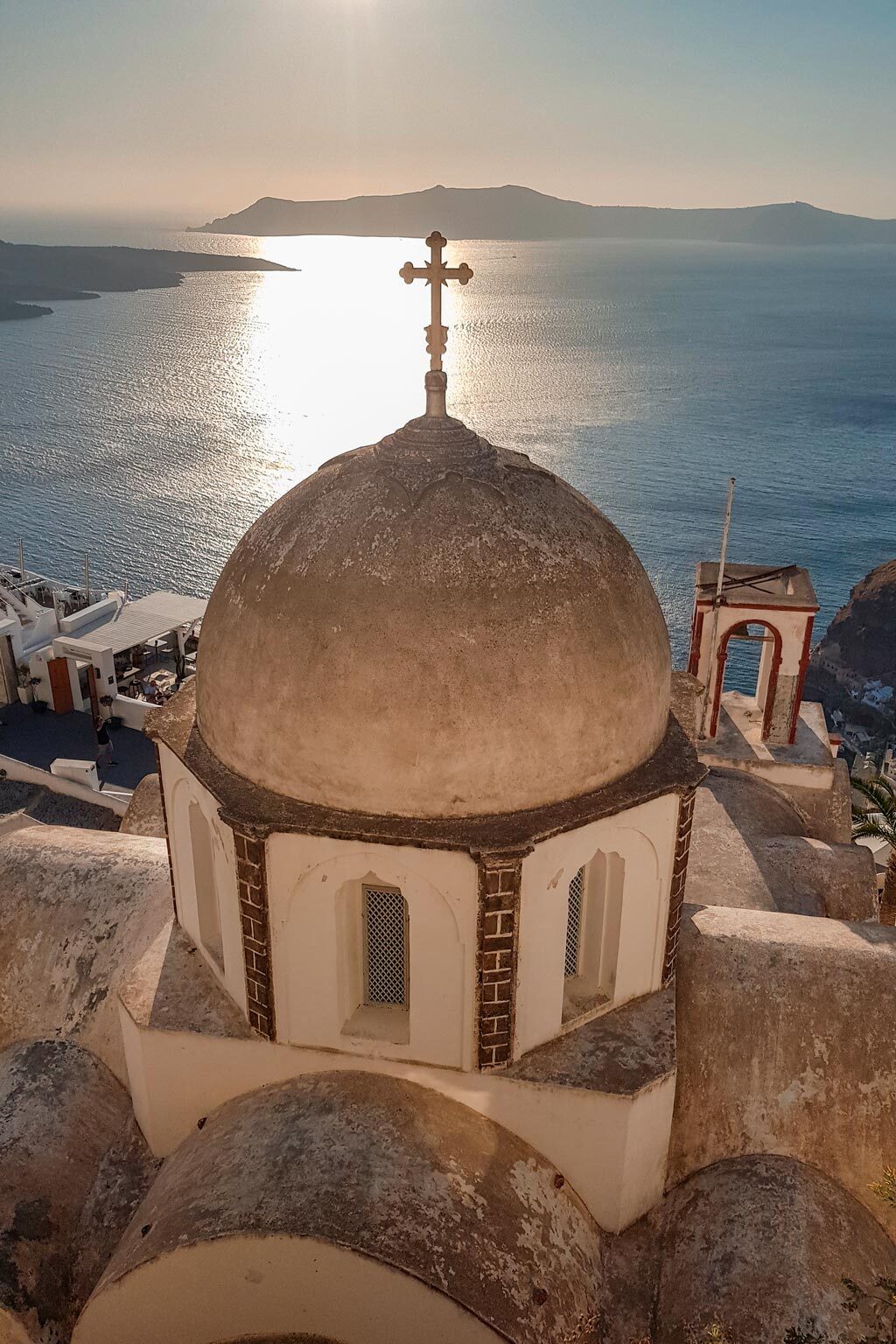 From one traveler to another: Tips, advice, and more info that'll help you plan the perfect Santorini break:
If you need help with planning a trip to Santorini, you might find these posts helpful:
Things to do in Santorini – tips on what to do, where to stay, and what to expect when you arrive on this most visited Greek island.
Santorini on a budget – Can you visit Santorini on a budget? This post explains it all. Spoiler alert: Yes, you can!
Where to stay in Santorini – location, advice, and tips, including our recommendations.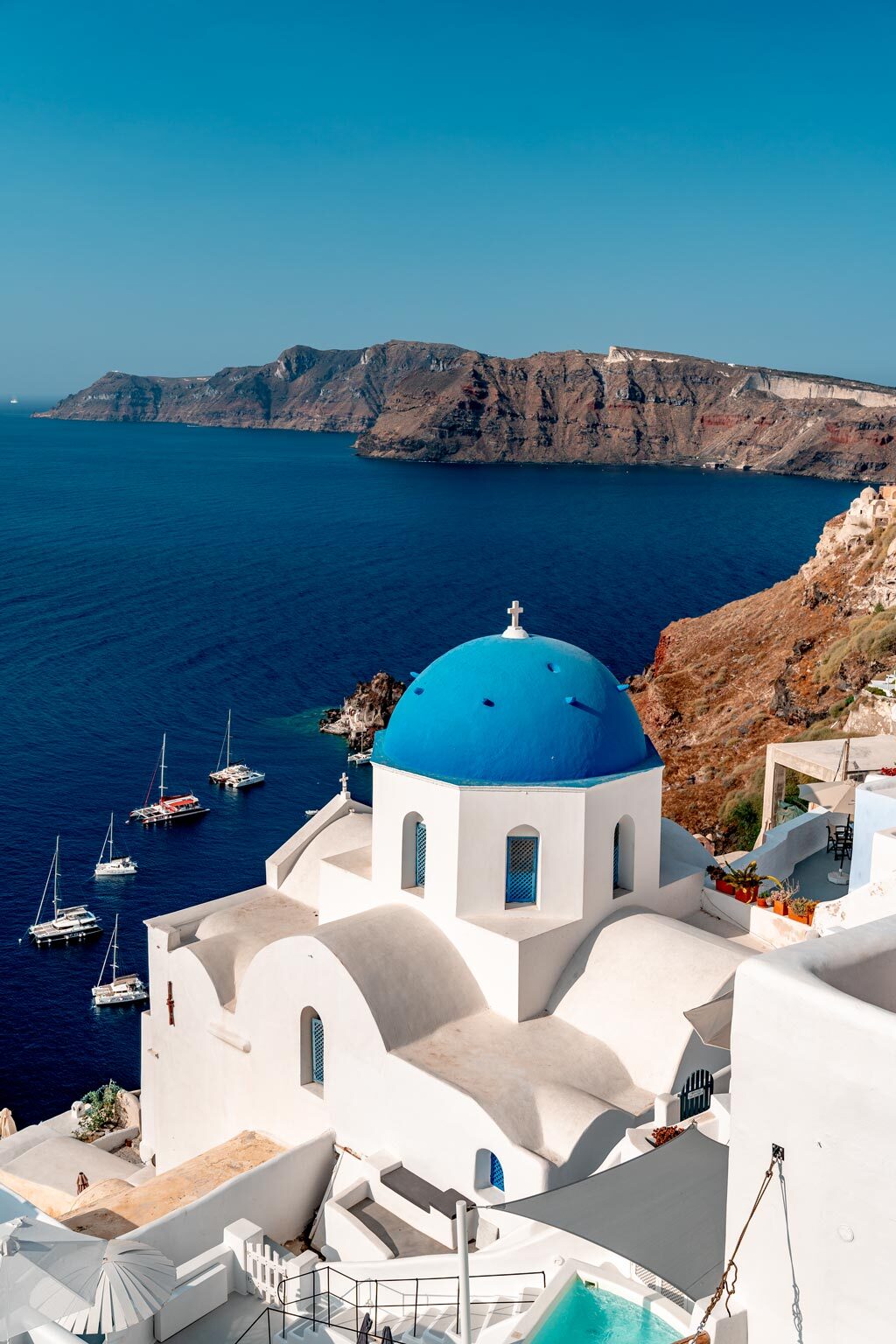 The public transport in Santorini is good – lots of bus connections, good-quality climatized buses, cheap tickets, and short bus rides (dependent on where you are traveling the bus ride may take between 10 to 30 minutes). Santorini public transport information including prices: KTEL
To search for accommodation, I always check Booking.com and Airbnb. When checking hotels in Greece I noticed that many rooms on Airbnb were also advertised on Booking.com.
My favorite website to check Greek ferries was: Ferry Hopper. It was clear and I could see within minutes what I was looking for.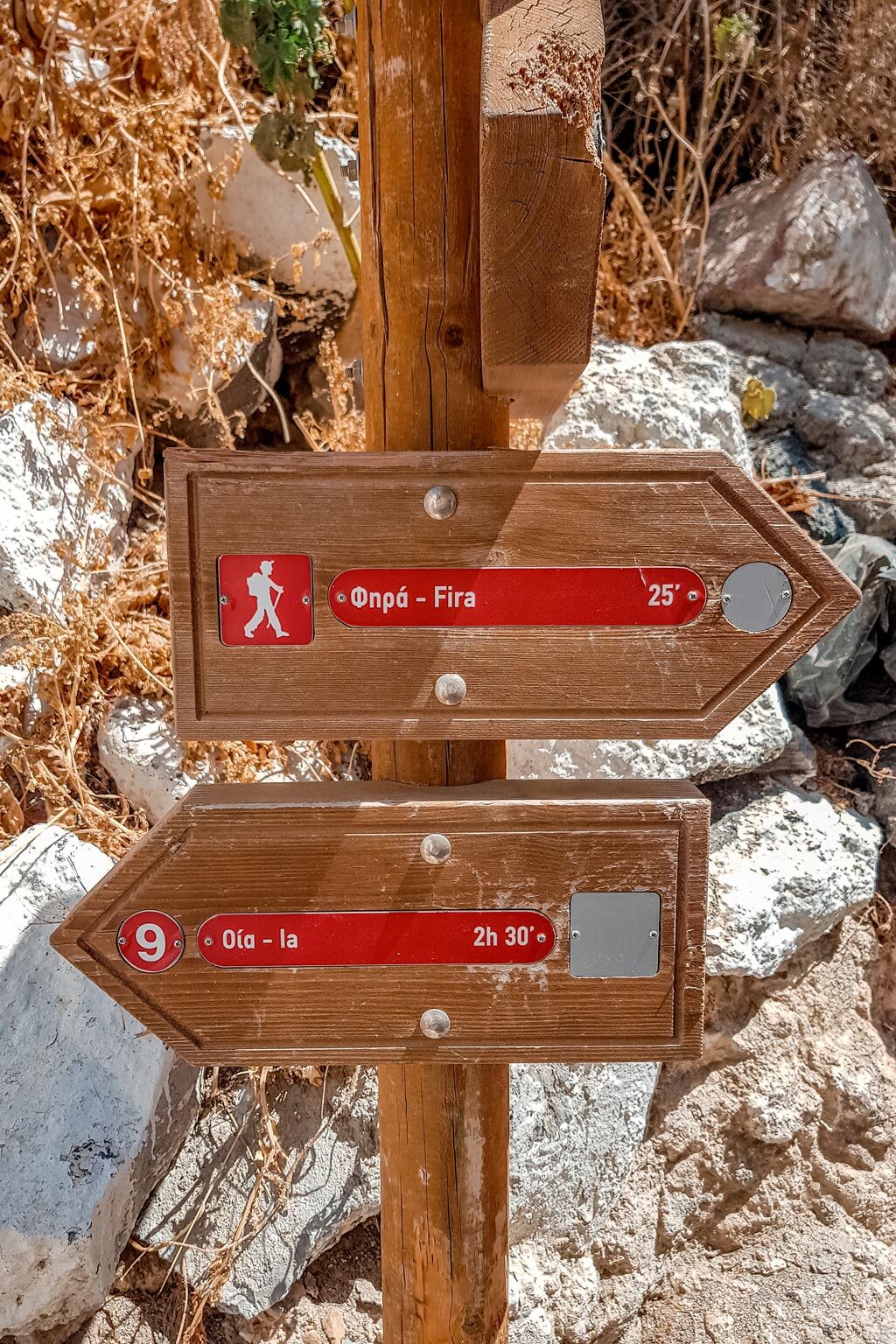 Hike from Fira to Oia – this is a very long hike that might take somewhere between 4-6 hours. I don't recommend doing this hike in summer as there is no shade on the way. If you would still like to do a part of it, choose the hike from Fira to Imerovigli or Firostefani and vice versa. They can be easily done in about 50 minutes – including photo breaks.
Note: None of my recommendations in this post are sponsored. These are the companies we either used or helped us to get around Santorini.
RELATED