Tallinn is without a doubt the prettiest capital in the Baltic states and the main point of interest for most tourists. But why not plan a few day trips from Tallinn to see what the rest of the country looks like?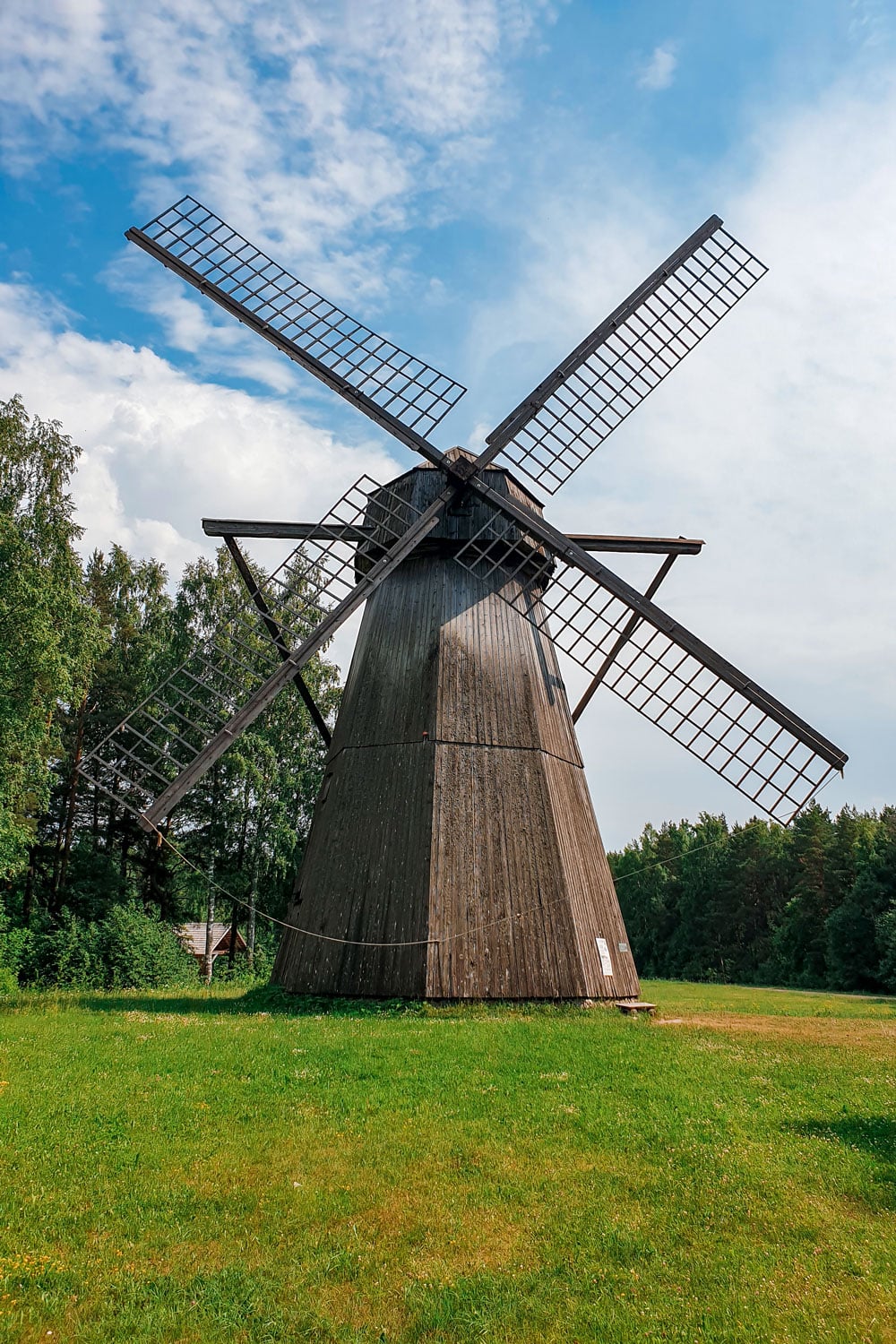 You might already know that the Old Town is beautiful and there are many things to see.
If you are one of those travelers interested in history and/or art, you might like to visit some of the best museums in Tallinn.
But, if you are lucky enough to spend more time in this small Baltic state, why not discover interesting places outside its capital?
This list of day trips from Tallinn shows you the possibilities you have. Most of them are do-able by public transport but if you rent a car, you will more likely be able to visit more places.
Lahemaa National Park – The closest national park to Estonia's capital makes it a popular day trip destination.
Many companies offer guided tours from Tallinn combined with other attractions that are close by so it's worth checking it out, if not planning on renting a car.
If you get a chance, hike through the Viru bog, probably the most popular bog in Estonia. With well-maintained wooden paths, an observation tower, a picnic area, and parking this place is definitely worth the visit.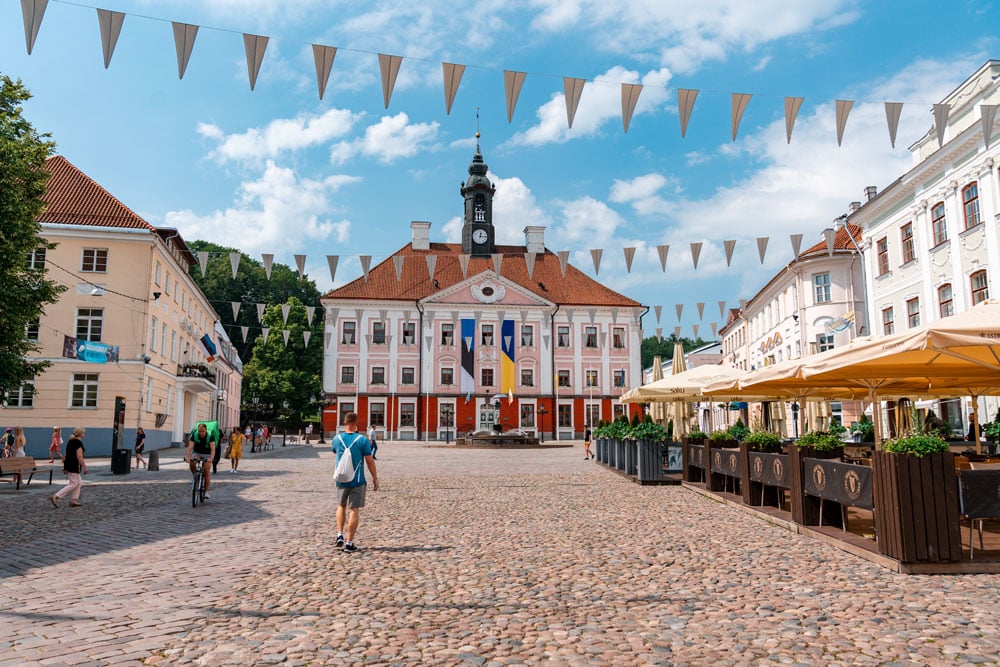 Tartu – Estonia's second-largest city is home to one of the oldest universities in Europe. Its town center is as picturesque as Tallinn's, with the leaning house (no need to go to Pisa), a town hall, and a "kissing students" fountain.
You can have fun in the Upside Down House (Tagurpidi Maja), walk through the remains of the still-impressive Tartu Cathedral, or visit Estonian National Museum. The city has plenty of restaurants and cafes serving delicious meals but if you are looking for something different, make a stop at the Gunpowder Cellar and have lunch or dinner there.
Visit this restaurant with its unique interior and extremely high ceiling for a one-of-a-kind experience!
Good to know: There are plenty of buses from Tallinn to Tartu (and vice versa). The traveling time is about 2 hours and prices vary. They are usually cheaper when booked online.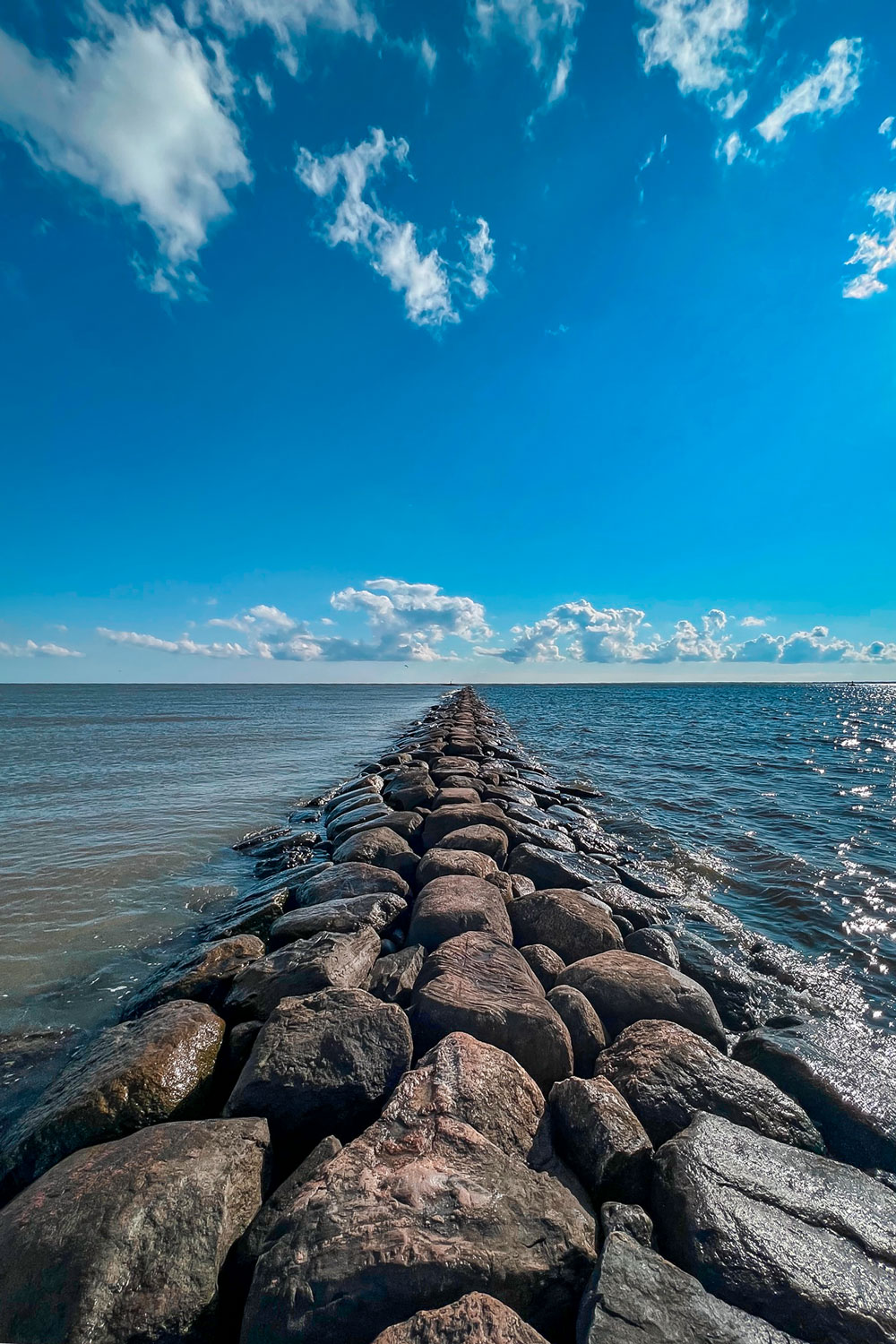 Pärnu – Without a doubt, Pärnu is Estonia's most popular summer holiday resort. Wide sandy beach, shallow waters, spa and wellness centers, mud baths, numerous restaurants, and cocktail bars, and plenty to do for all kinds of holidaymakers.
Good to know: Buses run daily from Tallinn. The journey takes almost 2 hours and costs around 8 euros (in 2023).
Helsinki – You might be surprised to know that Helsinki, the capital of Finland is just a ferry ride away. In fact, it only takes 2 hours to get there which makes it a great opportunity to explore it if you are staying in Tallinn for a few days.
Good to know: There are 3 ferry companies operating this route: Tallink Silja, Viking Line, and Eckerö Line. The prices vary between 15 to 40 euros (one way).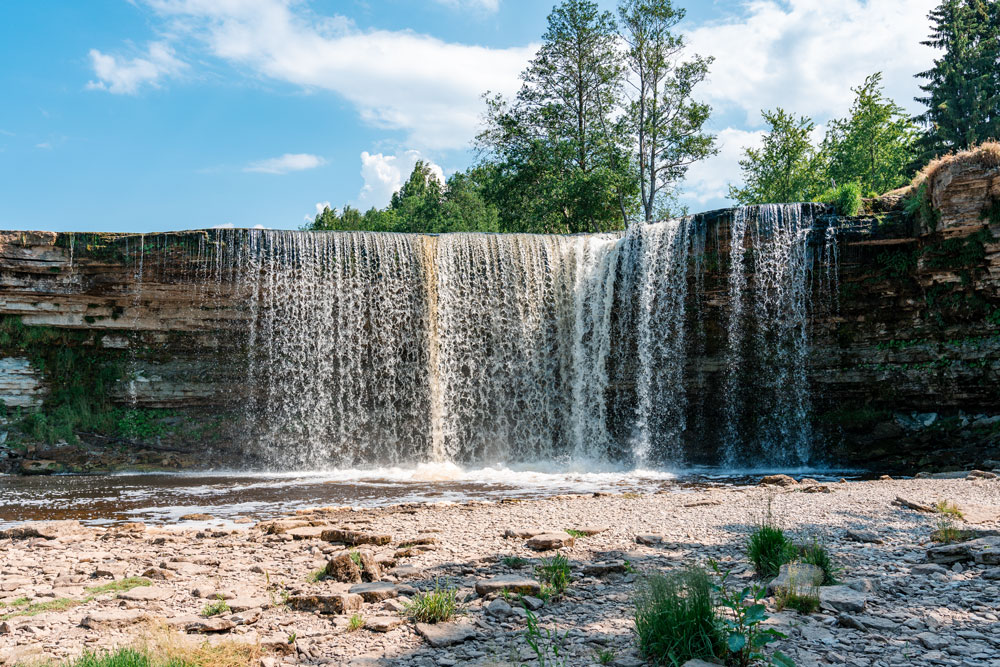 Jagala Waterfall – Best visited with a car or as part of an organized day trip from Tallinn, this waterfall is only 30 kilometers (19 miles) far from Estonia's capital. It's well signposted and there is a designated car park and toilets literally a few steps away from the waterfall.
In winter, the water freezes which creates a beautiful spot for photos while in summer you can dip in the cool water to escape the heat.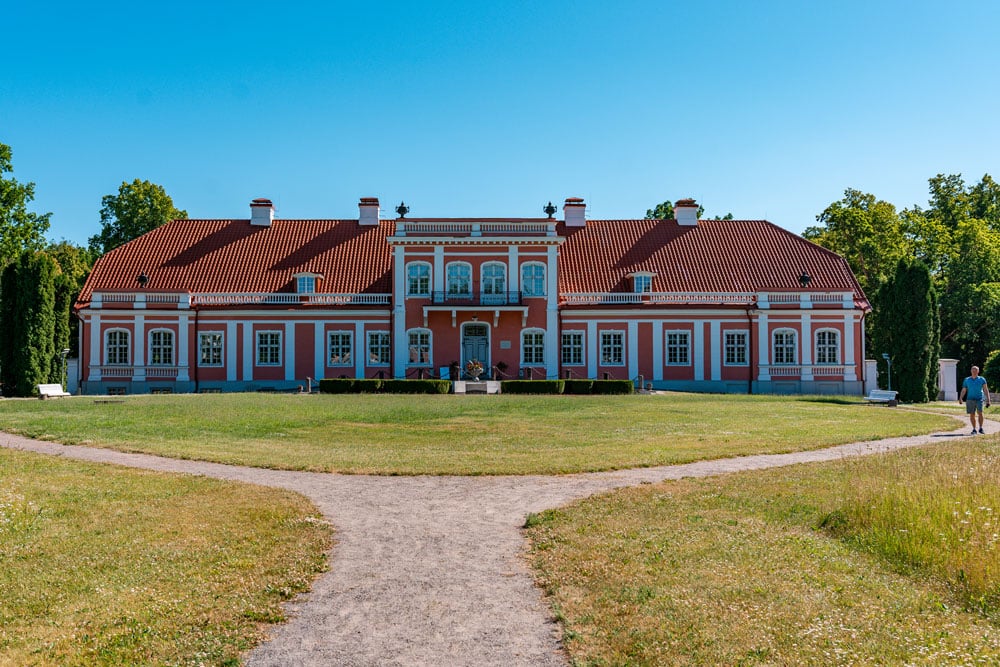 Sagadi Manor – This lovely manor with well-kept grounds where you'll find a hotel, restaurant as well as the hostel is open to the public. For a small fee, you can see what life there would look like hundreds of years ago.
Once a large estate with granaries, barns, carriage house, stables, and dairy house, this place is now a popular spot for weddings and other events.
Tip: If you don't want to go inside, you can still roam the grounds for free. There is also a nice pond, gardens and souvenir shop apart from many other buildings. Entrance fee: 5 euros (adult), opening hours: 10 am – 6 pm every day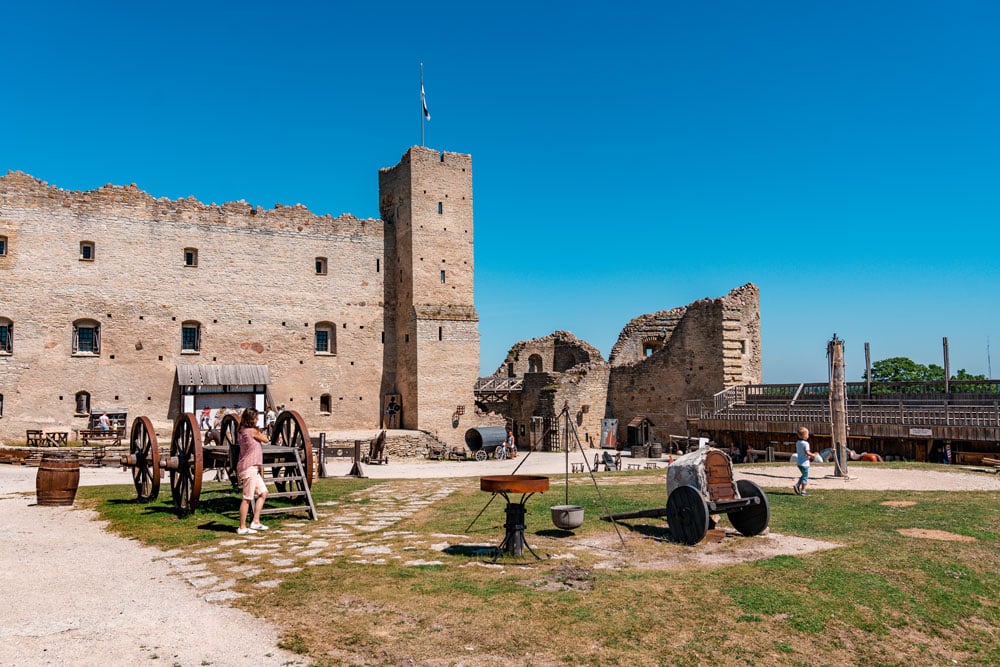 Rakvere Castle – If you like visiting castles, then put this one on your list. It sits on a small hill, overlooking the town of Rakvere. The castle itself is turned into a medieval theme park with staff dressed in period costumes.
At your own pace, you can explore the grounds, have a go at archery, climb the walls and enjoy the views.
Good to know: Check out the modern open-air performance venue which you can easily see from the castle. It has over 4000 seats and it is not only nice to walk around but also have a picnic on the grounds. The place looks pretty during the day as well as at night when the whole area is illuminated.
Tip: For a good meal, head to the town and find the Sarvik restaurant. It is about a 6-minute walk from the castle. There, you get to enjoy some delicious dishes at reasonable prices.
The town is accessible by bus (duration: 1 hour 30 minutes) or by car. It can also be part of organized tours or day trips from Tallinn so it's good to check the tourist office for more information.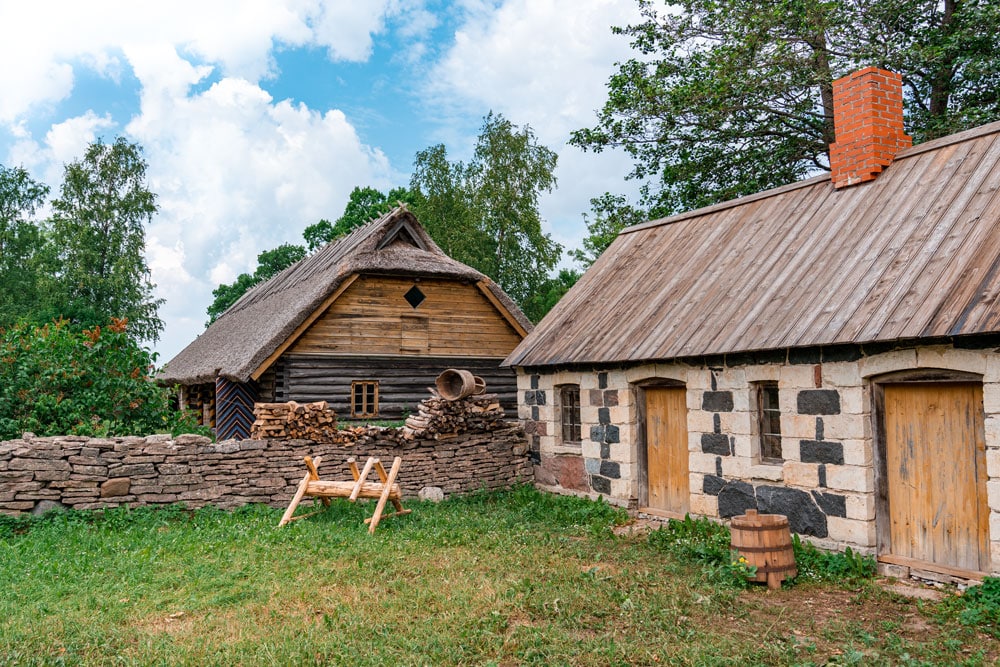 Estonian Open Air Museum – This place is located in one of Tallinn's suburbs (Rocca al Mare) so it's easily accessible by all kinds of transport whether it is a bus or electric scooter.
I have included this museum on my list for several reasons. It's large and there is a lot to see. If you wanted, you can easily spend half a day there.
There is a ZOO nearby so if visiting Estonia with kids, you might like to combine these two together.
Another option is to rent a car and instead of a ZOO visit Viimsi Open Air Museum. The price is only 5 euros (adult) and also includes a free entrance to a nearby Museum of Coastal Folk.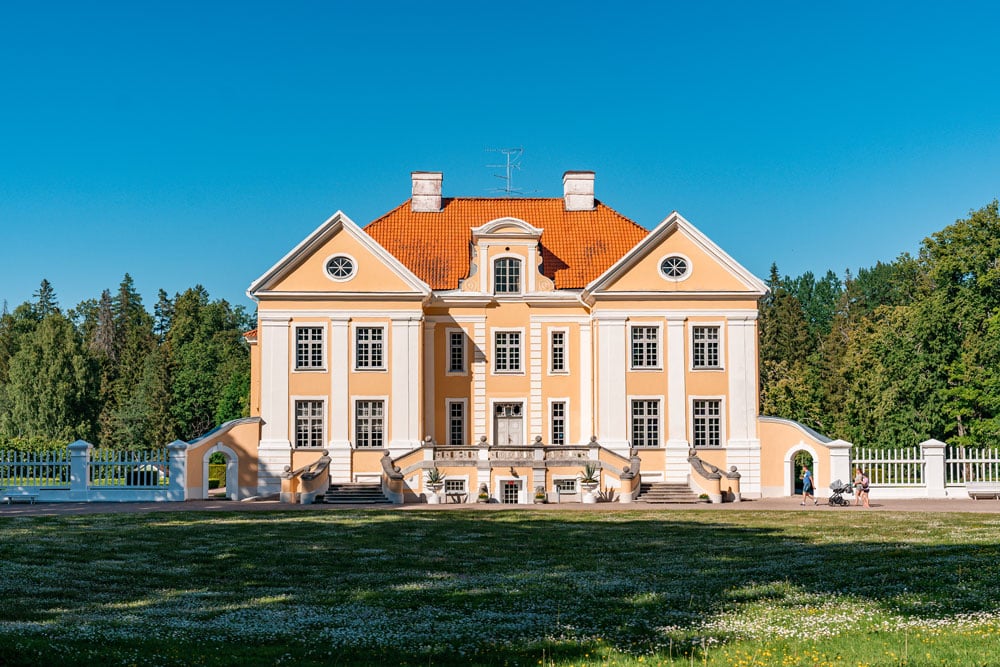 Palmse Manor – This baroque-style manor is situated in Lahemaa National Park. It is a beautifully restored building with lots to see inside as well as outside.
There are several buildings, a pond, a cafe as well a tavern serving traditional meals. The manor's interior decor is a good example of what life would look like back in the 19th century. Price: 11 euros (adult). Family ticket: 22 euros.
Useful websites and more information:
Tallink – one of the Tallinn to Helsinki ferry companies we used.
Jagala Waterfall is well signposted as I have mentioned. However, if you are following google maps, it may bring you to a different access point which is not the right one. You will still see the waterfall, but if you want to take nice photos or walk around a bit, you should arrive at the designated asphalted car park. So make sure to read signs when driving there yourselves.
Palmse Manor – The official website has a ton of information. If you are interested in turning your day trip from Tallinn into an overnight stay, you might like to know that one of the buildings was turned into a guest house. If interested, you can book via booking.com.