Santorini is a magical place but to get the most out of your visit, there are a few things to know. So, here are 13 useful tips for planning the perfect trip to Santorini.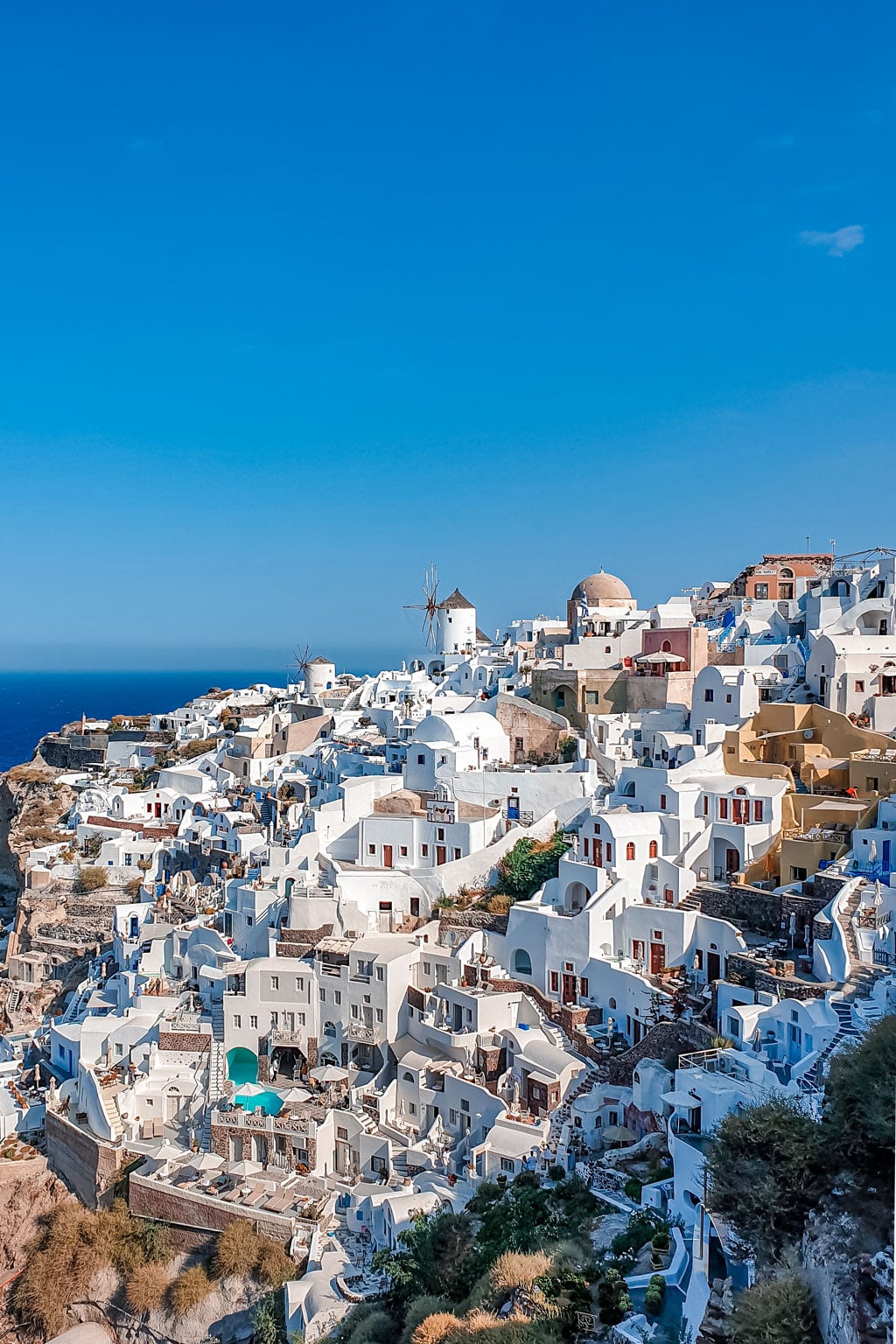 If you are about to plan your trip to Santorini and have some questions that are not covered in this quick guide, don't hesitate to let me know in the comment section down below.
I will try my best to answer them so your trip to Santorini (or perhaps your honeymoon in Santorini) can be as magical as possible.
1. Not only for couples – even though Santorini is often targeted to honeymooners and couples, we've seen all sorts of tourists here from families, to singles, to seniors! It's a magical place well worth visiting.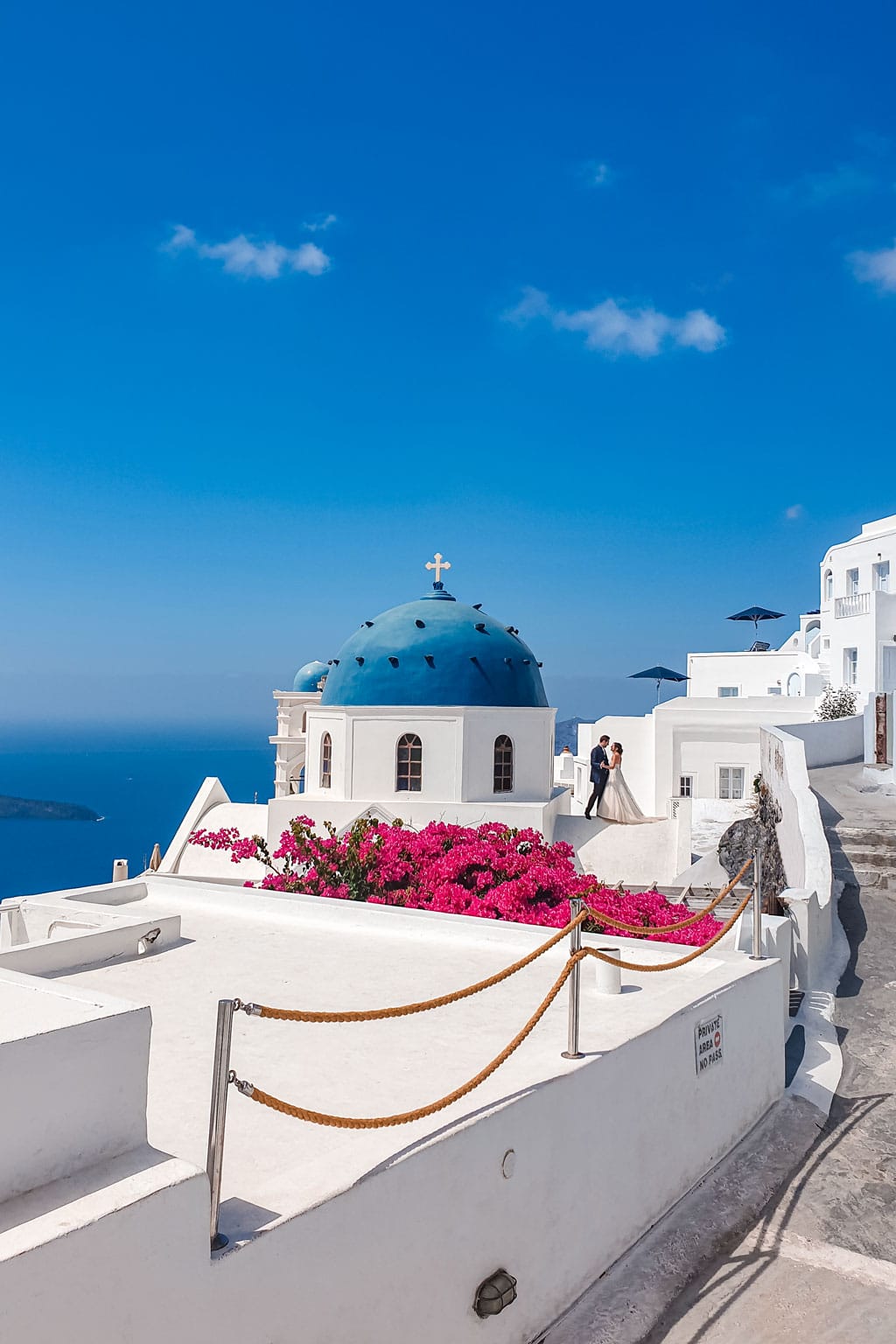 2. Water – tap water is not potable but bottled water is reasonably priced at 0.50 cents per 500 ml (almost a pint) so make sure to stay hydrated. By the way, this is the best price per bottle I've come across while traveling to the most touristy places in Europe.
3. Tourist tax – This is important and it's one of the things to know before visiting Santorini: Don't be surprised when a hotel asks you to pay some extra euros at the end of your stay.
Apparently, there is a new law in Greece regarding accommodation tourist tax (stayover tax). The amount you pay per night can vary. It will depend on the type of accommodation you choose (apartment or hotel) as well as the number of stars it has (for hotels). The minimum is 0.50 cents per room per night, and the highest is 4 euros per room per night.
Say you book a room online for 1 night in an apartment that cost 50 euros. They will take off of your credit card 49.50 (which you might not notice beforehand) and ask you to pay the remaining 0.50 cents at the end of your stay. This means you don't pay more than you "agreed" at the beginning, but I felt like some places failed to explain how this works as I've seen quite a few surprised customers at the front desk.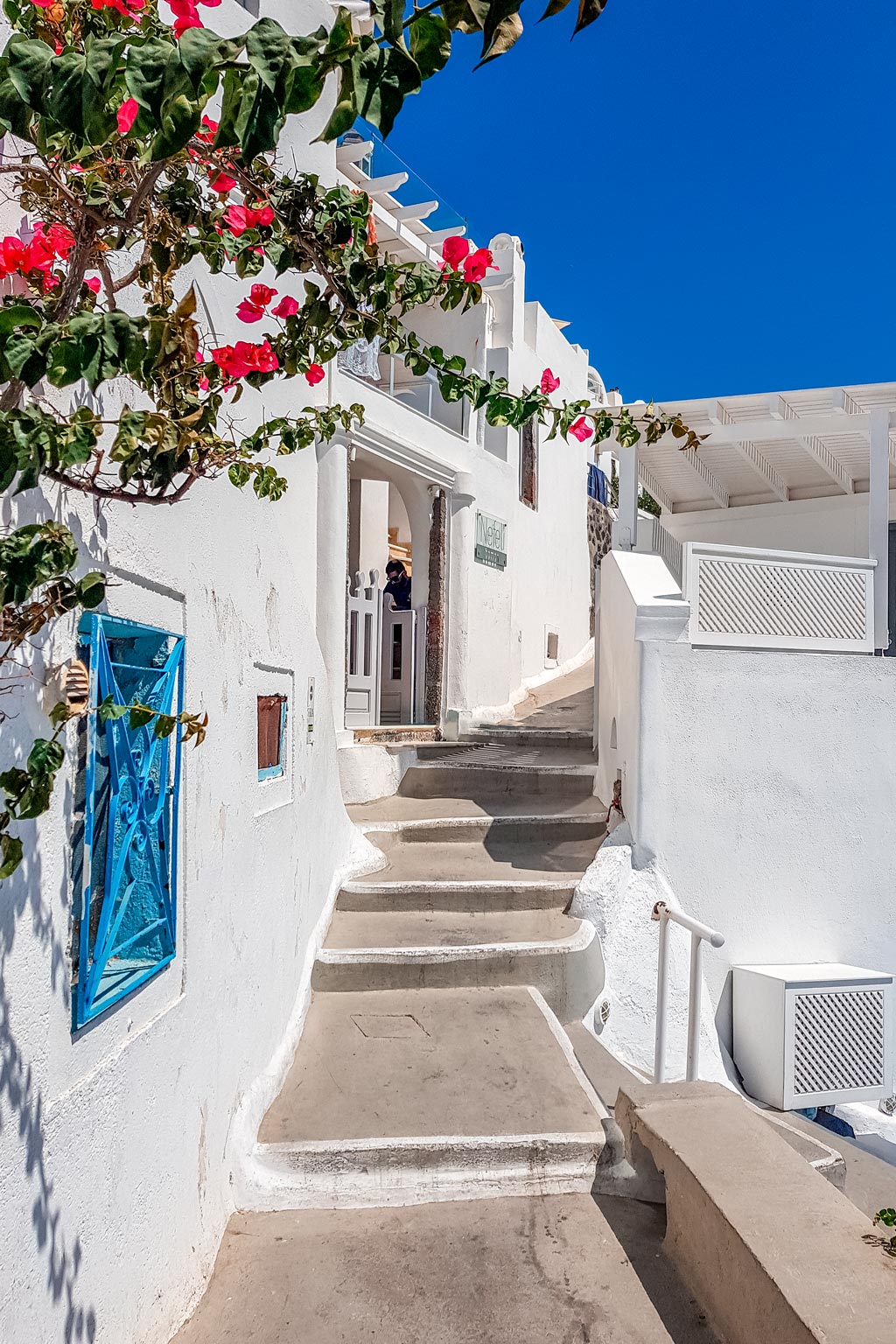 4. Leave a stroller at home or in your apartment/hotel. The narrow streets of Santorini are not only packed (There are literally human traffic jams around sunset in Oia) with tourists but there are a lot of stairs which makes moving around quite challenging.
5. Prices – Santorini is an island, so most things have to be imported. This is one of the reasons the prices are higher than in mainland Greece. Now that being said, you will find some products reasonably priced (T-shirts, bottled water, postcards, pita gyros).
I found Santorini prices lower than in Spain, so I was positively surprised. Of course, some restaurants can be pricey, especially when you want to get a table with a view of the famous Santorini sunset.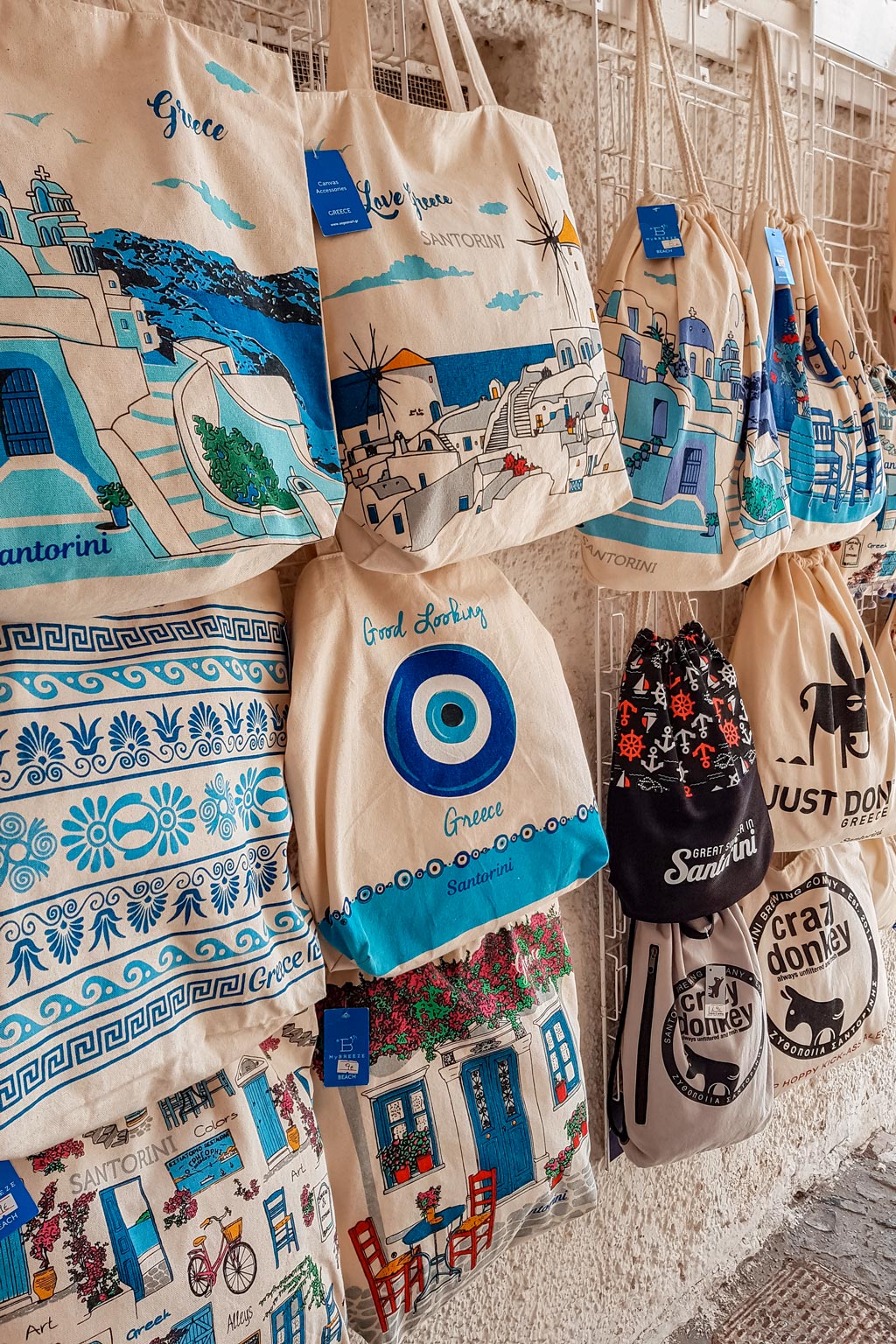 6. Getting around – renting a car is not necessary on Santorini Island. The roads are narrow, and it can be challenging to drive in some areas or find a parking spot when needed. It's easy to get a bus from Oia to Fira, Imerovigli, or other villages and the prices are very good. The buses are air-conditioned.
7. Travel light and choose a backpack rather than a suitcase, if you can. It will make your life easier. There are many videos on how to pack light on YouTube if you need a hand or inspiration (We traveled around Greece for 16 days with our backpacks only and we absolutely loved it. When we returned back home, both of us realized we could have packed even less).
Dragging large suitcases around Santorini is not something you want to do. Now that being said, some hotels provide a porter who will help you carry your luggage up or down the stairs.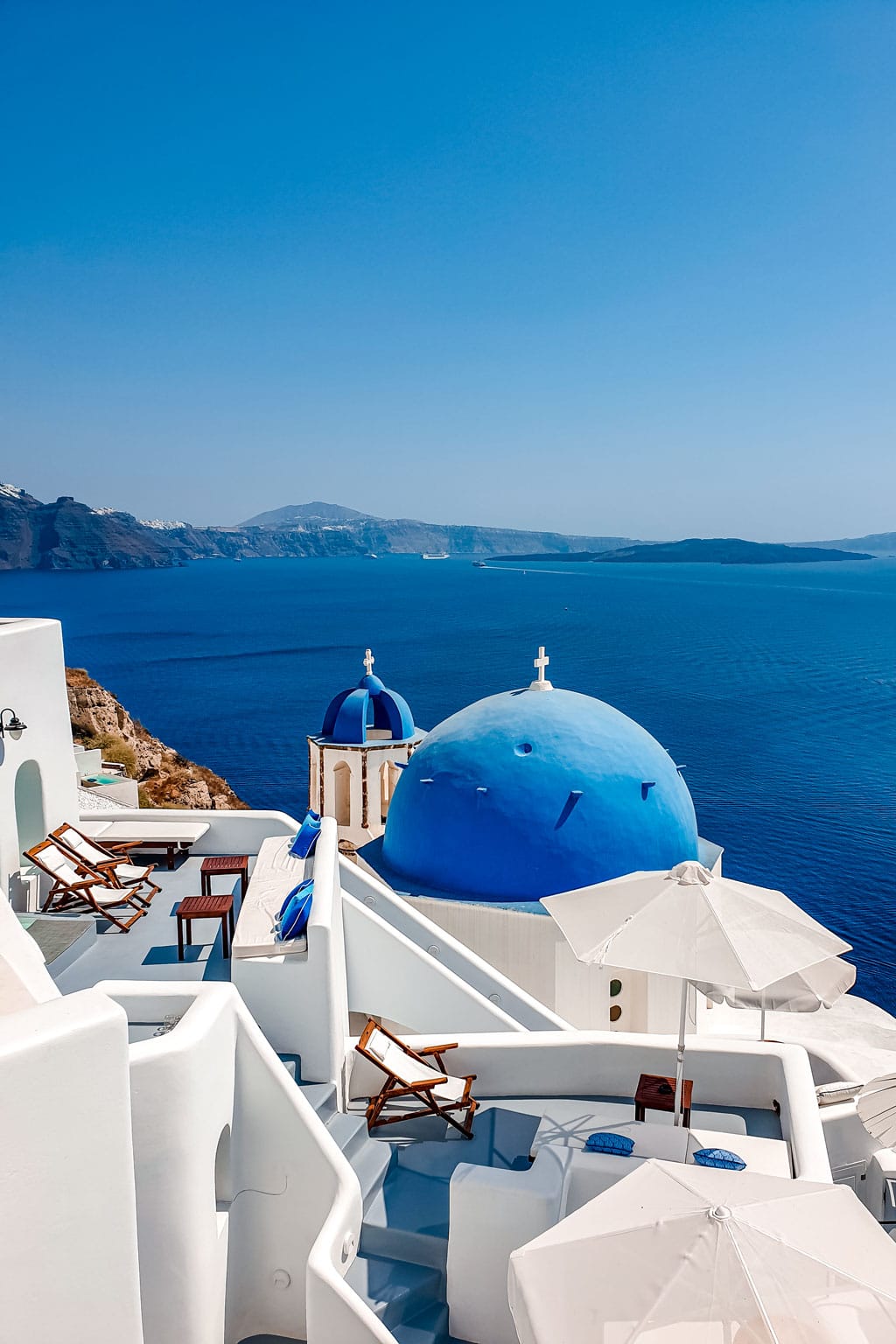 8. Toilet paper – not only in Santorini but also in the rest of Greece, throwing toilet paper into the toilet is a big NO. Apparently to avoid clogging them. You always throw it into a bin provided.
9. Respect people's privacy – and don't climb, or jump on to private properties.
10. Start your day early. To enjoy Santorini island without having to queue to take photos or enjoy a nice view, start as early as possible. Especially, when visiting Oia (7 am – 8 am is the best time to do so).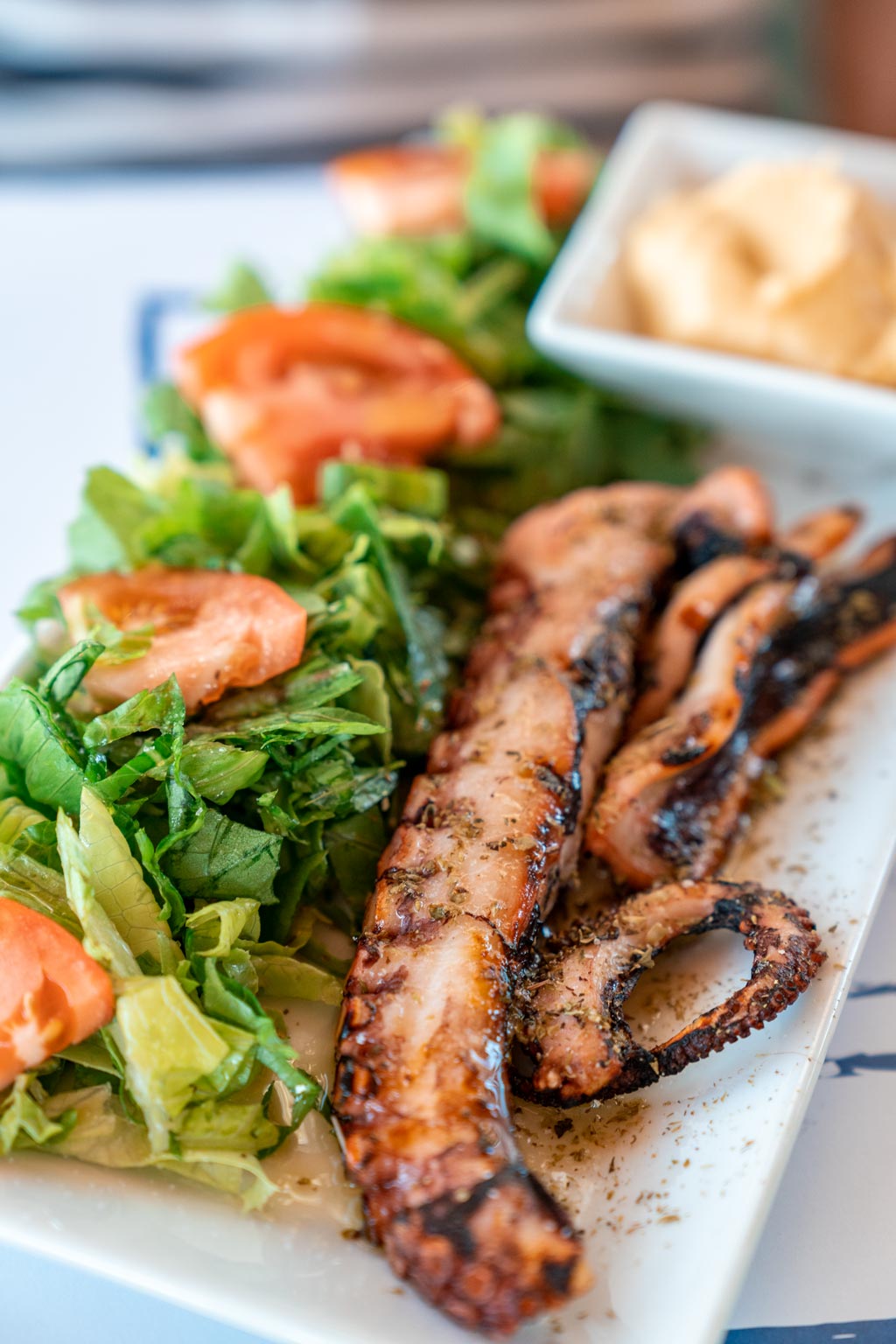 11. Pre-book a restaurant – If you want to enjoy a meal in one of the restaurants that offer stunning views, I highly recommend pre-booking a table as they are usually fully packed during the summer months.
12. Oia is not the only pretty village in Santorini. Fira, Imerovigli or Pyrgos are also worth visiting. All of them are easily accessible by public transport.
13. Best views are not only in Oia. Imerovigli has some impressive views. I recommend doing the hike to Skaros Rock.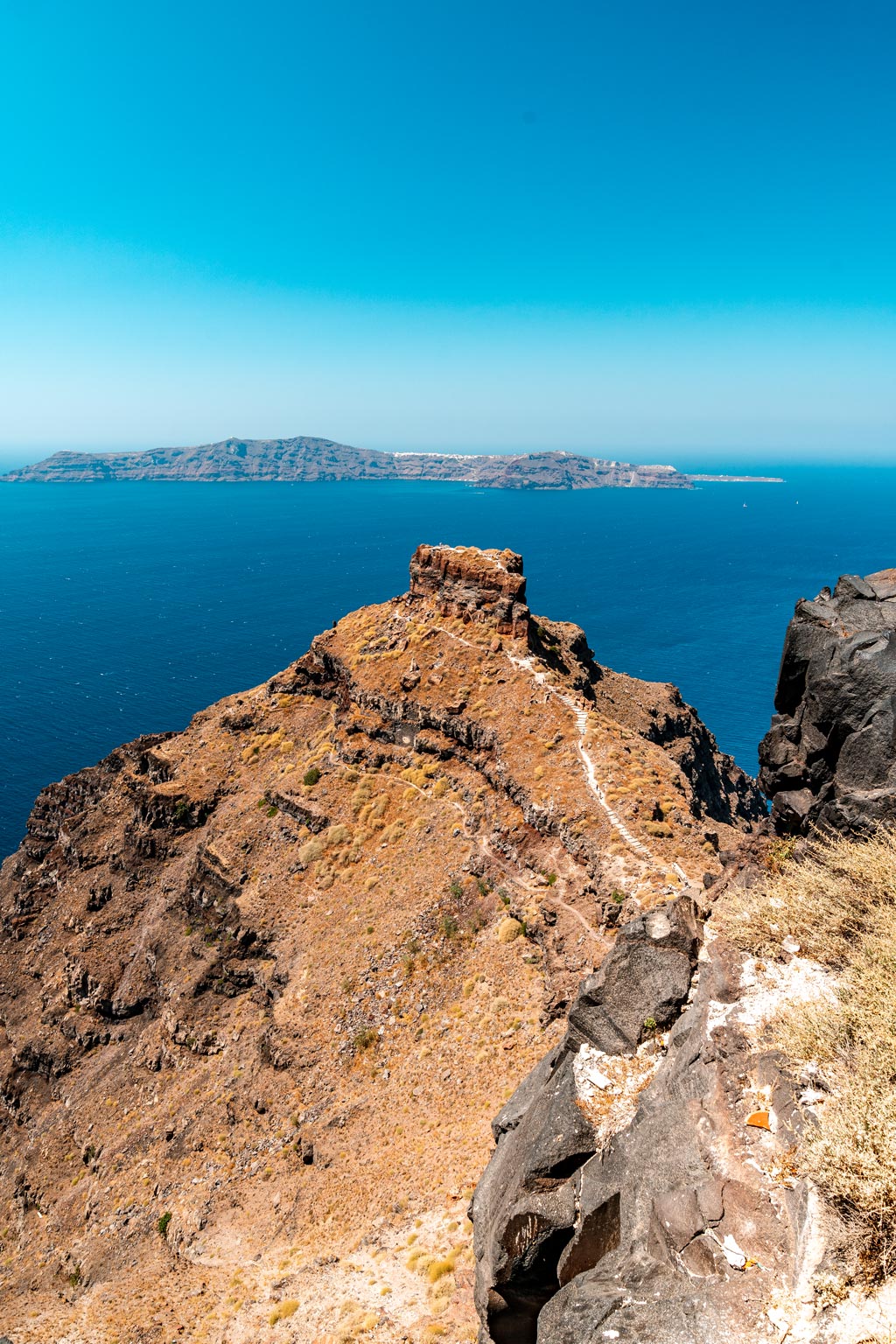 RELATED