Here is a list of the best edible Greek souvenirs to bring back home for foodies. Whether you fly with a suitcase or hand luggage, make sure you find a space to squeeze some of them in.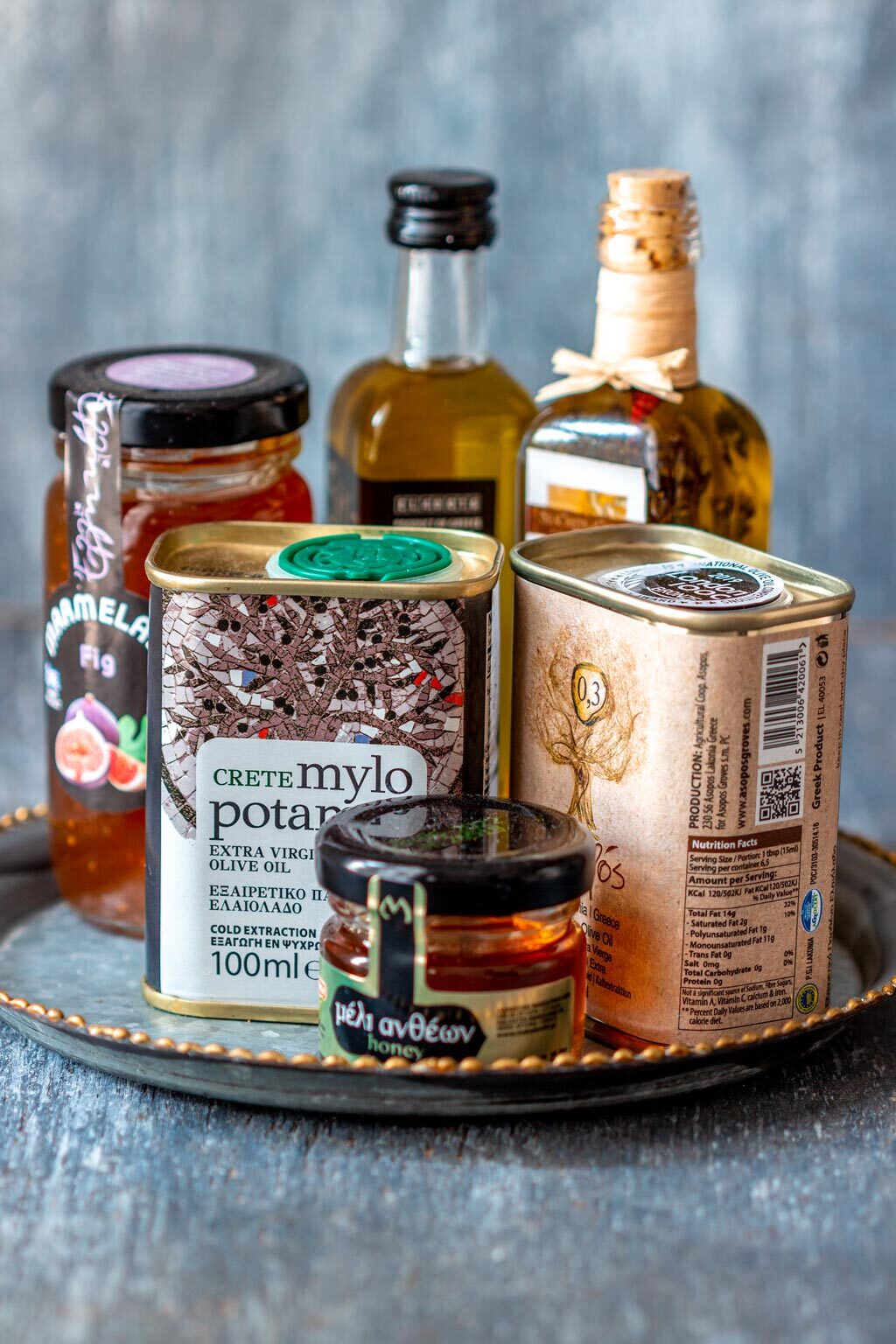 What can I bring back from Greece?
Once you arrive in Greece, whether it is Athens, Santorini, Mykonos, or any of the Greek islands, and once you start browsing all the souvenir shops, you will surely have no problem choosing some Greek souvenirs.
The classic souvenirs from Greece include Greek pottery, jewelry, leather shoes, olive wood products, and olive oil soaps, just to name a few.
But this post is all about edible Greek souvenirs to bring back home for foodies. So here they are:
Olive Oil is without a doubt one of the Greek souvenirs that you must bring home. If not for your friends, then for you to keep. Always look for extra virgin olive oil for the best food experience.
Many souvenir shops offer a good selection and they come in different sizes so if you travel light, you still can manage to carry a few bottles in your carry-on.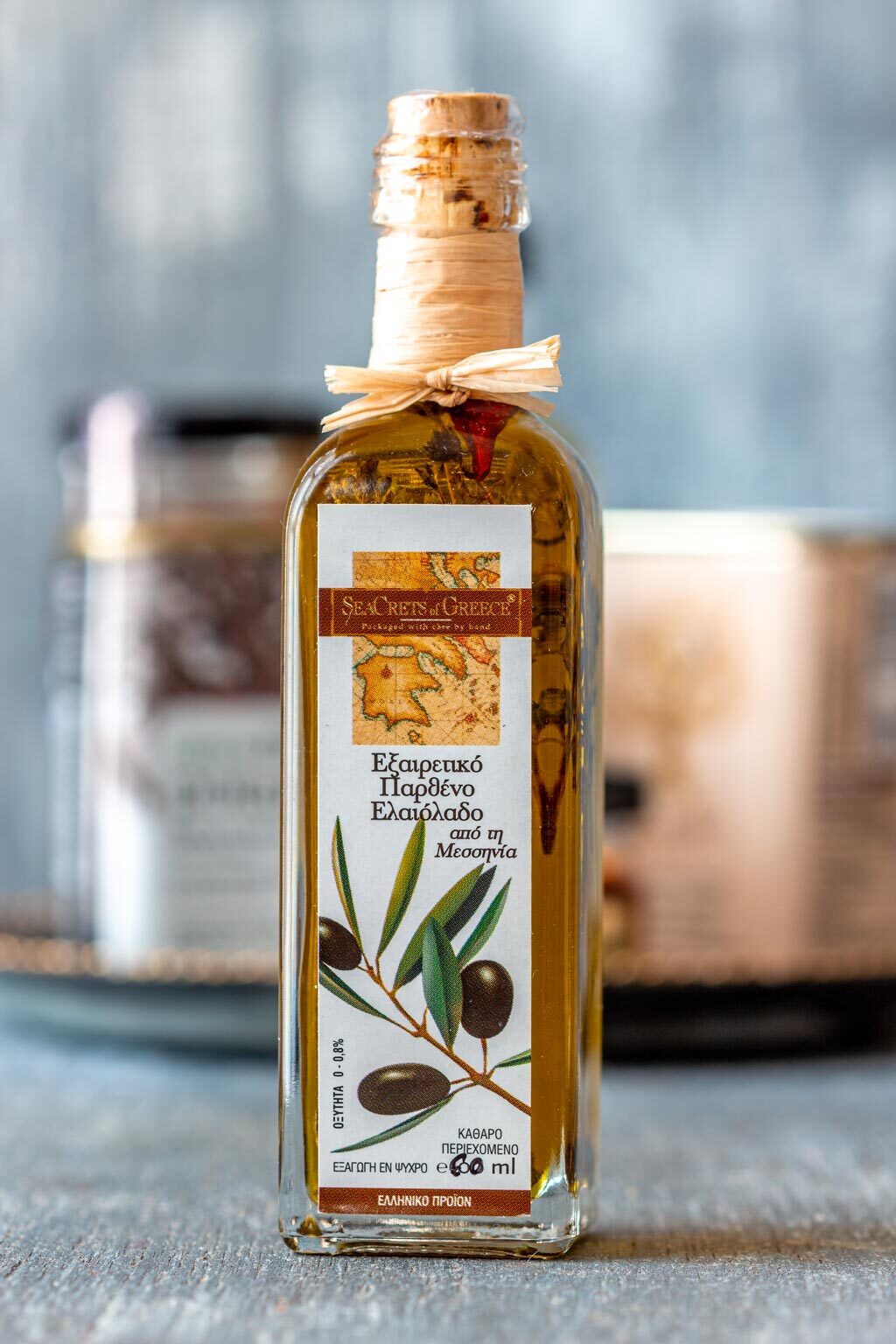 Olives are the next thing to buy. Jarred or vacuum packed, pick your favorite.
Kalamata olives are the most popular ones in Greece. You can easily recognize them by their dark purple color. They make a great gift for any foodie.
Fig Jam – this jam flavor is not widely available around the world so why not buy a jar (or two) when in Greece?
The good thing is that souvenir shops in Greece sell them in small sizes as well so you can buy a small jar which is also more affordable.
Caramelized Peanuts coated in sesame seeds are also one of the edible Greek souvenirs you must try or bring home from your travels. They are the perfect snack for long flights or a movie night.
Some souvenir shops might do tastings as well, so if you see such a place, give them a go!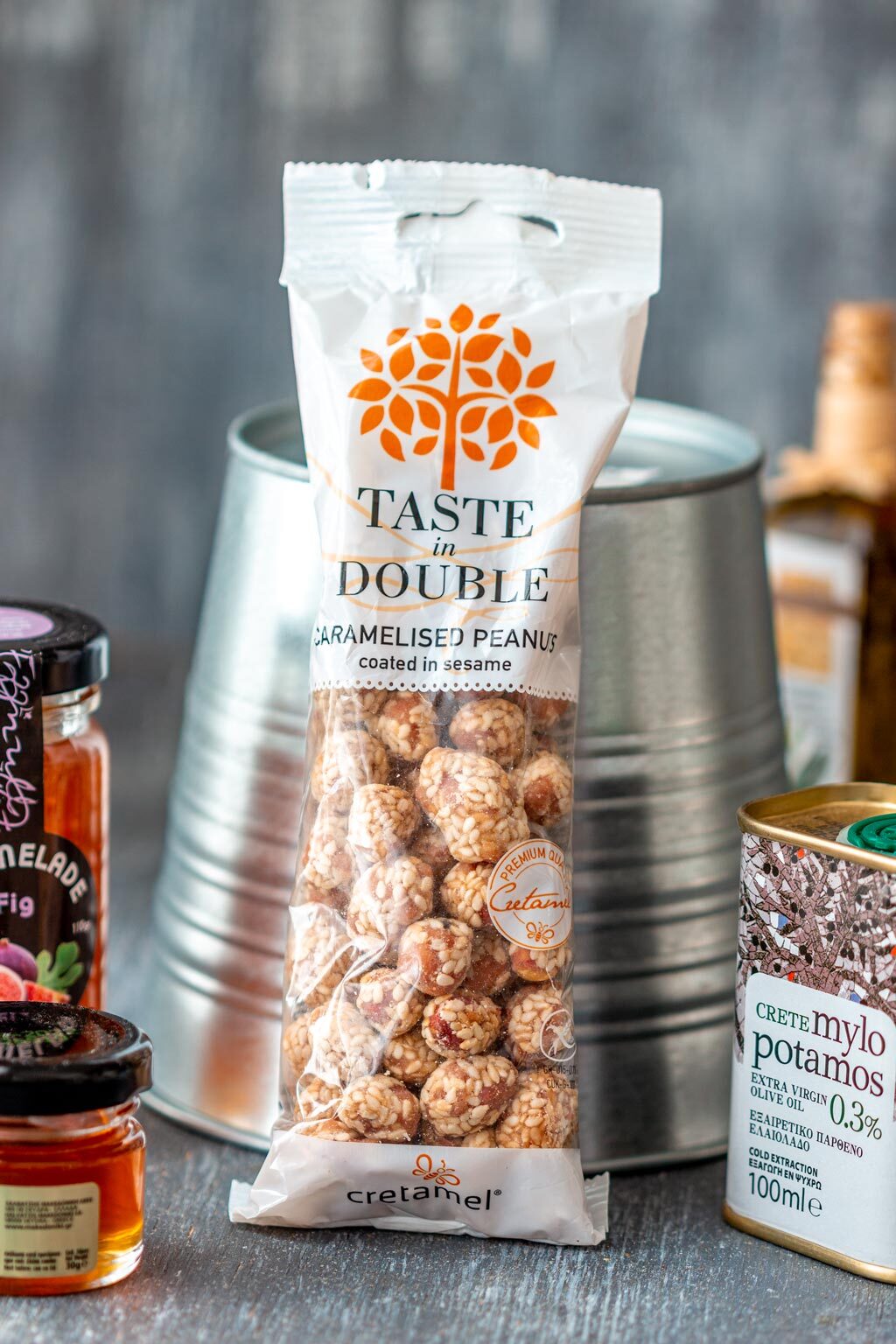 Gyros/Suvlaki Seasoning is the perfect gift from Greece for anyone who loves cooking!
Best used for chicken or pork, this Greek seasoning mix adds a ton of flavor to any dish.
Olive Leaf Tea is definitely a unique Greek souvenir to bring home from your travels. It contains zero caffeine and is an excellent source of Vitamin C. It's the perfect gift for tea lovers or anyone who likes trying/tasting new flavors!
Greece is also known for Greek Coffee. Now, just so you know, they don't grow coffee beans in Greece, but they use a special blend to make Greek coffee. It is made by boiling ground coffee beans as opposed to brewing.
If you or your friends are coffee lovers, why not bring them a bag of Greek coffee altogether with briki – a special pot that is used to make Greek coffee in.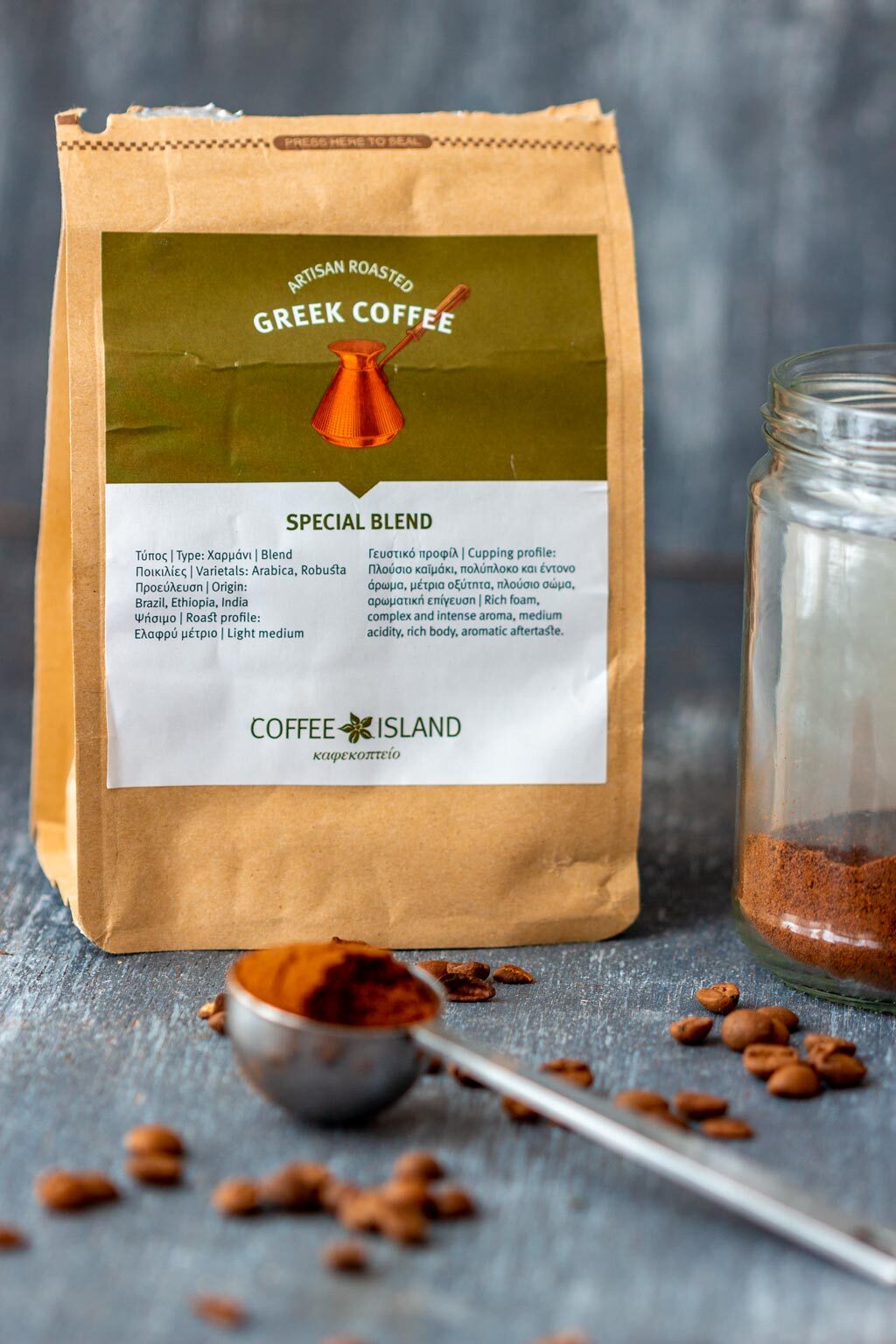 Greek Honey is considered to be one of the finest in the world so if you have a space in your luggage and still don't know what to buy in Greece, this is it!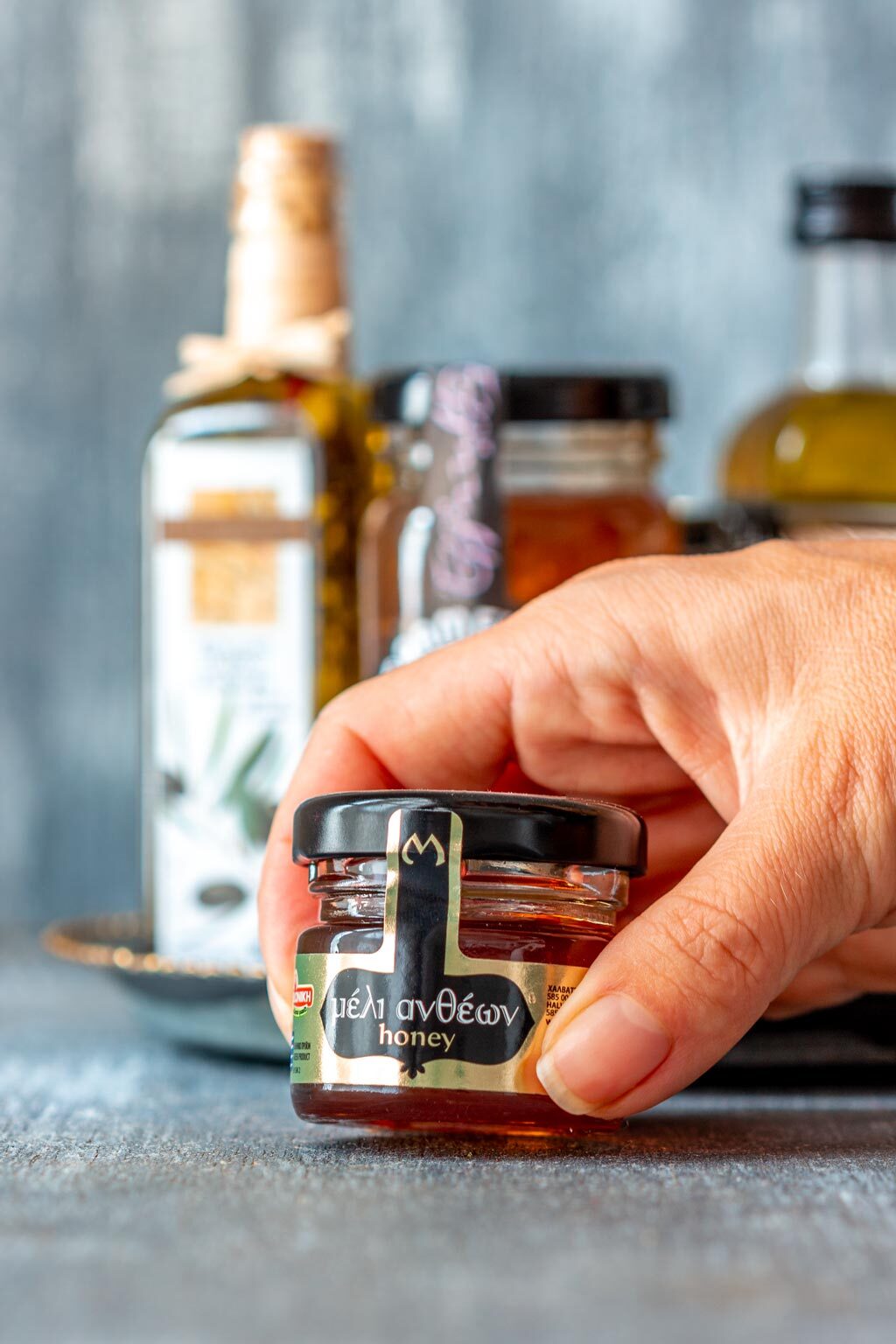 Tip: the best honey apparently comes from thyme so ask before you buy it.
Cheese – Feta, Graviera, Metsovone, Mizithra … You can taste them first (in restaurants or at a market) and you can decide which one(s) you would like to bring home.
Or, just pick a few and when you get back home, prepare a Cheese Board and invite your friends over.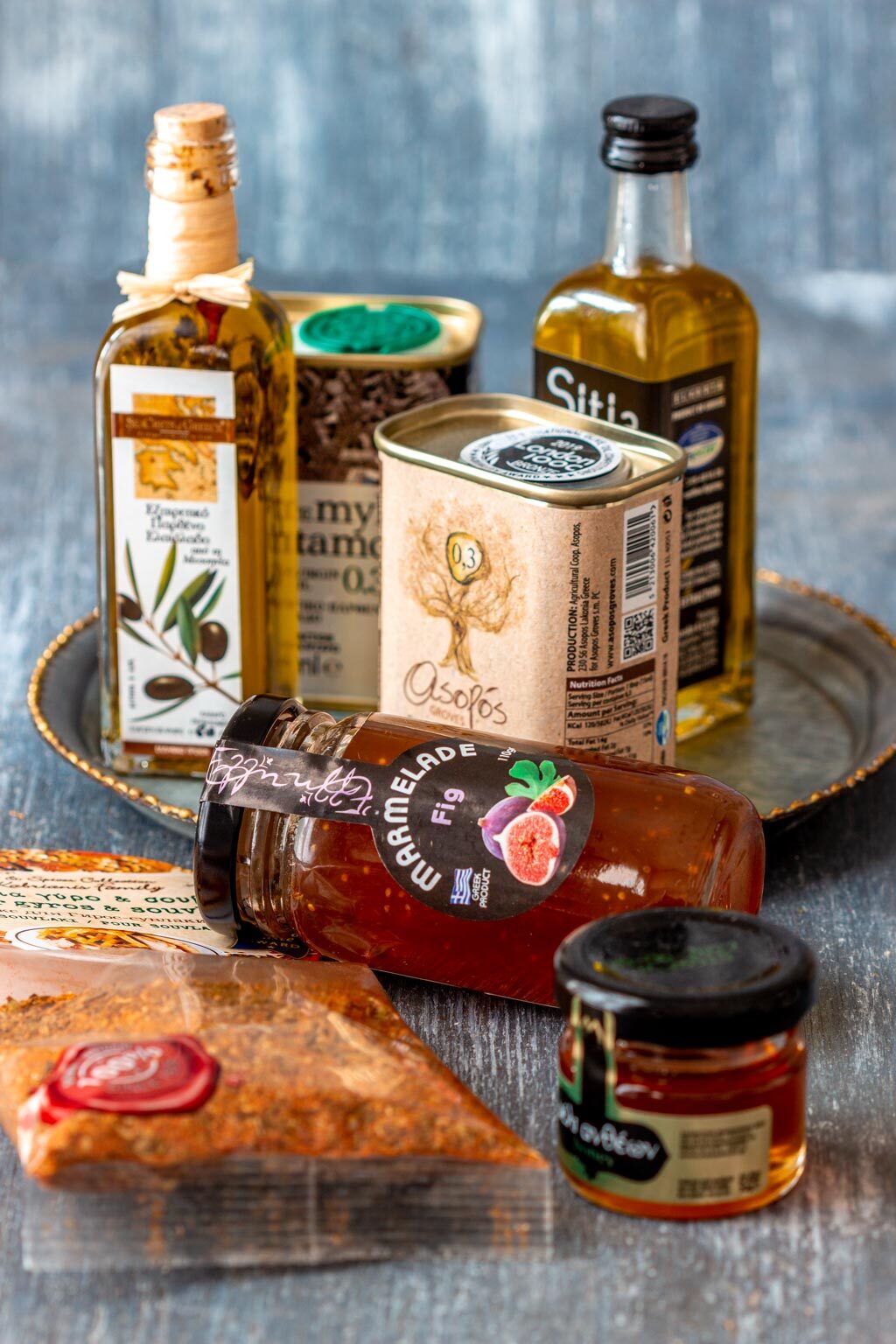 What are the best souvenirs from Greece?
This is a tough question. The reason is simple: The things I like, may not necessarily be the same things you like. I knew that I would be buying edible souvenirs from Greece, but once we got inside the shops selling all sorts of pretty things, we had a hard time choosing what NOT to buy.
In Santorini, I loved their funny T-shirts with donkeys, in Athens I like their T-shirts with the Acropolis as well as oil paintings of quaint Greek villages. So, guess what? I ended up buying those as well.
There are hundreds of Greek souvenirs to bring back home so it really depends on your taste (and the size of your suitcase).
RELATED