This is a detailed itinerary for anyone who only has 24 hours in Valencia, including useful insider tips and links to places of interest. From Old Town of Valencia to the modern City of Arts and Sciences, we've got you covered!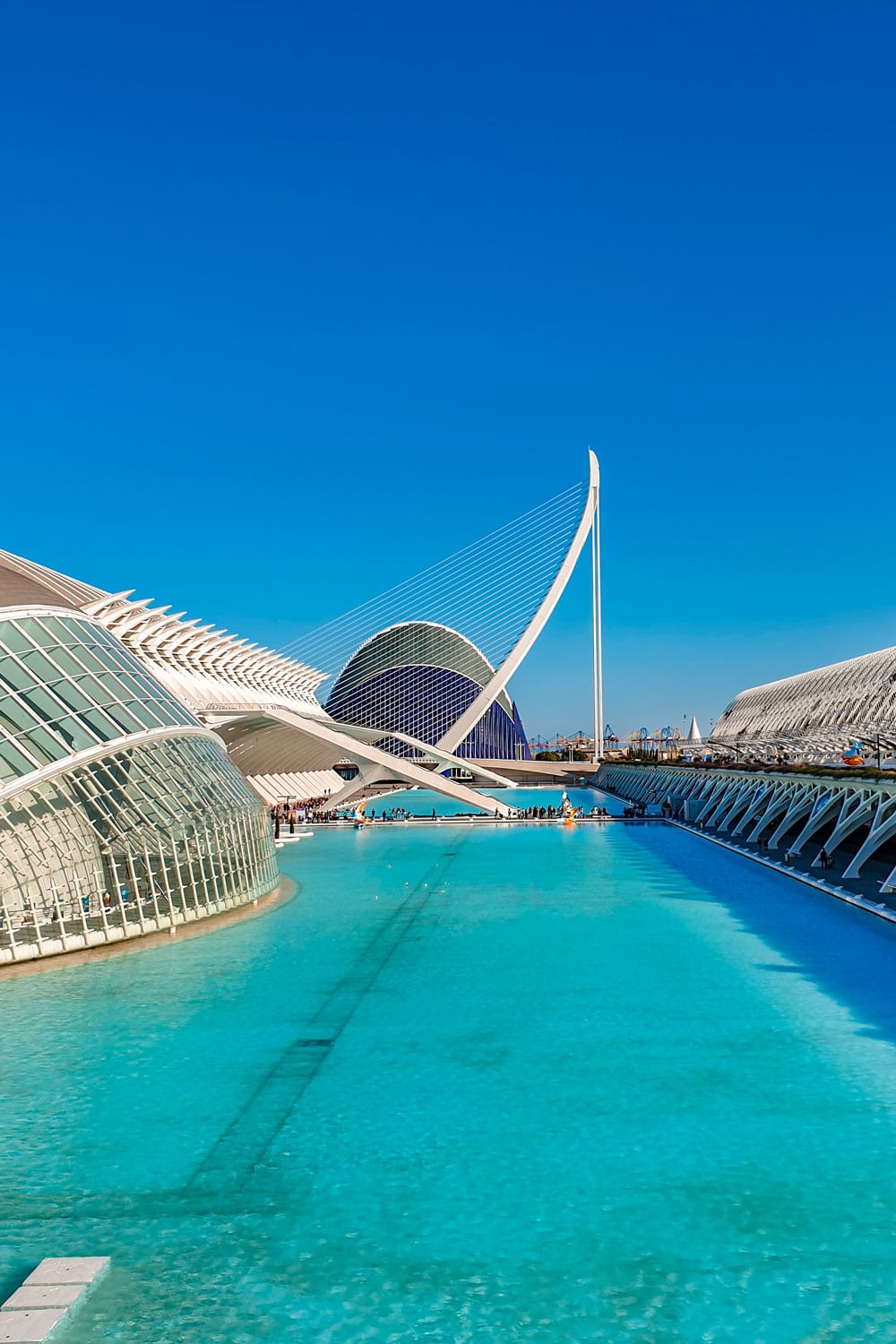 Spending only a day in Valencia and covering all the major sights might sound like a mission impossible, but with a little planning and this detailed Valencia itinerary, you will soon realize that it is easily doable.
Now, that being said, if you want to get the most out of your 1 day in Valencia, you will have to get up early to cover as much as possible.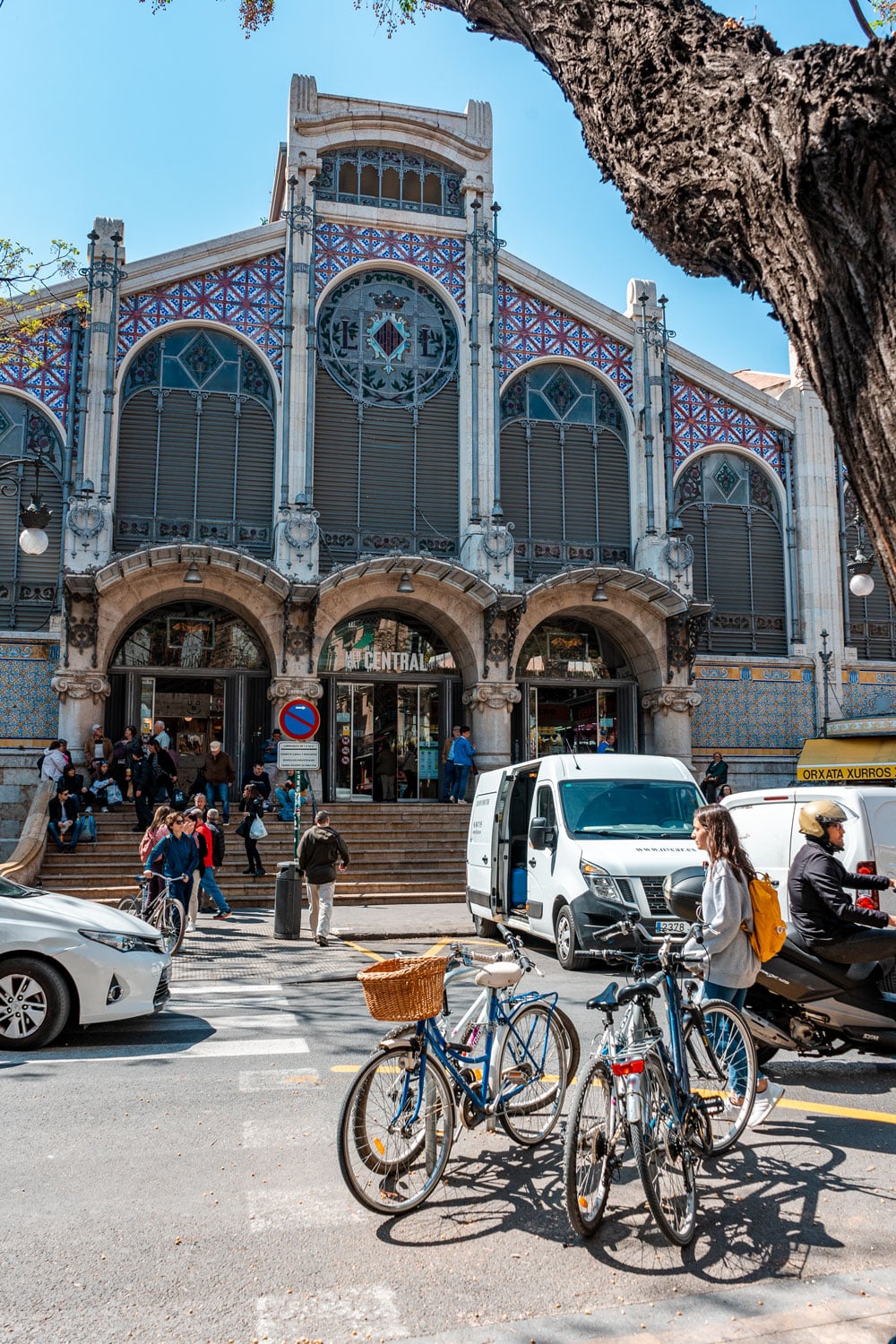 The best option is to start in the old town, possibly with the Central Market of Valencia (Mercado Central or Mercat Central) which is open from 7:30 in the morning.
There are many options to grab a quick breakfast inside, from grab-and-go smoothies and fresh fruit bowls to deep-fried tapas, crepes, and corndogs – there is something for everyone.
Now, just outside the side door entrance, you will find a stall where you can get a quick coffee, but should not miss out on tasting the authentic Churros with Chocolate. This delicious treat is a classic Spanish breakfast and if you haven't tried it yet, here is your chance!
Pick some local wine or olive oil from one of the stands or look for more Best Spanish Souvenirs To Buy.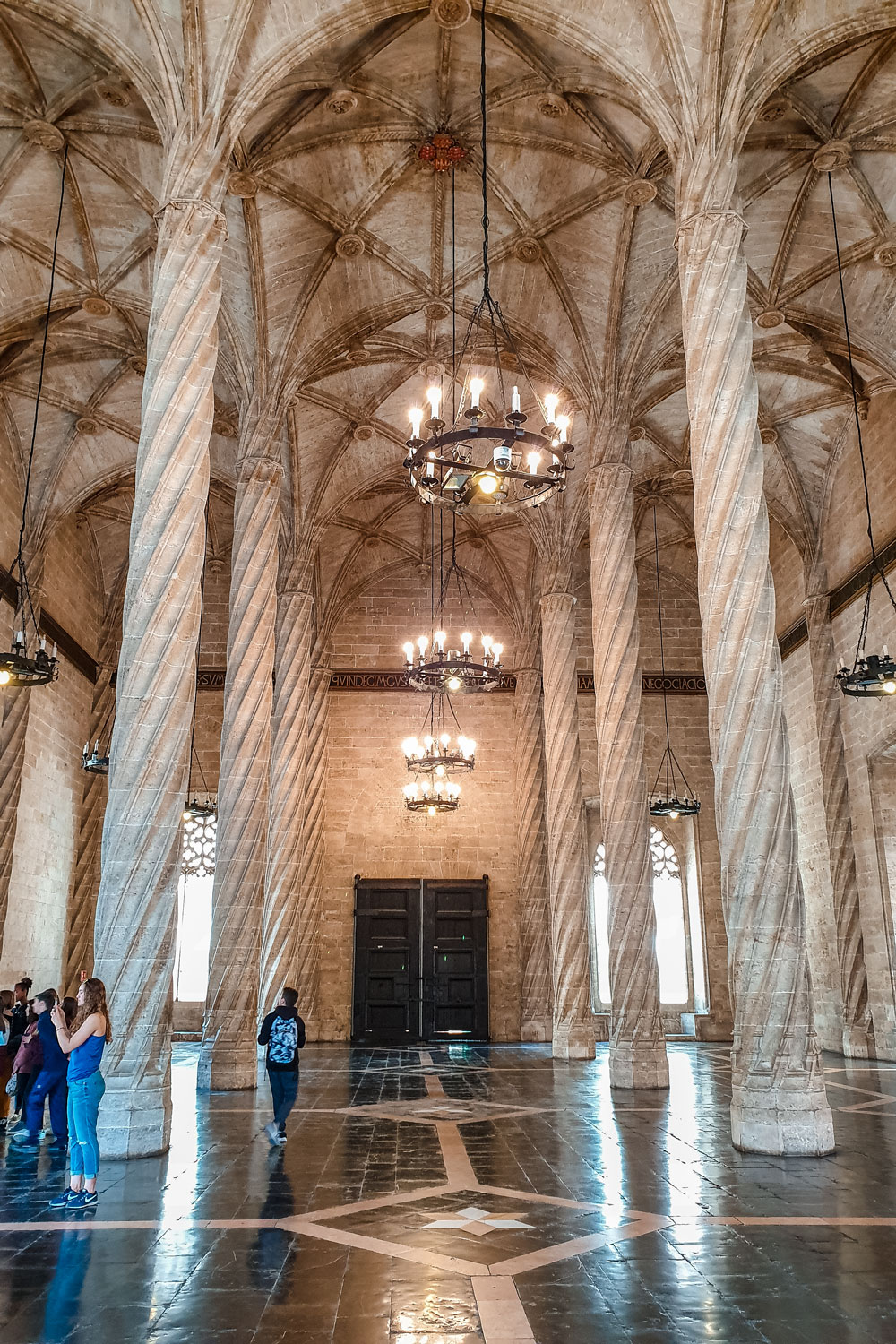 A 2-minute walk from the market will bring you to La Lonja de la Seda a.k.a the Silk Exchange. The entry tickets to this beautiful Gothic-style building only cost 2 euros (students and seniors for 1 euro), so it's well worth the visit.
It's a self-guided tour which means you can be quick if you need to. However, it opens at 10 am, so if you arrive early, why not take some photos of the Santos Juanes Church (or the Church of San Juan del Mercado) first. It's one of the oldest churches in Valencia.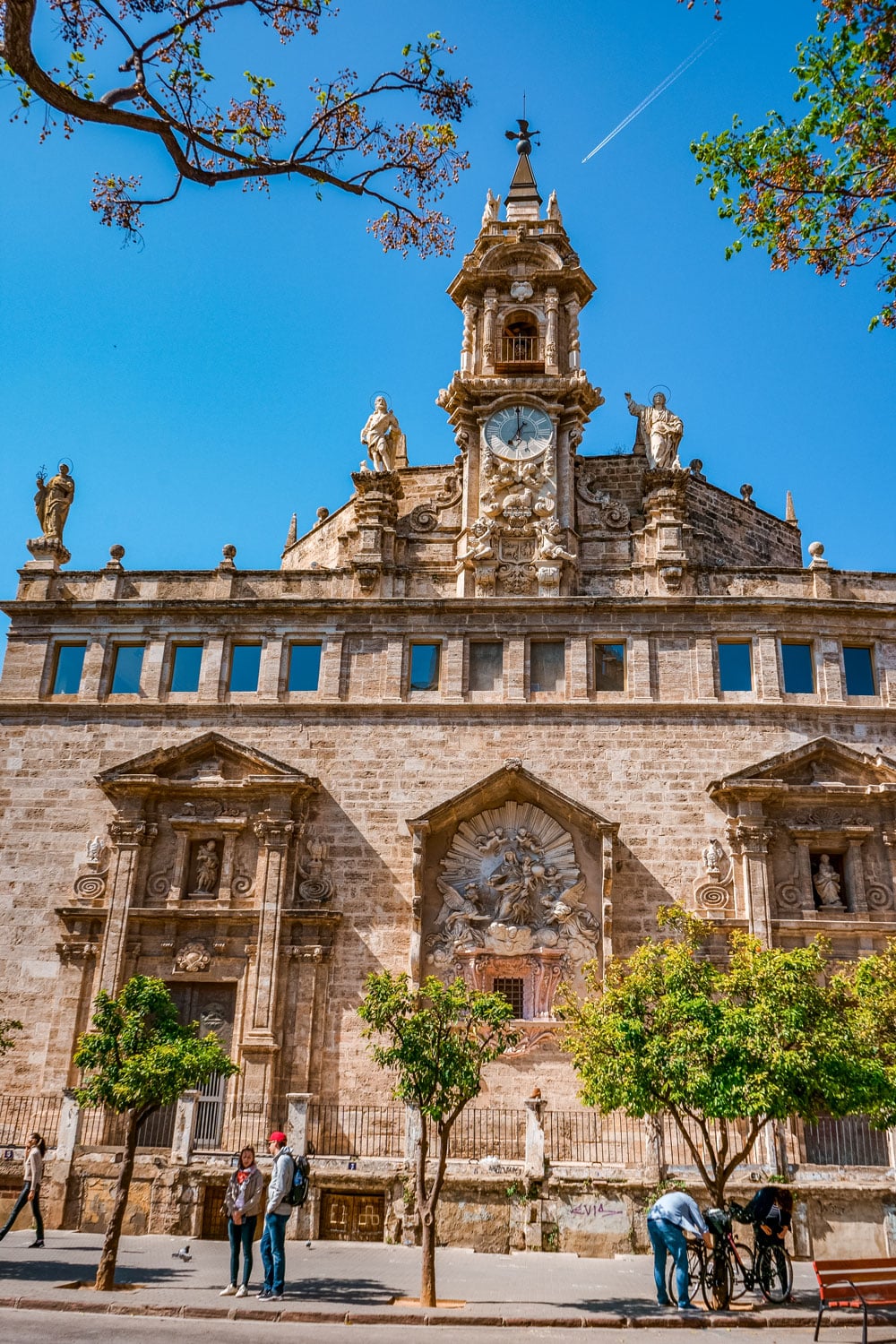 Then, head to Placa de la Reina and keep walking towards Torre del Micalet Tower.
Take some photos from the square or climb up the tower to see a bird's eye view of Valencia city center.
The Carrer de Micalet street will bring you to the Plaza de la Virgin where you will find the Fuente del Turia fountain and Valencia Cathedral.
If you are interested in history and you are familiar with Holy Grail, the cathedral claims to have the real deal!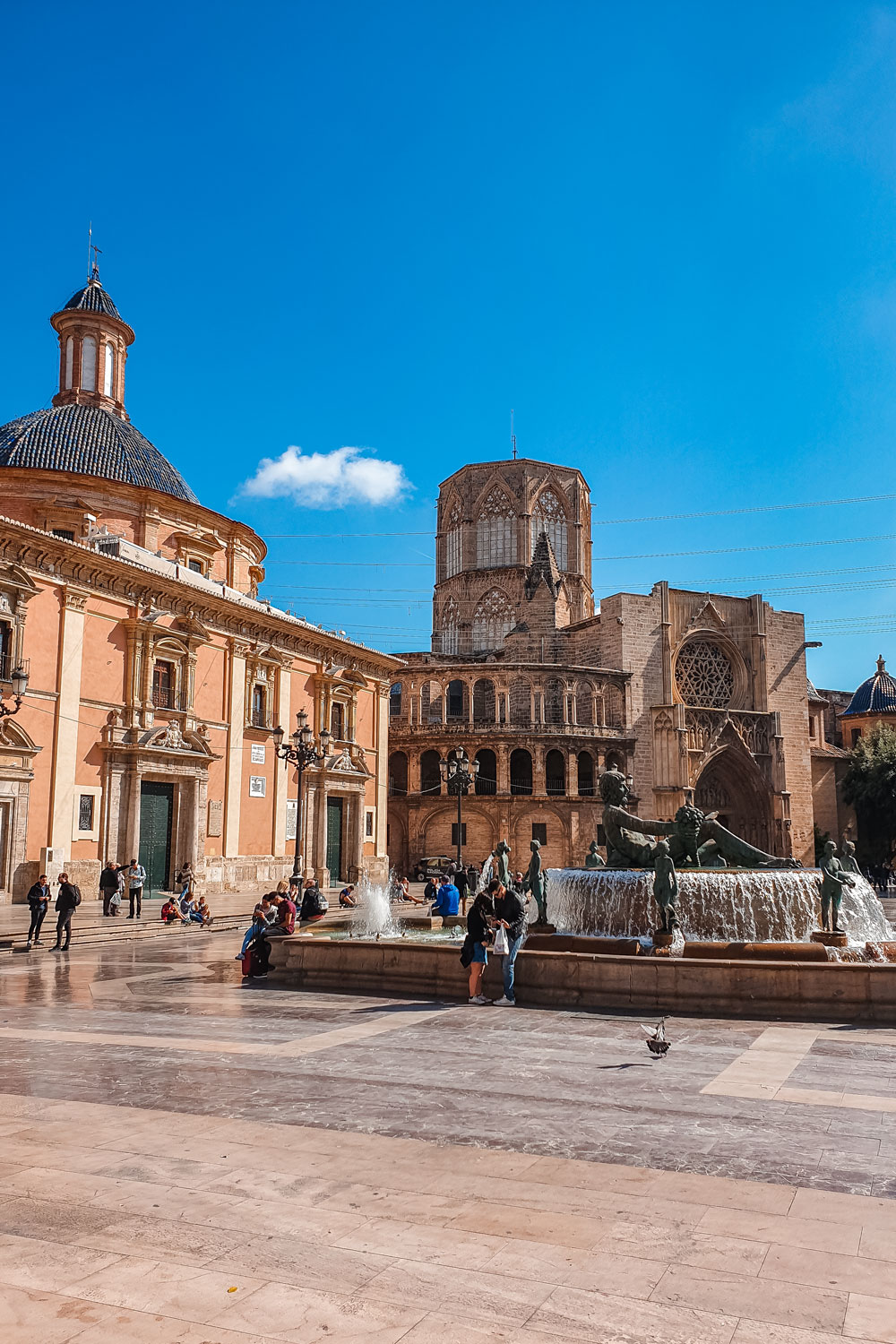 At this point, you've seen the best of Valencia's old town, so you can head towards the modern part of Valencia.
It's a long walk (count with 50-60 minutes, without stops), so if you only have 24 hours in Valencia, then the best way to get there is by bike. There are 2 bike rentals in the area (search Google Maps for Pelican Bike Rentals or PassionBike Valencia). Alternatively, you could take a bus ride, if you prefer.
Follow either the Carrer de Navellos or Carrer dels Serrans streets and head north. You will reach the dry riverbank of Turia River and to the left, you will see the Porta de Serrans Tower, so make sure to snap a few photos of this beauty.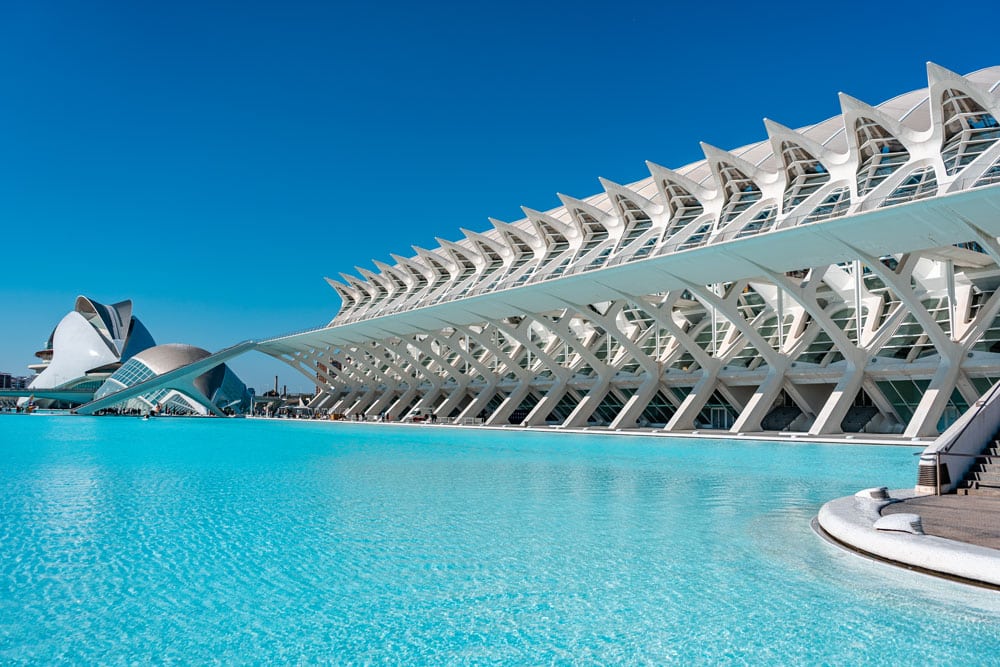 The Turia riverbank is now a favorite place for running, walking, cycling or just enjoying a lunch break in the sun. Get down to the park and cycle (or walk) east towards the City of Arts and Sciences and the Oceanografic.
At some point, you will reach Parc Gulliver, which features Gulliver from the story of Gulliver Travels. His giant body is turned and twisted into slides and fun areas for kids so no wonder it's the most popular park in Valencia.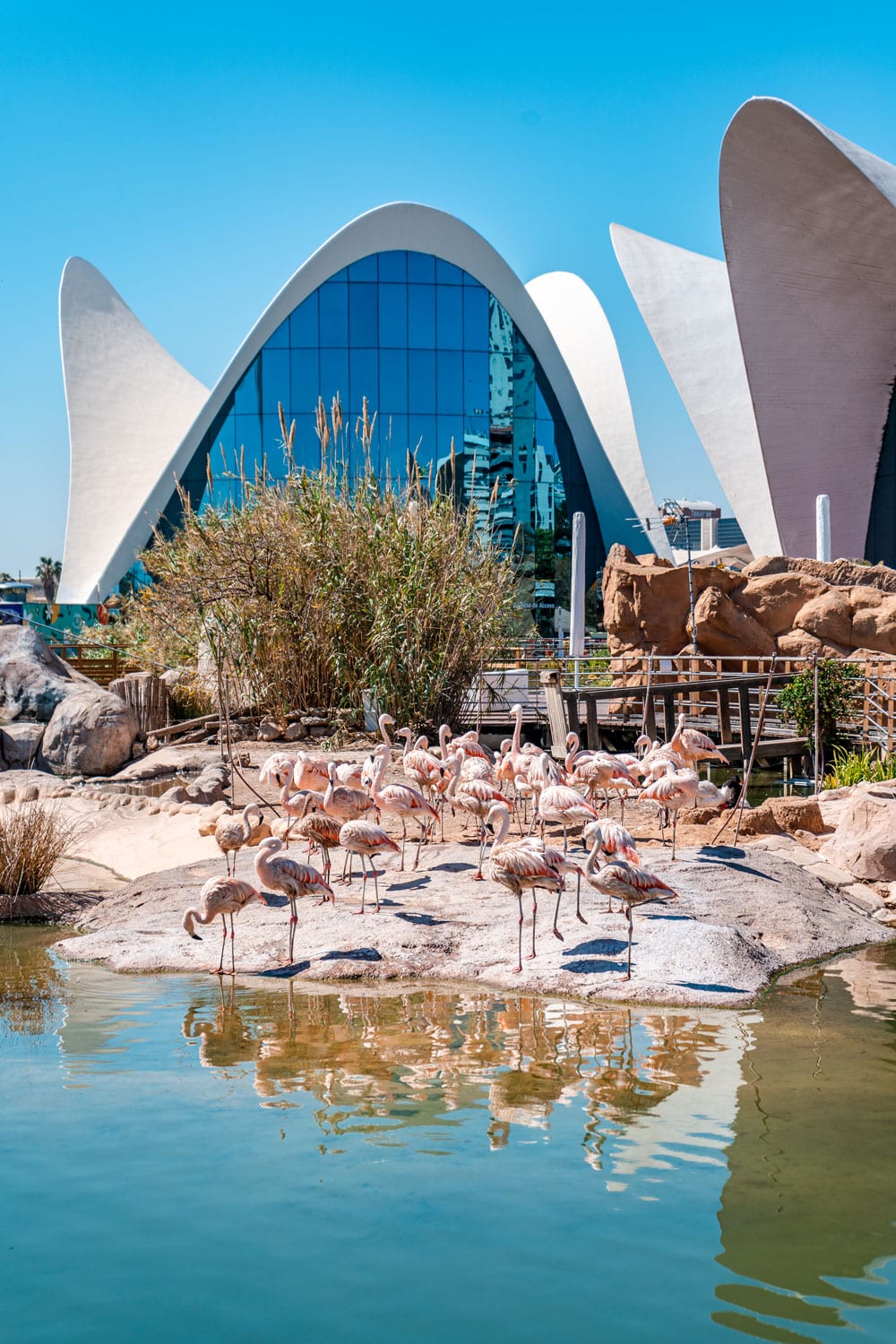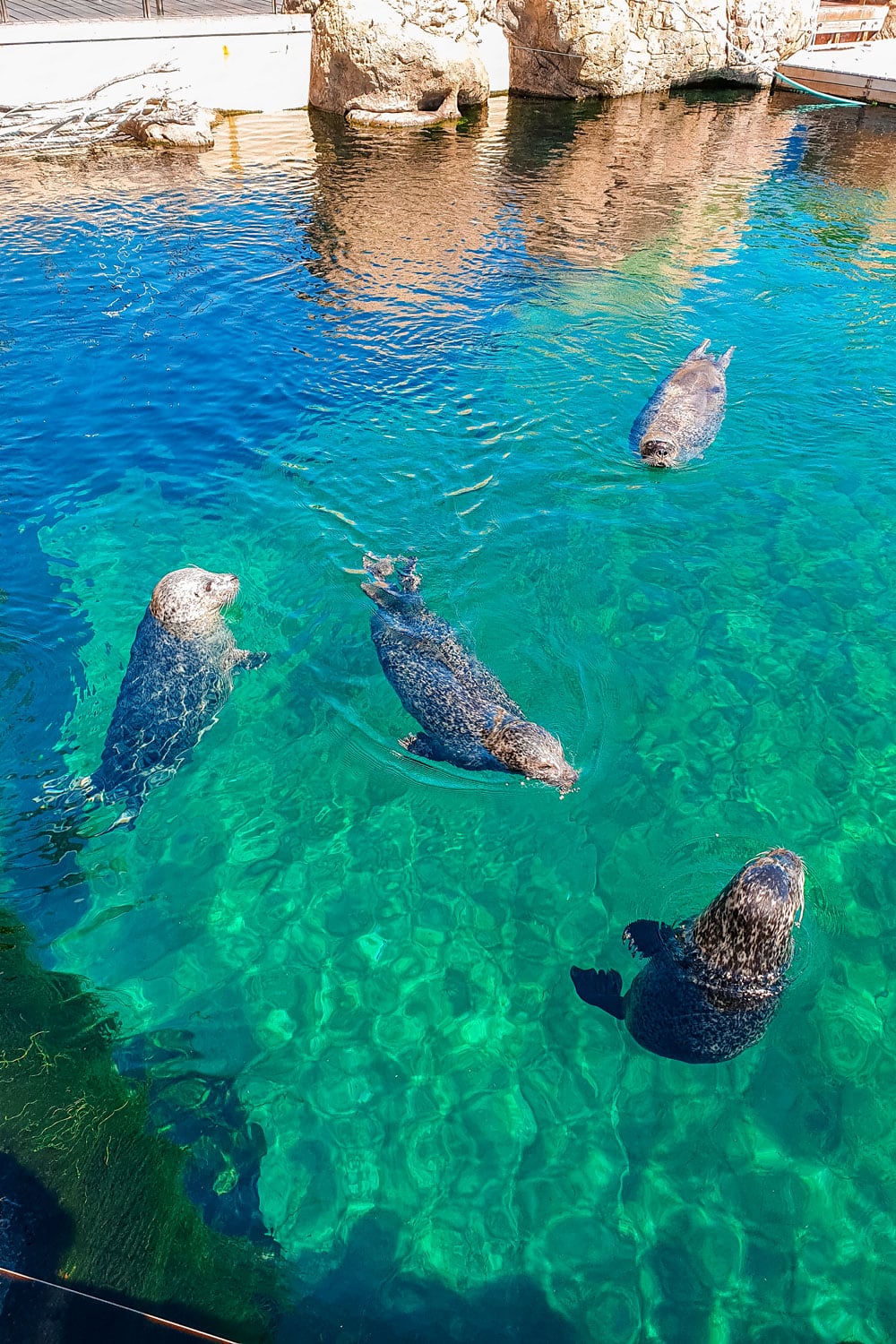 You can't miss the enormous futuristic buildings of the City of Arts and Sciences that are built along the dry riverbed, so once you reach them, you can decide whether you wish to hang around for a while or continue on towards the Oceanografic.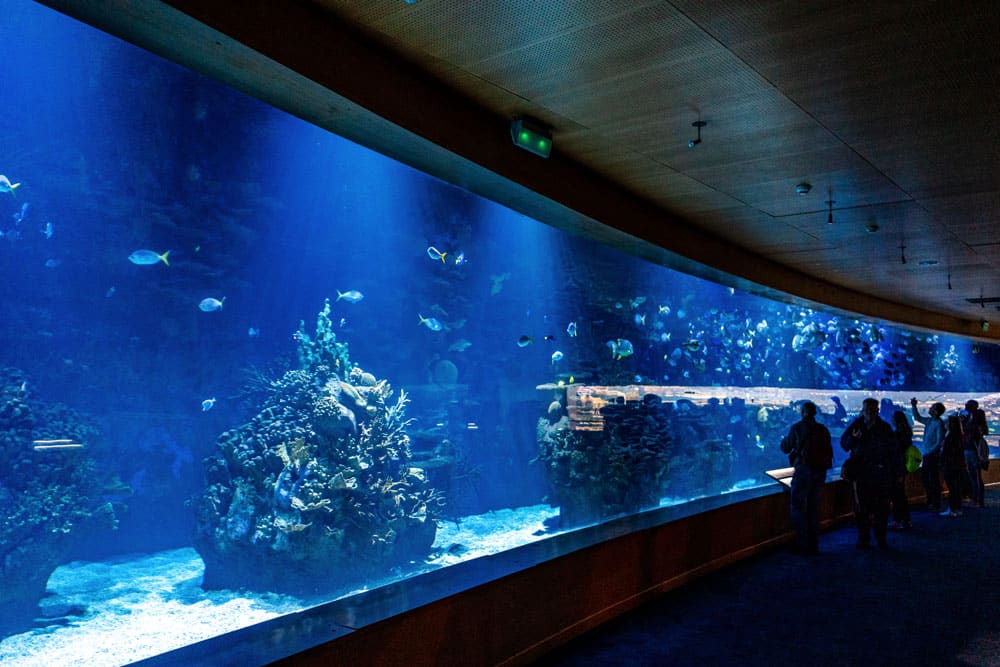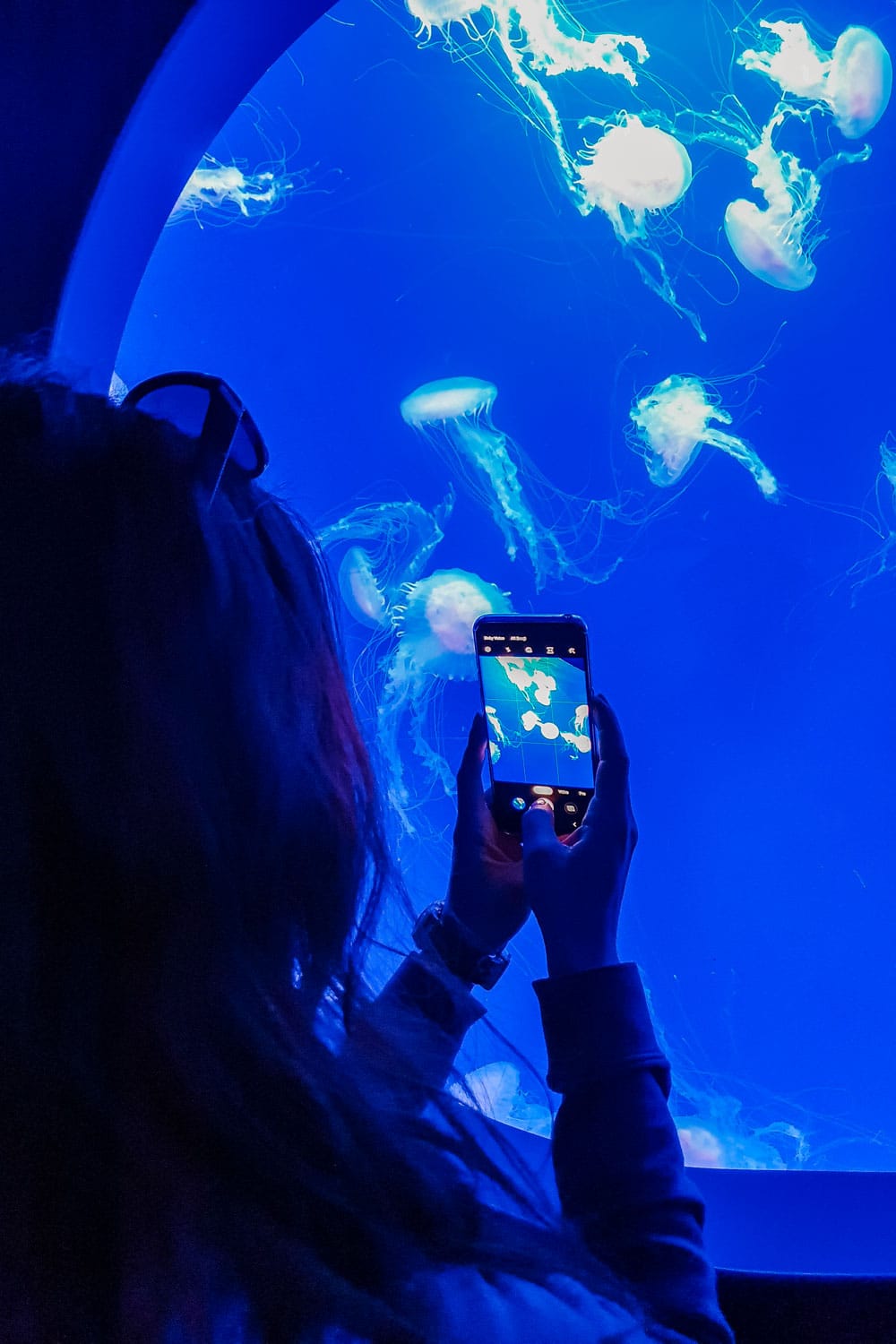 Finish your day with a nice meal in a restaurant of your choice! (The nearby El Saler Shopping Center has a good selection of affordable restaurants or head back to the old town and pick one of the many).
Pro tips:
If you only have 24 hours in Valencia and you want to take it easy, you might need to drop some of the sights. This will depend on the time of year you visit Valencia, on the queues as well as the weather and yourself. For that reason, take this as a guide to Valencia sights and plan your trip the way you like.
The best way to explore Valencia city on foot (and possibly a bike) is by starting in the old town and making your way to the City of Arts and Sciences or the Oceanographic. The reason for this Valencia itinerary is the closing time of Mercado Central, which is 3 pm. If you are not planning on visiting this place or if your priority is the oceanarium, then, by all means, start from the end!
Make sure to check opening times before you plan your 24-hour Valencia itinerary. Opening times can easily change, which can be a nuisance, especially when you only have a day in Valencia. For example, The Silk Exchange has different opening times, one says 9:30, while the other says 10 am.
If you would like to do a few Day Trips from Valencia, then I recommend spending 3 days in Valencia or renting a car and exploring the area at your own pace.
If you rent a bike, but you want/need to return it the same day, you might want to change the itinerary so that you are able to bring it back before their closing time. Perhaps start from the end (by visiting the modern part of Valencia first).
Things to know before visiting Spain is a useful post covering all the important facts that will make your trip to Spain easier.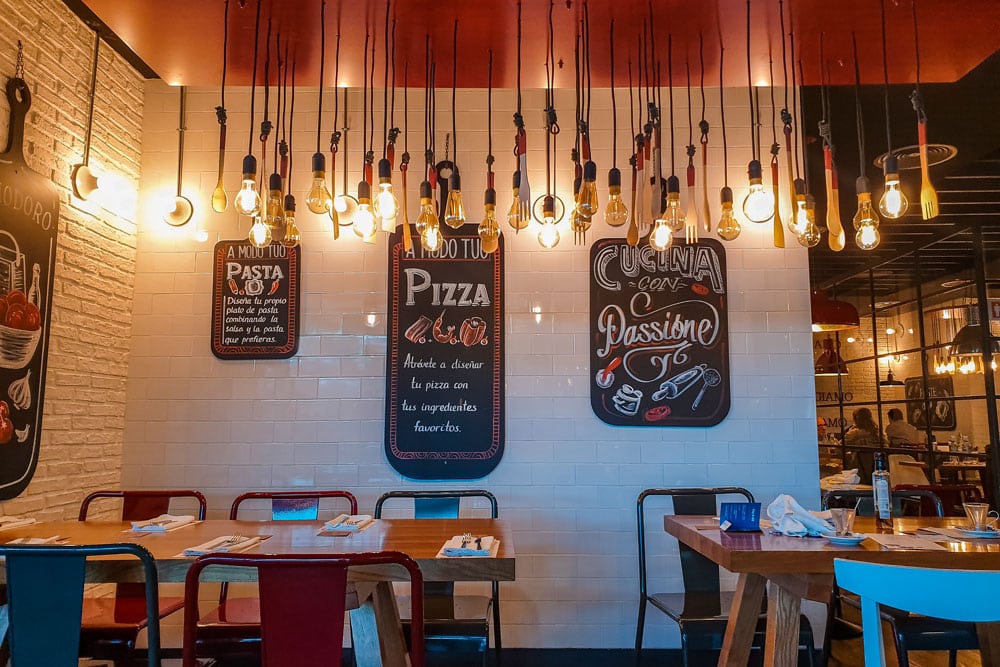 Useful links to places of interest:
RELATED