Calpe is a small Spanish town on the Mediterranean coast. Once a fishing village, it is now a popular seaside destination with stunning scenery, sandy beaches, and the El Peñón de Ifach rock.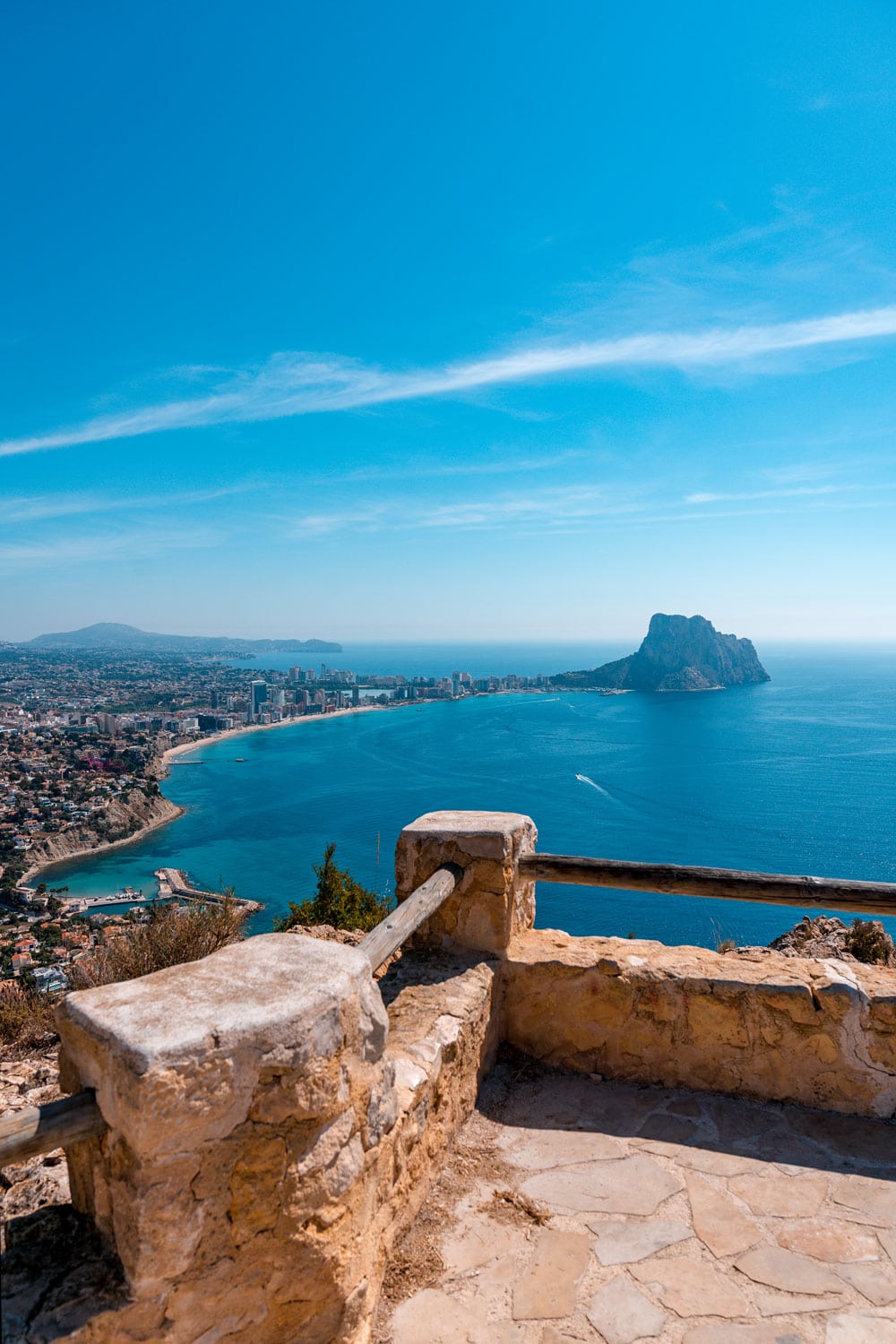 This post contains the best things to see in Calpe including helpful information and tips, as well as our own opinion.
This town is a good base to explore the area whether you decide to go North, South or inland. When planning a trip, keep in mind that it is sometimes spelled without the "e" at the end.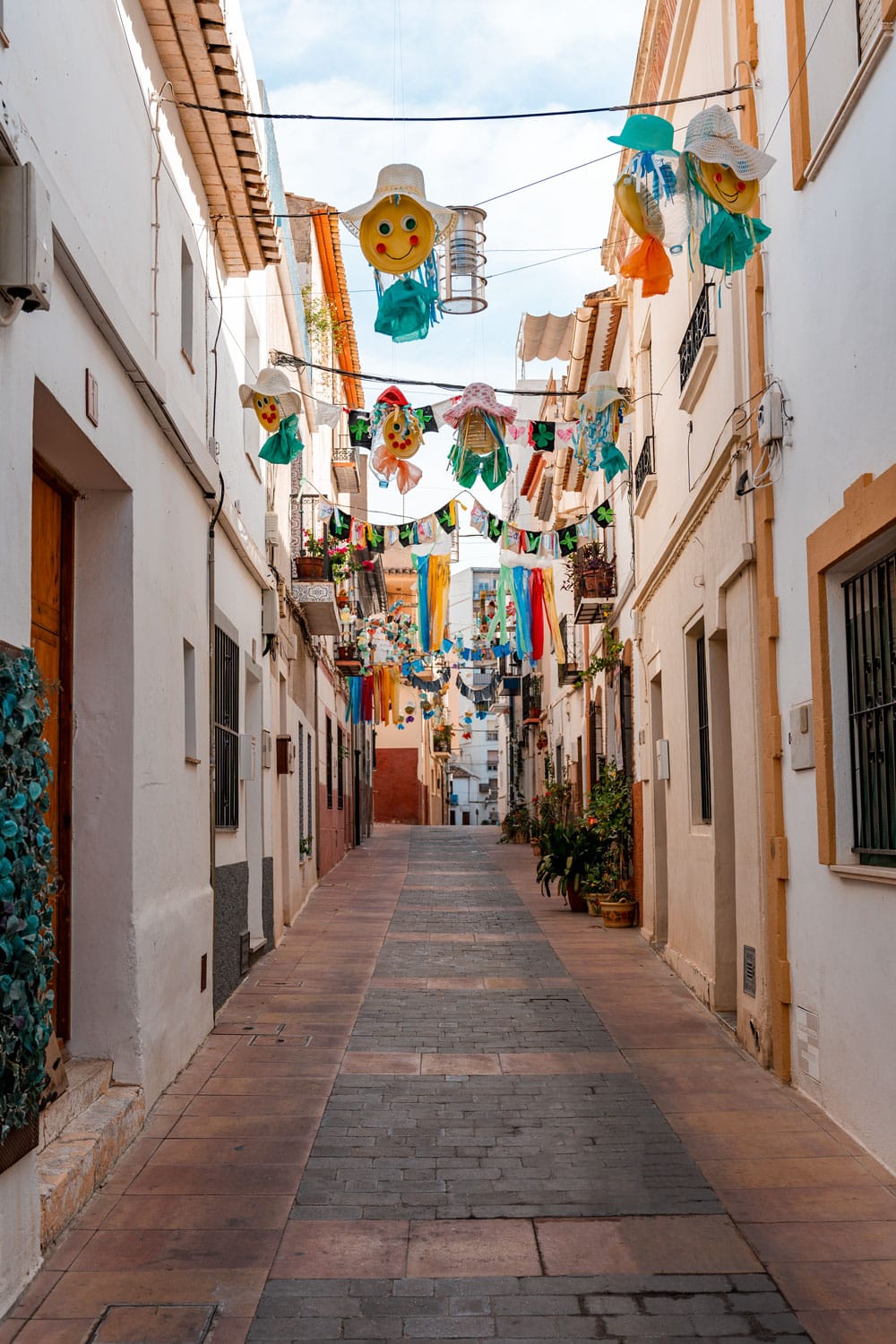 Where is Calpe?
This seaside town is only a short drive North from Benidorm, Spain's most popular seaside resort on Costa Blanca. It can be reached via AP-7 (motorway/highway) and N332 (national road) in less than 30 minutes.
Now, perhaps you are planning to see the festival of Las Fallas in Valencia and looking for other interesting places to see in Spain. Know that Calpe is only 1 hour and 20 minutes away South from Valencia and it's an easy drive on the AP-7 highway/motorway.
From Barcelona, it is a 4.5-hour road trip (about 480 kilometers/300 miles) down along the east coast. It might be a bit farther but why not extend your trip and explore some of the best castles in Spain along the way?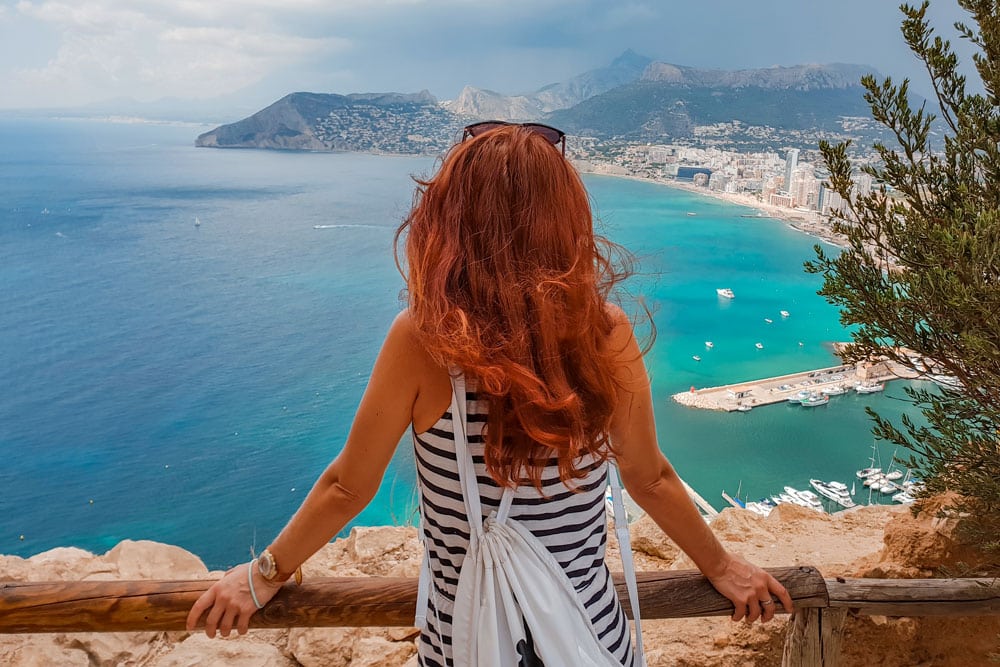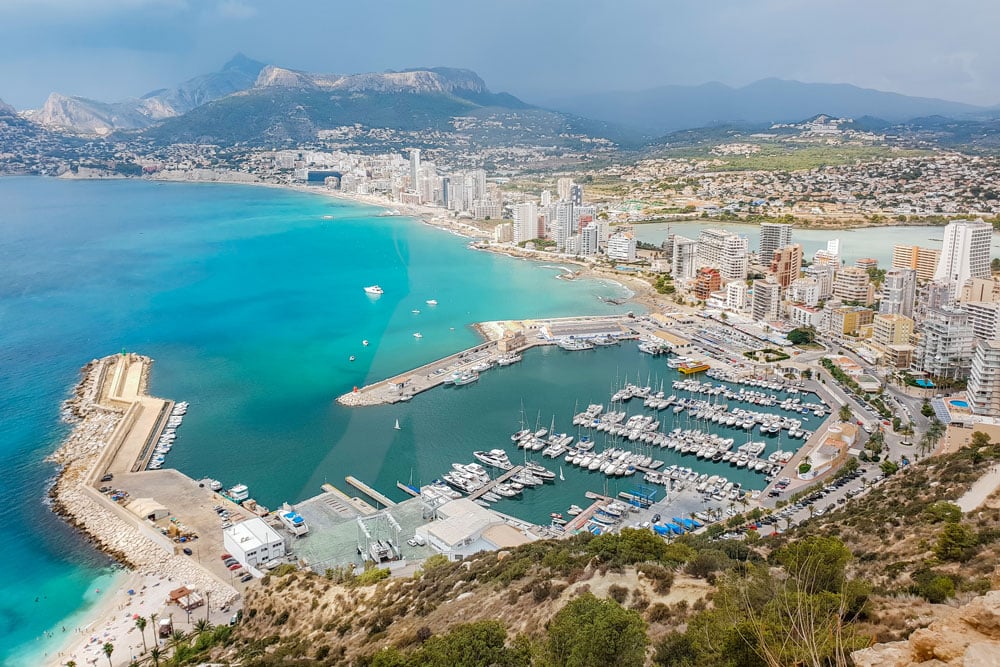 So, what to see in Calpe?
Peňón de Ifach, often compared to the Rock of Gibraltar is a pretty impressive limestone rock and one of its kind in Costa Blanca. 335 meters/1100 feet high, it is a popular place not only for various birds but also climbers and hikers. In fact, you can climb up to the very top of the rock if you are up for it.
Baños de la Reina – Roman baths were cut into a rock to create sea pools. In the Roman times, they were used as a nursery for fish, today many like to spend a relaxing time simply by dipping in the pools. If you like a unique experience, you might wanna put it on your bucket list!
Pobla de Ifac – The ruins of a medieval village is to be found right under the Rock, just before its visitor center. Part of this 13th-century settlement were houses, storerooms, a church as well as a cemetery.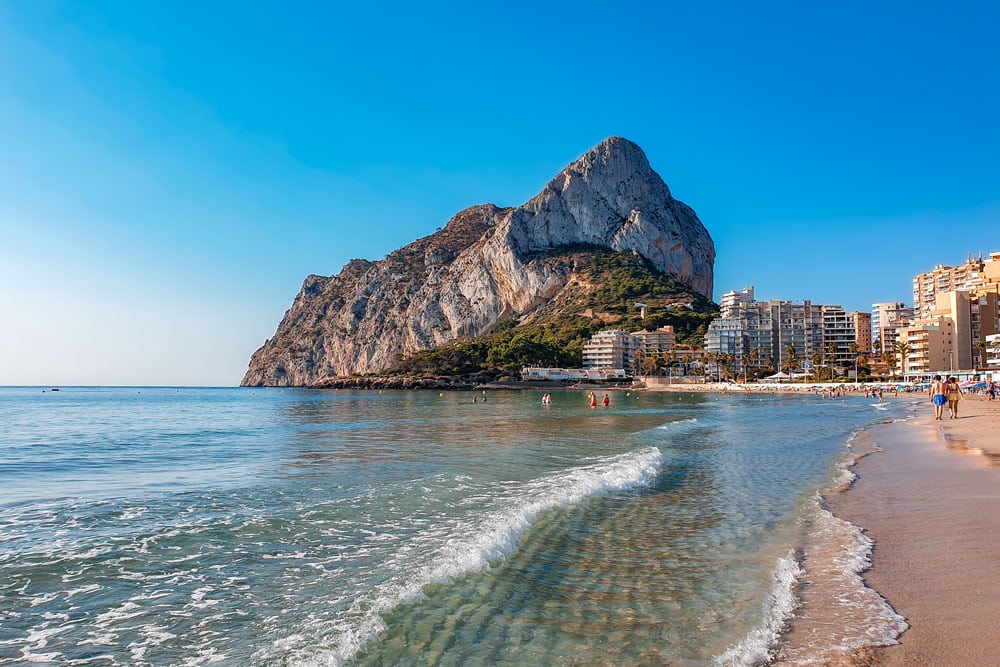 Platja de la Fossa – Our favorite sandy beach in Calpe with the Rock as a backdrop and a nice promenade with plenty of restaurants (There are many Spanish foods you must try but when visiting in summer make sure to try Gazpacho!).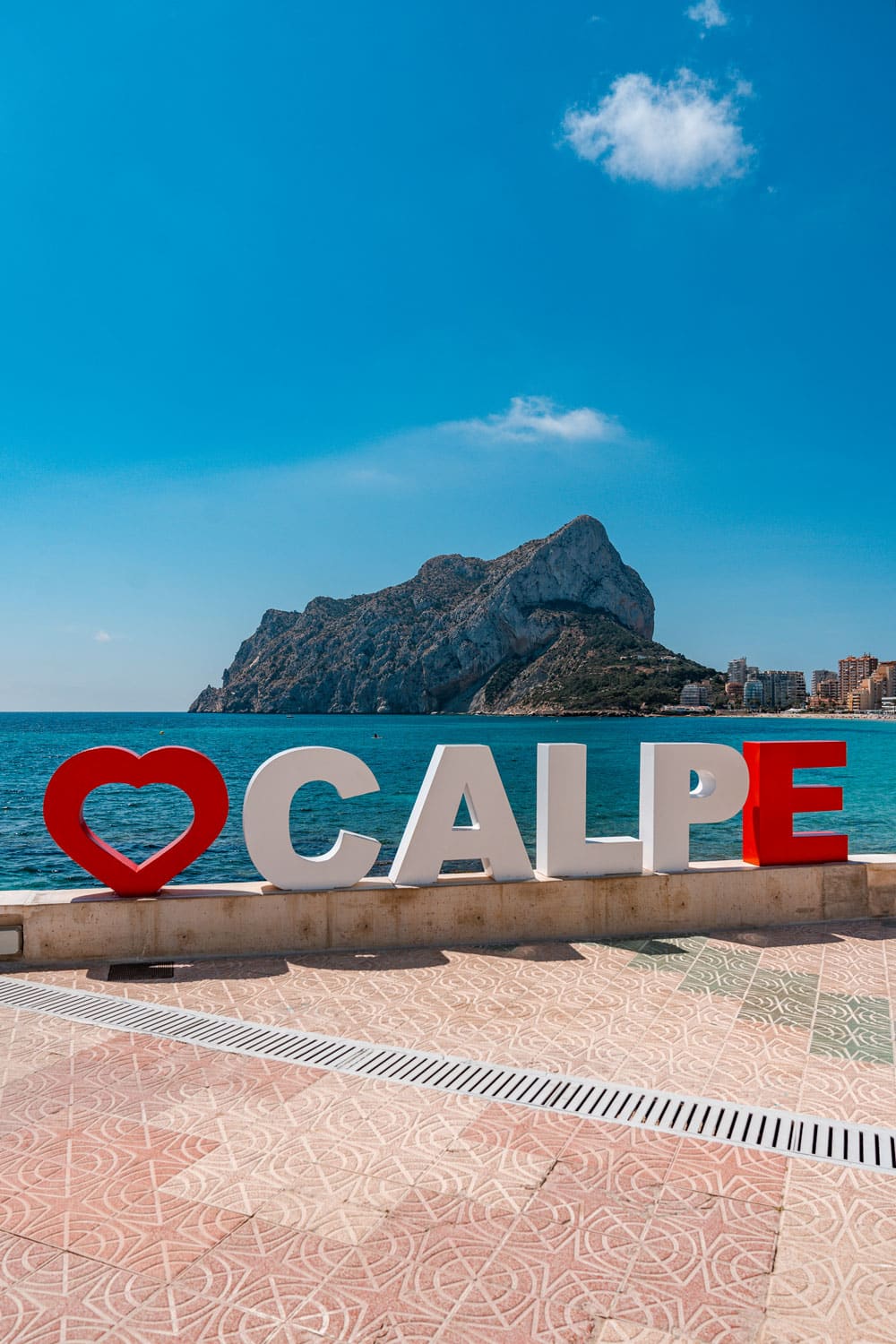 The Calpe Sign – a short stroll on the promenade away from the Rock and you will reach the perfect photo location – right in front of the CALPE sign with the Penon de Ifach as a backdrop.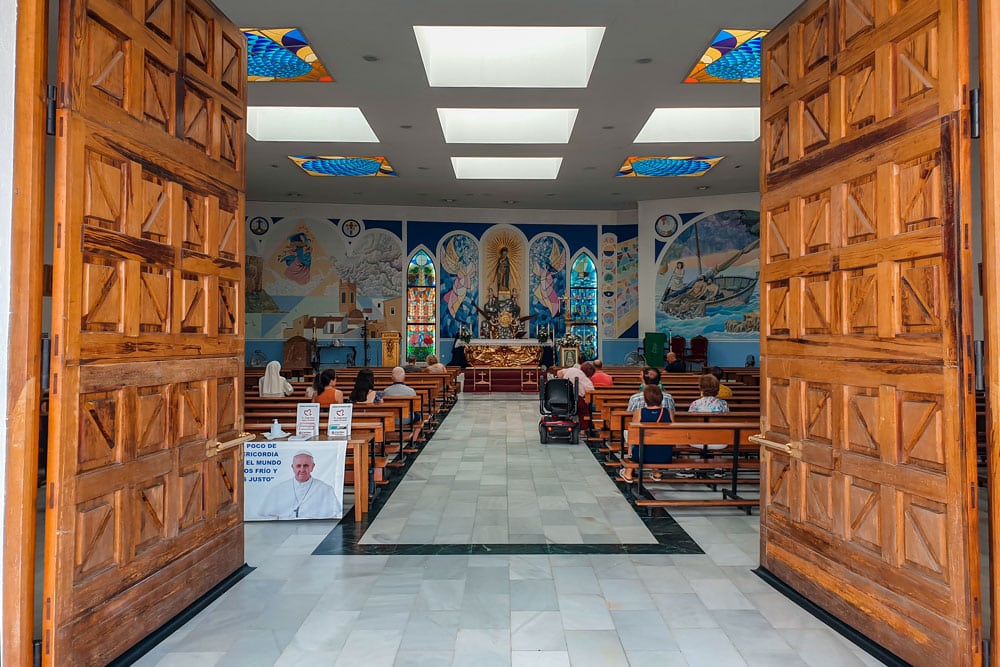 Calpe's Old Town – It was built away from the sea and completely fortified to protect its inhabitants from pirate and Moorish attacks. Some of the walls are still preserved to this day. The church of Nuestra Señora de las Nieves located in the heart of the Old Town (Placa de la Villa) has beautiful mosaics and murals and so do the narrow streets around it. The historic center can be reached from the Arenal Bol beach in 10 minutes on foot.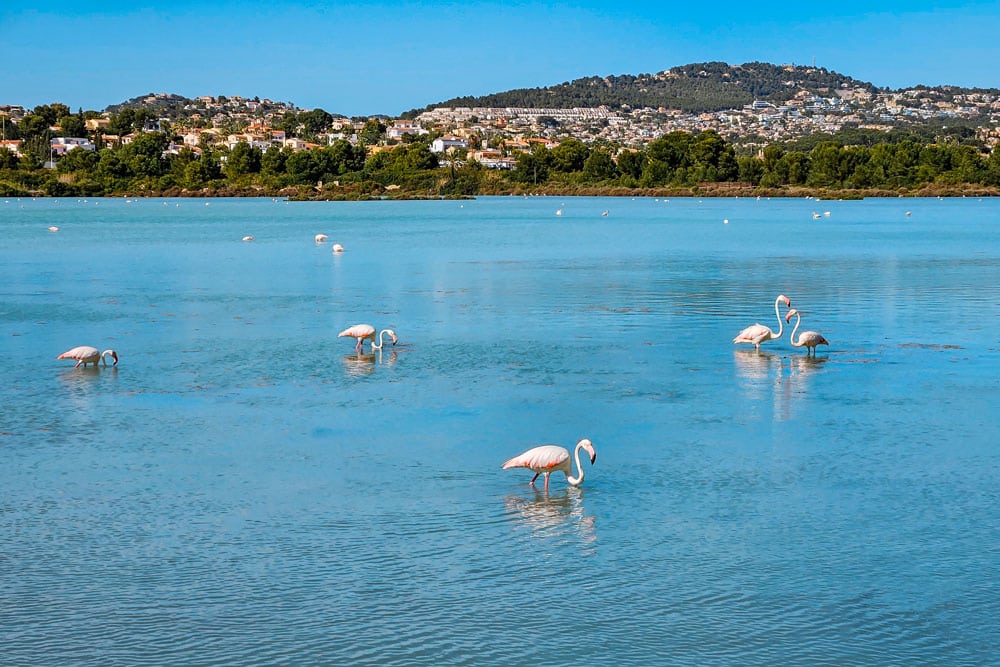 Salt Flats – This natural reserve is right in the middle of an urban area and is home to flamingos as well as other migratory birds. In the old times, the salt from these flats was used to preserve fish.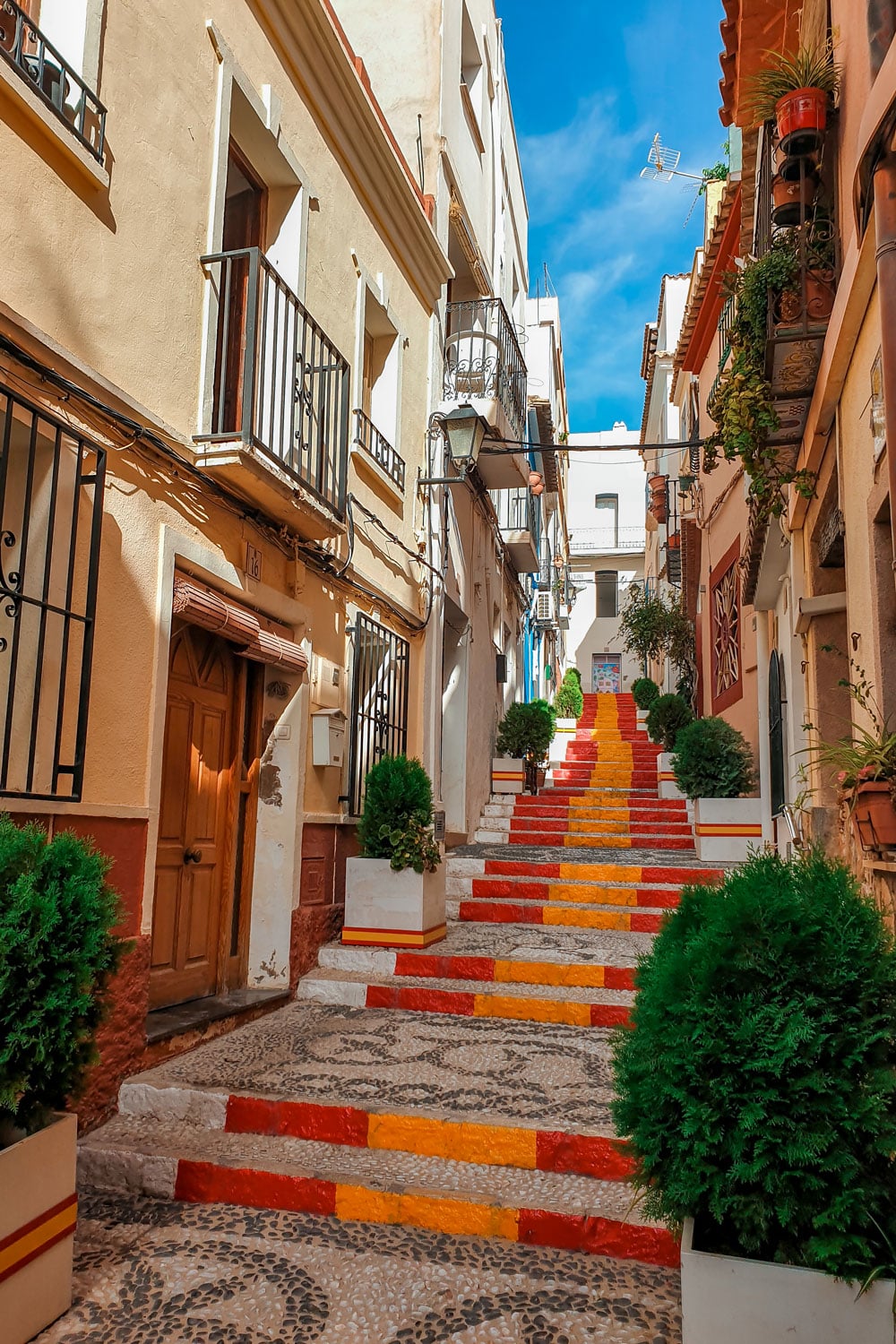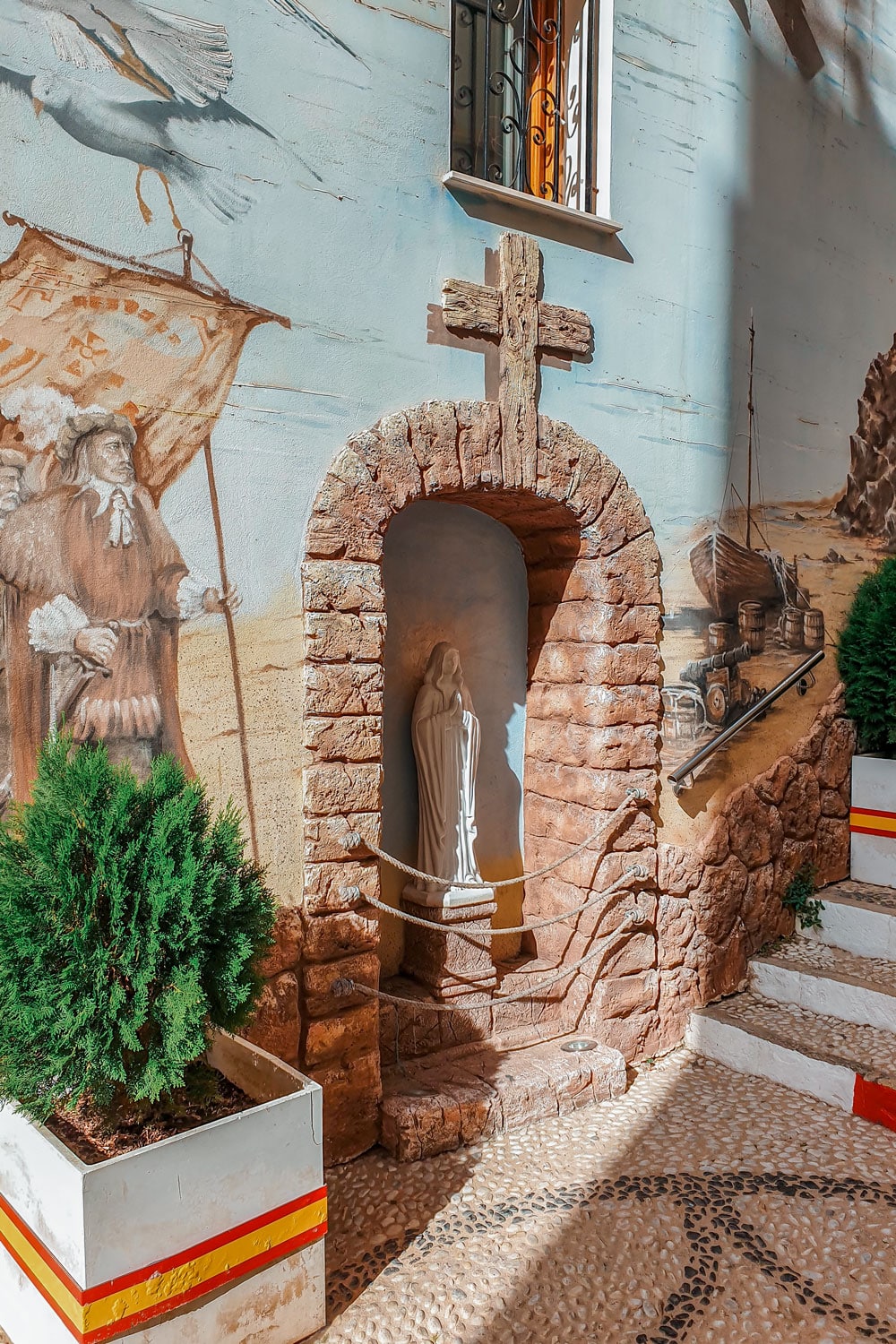 The Spanish Flag Steps – Another must-see attraction in Calpe and a perfect Instagram photo location! They are easily reached from the main square – "Placa de la Vila". Just look for the "Carrer de Puchalt" street.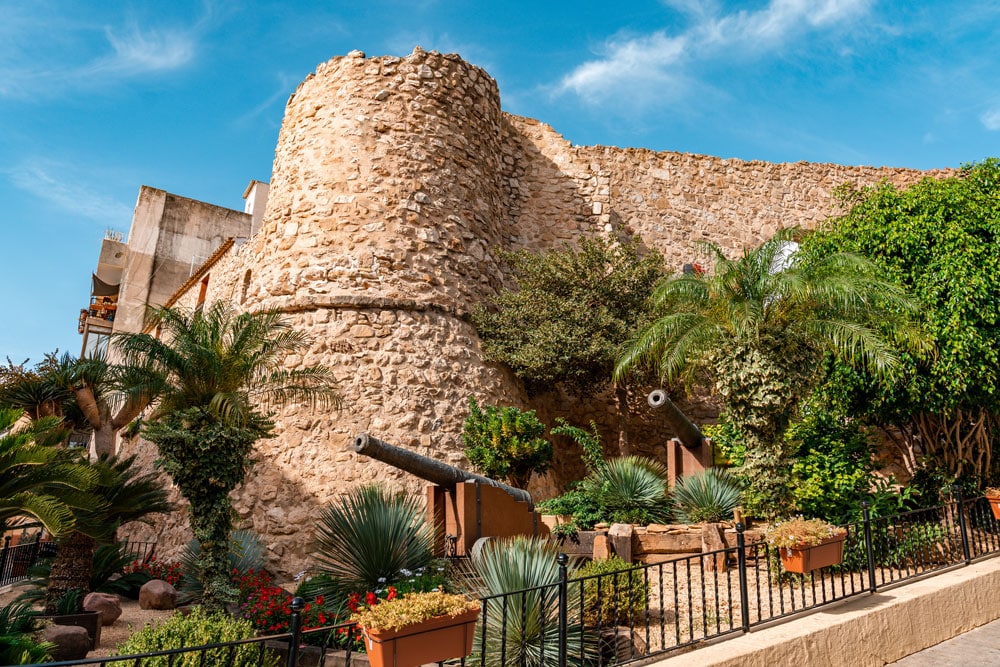 Torre de la Peca – Once a part of the fortification, it now houses a small museum "Museo del Coleccionismo". Tip: Don't miss the 2 canons just outside the remains of the defense wall!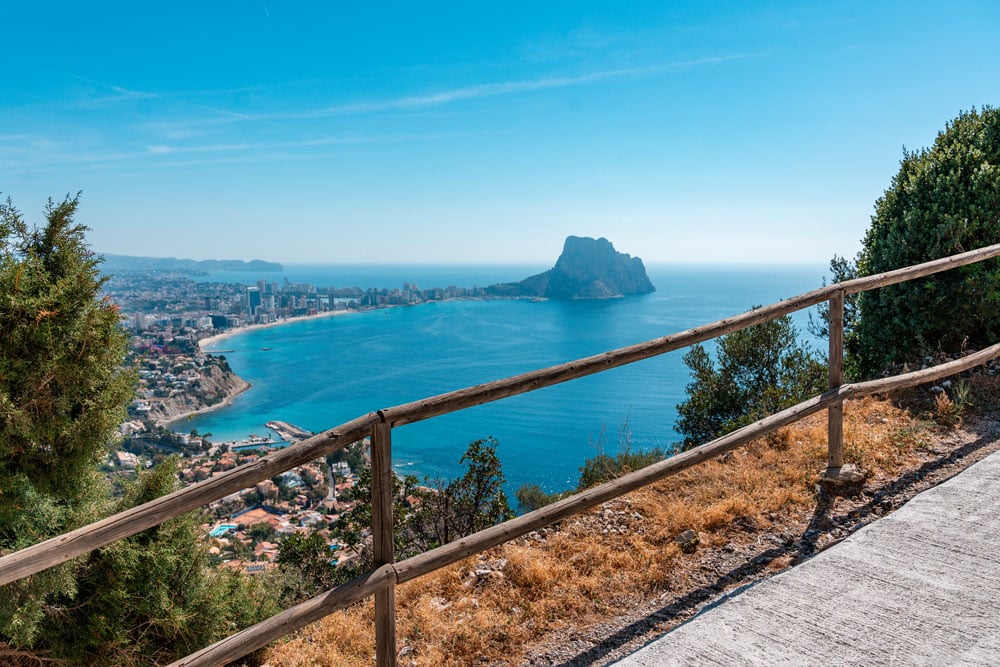 Mirador Morro de Toix – A pleasant hike up to the top of a hill with amazing views of not only Peñón de Ifach but also Calp and its surroundings, including the town of Altea.
What else to do in the area?
There are many things to do in Costa Blanca from hiking up to the Albir Lighthouse to visiting a chocolate factory in Villajoyosa to exploring the ruins of a medieval castle in Alicante or spending a pleasant day in Guadalest.
I also recommend doing some of the easy hikes around Benidorm for the amazing views.
Useful tips
Museo del Collecionismo is closed on Mondays and Tuesdays. It also closes for a siesta during the afternoon so make sure to check its opening hours at a tourist office or on Calpe's official website before you go.
Parking can be a bit tricky, especially in the high season so the best is to leave your car in one of the parking garages or in one of the 2 public parking lots right next to Salt Flats.
The tourist office is located on the "Carrer de Fora" street, next to the "Placa del Mosquit" square.
Calpe's website has plenty of information about sights, accommodations, and restaurants in many languages including English, French, and German.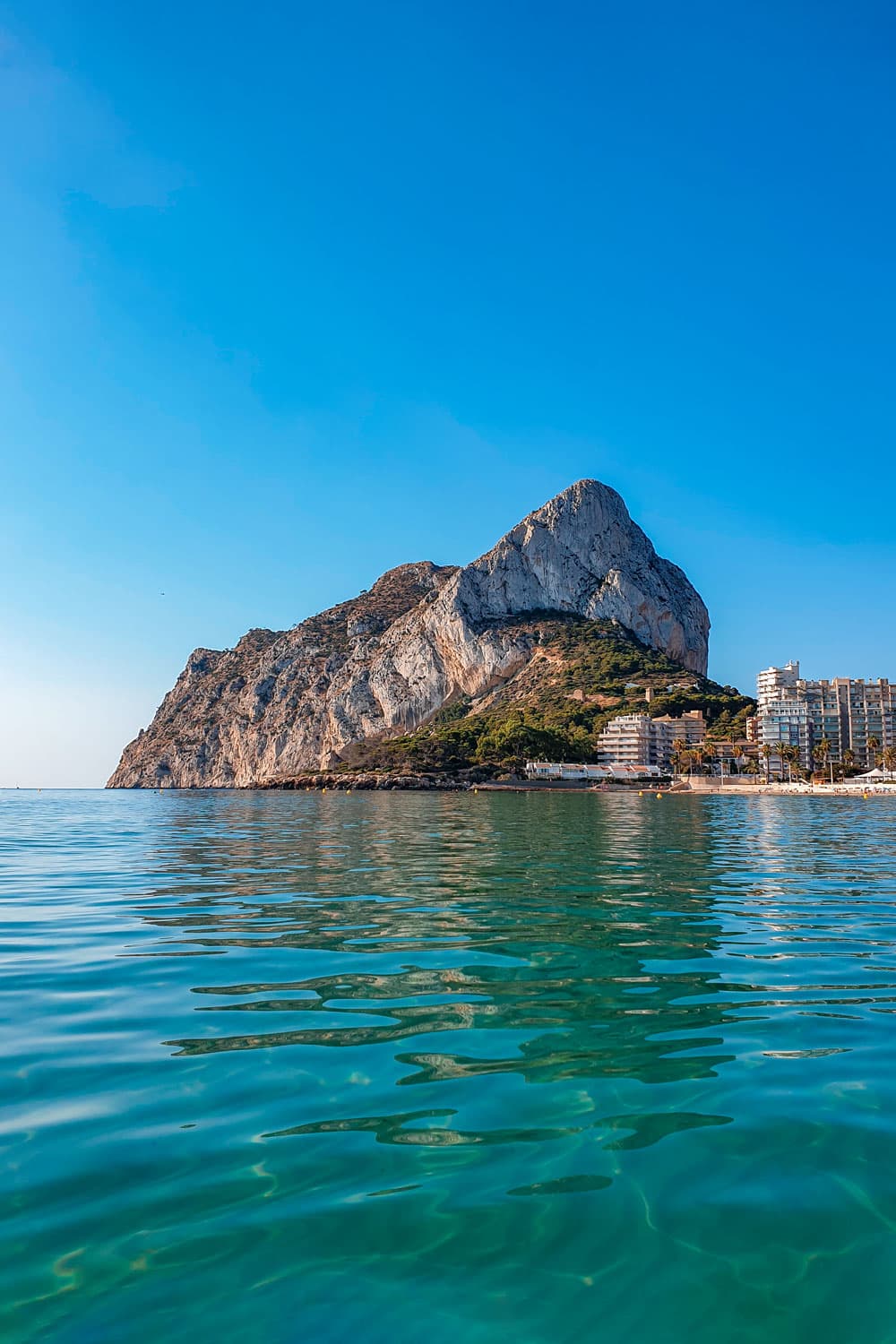 What we think
We love the Fossa beach – it is without a doubt one of the best in the area, and hard to beat with the Peňón de Ifach rock right next to it.
Wildlife lovers or anyone really will enjoy watching the flamingos searching for food in the salt flats. We surely did.
Climbing to the top of the Rock is not a straightforward thing and I believe kids under 18 cannot do so. It is a very challenging and dangerous climb. You might need to book it in advance, but the best is to ask at the tourist information. We only went up to the point where the tunnel was.
Calpe's Old Town is pretty and we loved the beautiful mosaics and murals that some houses were decorated with.
All in all, whether you are spending a day in Calpe or a week, you will find something to do there. If not, you can still do day trips to Benidorm, Albir, Granadella, and many other interesting places in the area.