This is a detailed guide on all you need to know about Guadalest. This quaint Spanish village built on a hill is one of the most visited villages on Costa Blanca so why not add it to your must-see list?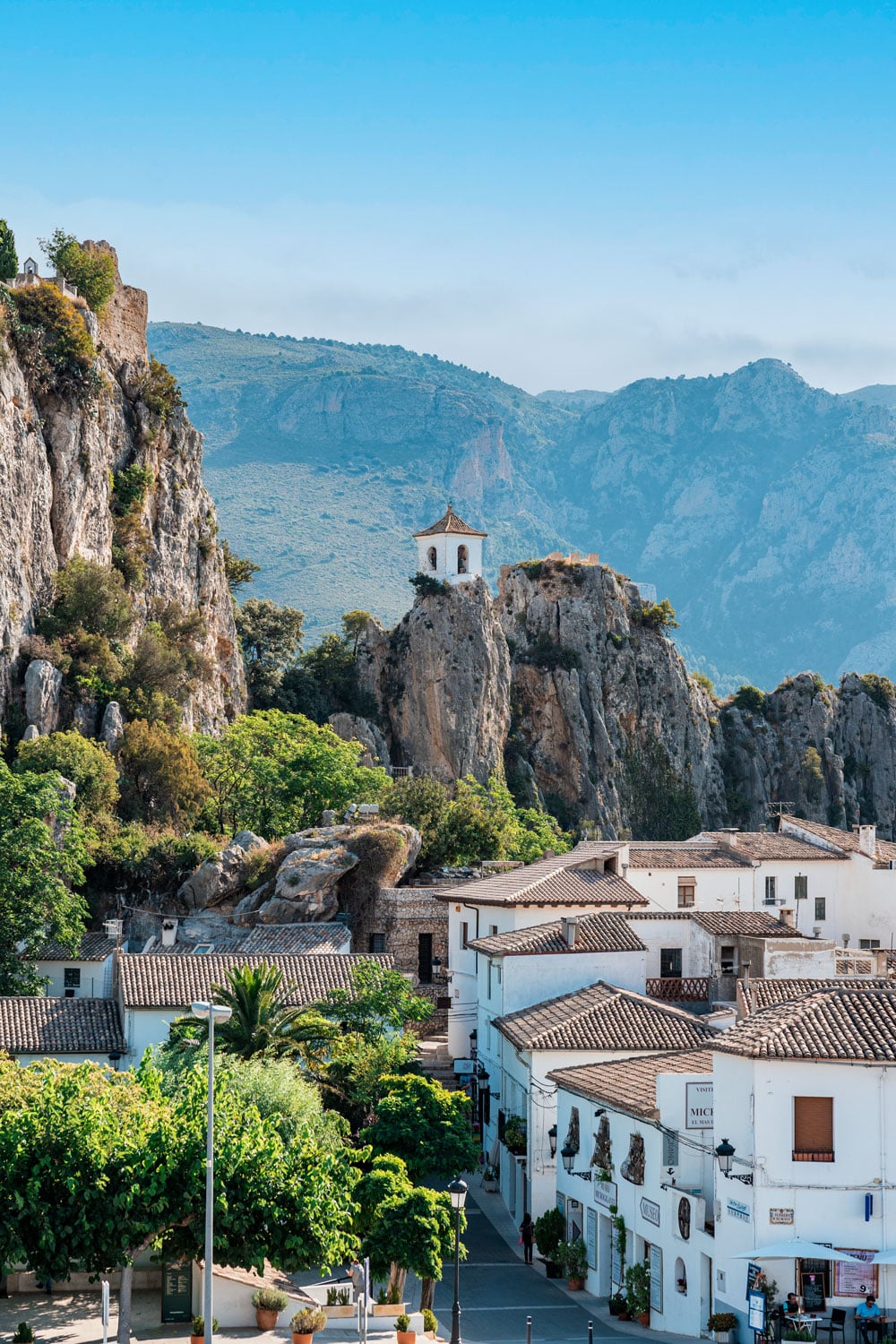 So, whether you are passing the area or enjoying the sun on one of the beaches in Benidorm, make sure you visit the village of El Castell de Guadalest.
About 25 kilometers (16 miles) from the coast inland, it is easily accessible from several directions.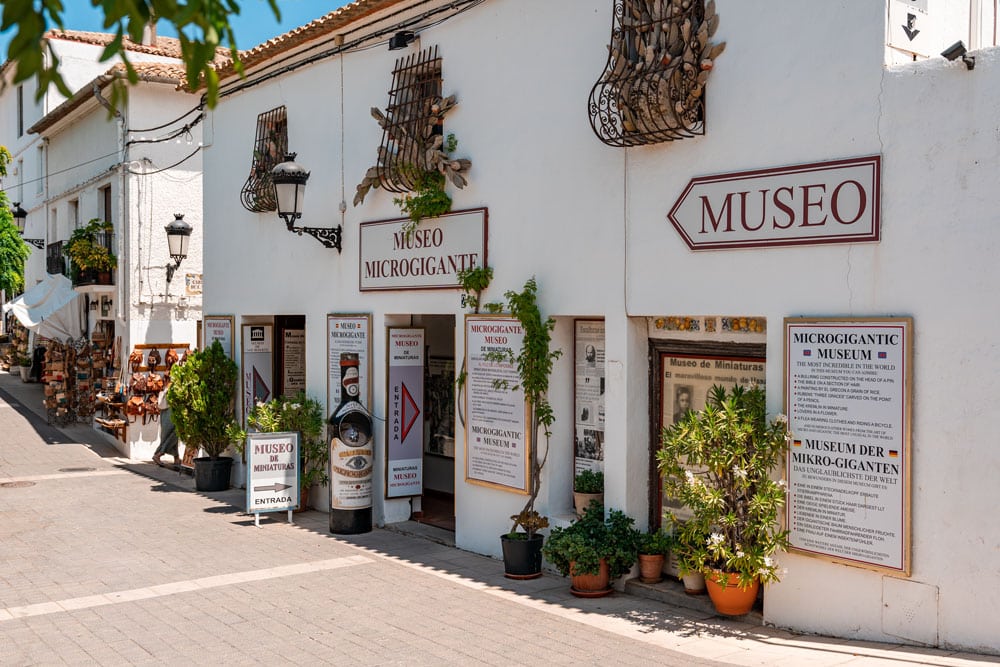 How to get to Guadalest?
From Benidorm, it is pretty straightforward, and the road CV 70 will bring you right up to the village. It is a windy road but with a good amount of space on both sides. It takes about 36 minutes to get there by car.
From Villajoyosa – the fastest route is via N 332 and CV 70 (about 38 minutes).
From Alicante – via A 70, AP 7, and CV 70 (1 hour 10 minutes from central Alicante)
There is also a bus nr. 16 that goes from Benidorm to Guadalest once per day.
Or, take a bus tour (which usually includes a visit to nearby Algar Waterfalls). There are many companies offering day trips to Guadalest at a reasonable price.
Avid cyclist can safely cycle up to Guadalest village. A designated cycle path runs literally on both sides of the road pretty much almost all the way from Benidorm. If you decide to give it a go, rent electric bikes and start early in the morning to avoid the heat!
Guadalest parking
There are 3 car parks. 2 of them are alongside the main road so you can't miss them. The price is very reasonable at 2 euros per stay per car or 6 euros for a camper or caravan.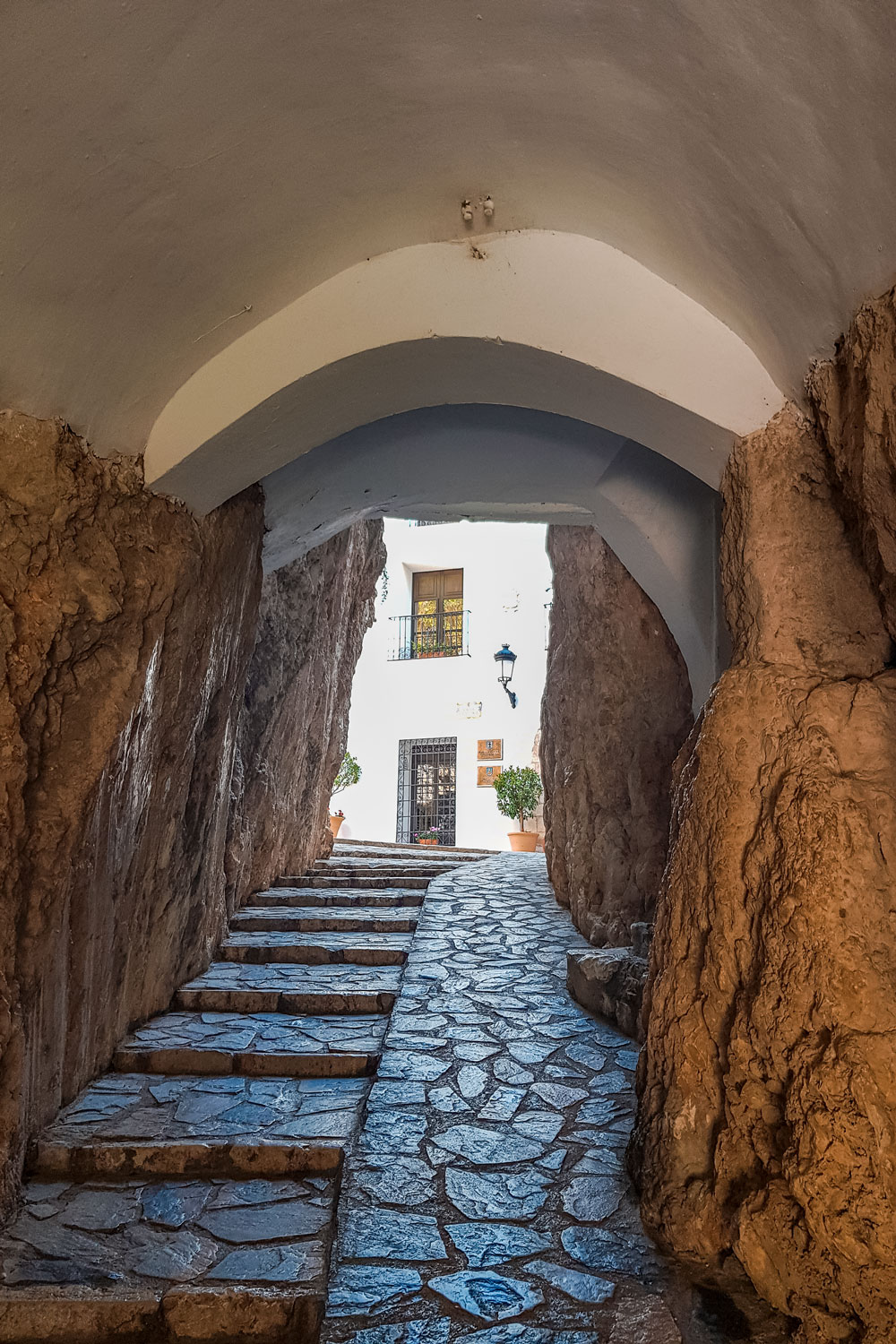 What to see there?
The main tourist attraction is the ruins of the Guadalest Castle (El Castillo de Guadalest), the Orduña House Museum, and the Bell Tower. You will get there easily by foot from one of the car parks via narrow streets that are full of souvenir shops and places to eat.
This tiny village is also full of museums so if you have more time to spend in the area, you can visit some.
We visited the Museum of Torture, but it is quite a dark one so it might not be to everyone's taste.
The Ethnographic Museum (free entry) or Salt and Pepper Museum might be a better fit.
Plus, both the castle and the upper village square offer magnificent views of the Guadalest reservoir with its turquoise water.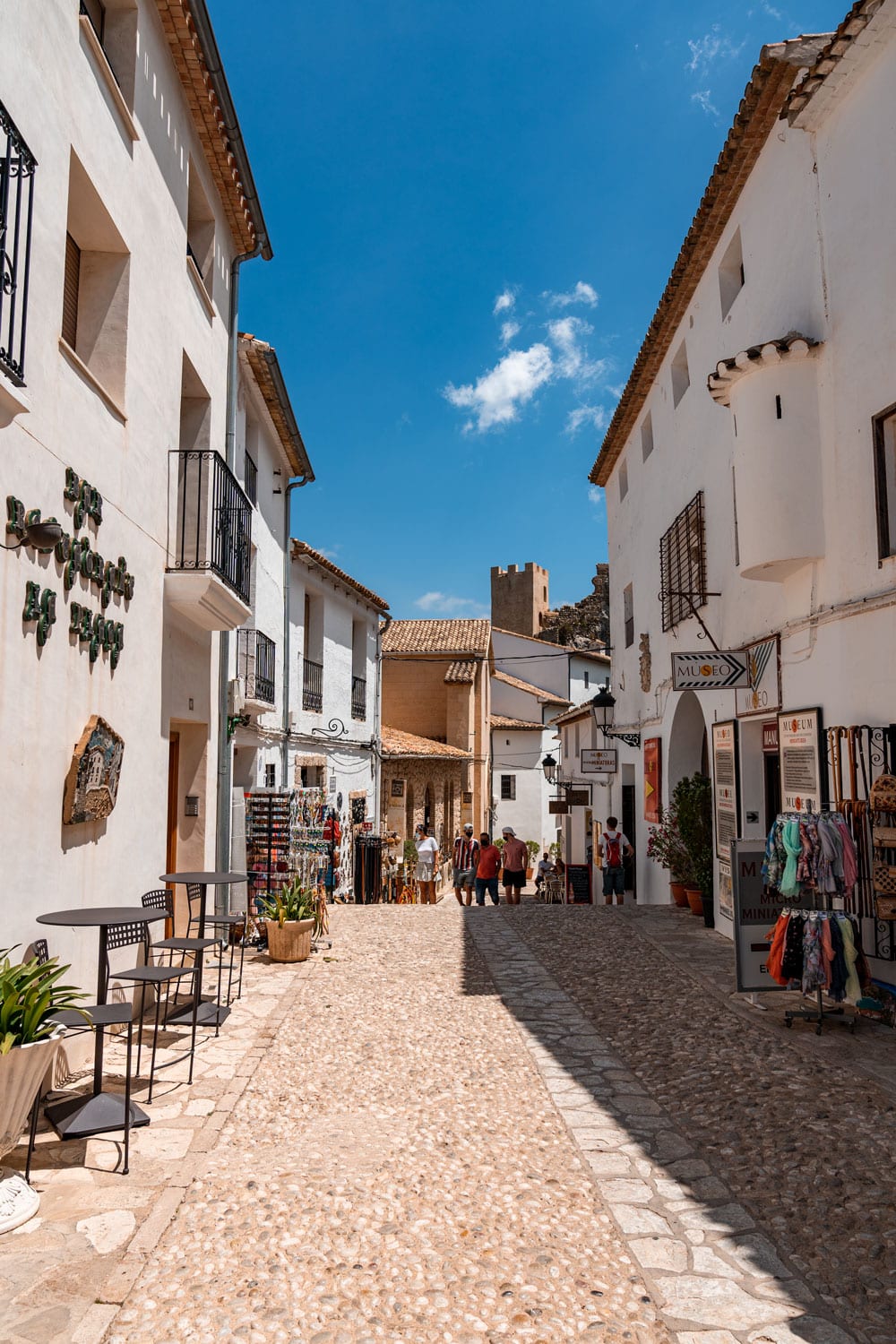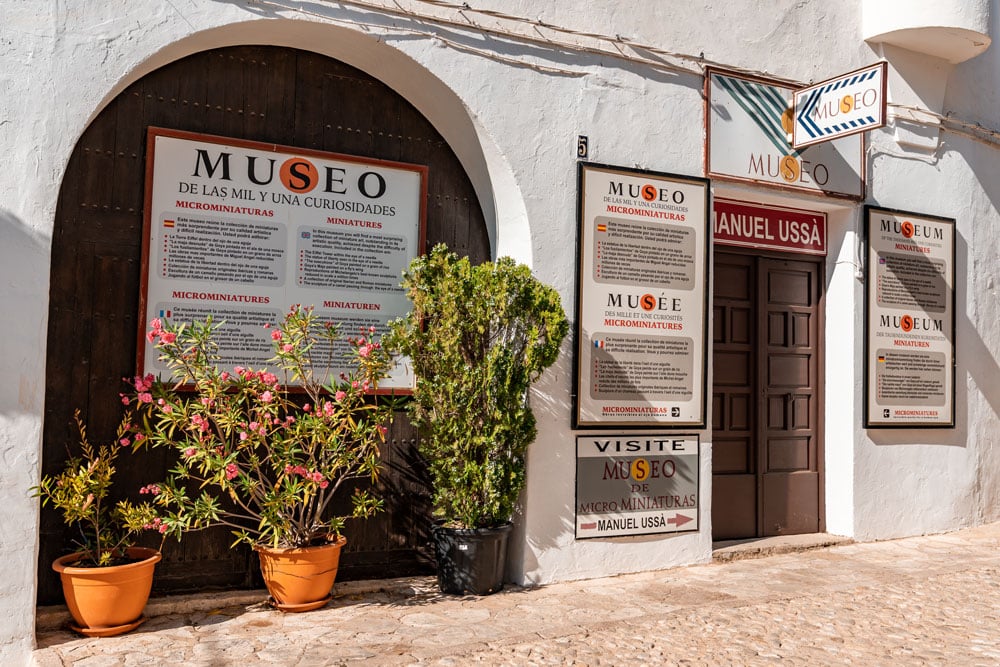 Can you walk around Guadalest for free?
Yes! You can walk the narrow streets of both the lower and upper village. Once you pass the short tunnel, you will see an entry to Museo Casa Orduña where the ticket office for the museum as well as the castle is.
If you don't want to pay to visit the museum and the castle ruins, simply turn left and walk up to the main square where you can enjoy the stunning views of the Guadalest Valley and reservoir.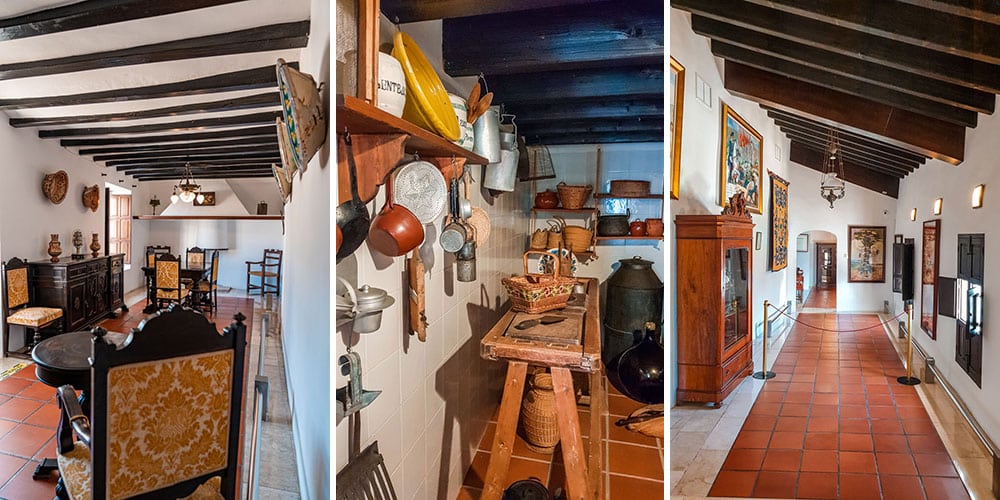 Is there a tourist office?
Yes. It is located right next to one of the car parks.
Are there public toilets?
Yes. These are also located in the same area as the tourist office.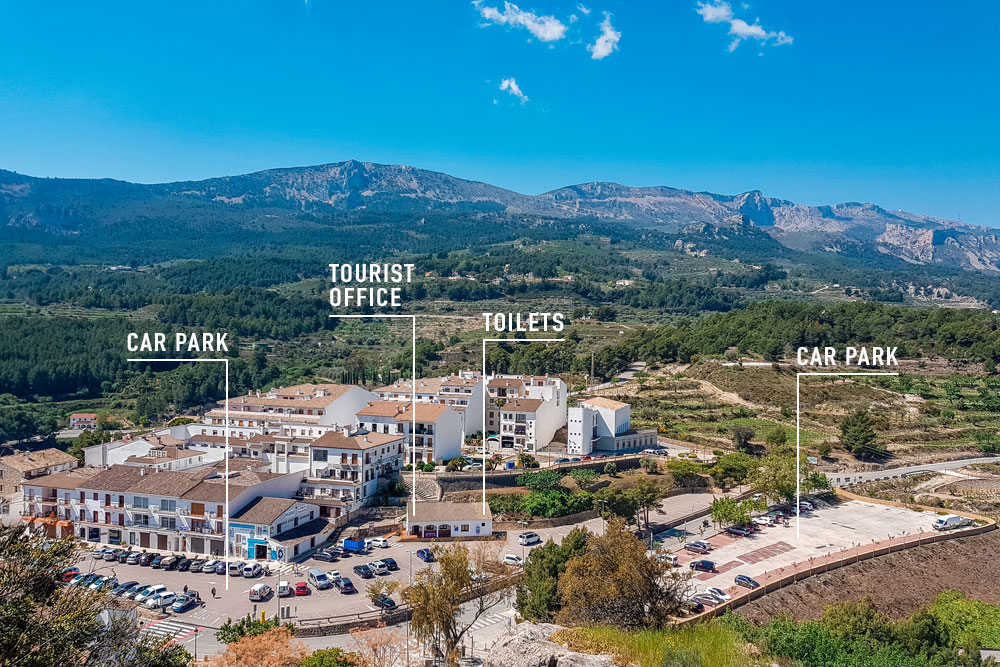 How much does it cost to go to Guadalest Castle?
The price of the ticket (as of 2023) is 4 euros for adults and 2 euros for children.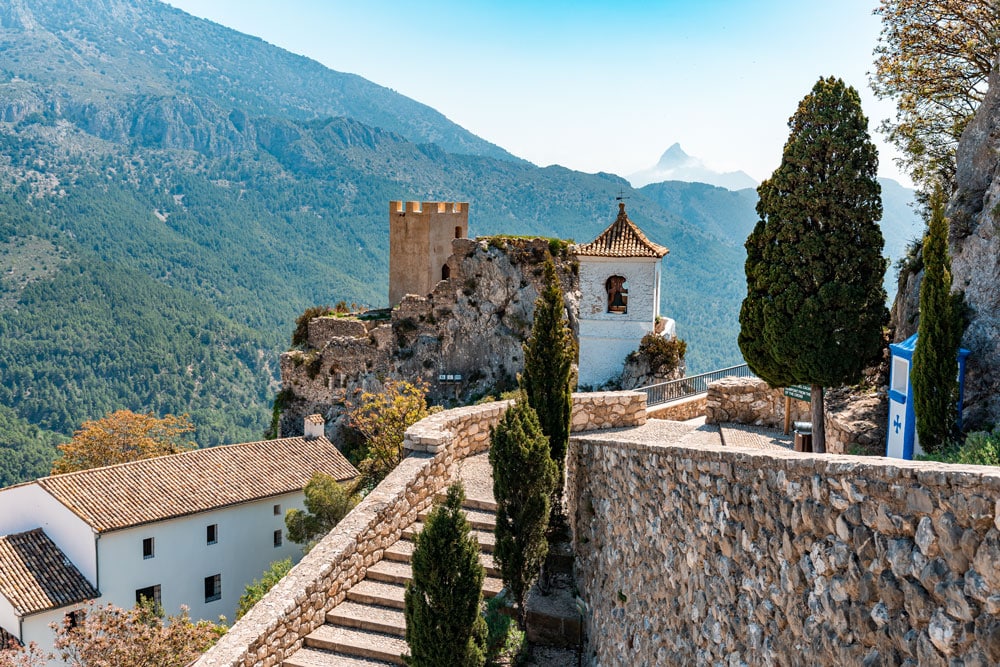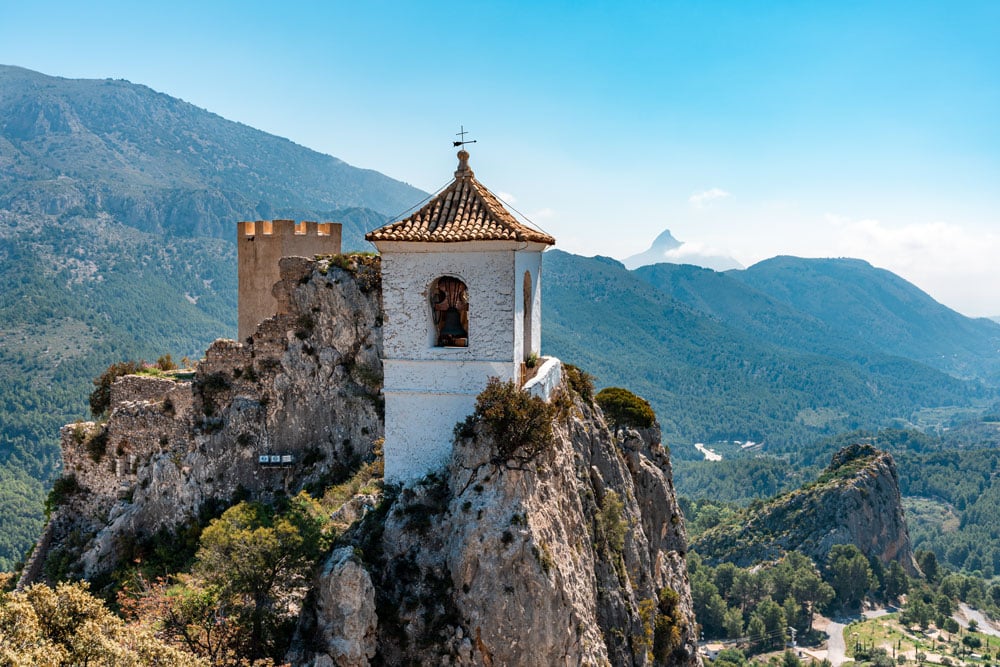 Is Guadalest Castle worth visiting?
The castle itself does not offer a lot but it is the views of the bell tower, the valley and the dam below that are breathtaking and make it worth the trip.
Also, the entrance to the grounds is possible only via Museo Casa Orduña (museum) which is part of the ticket fee. We enjoyed the visit so we recommend you give it a go too (It is a self-guided tour. They have leaflets explaining the whole history and each room exposition in English as well).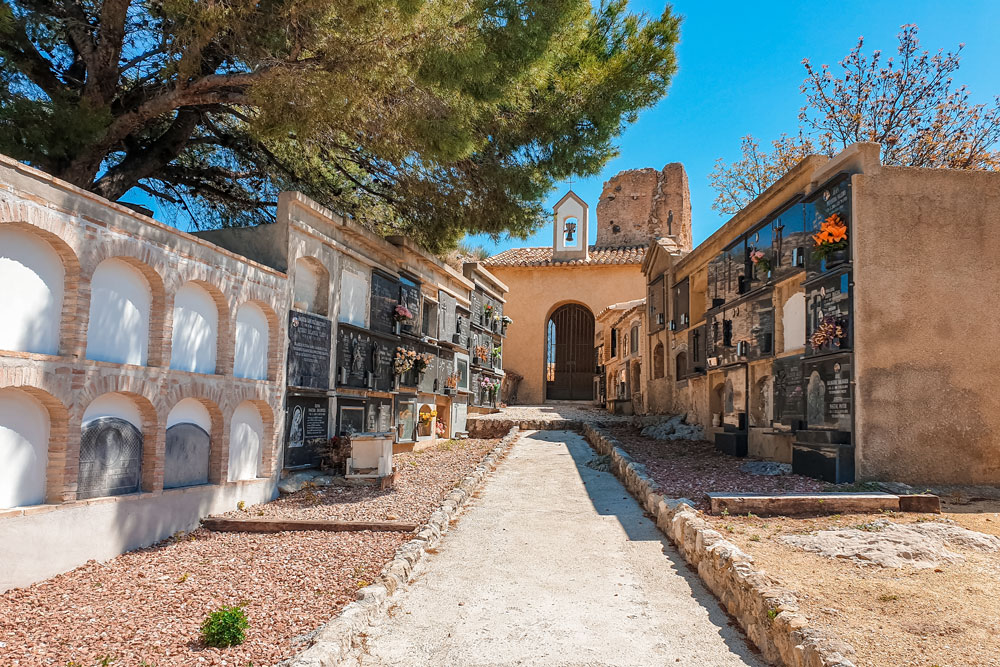 What is the average time of visit?
The visit to the castle itself is relatively quick but if you want to take it slow and have a better look around, count with at least 45 minutes.
Once you leave the castle grounds, you will get to the main square with restaurants, more souvenir shops, and a chapel so if you want to stop at some of these or have lunch there, make sure to add extra time to your trip, especially when only passing by.
Is it possible to stay overnight in Guadalest?
Absolutely! Stay 1 or 2 nights and walk some of the trails around the beautiful reservoir. It is not an easy walk but so worth it!
There are quite a few accommodation choices, especially when you book in advance or off-season. Airbnb or Booking are the places we book our stays with. Now with what is happening in the world, I suggest booking the "Free Cancelation" option to avoid any possible issues.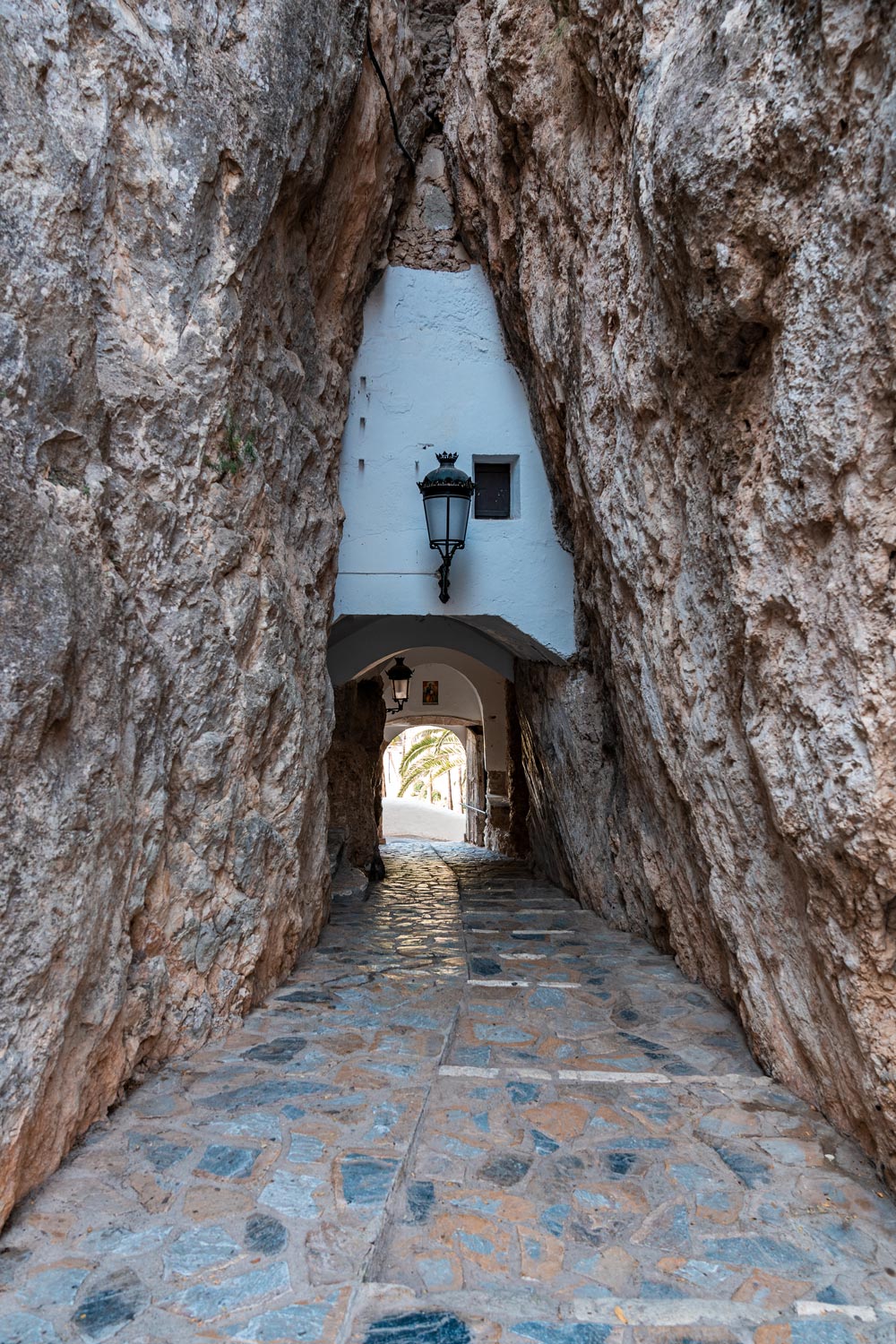 What souvenirs to buy?
Buy local products like almonds, olive oil, honey, or anything made out of nispero (loquat) – a liquor, juice, jam, or canned fruit.
If not sure, ask the seller to help you choose or get inspired by our Best Souvenirs from Spain guide.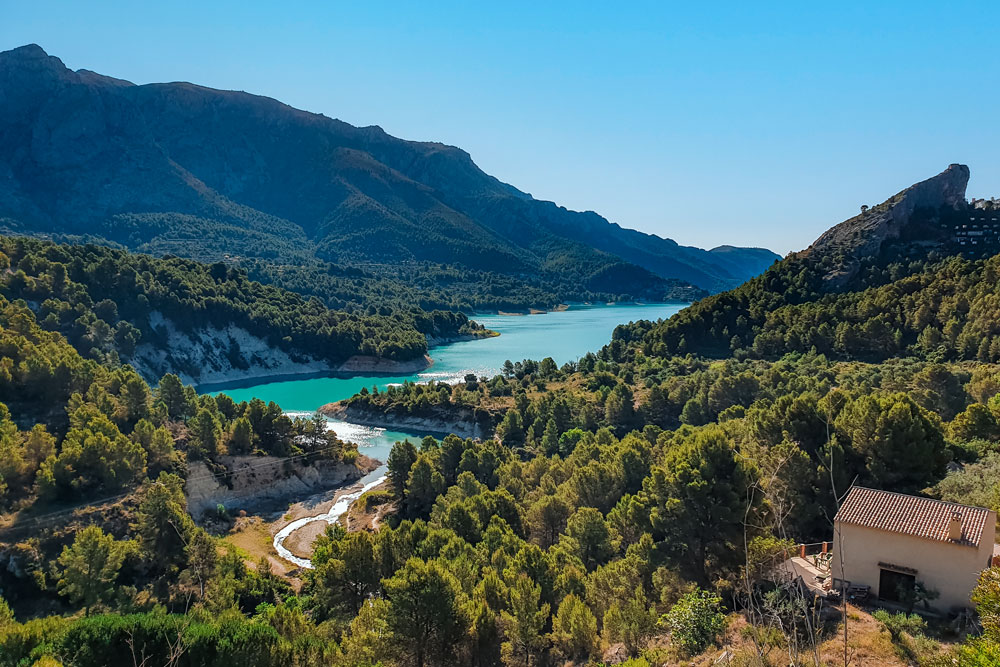 Opening times and visitor information:
Remember that life in Guadalest starts after 10 am. This means that souvenir shops, restaurants, coffee places and everything really is closed until then.
If you like to take some photos and enjoy having the village literally to yourself, come slightly earlier.
However, if you want to visit some of the museums, and the castle as well as have a quick meal or coffee at one of the restaurants or go on a hike, getting there early will not make any sense.
The tourist information point will tell you all you need to know about Guadalest, but there is also a map right next to one of the car parks. Also, this is one of the places where you cannot get lost nor can you miss anything.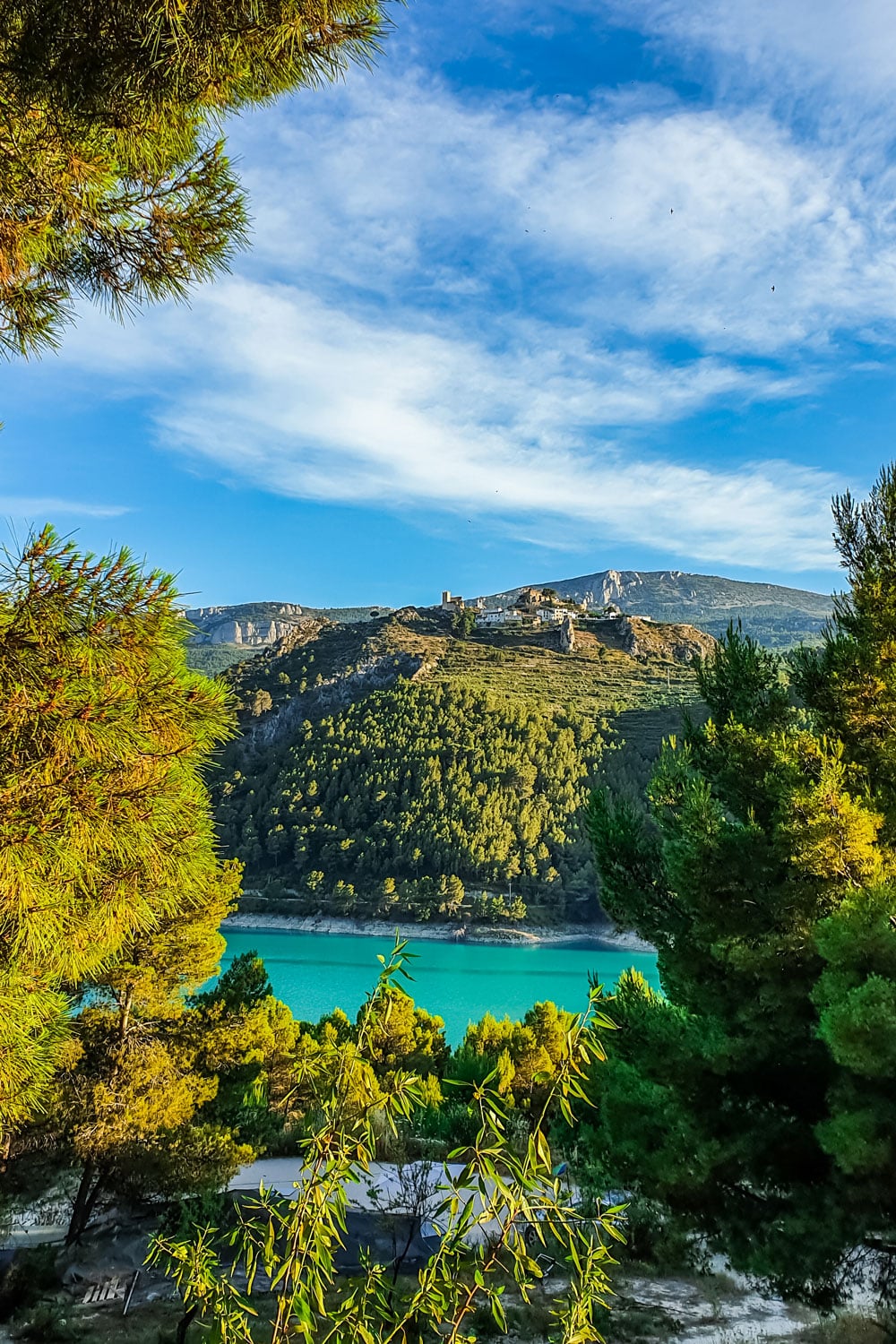 Notes:
Any websites in this post are provided for you so you can have an easier time planning your visit to Guadalest. I do not collaborate with any of them.
A – signed roads are motorways/highways – known as autovia or autopista in Spanish. Many of them are free at the moment, but this is to be changed in the future. N-signed roads are first-class roads without tolls, usually in very good condition.
Parking in the car park is very reasonable at 2 euros (about 2 dollars). We visited off-season and did not pay anything. I highly encourage you to support this village and use it as the price is very small. Plus, free parking spaces outside the car parks are very limited so when tourists fill those the locals have very limited options.