Visiting Spain would not be complete without tasting Spanish cuisine. This list of the best Spanish foods to eat in Spain explains in detail all its delicacies including insider tips where to get them.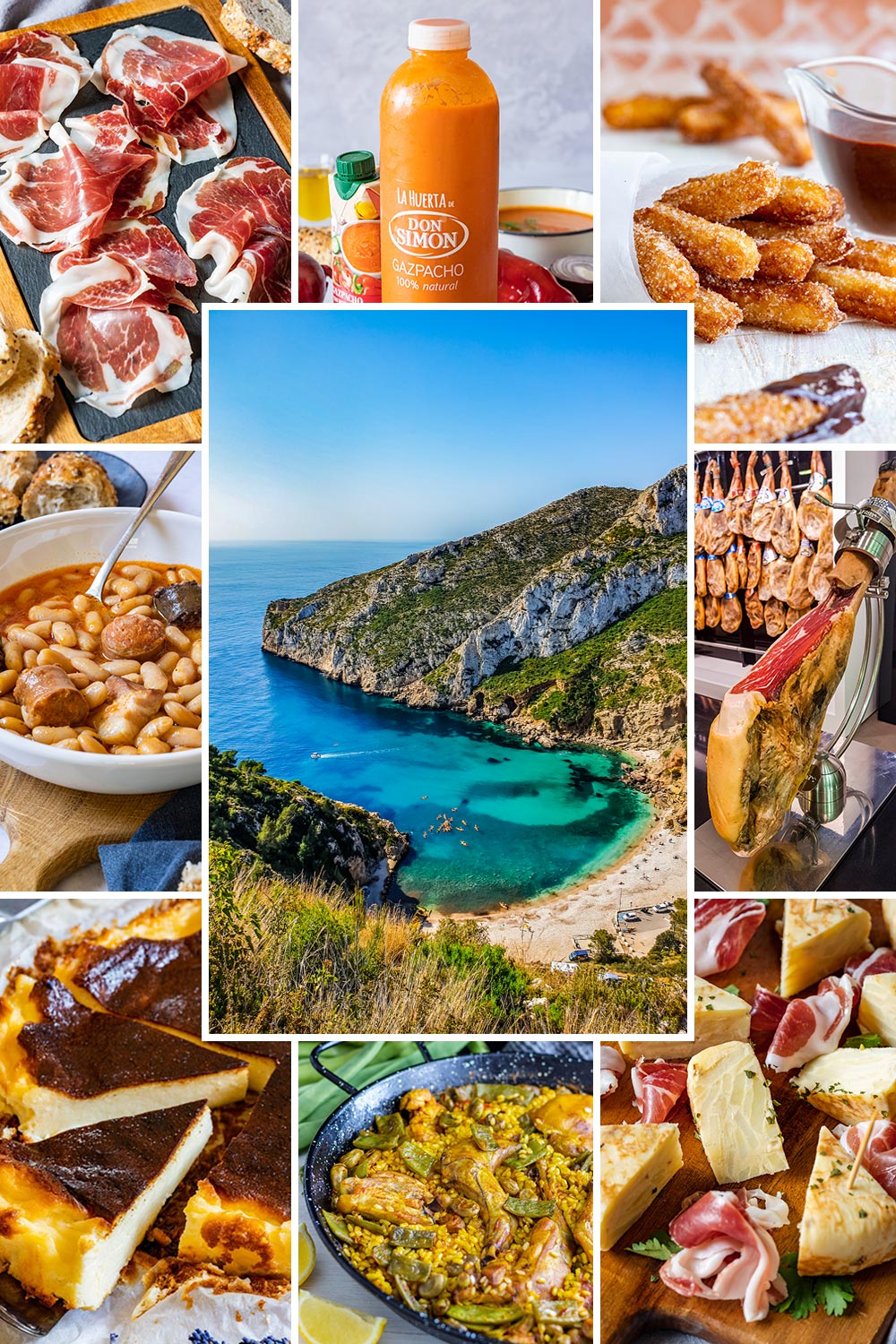 So you have booked flight tickets to Spain and done all the research on things to see in Spain, checked transportation options. Perhaps you've read my post about important things to know before visiting Spain as well.
You are almost ready for the upcoming Spanish adventure. But, maybe you are like us and like trying new cuisines and tasting new dishes or drinks anywhere you go. So, your next question is: What are the best foods to try in Spain? For you, I created this list of Spanish foods you must try when in Spain.
This list includes not only the most famous Spanish dishes but also those that not everyone is familiar with.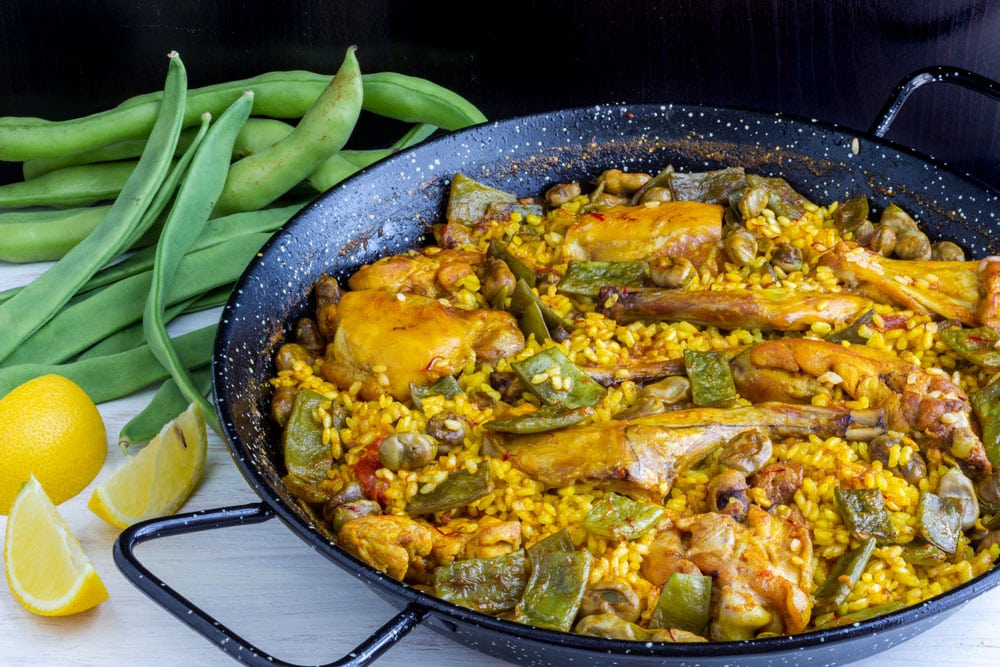 What to eat in Spain
Number 1 on the list is Paella. This tasty rice dish originated in Valencia, so if you spend some time in the area make sure to taste their traditional paella with chicken and rabbit. If you are not into rabbit, you can easily order vegetables, seafood, or plain chicken paella.
Insider Pro Tip: If you have some more time to spend in the area, be sure to go on a few day trips from Valencia to check out rice fields and have lunch in an award-winning paella restaurant Bon Air in Carrer de Cabdet, Valencia.
If you can't make it to this region of Spain, you can take a paella cooking class, as we did in Barcelona. It is a great experience and one you will never forget.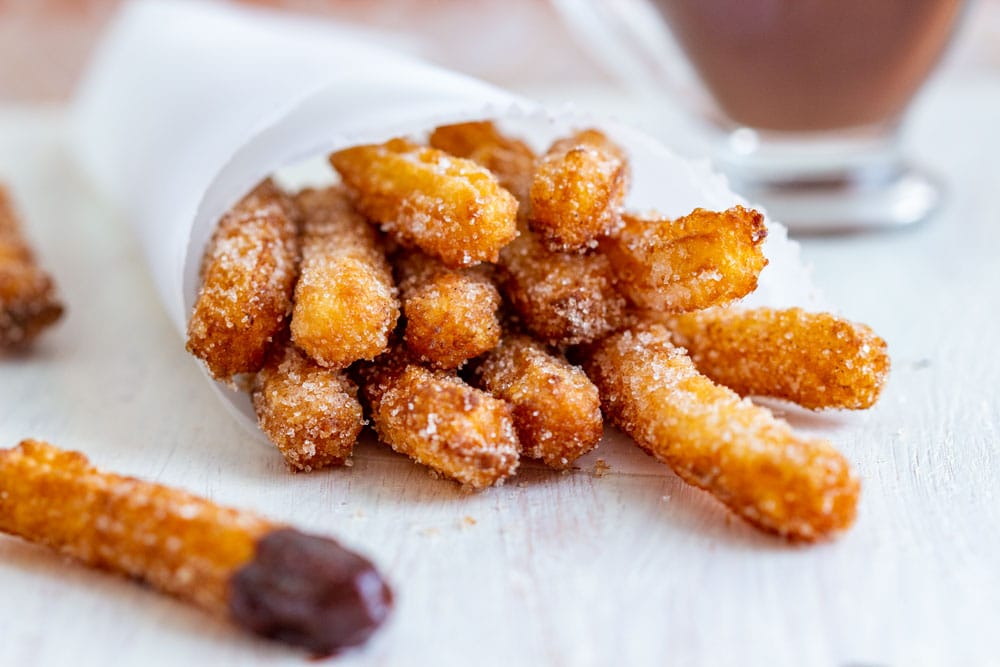 Churros con Chocolate – If you haven't tried this sweet Spanish breakfast, you don't know what you are missing! Deep-fried dough dipped in thick chocolate is the most delicious thing ever.
Insider Pro Tip: Look for Churrerías or small stands on busy streets – they are relatively cheap and taste amazing. Cafeterias that serve breakfast should also have them on the menu, but many of them offer this sweet Spanish breakfast treat only in the mornings.
However, if you are lucky and head to Spain to see one of the many Spanish festivals, you can be sure to find a few kiosks open in the middle of the night serving this deep-fried treat.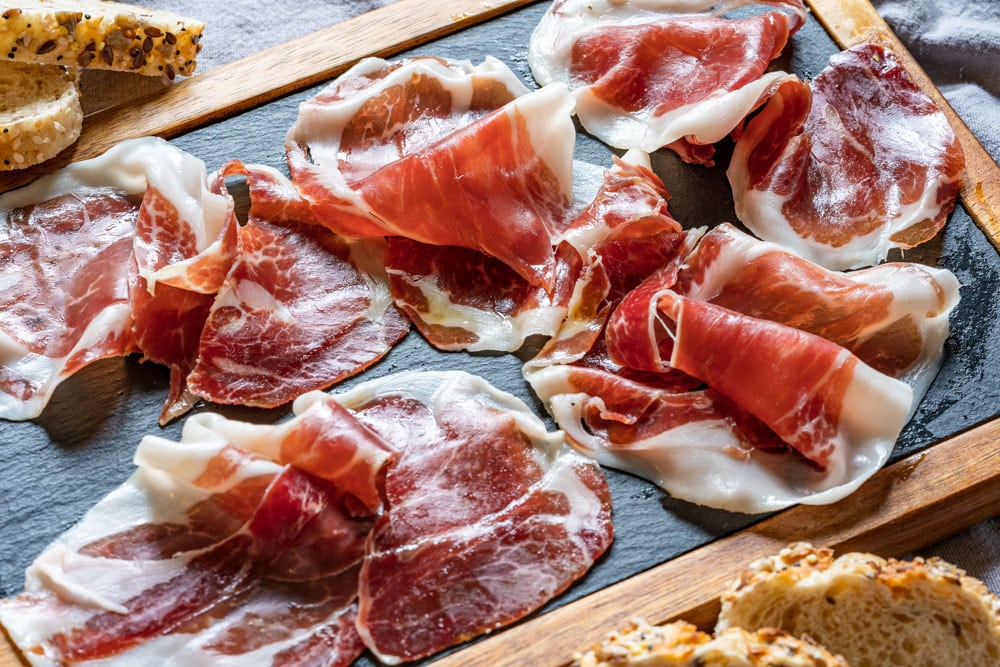 Jamón Ibérico – You cannot travel Spain without having to come across a few (more likely more than a few) dry-cured pig's legs hanging in supermarkets (supermercados) or restaurants/pubs. And you cannot leave Spain without having to taste some (unless you are vegan or vegetarian). This is one of the typical souvenirs to bring from Spain, so why not grab some ready-sliced and vacuum-packed jamón for your friends and family to try?
Insider Pro Tip 1: If you have a long flight back home ahead of you, choose jamón that is not in the chilled section as those don't need to be refrigerated!
Pro Tip 2: Most shops will slice the ham for you. There is a special stand for the leg as well as the technique required. 
Pro Tip 3: Believe it or not, you can get a whole leg of dry-cured Spanish jamón off Amazon, so if you are planning on throwing Spanish themed party for a large crowd, you might want to consider buying one.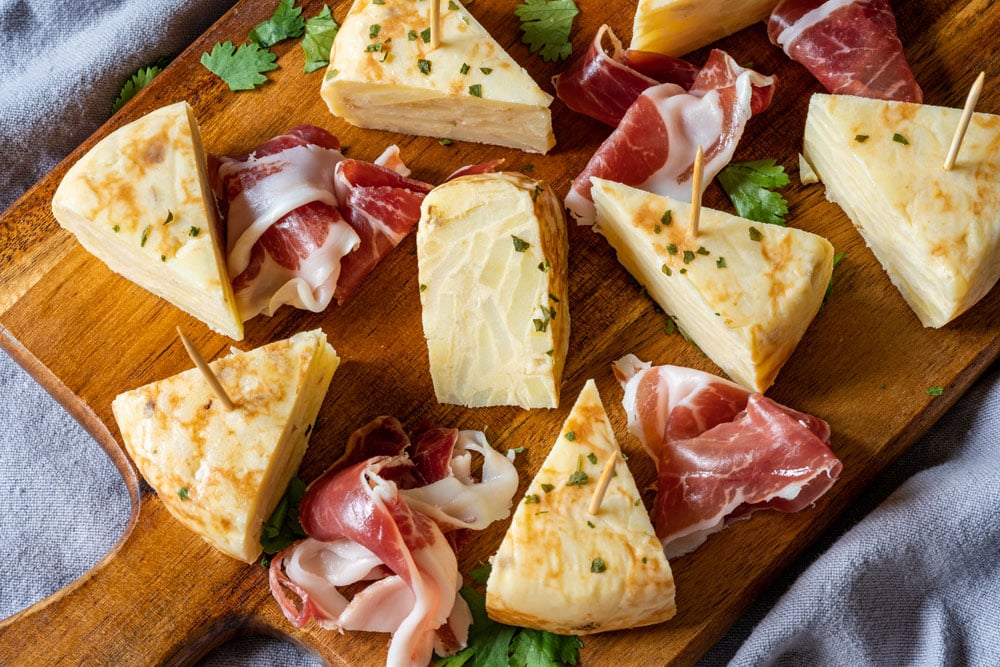 Tortilla de Patatas also known as Tortilla Española is a dish often served as tapas, but we like to enjoy it as a quick lunch.
Don't be surprised when you get served one that still has runny eggs in the middle as some establishments do prepare it this way. If you are not a fan of runny eggs, I recommend asking before you order one.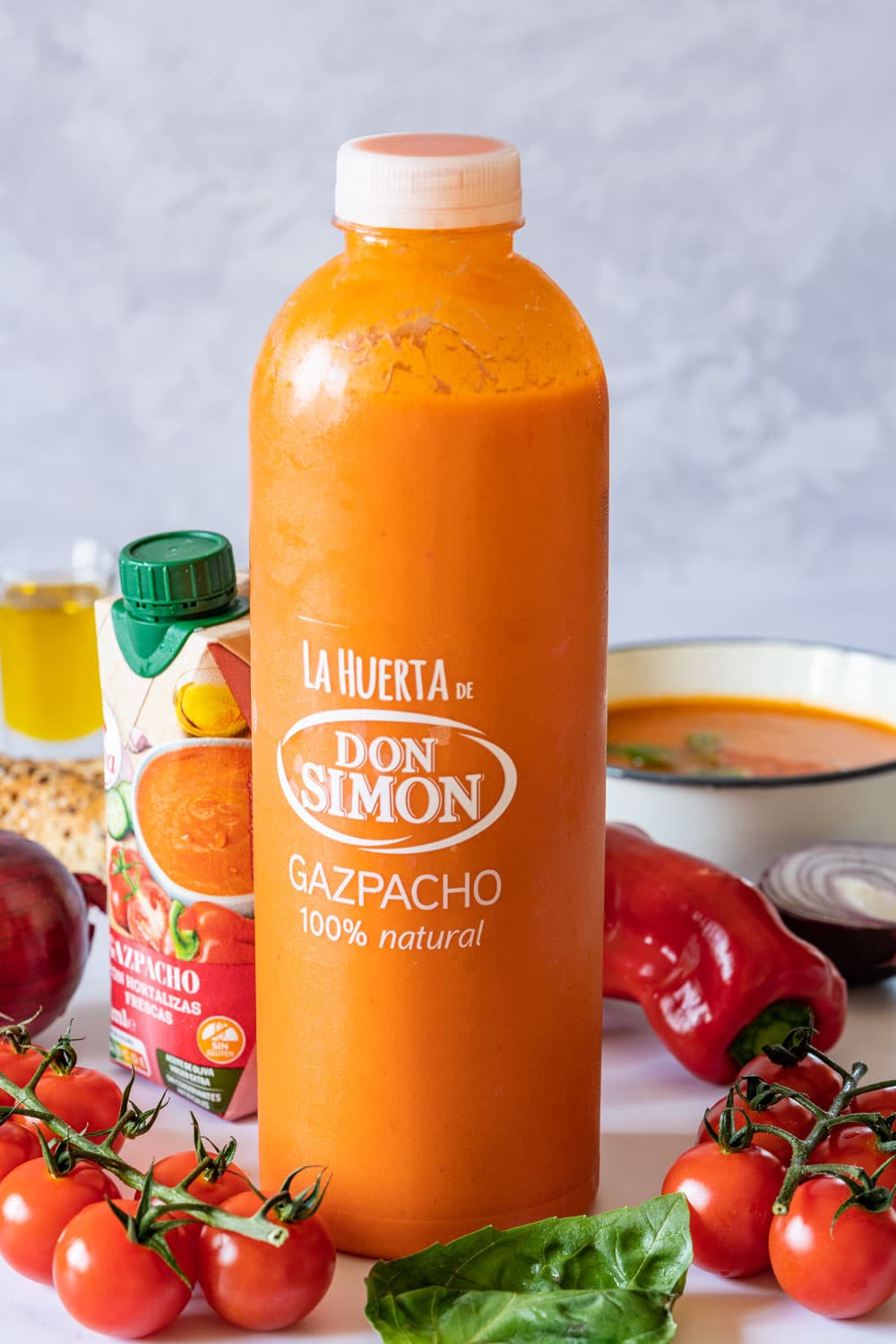 Gazpacho – This delicious tomato base chilled soup is often served in tall glasses as an appetizer or tapas. It is the best thing to order in summer!
Pro tip: If you did not get to taste this typical Spanish soup at a restaurant, head to your nearest supermercado and pick one to try. They can be found in the chilled section and many of them are of good quality.
Rabo de Torro (oxtail/bull's tail stew) is a delicacy when prepared well. We tasted this dish the first time when traveling in Andalucía and fell in love with it right away.
Pro tip: If you ever get to visit Córdoba in Andalucía (southern Spain), we recommend ordering this dish at Taberna Rafaé. They make rabo de toro exceptionally well. And no wonder, Córdoba is the birthplace of this dish!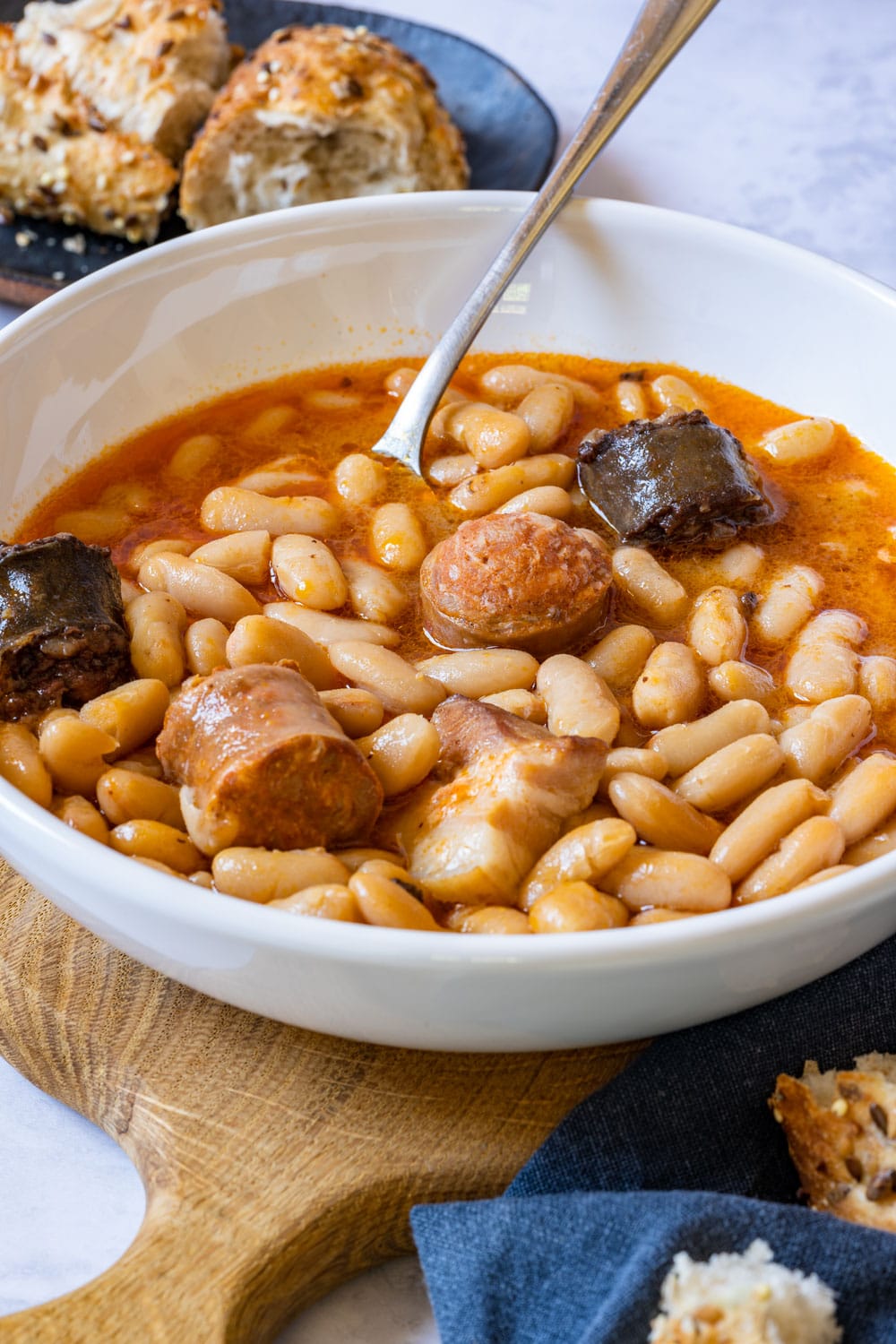 If you find a restaurant that serves Fabada, please give it a go. It is a traditional Spanish stew made with white beans, pork shoulder or bacon, chorizo, and morcilla (Spanish blood sausage). Seasoned with paprika, garlic, and salt, this simple, yet rich stew is perfect for cold winter months.
Good to know: You can also find it canned at any supermarket if you are low on budget. However, I have to admit, I have not tried the canned version yet, so cannot say if it is worth giving a shot.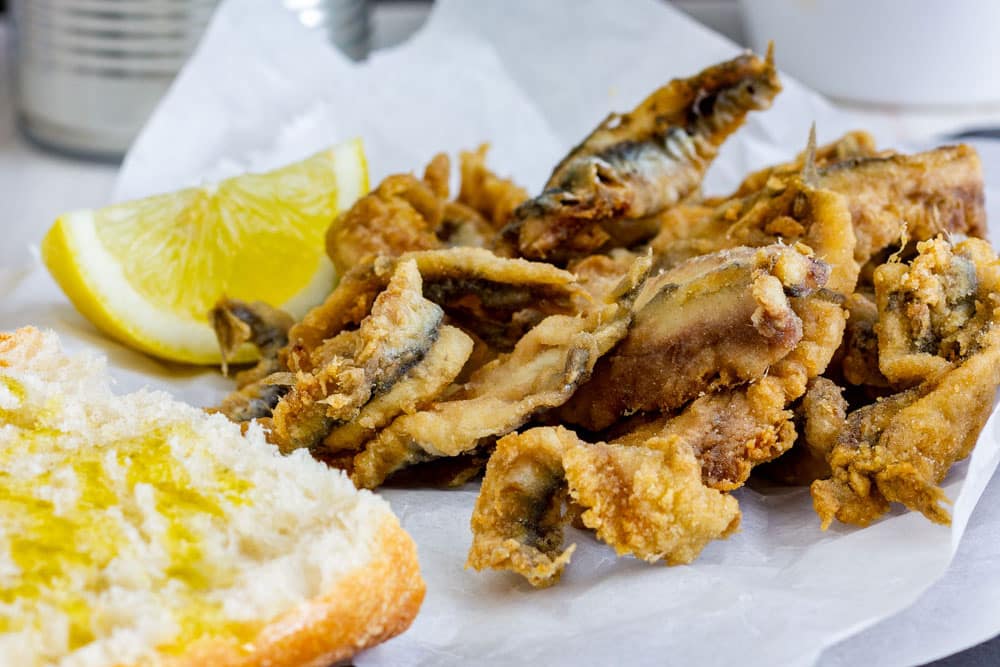 We all know canned anchovies – salty little fish that we use mainly to make dressing for Ceasar salad. It might not be your favorite type of fish, but it is probably because you haven't tried Spanish fried anchovies (boquerones fritos).
This popular summer tapas (tapas = bite-size food/appetizers) goes well with beer and fresh baguette and it is a must-try when visiting Spain.
You will be surprised by how different the canned anchovies are from the fresh ones. And more importantly, they are not salty at all as they are not preserved!
When it comes to sandwiches or stuffed baguettes (bocadillos), the Spaniards like them basic usually with 1 filling which for the rest of us might look quite plain… and let's be honest – very dry.
The only exception is Bocadillo Serranito which we highly recommend trying. This warm "sandwich" consists of a fresh baguette that is filled with Spanish jamon, roasted Italian peppers, thin slices of pan-fried (or grilled) pork, and a few slices of tomato. It is served with French fries and aioli.
Patatas Bravas are another popular Spanish tapas (snack/appetizer). Traditionally, potatoes are cut into cubes and deep-fried in oil. They are served with a spicy paprika sauce. They might not be your healthiest snack, but they are worth giving a go when traveling to Spain.
These are some of the famous Spanish dishes that we recommend you try. And if you do, please let us know in the comment section which ones you liked and which you didn't.
Safe travels!