Segovia in Spain is best known for its fairytale castle and aqueduct. For its proximity to Madrid, this city makes the perfect day trip for travelers staying in Spain's capital.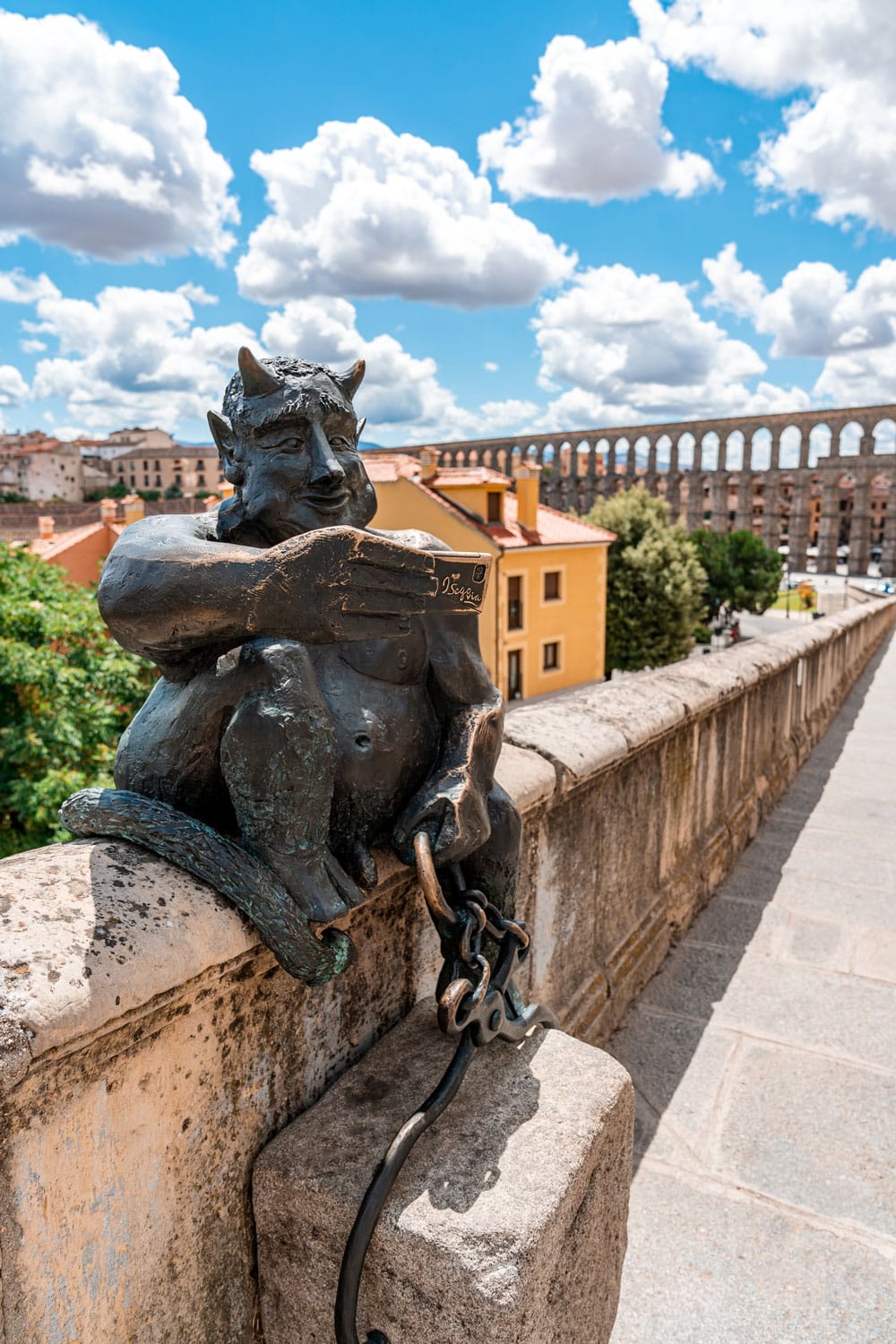 We created this itinerary for anyone who would like to visit this place but is wondering if it is possible to see Segovia in a Day.
This post includes insider's pro tips, a list of resources and useful information as well as our own experience and opinion.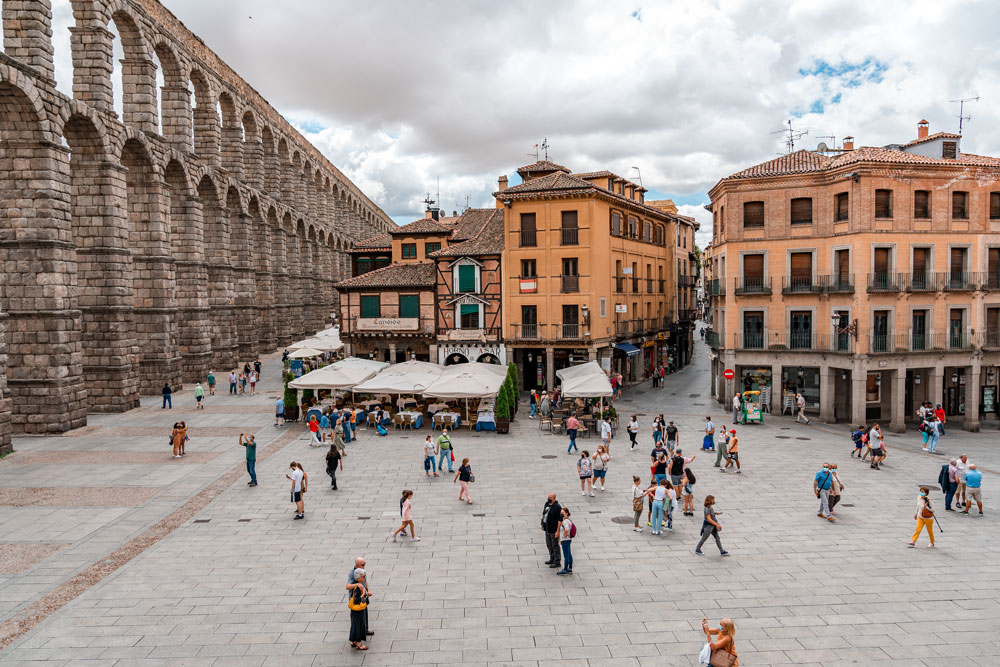 What to see in Segovia in a Day?
If you arrive in Segovia by car, your easiest option is to leave it in an underground car park right opposite the main tourist attraction in the city – the Segovia Aqueduct. It is easily visible from the large roundabout at Plaza Oriental Square.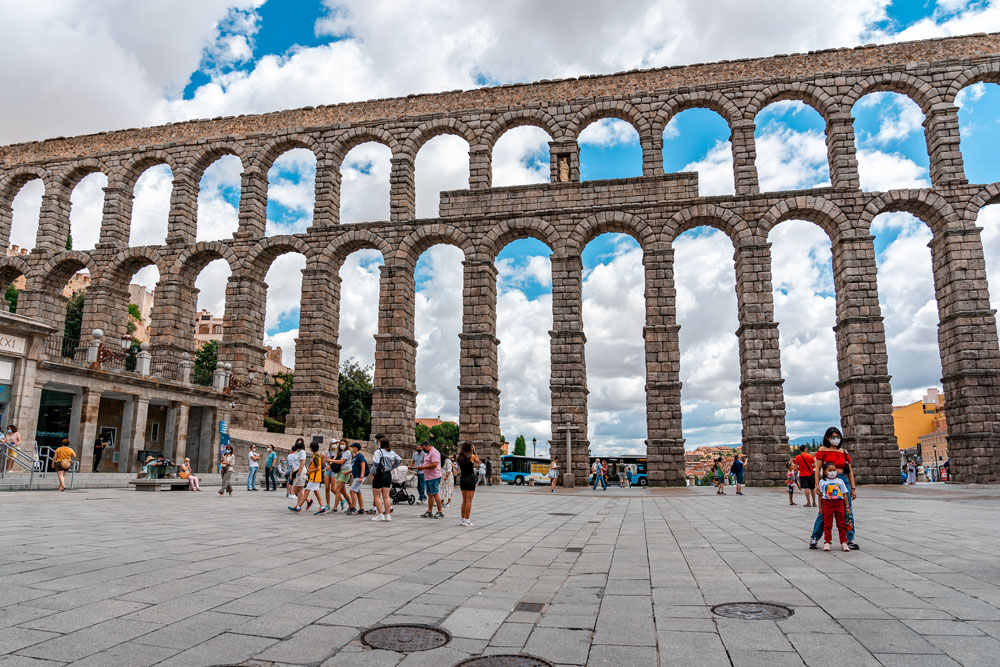 Make your way to the Aqueduct and take time to admire this monumental structure from as many angles as you wish. Built during the 1st Century BC, it was used to transport water from the Rio Frio river. It was 15 kilometers (over 9 miles) long and at its highest point, it is 28.5 meters (93 feet 6 inches) high!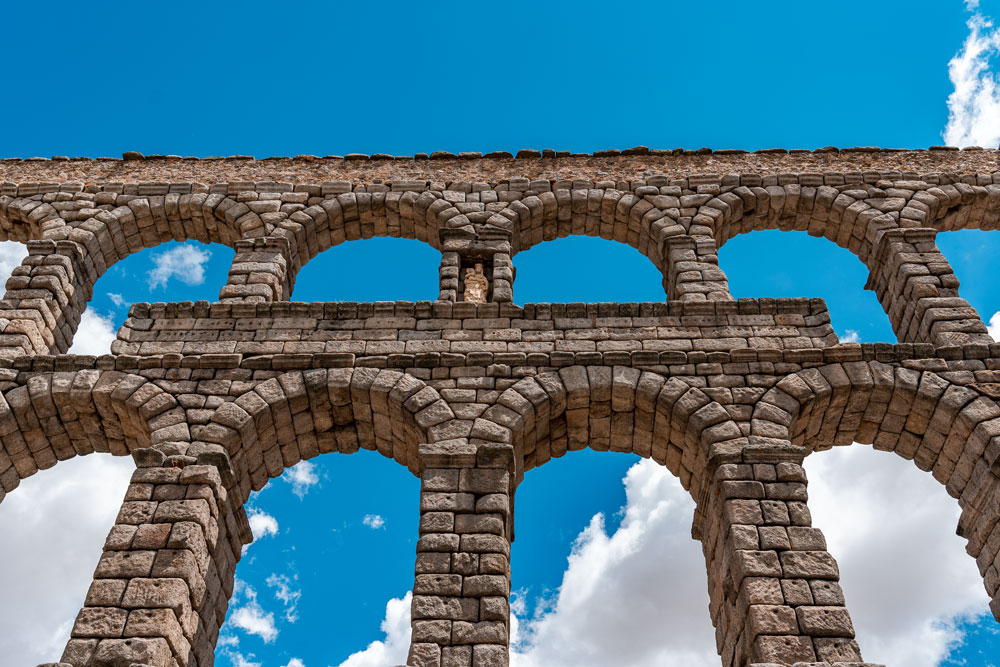 You can climb up the stairs and have a closer look from a different (higher) perspective. The place is busy but there are plenty of photo opportunities from various spots, especially if you are a bit patient.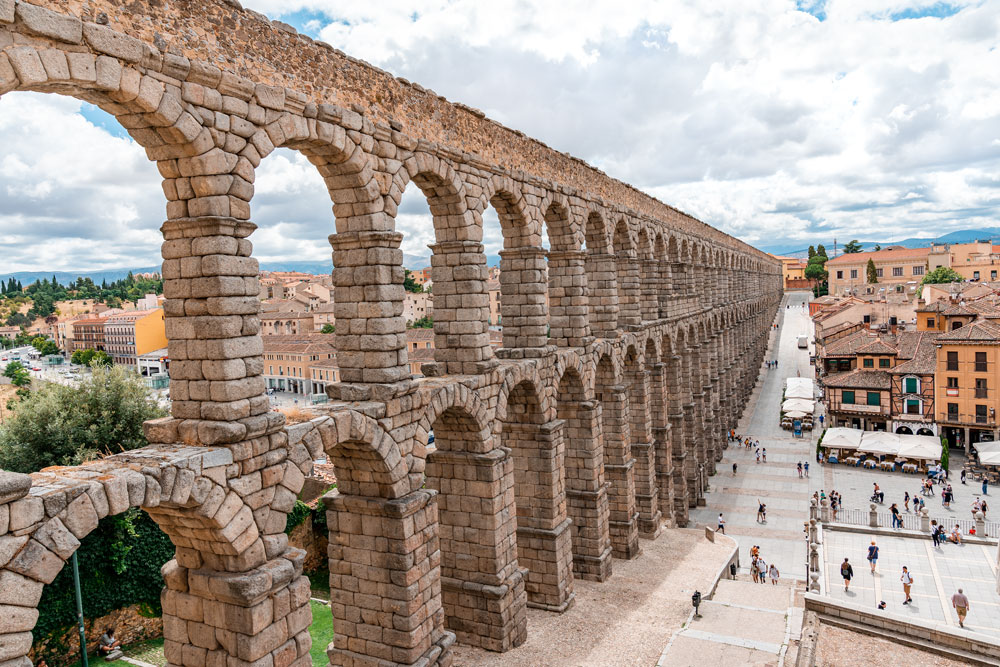 Tip: Visit a tourist office located at Plaza del Azoguejo Square, a few meters from the Aqueduct. They can arrange a guided tour of the city for you if you like someone to tell you a bit about the history.
Pro Tip: Walk away from the Aqueduct on Calle San Juan Street and after a short walk uphill (about 5 minutes), there on the right side of the sidewalk you will find a statue of a devil taking a selfie (Estatua de Diablo). Why not take some selfies with him as well?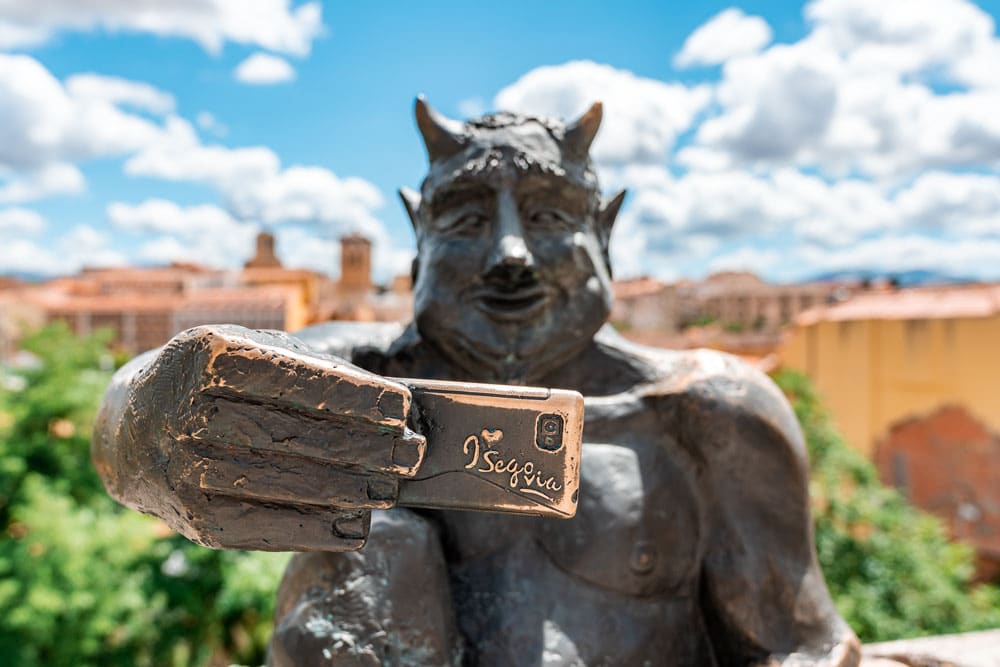 Return back to Plaza del Azoguejo and walk towards Calle Cervantes street. This narrow street is packed with small shops selling local products (by the way, we highly recommend visiting some of them and grabbing a few handmade products. We always end up buying edible souvenirs like chocolates, jamon, olive oil,…) will lead you to Mirador de la Canaleja – a city viewpoint, from there it is only a minute or two from Casa de Los Picos – a 15th Century building with over 600 granite points (picos).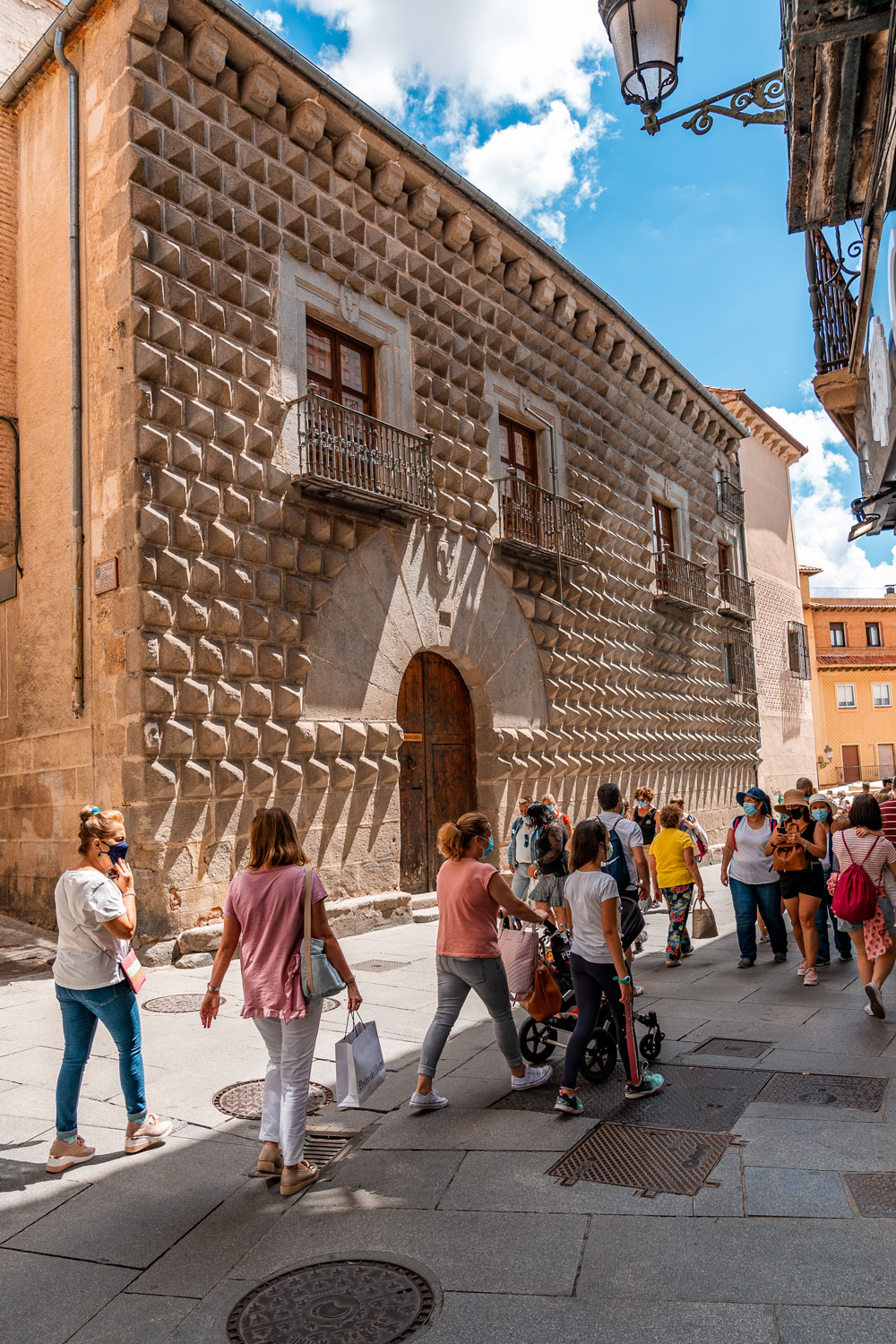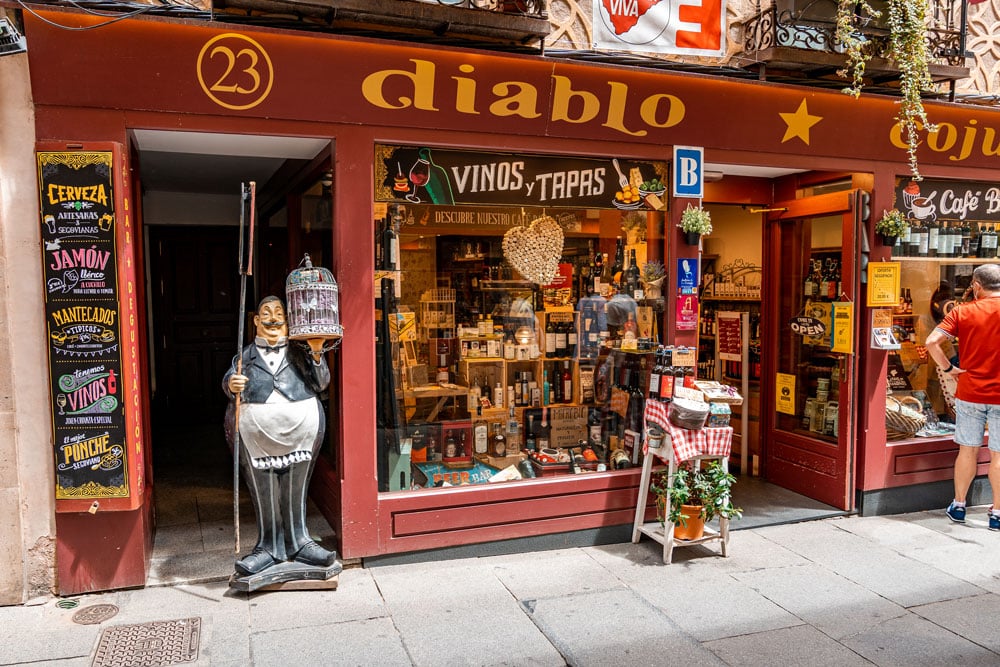 Walking straight up this street you will pass a small square – Plaza Medina de Campo (or as locals call it Plaza de Juan Bravo) with a Romanesque Church called Iglesia de San Martin on your right. It is pretty much halfway between the aqueduct and the Cathedral. You can't miss it.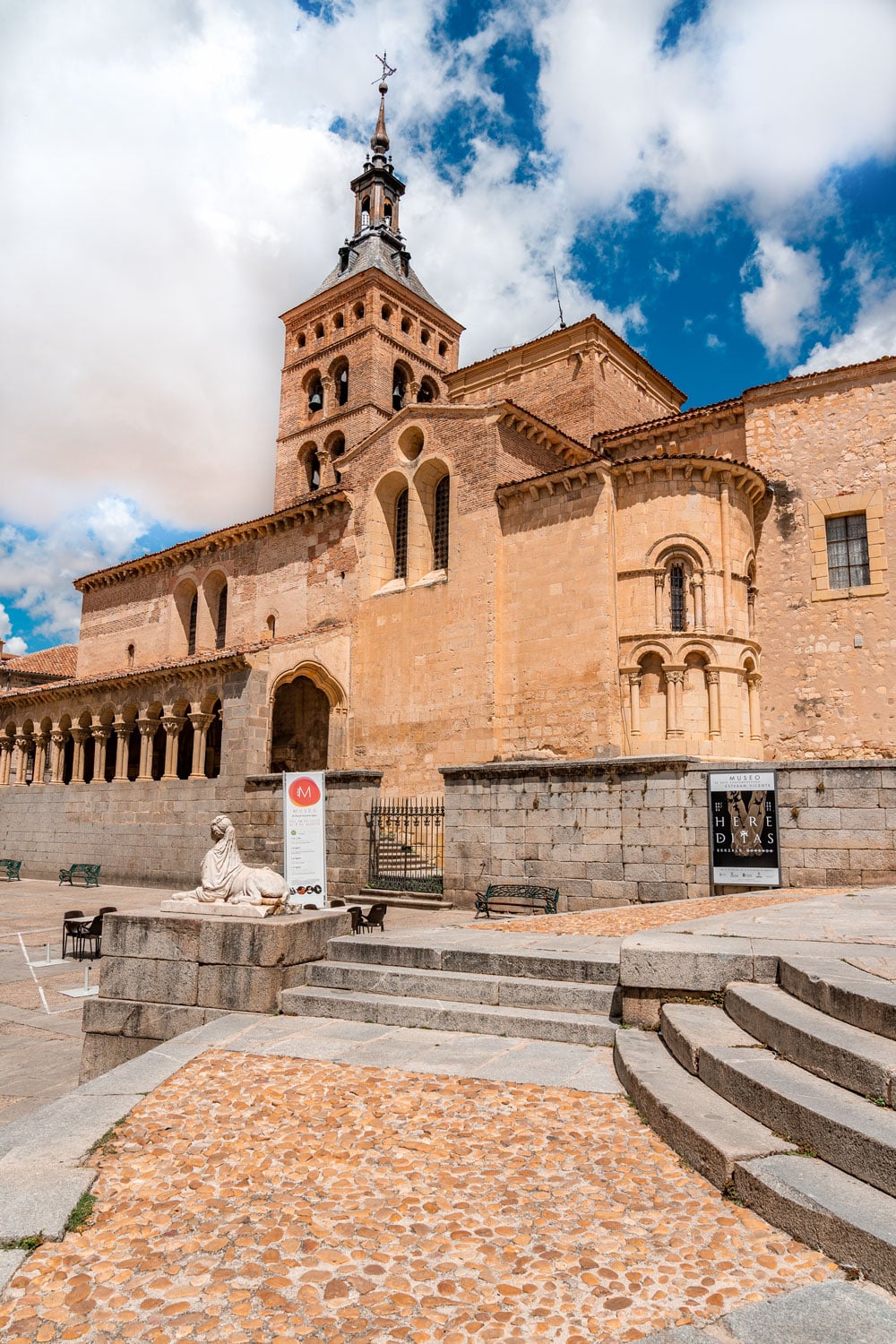 When you reach Plaza Mayor – the main square of the city, you will also know you arrived at the Segovia Cathedral (resources below) as it is right there in front of you. This magnificent building built in a Gothic style at the beginning of the 16th Century is stunning. Plaza Mayor is also a spot where you get the best photos from.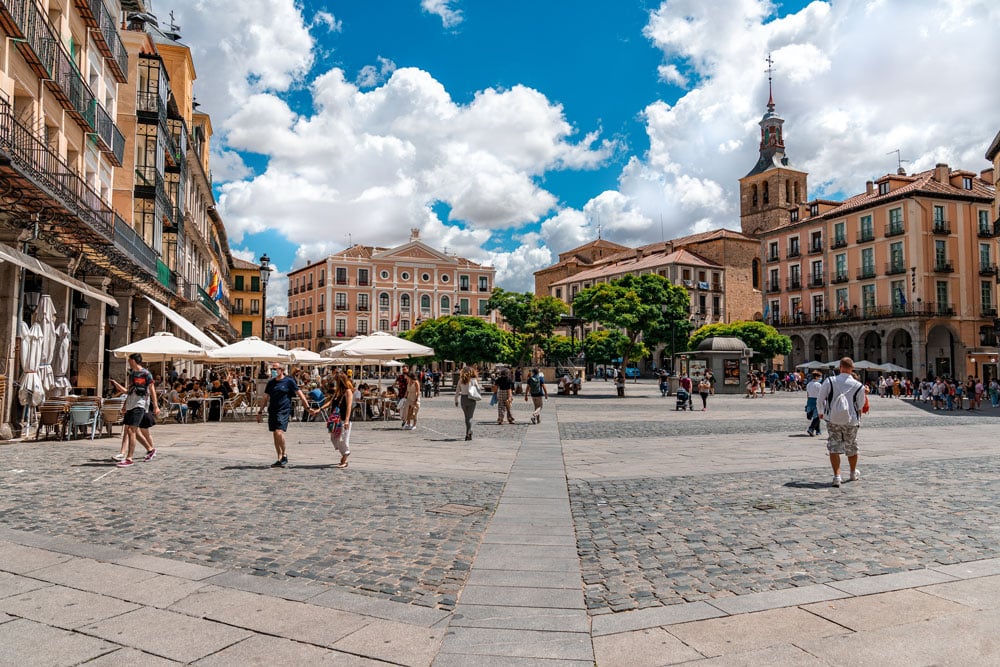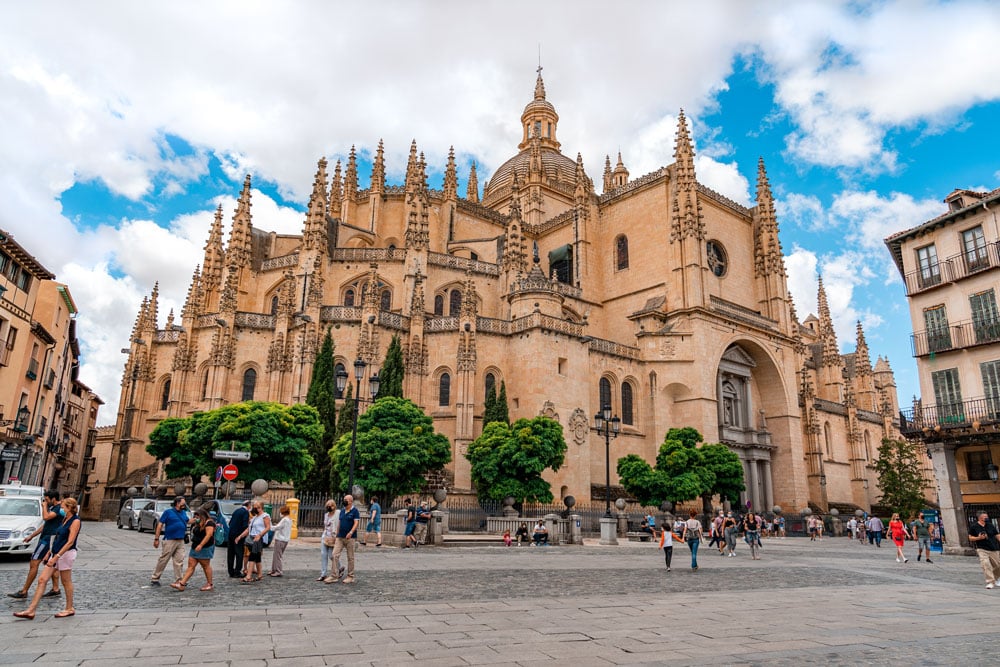 From there, follow the Calle Marquez del Arco street and it will take about 12 minutes (650 meters/0.4 miles) to get to the Disney-like Segovia Castle (Alcazar de Segovia). It is open all day long so you don't have to hurry to get there. The ticket office will be on your left in a separate building where the cafeteria is. There you can take as many photos as you like and there are no restrictions whatsoever. Inside or outside. Or just enjoy the place and learn about the history. Signs are in Spanish and English as well and I believe there is also an audio guide you can download.
This would be the last site to visit for the day so when you are finished, you can head back to your car through the old town or stop at one of the restaurants offering a local specialty – the suckling pig.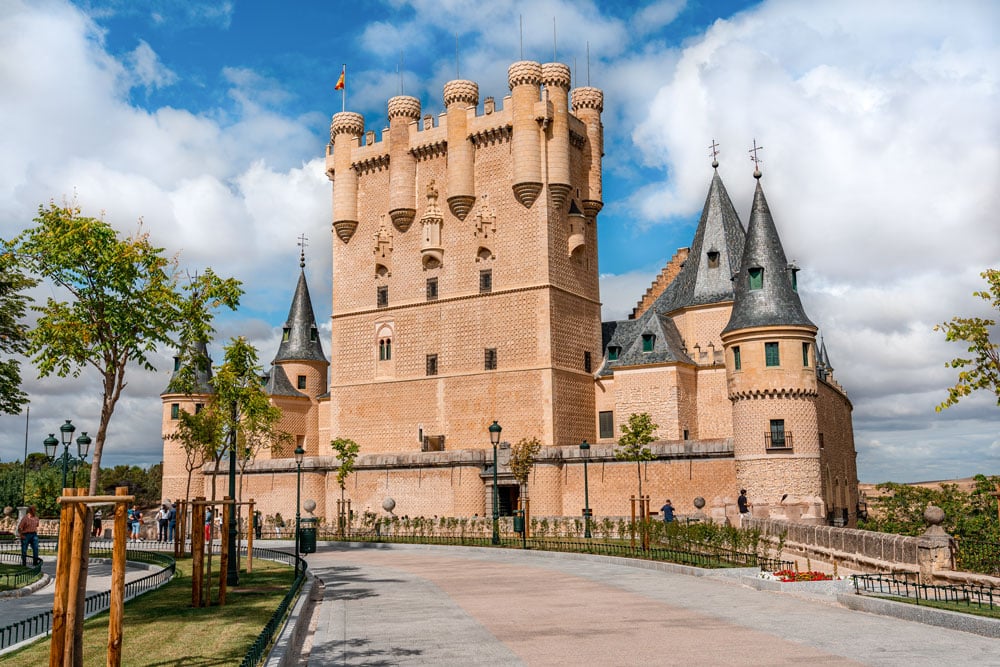 Our experience:
Segovia Castle is beautiful from the outside. Our self-guided visit took us about 30 minutes. The rooms inside were beautiful and we enjoyed the visit. Was it a good value for the price? If I compared it to other castles or palaces around Madrid, I would have to say it was a bit on the expensive side for what you get to see (a 9 euro adult ticket for the castle and tower).
If on a budget, I would recommend skipping the tower and doing the castle tour only. Also, the best photos we took were from the gardens which are free to enter.
The aqueduct is a must-see and it's also free! We really enjoyed walking through the old town and browsing the beautiful shops with handmade Spanish products. As we had other 2 places to visit, we chose not to go inside the Cathedral here but having seen other Spanish Cathedrals (in Toledo, Valencia, Salamanca) I am sure this one is equally beautiful as the others.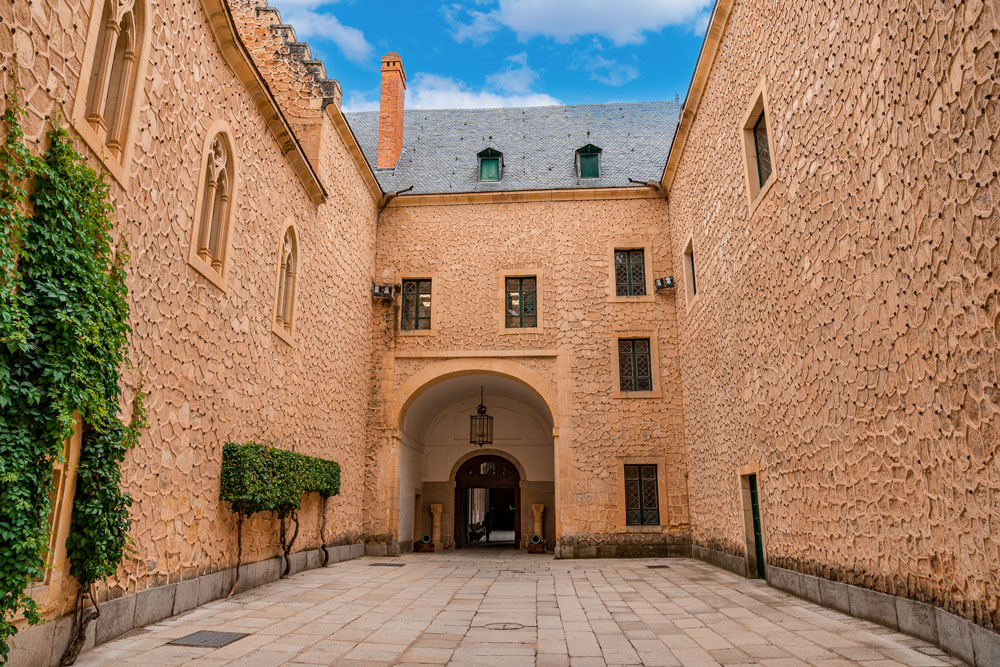 Resources:
Segovia Castle – ticket information, prices, opening hours, etc… 10 am – 8 pm in summer, without siesta break but always check their website as this can change.
Segovia Cathedral – you can book or buy a ticket for the cathedral or tower or a combo of these two. They also offer guided tours. Prices are reasonable and you can choose what you would like to see the most and decide which ticket will suit you the best. Opening hours vary depending on the day but there is no siesta break (during the day) which is a plus!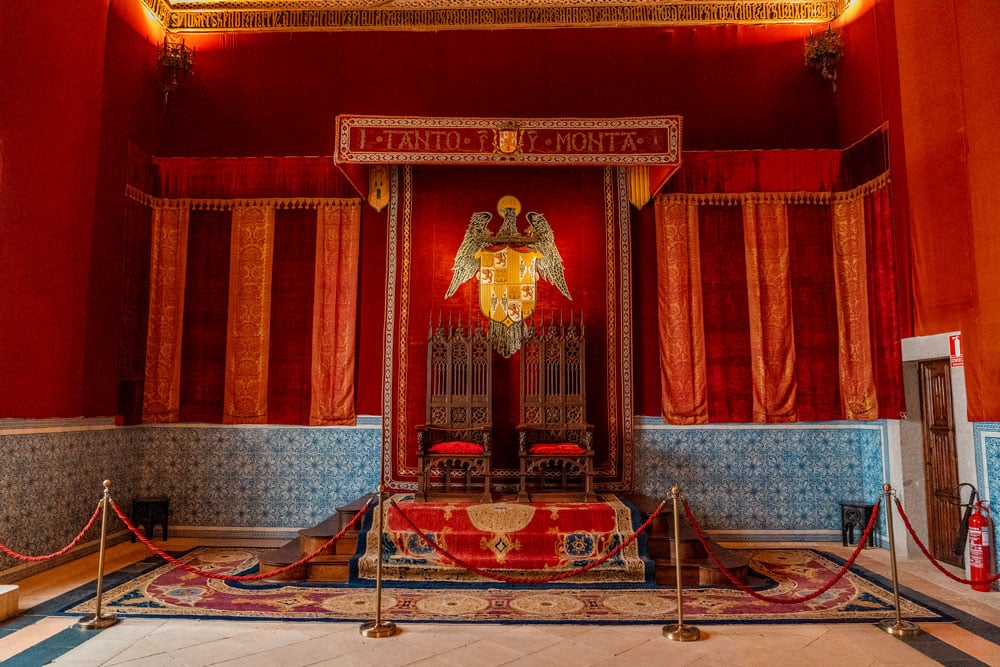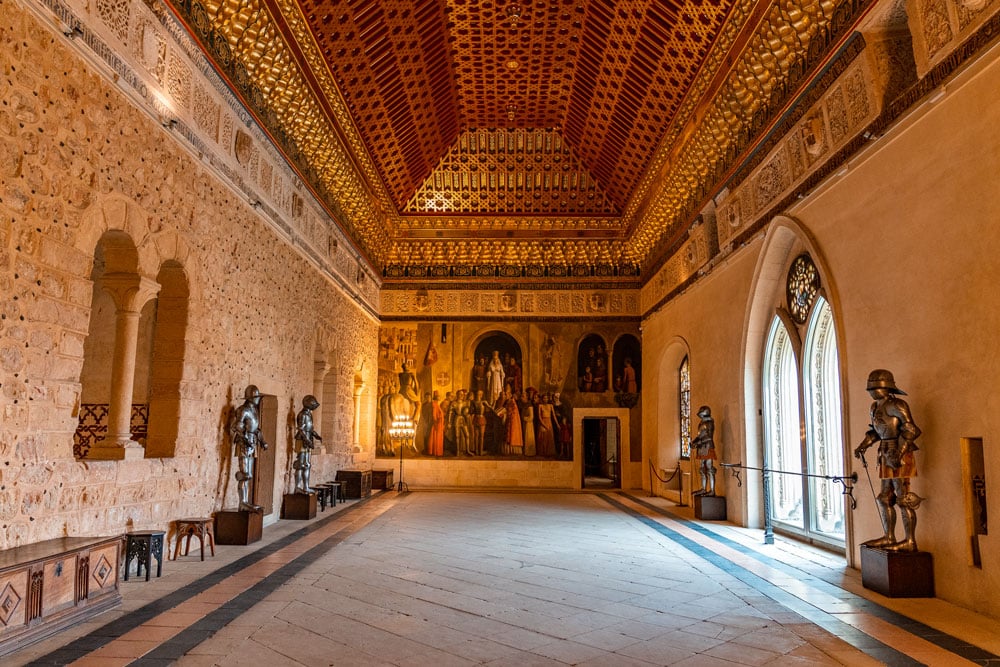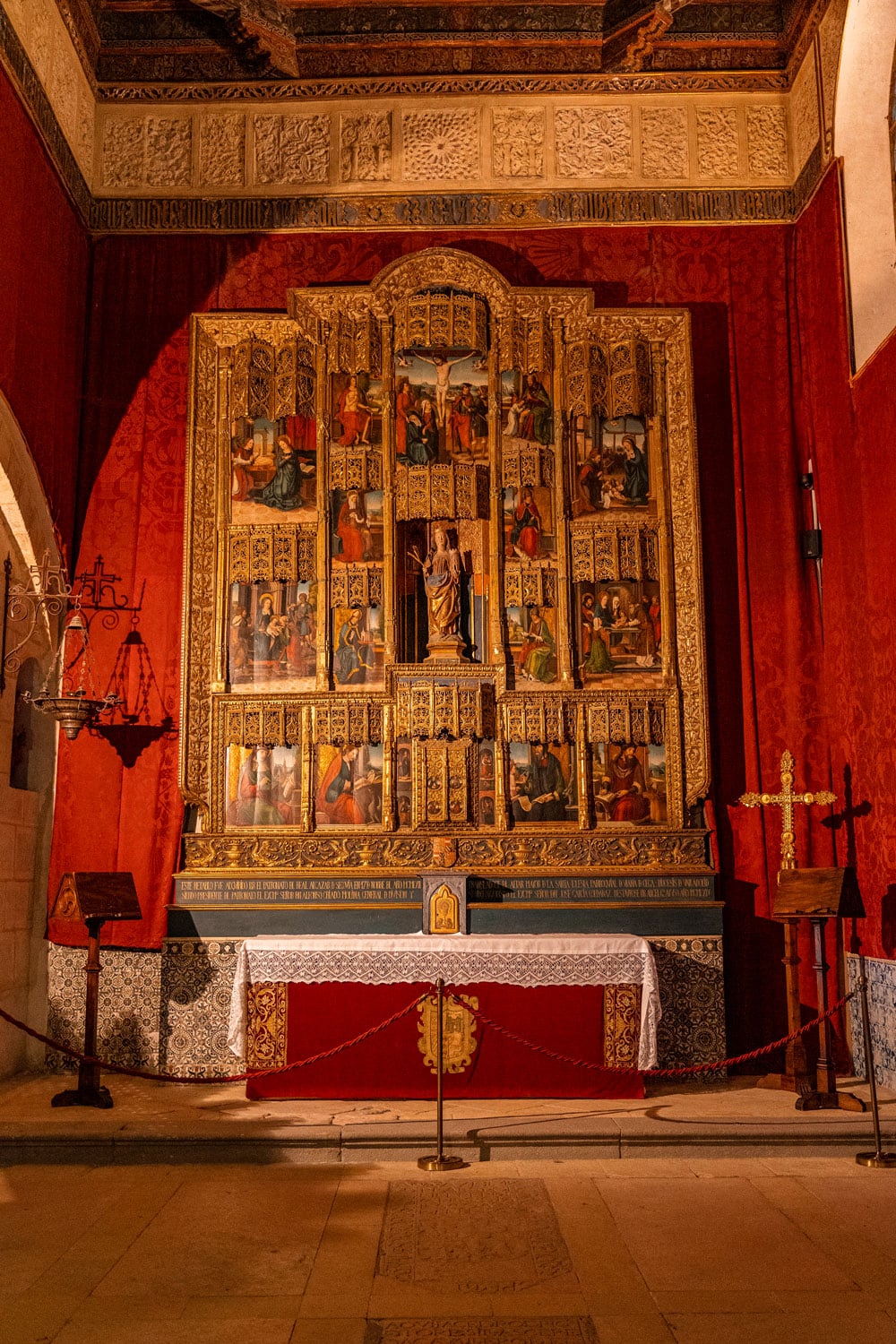 Useful tips when planning a trip to Segovia, Spain
Parking at the garage will cost you about 2.40 euros per hour. It might not be the cheapest but it is convenient and parking in the city can be a challenge. We started our day at Alcazar de Segovia, not knowing that it is literally the worst place to park a car. When we arrived shortly after 10 in the morning, we spotted 1 last parking place (out of about 20 or so). The maximum parking time is allowed for 1 hour only which makes it pretty much impossible for you to go and see the castle. One of us had to miss a visit to the tower in order to pay for another hour. Also, the machine seemed to be taking only the exact amount of coins. For those who would still like to give it a shot: the cost per hour = 1 euro 20 cents.
If you prefer an organized tour from Madrid, ask one of their tourist offices for options or check some websites that offer trips – Viator is one of them.
Visiting Segovia in Spain is one of the easy trips that can be done in half a day. If you are "hungry" to see more, why not stop at the Royal Palace of la Granja de San Ildefonso (Its gardens are free to roam and full of photo opportunities) or Royal Palace of Riofrio?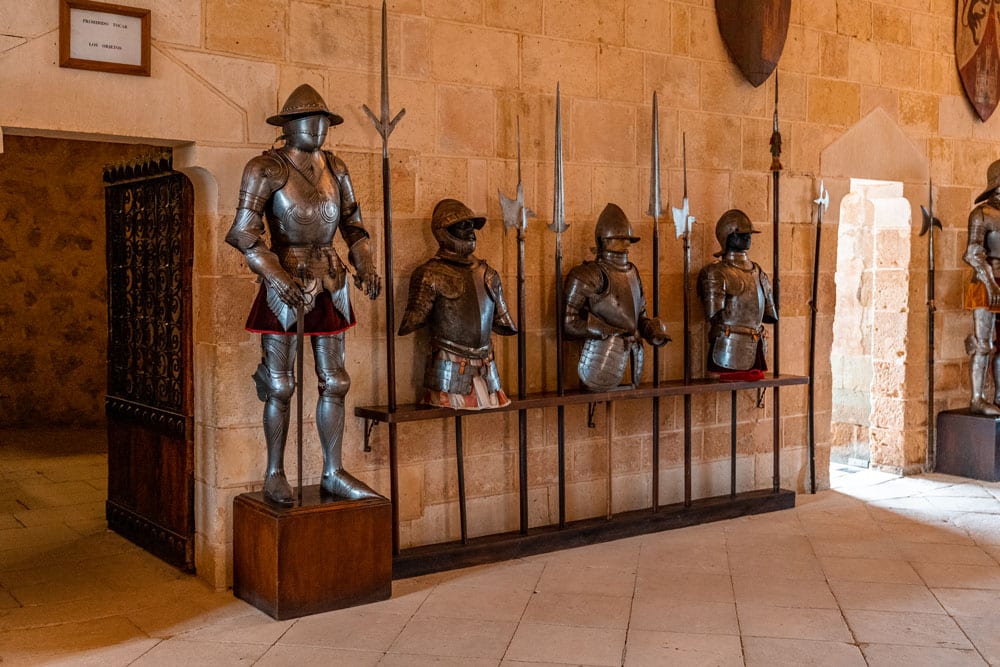 Note that none of the links provided in my article were sponsored. I have included the ones I thought might be useful for you and help you plan your trip to Segovia in Spain faster.
If you do visit this place, please let us know what you think!
Safe travels!