Escape the hustle and bustle of Spain's main tourist destinations and explore the lesser-known places. Valderrobres, a quaint little village southwest of Barcelona is one of them!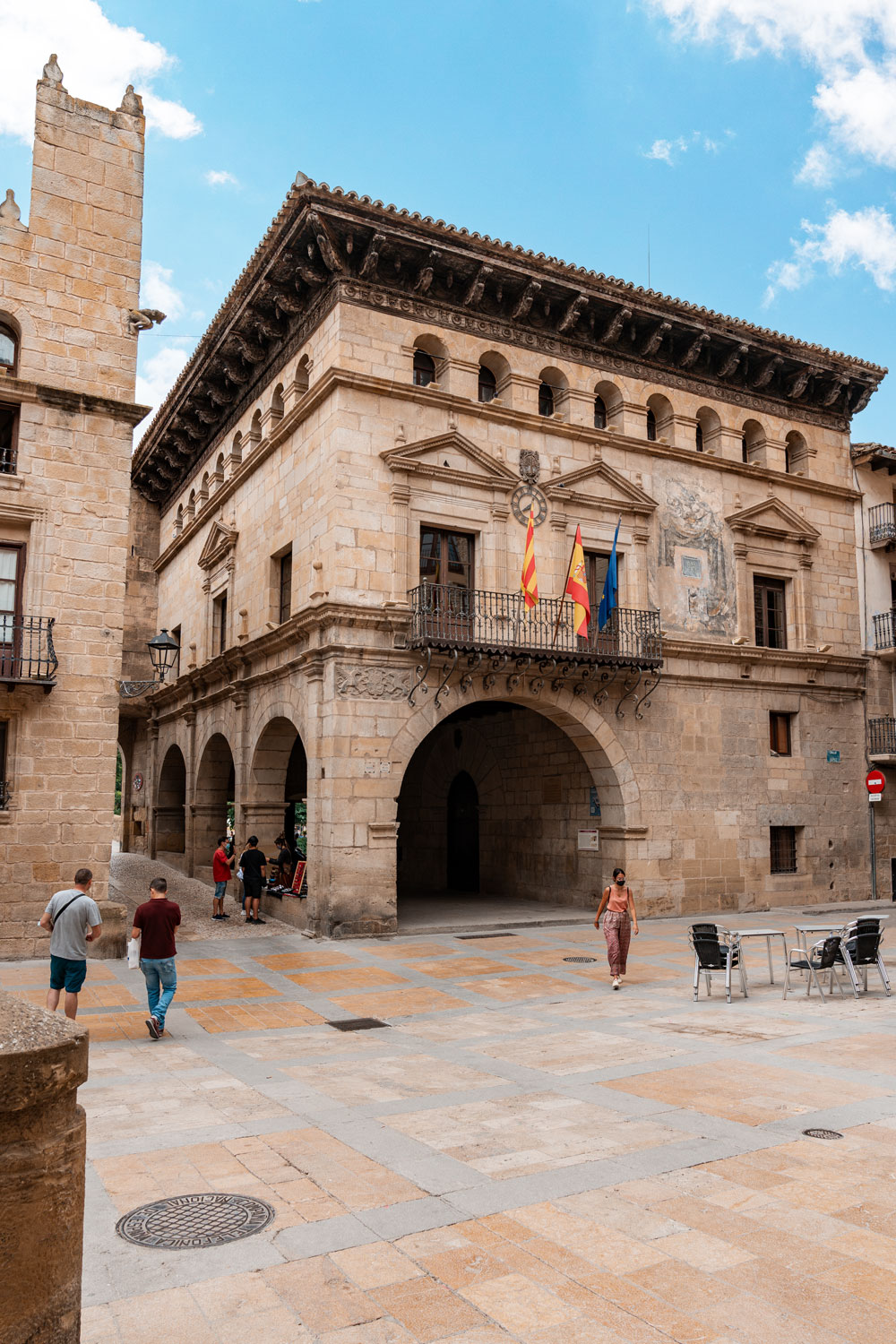 This Valderrobres travel guide contains expert traveler tips as well as our opinion and other useful information you might need when planning a trip to Spain.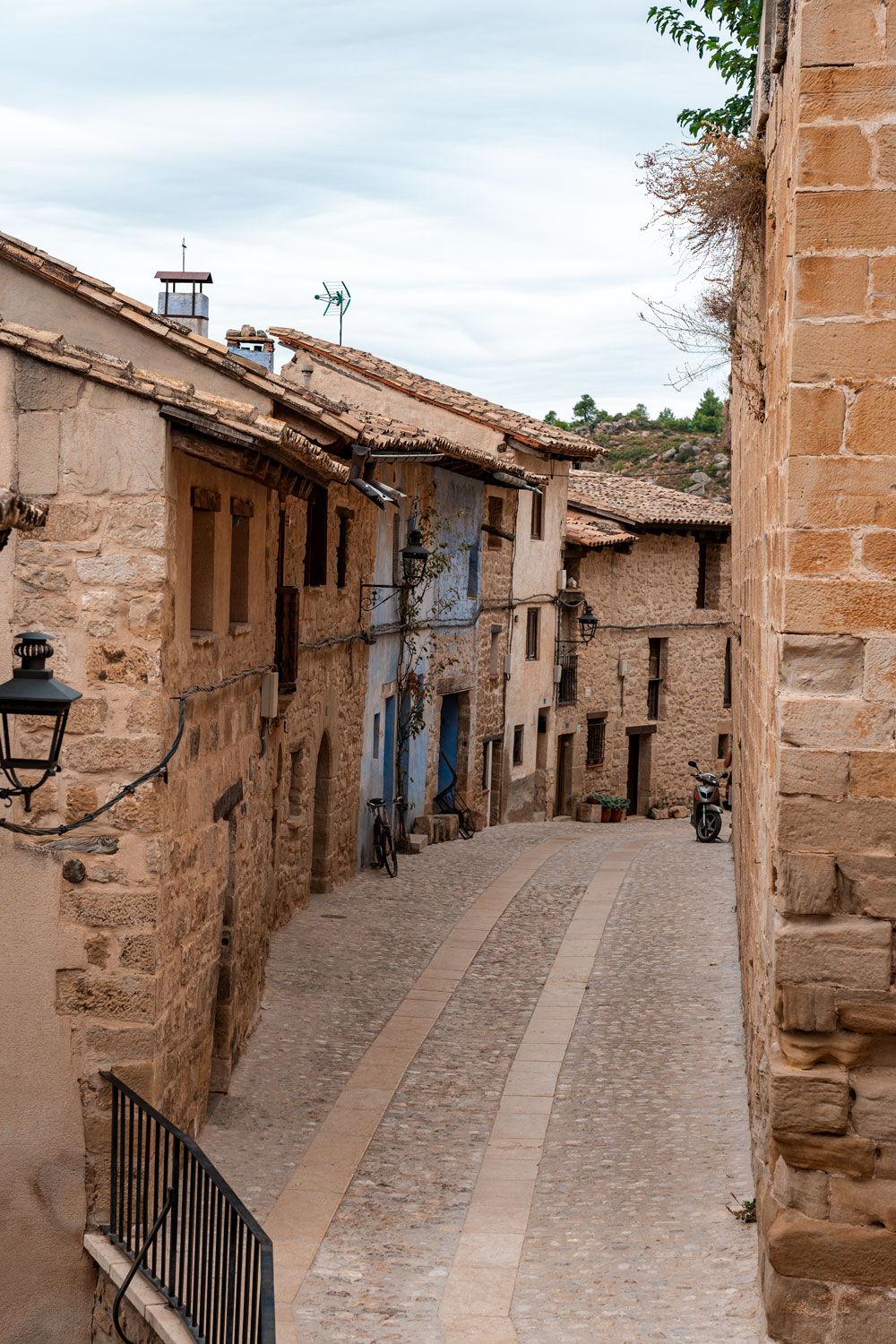 Location:
Also spelled Vall-de-roures (in Catalan), it is situated in the Aragon region, in northeastern Spain. It is the main village in the Matarraña area and a popular place to visit among Spaniards when in the province of Teruel.
Literally translated as the Valley of the Oaks, this little village is 2 hours and 40 minutes southwest of Barcelona as well as 2 hours and 40 minutes North of Valencia (when driving on a motorway).
The Aragon region borders Catalonia, Comunidad Valencia, La Rioja (Yes, the famous wine region), Navarre, and Castile la Mancha (known mainly for Consuegra Windmills and Don Quijote).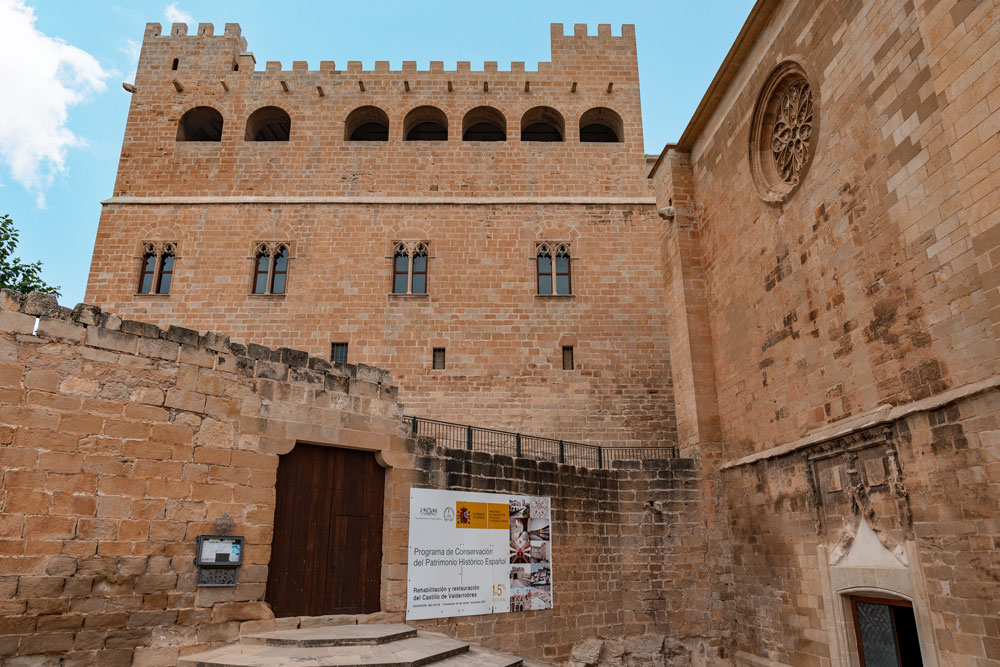 What to see in Valderrobres?
The Castle – Standing in the upper part of the village, this 12th Century castle palace now houses a small gallery. The rooms at the top of the castle were once used as grains and oil storerooms. An interesting feature you won't probably find in any other castle is the fact that a nearby mountain was used as one of the walls.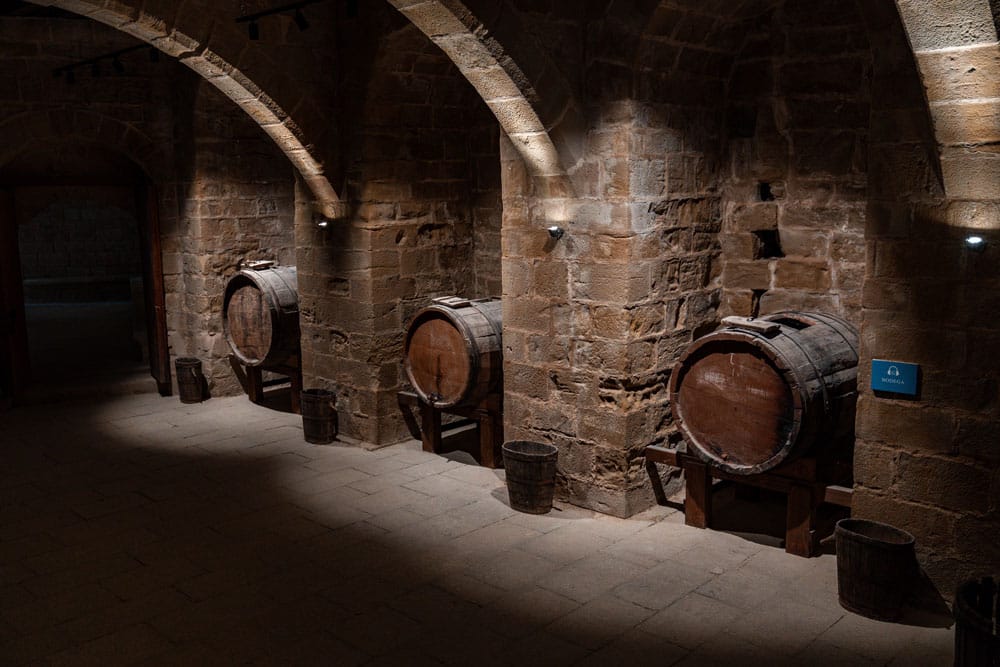 The Church of Santa Maria la Mayor – A 16th-century church that is connected to the castle by a passage. Built in a Gothic style, it is after the castle one of the main attractions in Valderrobres. It cannot compare to the grand Spanish Gothic structures like the Toledo Cathedral near Madrid but it sure should not be skipped.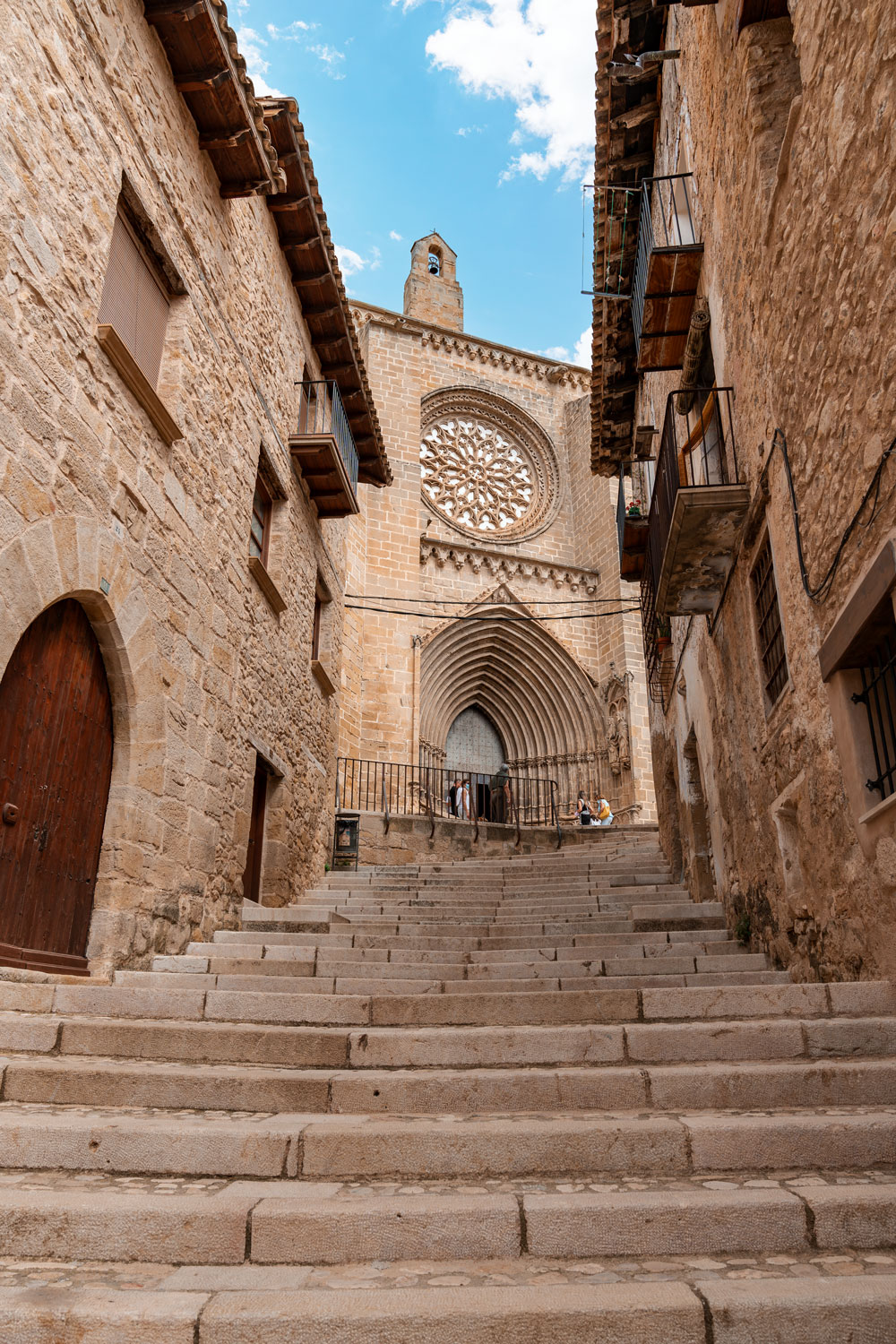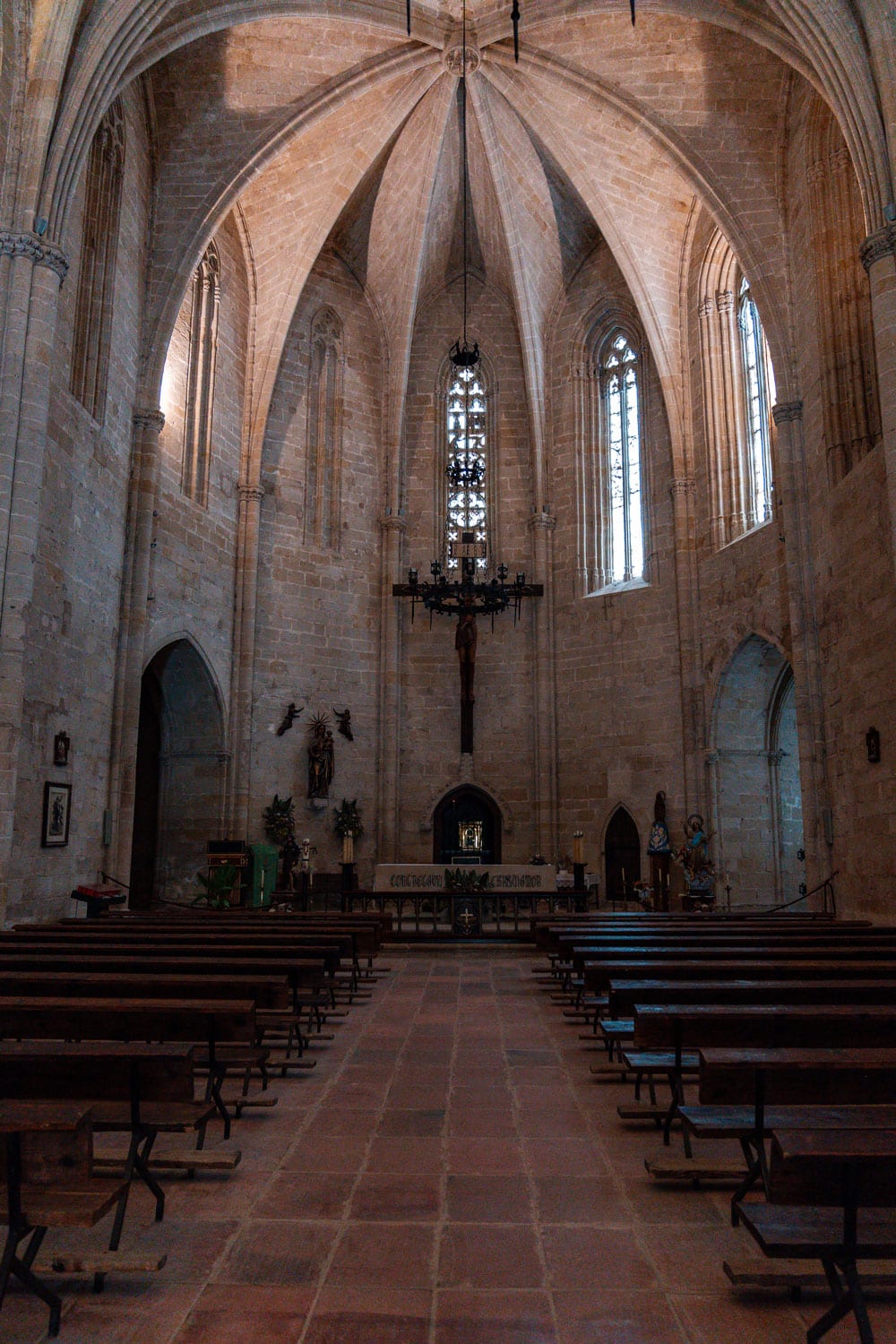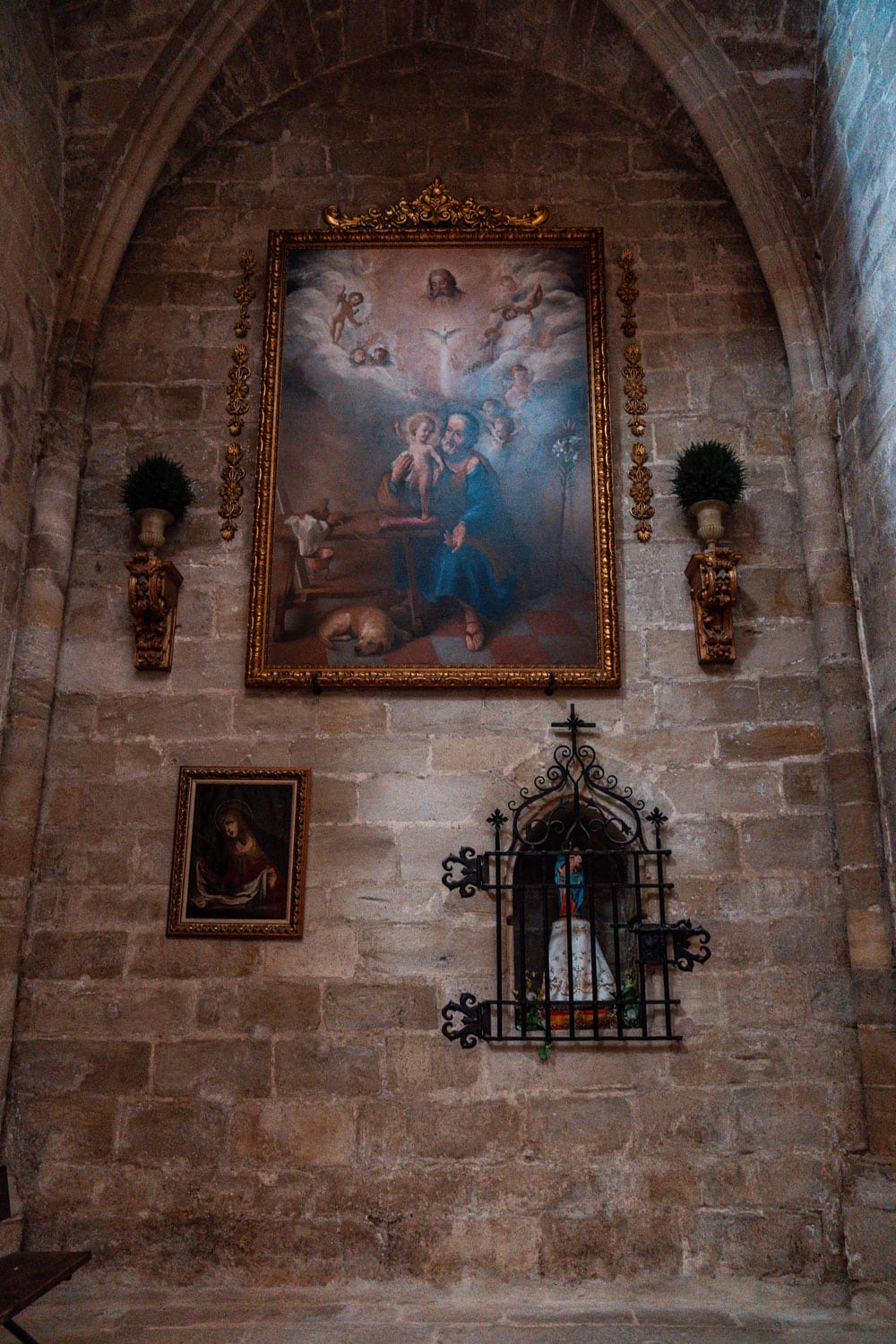 The Medieval Bridge – An entryway to the old town was built to withstand any possible floods. Whether there have been any floods or not, this stone structure has been standing strong since the 14th Century! In medieval times, anyone who wanted to cross this bridge had to pay a fee.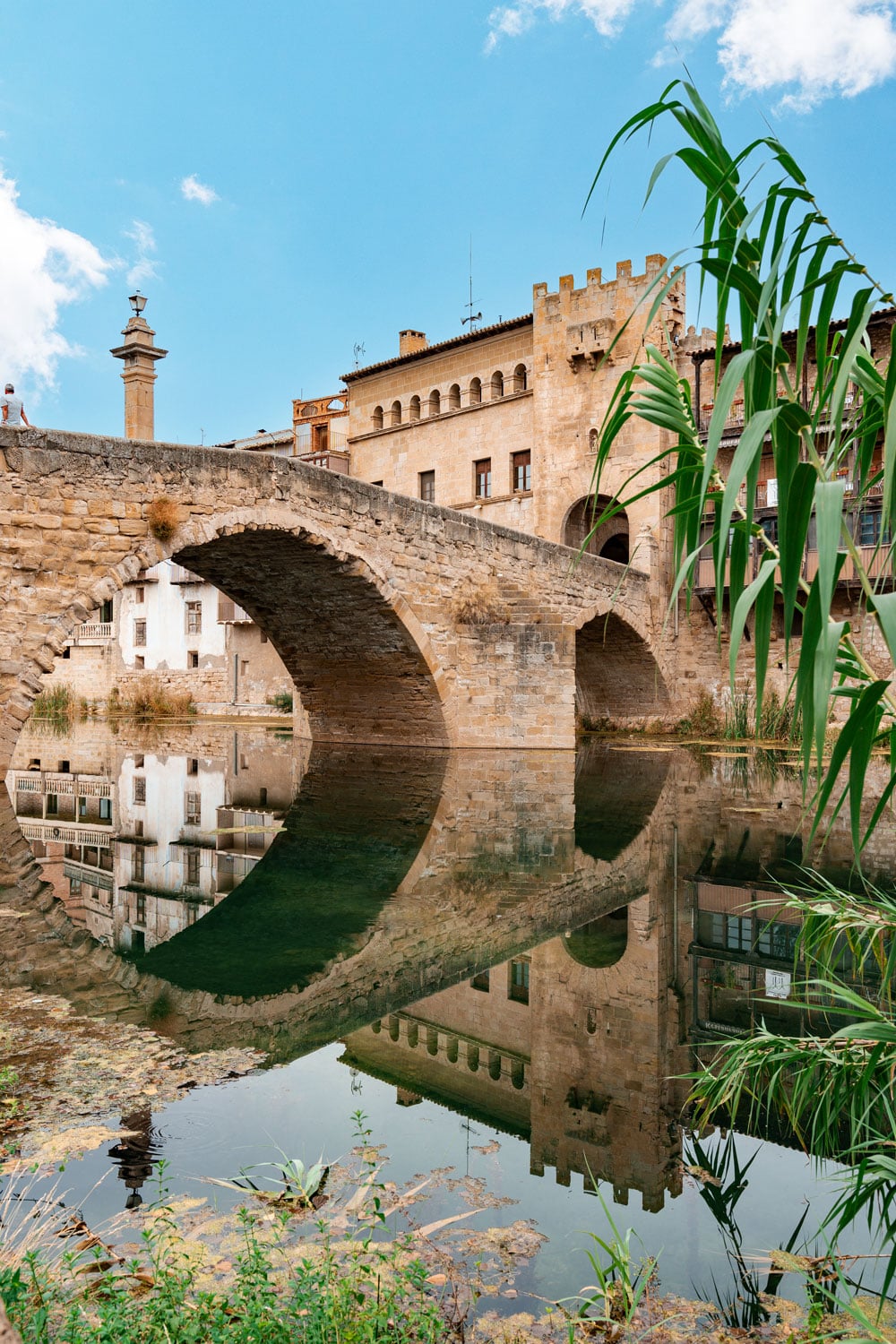 The Museum and Centre of Interpretation – Situated just opposite the church and castle, this place gathers information on the heritage of the Matarraña and also hosts some temporary exhibitions of private collectors. The information is in Spanish only though.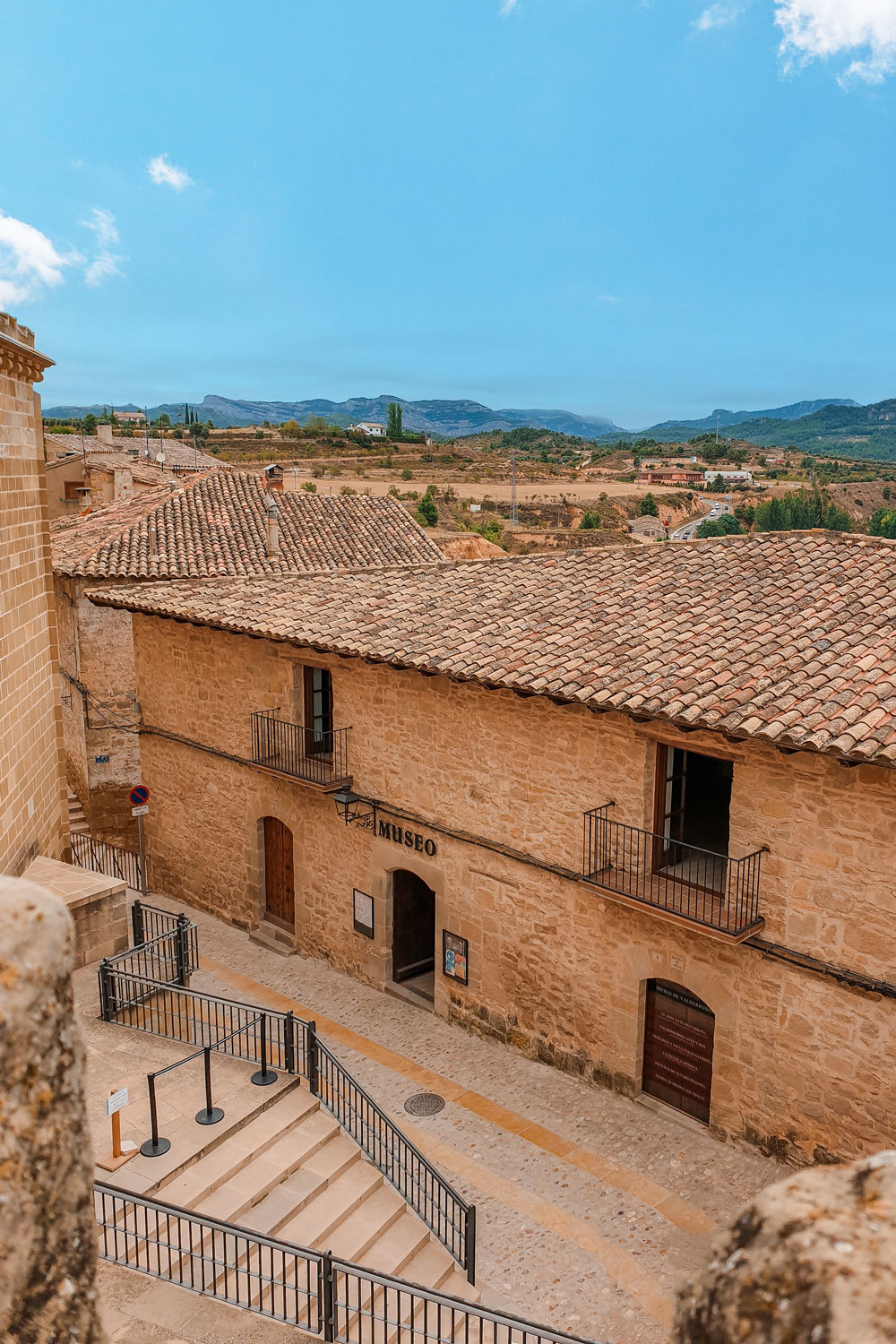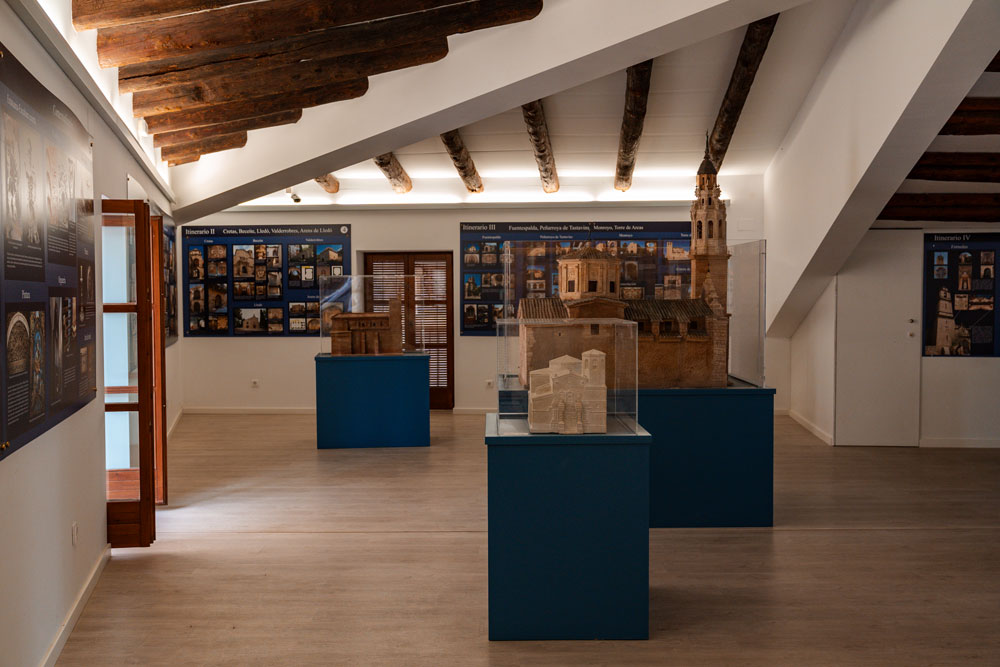 The Plaza Espana square is the main hub of this Valderrobres, a place where you can sit and relax or enjoy the local cuisine in one of the restaurants, or just admire the architecture. The Fonda la Plaza building which offers accommodation and Catalan food and The Casa Consistorial (Town Hall) from the 16th Century are the 2 main attractions there.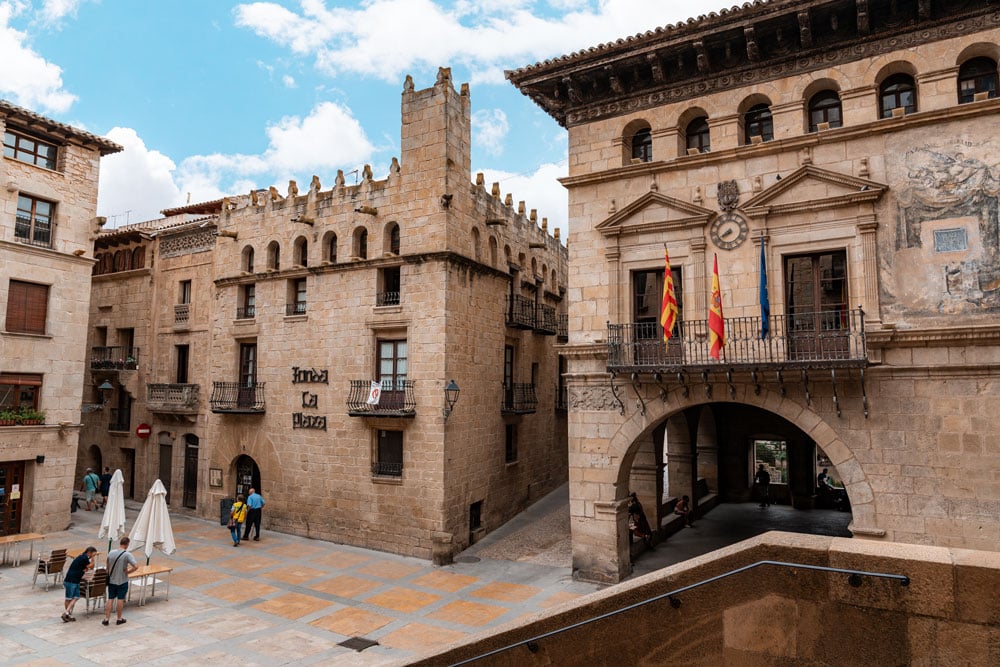 Portal de San Roc – The main gate that separates the historic center from the new parts of the village.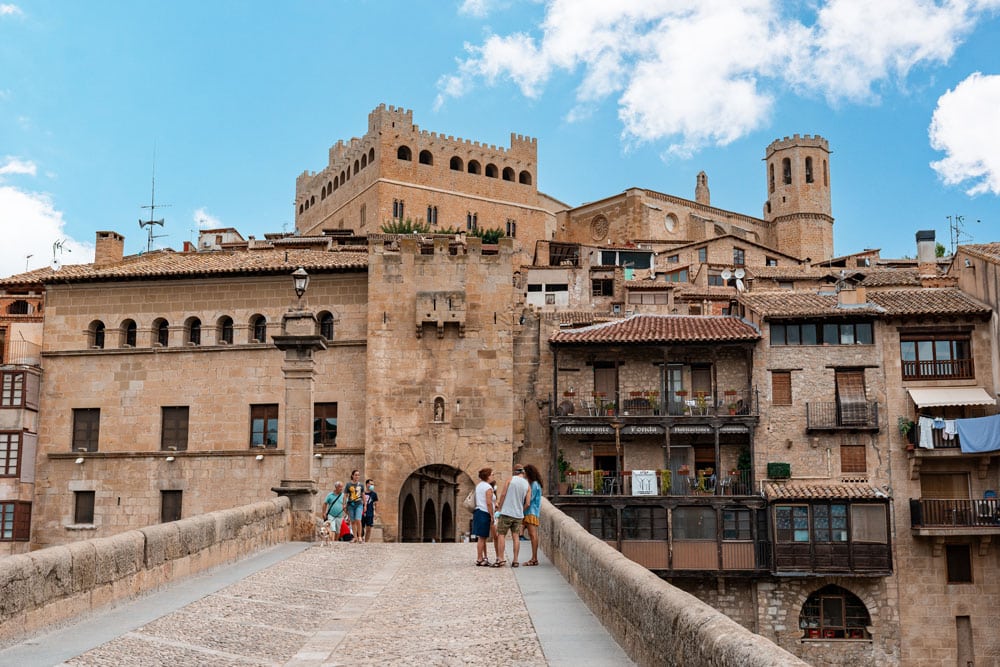 Observatorio de Aves Mas de Bunyol – A one-of-a-kind bird observatory that offers a unique experience of watching vultures in their native environment. Book a ticket to watch them feed or stay a night in one of the rooms they provide!
Insider's Pro Tips:
Parking – free public parking is located just a short walk from the Church. I'd say there are about 25 spaces. During the weekends, holidays or in summer it can fill pretty fast, so I suggest arriving early.
Caravans can park in a designated area a few steps away from the medieval bridge. The area is basic but had gray water emptying facilities as well as a water fountain. It is free of charge. Just opposite there is a municipal car park as well.
The entry ticket to the castle includes a visit to the church (they are connected by a passage) as well as the museum. They offer guided visits, an audio guide or you can roam around all by yourself. There was no information in English though apart from one area with a collection of paintings where they did provide text in English as well.
When we visited, it was not possible to pay by card at the ticket office so have enough cash with you! Or, you can visit their official website Castillo de Valderrobres where you can buy tickets using a card.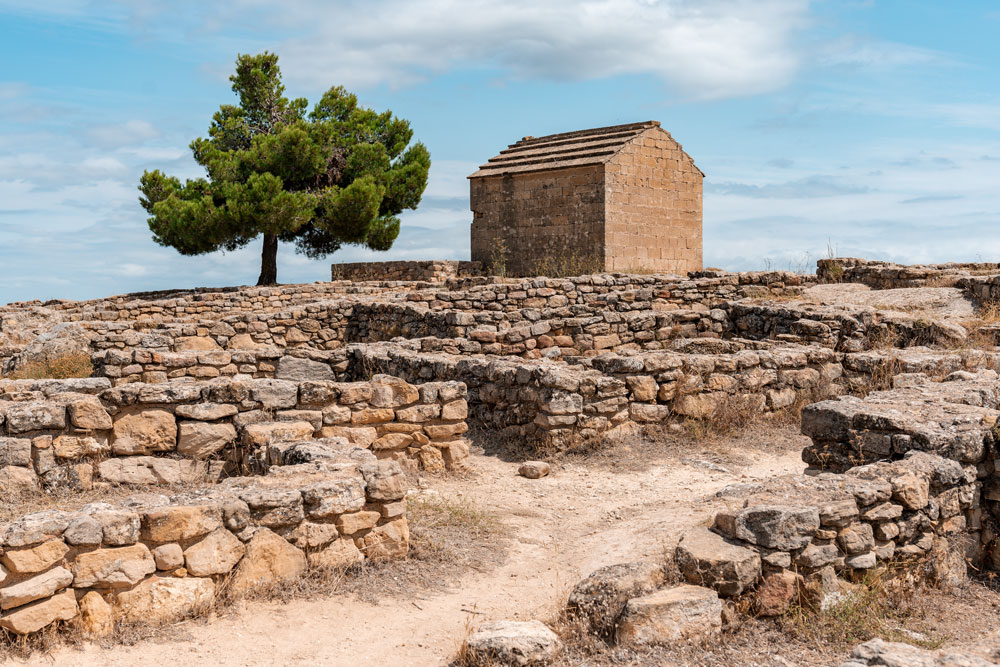 What we think
The castle itself is pretty simple (bare I would say) and it is definitely not one of the must-visit castles in Spain but if you are in the area and decide to visit Valderrobres, then why not give it a go?
The entrance fee is 9 euros (about 9.90 USD as of June 2023), and you get to explore the place at your own pace (unless you opt for a tour guide that is). I added a few pictures of the castle so you can have an idea of what it looks like on the inside.
But, if you feel that it is not worth the money, then spend it in one of the restaurants tasting local cuisine!
That being said, the entrance ticket includes also a visit to the museum and the church so you would miss those two attractions as well.
We liked exploring the narrow streets and felt like there were a ton of photo opportunities. Now, it is a quick visit (unless you want to take it real slow) and you can be done in half a day, even less.
Perhaps the place is a great starting point when in the area or making your way down the east coast toward Valencia. There is plenty do to around Spain's third-largest city. If you have a car, you can plan many interesting day trips from Valencia.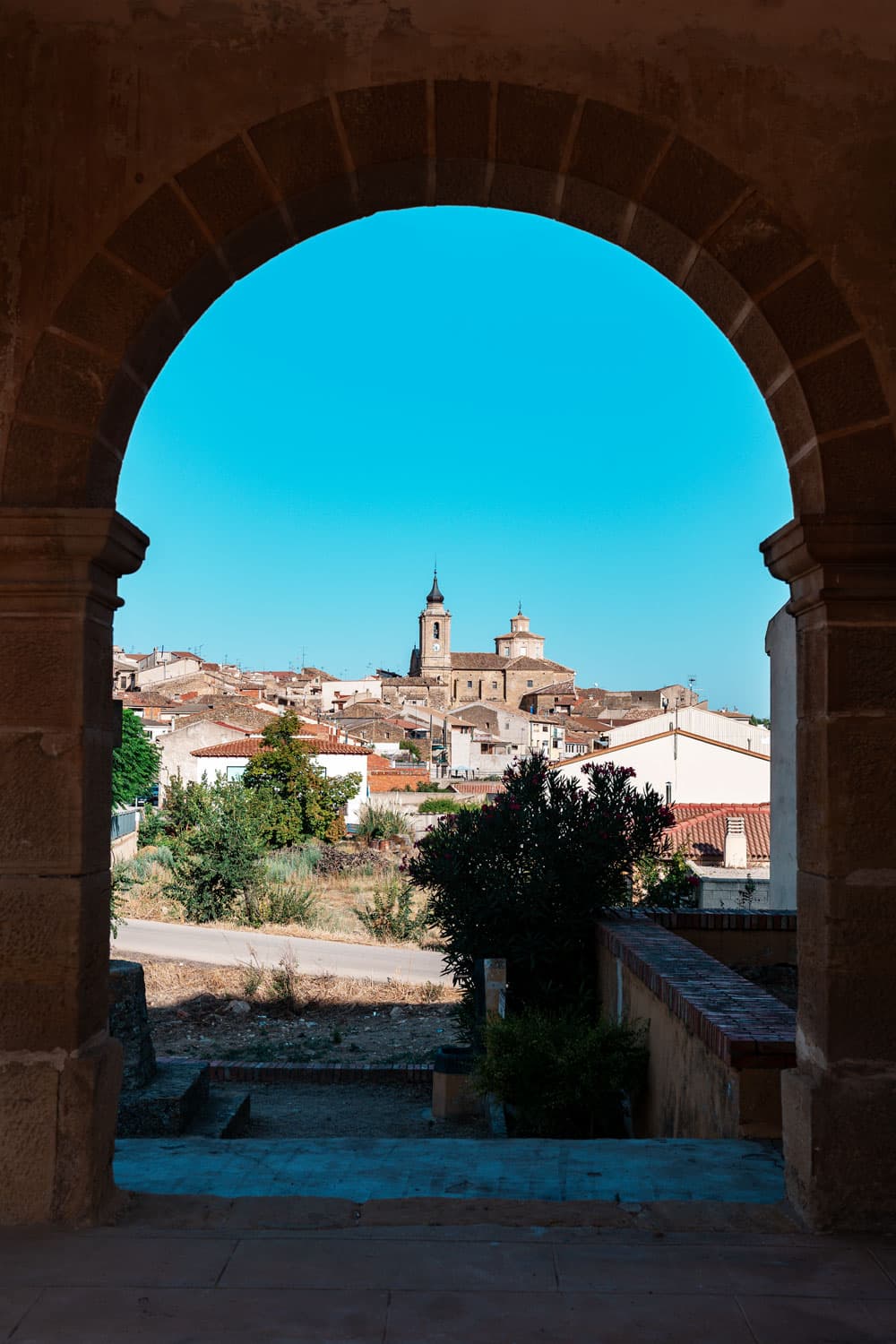 What to see in the area?
Only a stone's throw away from Valderrobres, there is a little village of Calaceite with the Ancient Iberian village of San Antonio de Calaceite (Poblado Ibérico de San Antonio de Calaceite) and a village of Valjunquera – the perfect starting point for exploring the Matarranya area.
The village of Beceite is famous for its Hill Pass (Puertos de Beceite). Imagine high hills, canyons, crystal clear water pools, a waterfall, a red-colored rock formation, and a path among the rocks.
This hiking route is definitely one you will remember but access is limited in high season and at weekends. I believe you need tickets for this hike.