Consuegra windmills are the largest group of windmills in Spain. South of Madrid, these well-preserved structures are a popular destination to visit when in the area.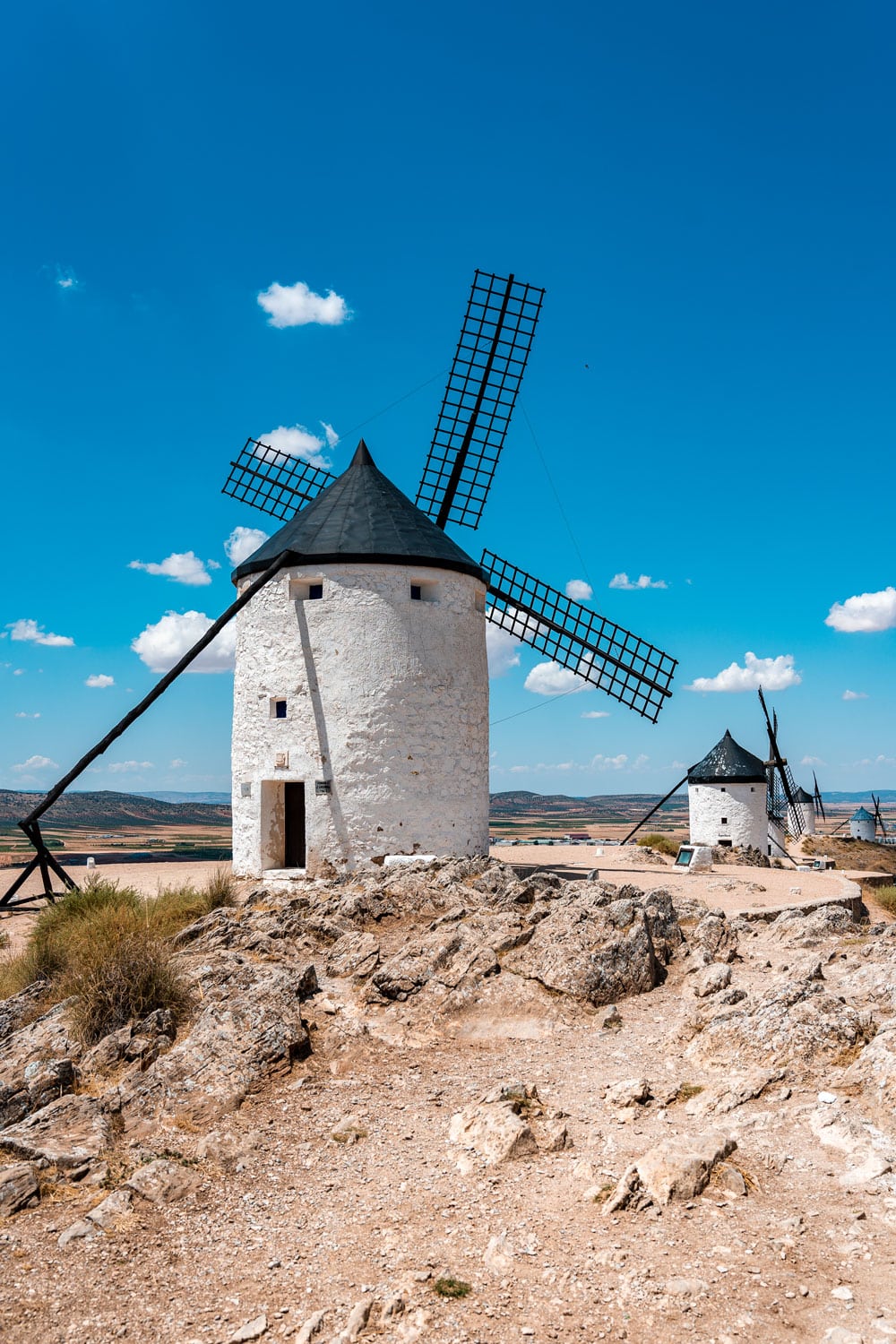 This post contains information on how to get to Consuegra, what to do there as well as useful tips so your visit to Spain goes as smoothly as possible.
The windmills are situated in the Castile-La Mancha region, known for windmills, saffron, wines, and Manchego cheese. Very often it is referred to as Don Quixote Country.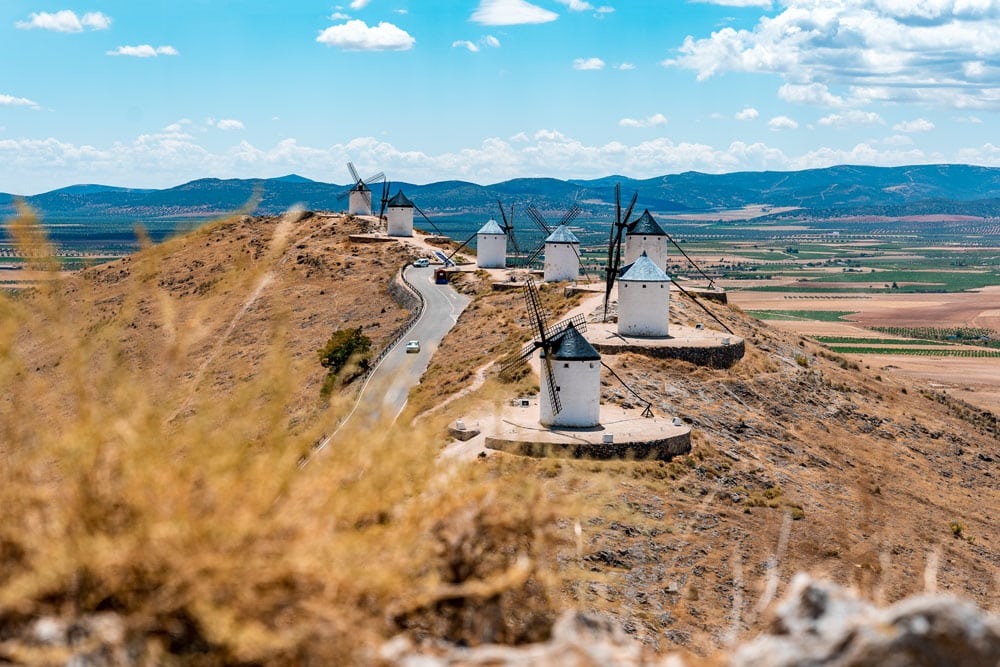 Today, we visited the windmills in Consuegra, perhaps the most iconic structures of the La Mancha region.
Out of 13 original windmills built on the Cerro del Calderico ridge, 12 are still standing and some of them still have working machinery. Each of them has their own name!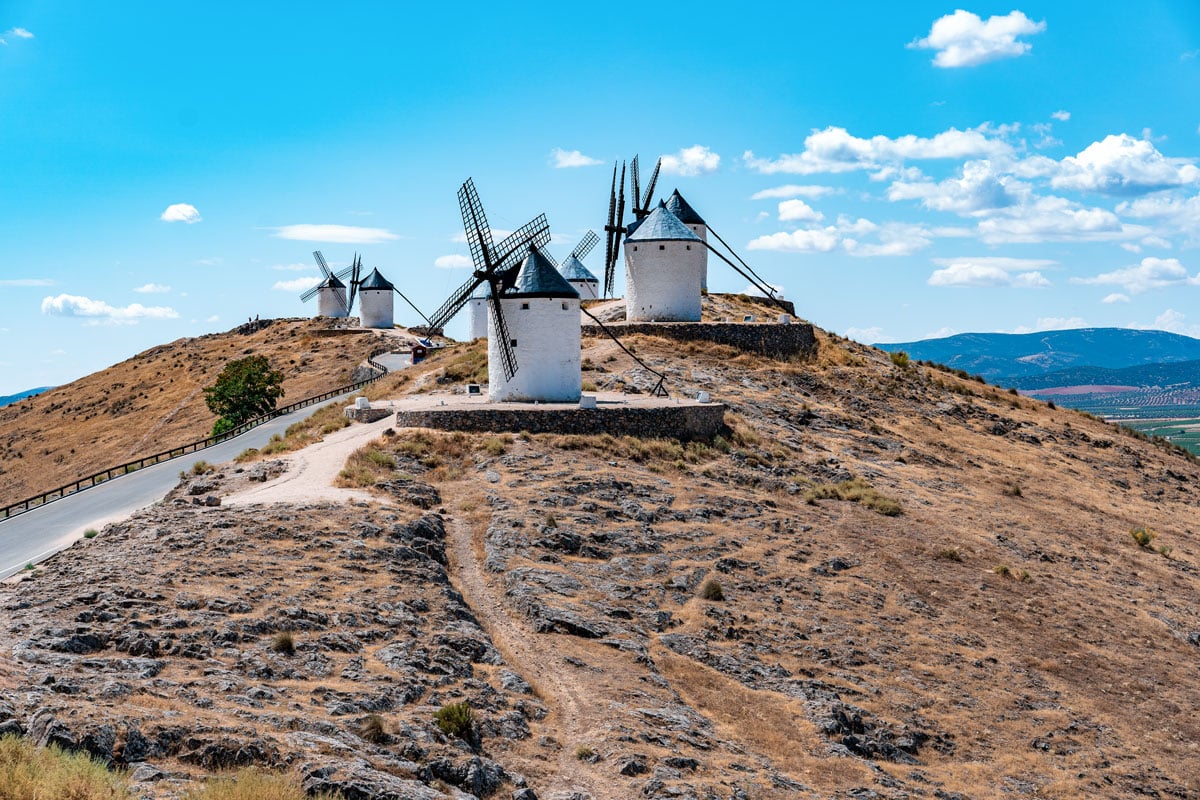 How to get there?
From Madrid: The journey takes about 1 hour 35 minutes and you will be driving most of the time on a highway. There are 3 route options you can choose from so make sure to check Google Maps to see what suits you best.
Tip: Toledo, a popular day trip destination from Madrid, is en-route to the Consuegra Windmills so why not combine those two together!
If you do, note that driving through Toledo city can be challenging for its narrow streets and limited parking areas.
The best option is to park right outside the old town. There are some parking spots with a parking meter near the San Martin Bridge that I know of, or a free car park Safont – with this one, it is good to know that there might be so-called Gorillas who will show you where to put your car and ask for money.
They are not official workers and what they do is illegal. We had a not-so-nice experience once when we refused to give them money without a proper ticket. Since then, we try to support the towns by parking in regulated areas. In many cases, the charges are very reasonable.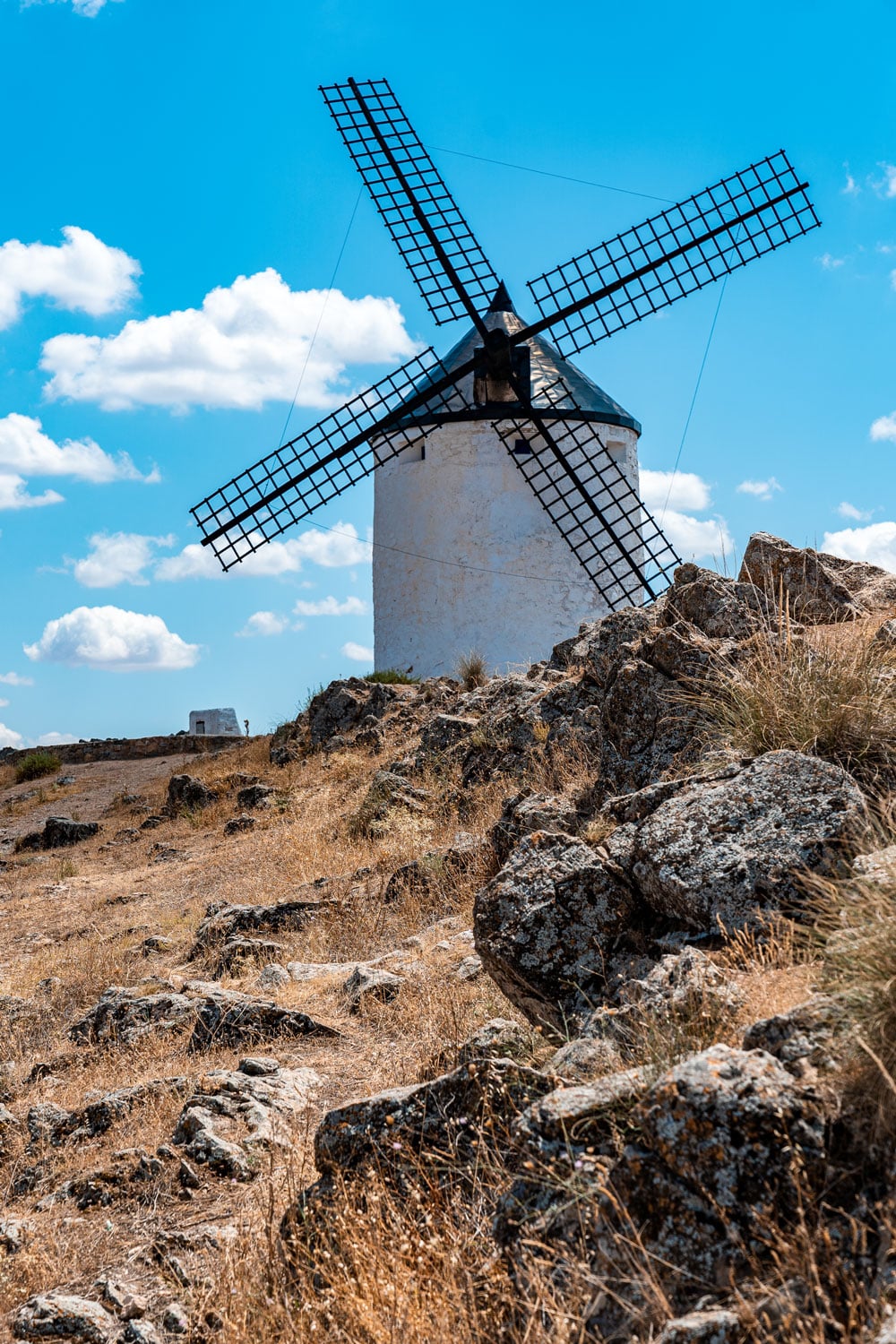 From Valencia: It takes almost 3.5 hours to get to Molinos de Consuegra from Valencia. The drive would only be worth it if you planned to continue up to Toledo or Madrid and stay a few nights in the area.
Tip: There are other 2 locations with beautifully-preserved windmills (Mota del Cuervo and Campo de Criptana), both on the way to Consuegra Windmills (Molinos de Viento de Consuegra) and they are well worth the visit!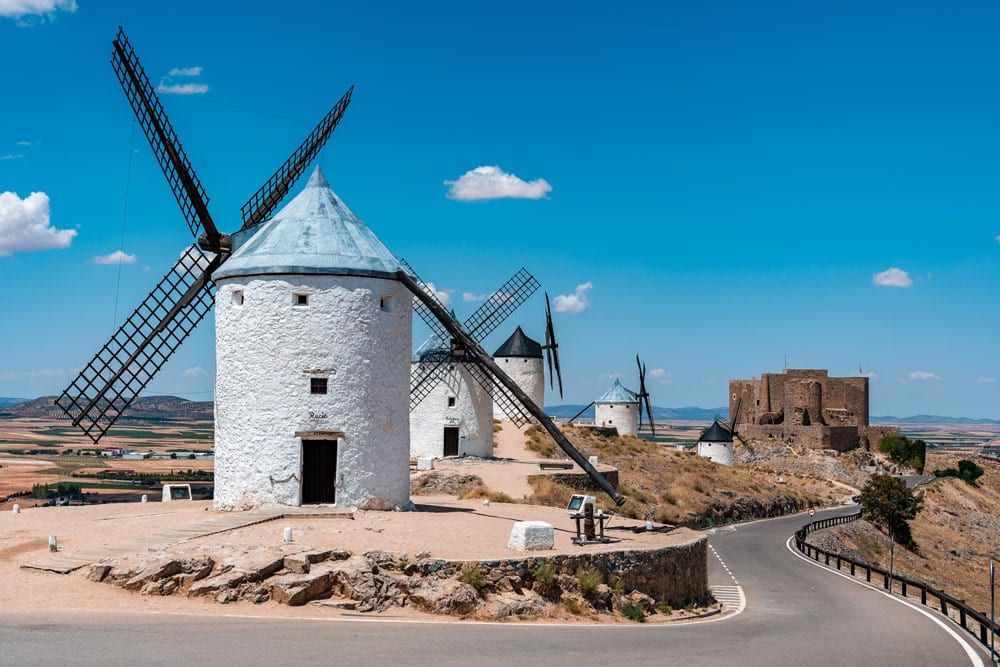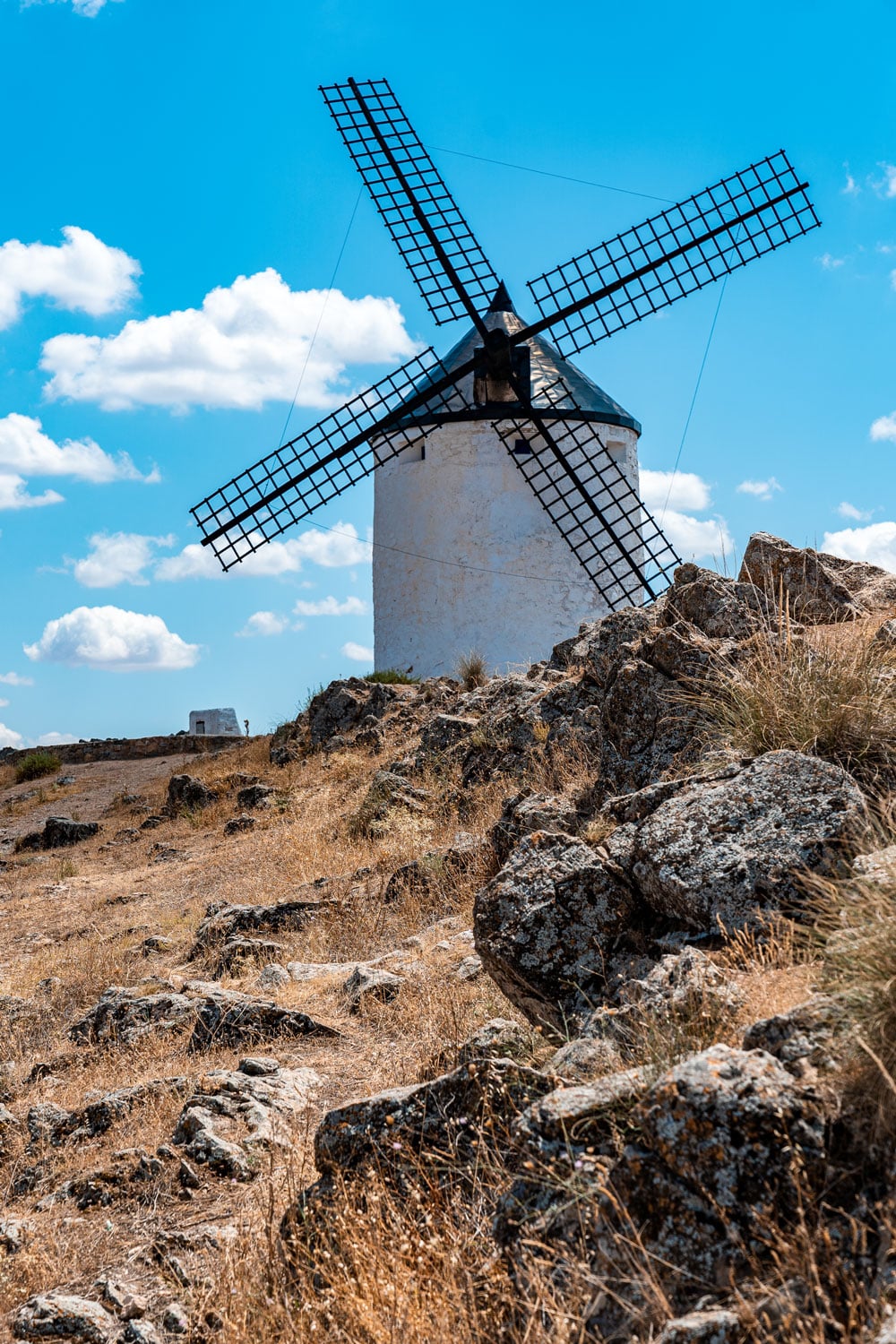 What to see in Consuegra?
The famous windmills mentioned in the Cervantes' novel – Don Quixote, the medieval castle as well as the village of Consuegra itself where you will also find the municipal Archeological Museum (included in the castle ticket price).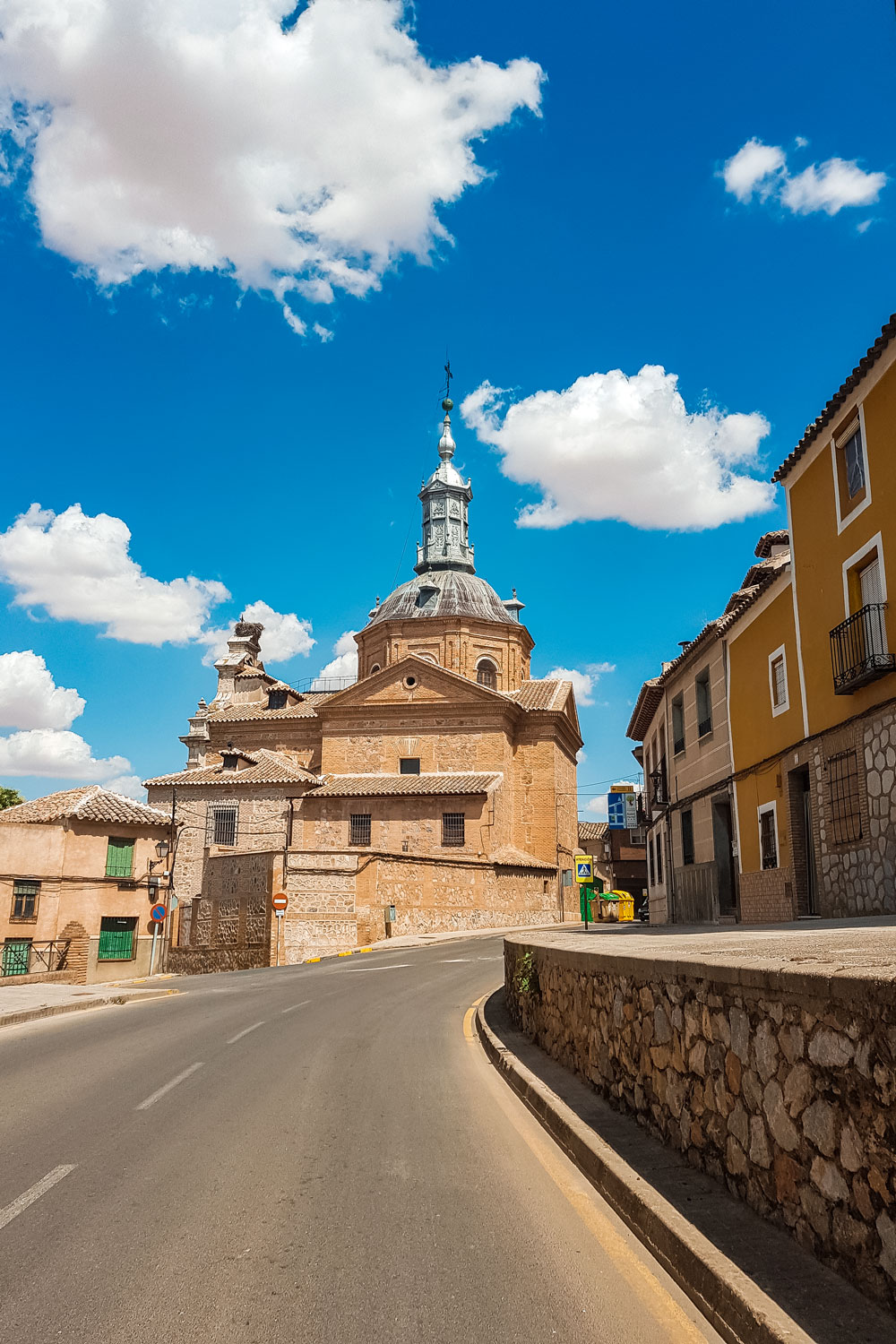 At the end of October, the town of Consuegra holds a Saffron festival. This expensive spice grown in the area is the main star of the fiesta!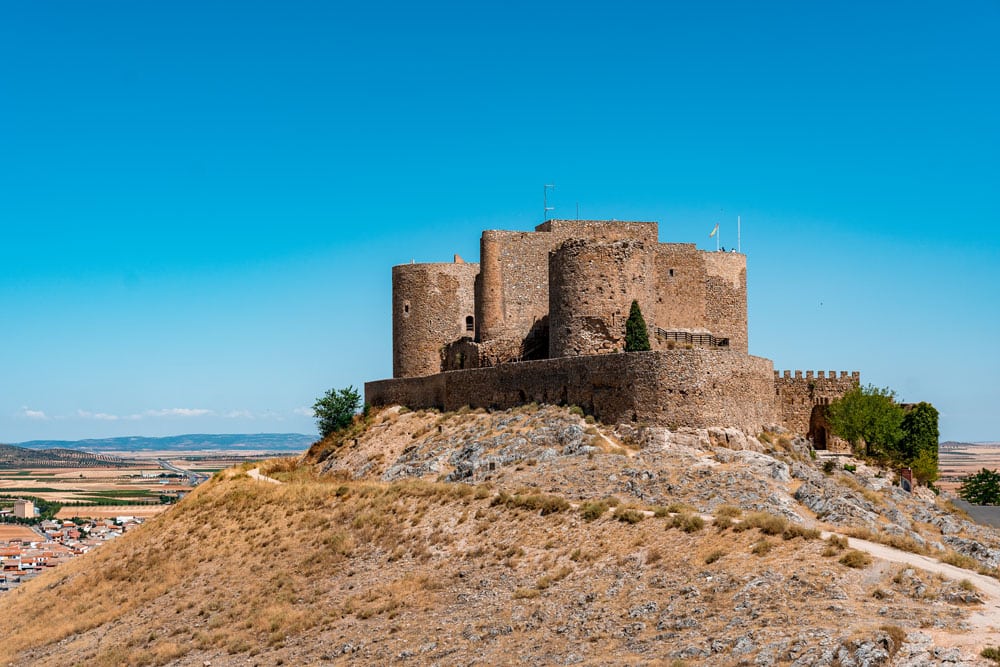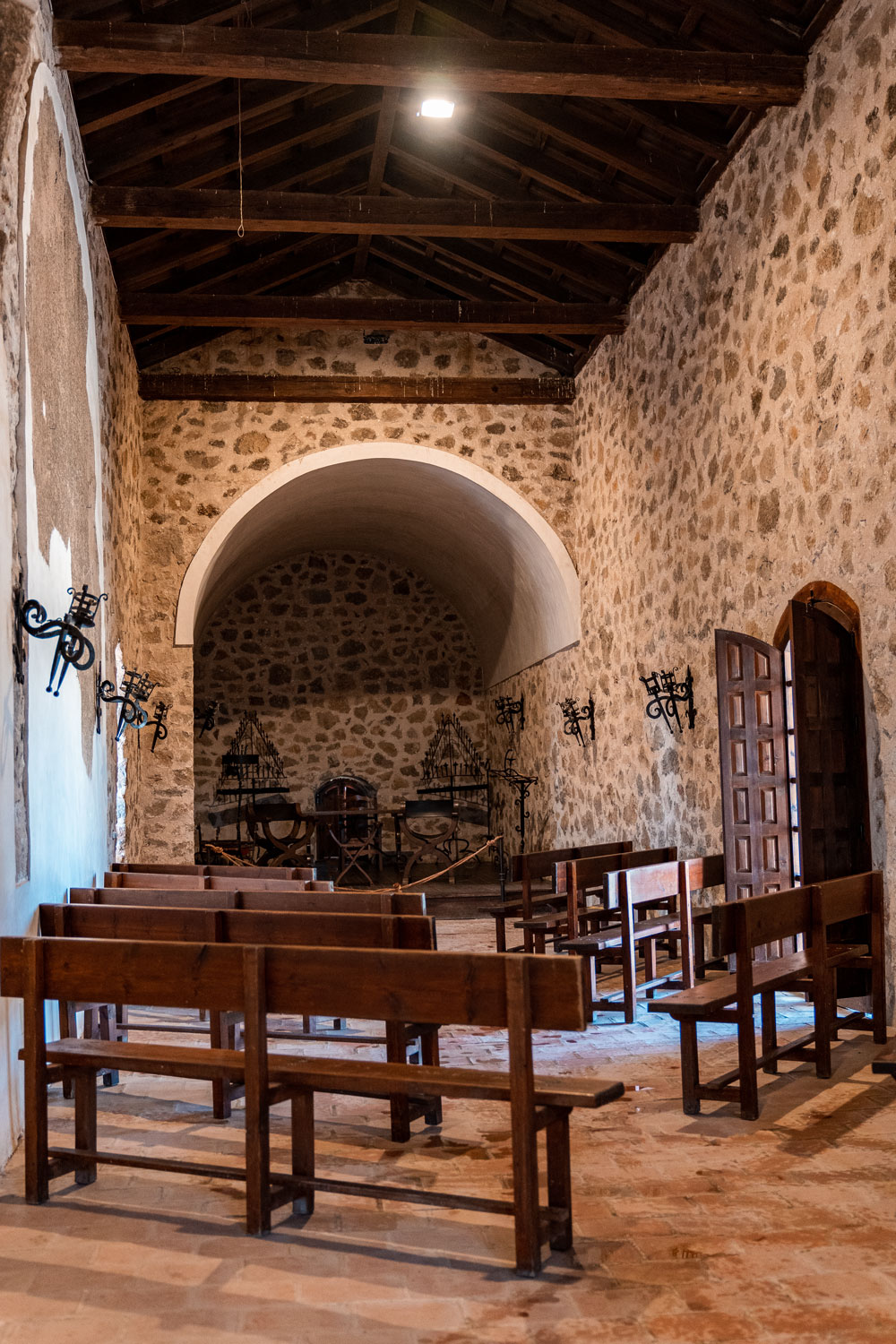 How much time do I need to allocate for the visit?
This will depend on what you want to visit and whether you prefer to walk more between the windmills or drive.
A tour of the castle takes about 45-60 minutes.
Walking and taking photos of the windmills from the castle area will take about 30-40 minutes.
Visiting the Bolero windmill takes about 10-15 minutes.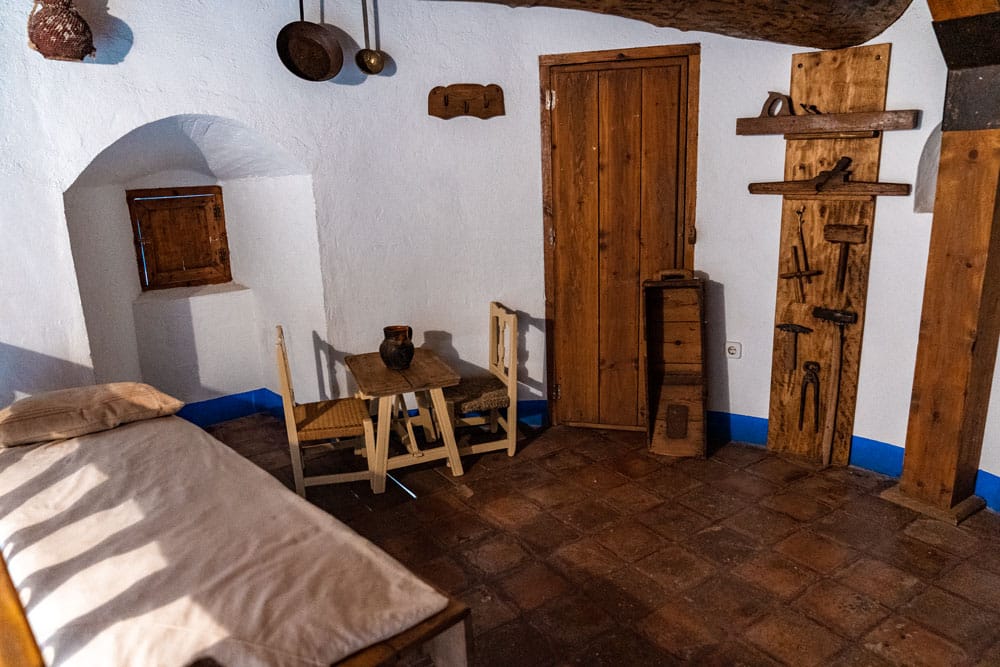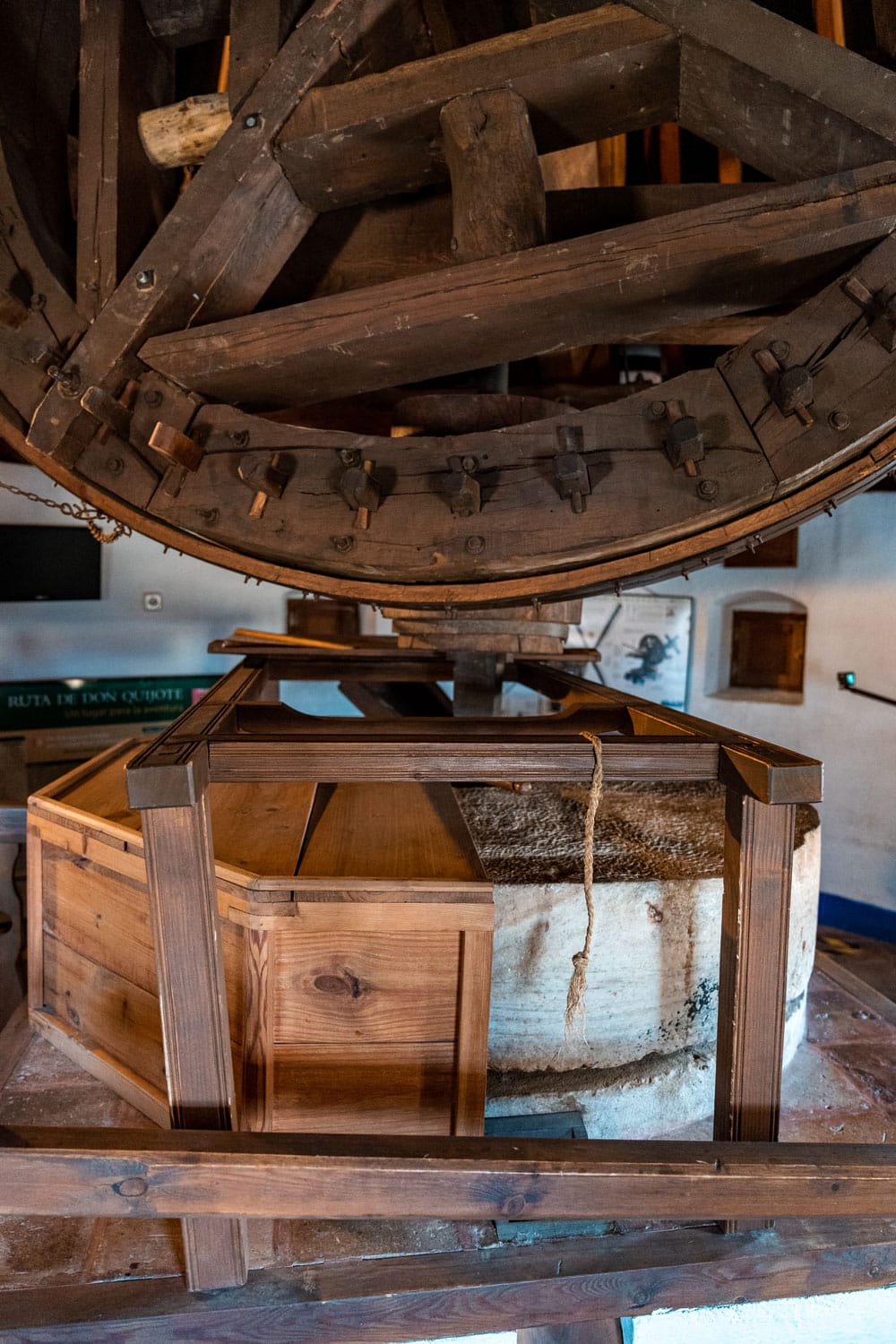 Useful Information:
The castle visit takes about an hour. We had a Spanish guide so did not understand much but there are several explanatory signs in English as well. The ticket price for an adult is 7 euros, 3.50 for kids. This includes a visit to the castle (guided only), a visit to one of the windmills (The very first one you pass on your way up) and a visit to a museum in Consuegra.
Castle opening times: Turismo Castilla La Mancha.
Remember: Many sites are closed during siesta (usually between 2 pm – 4 pm) so plan accordingly!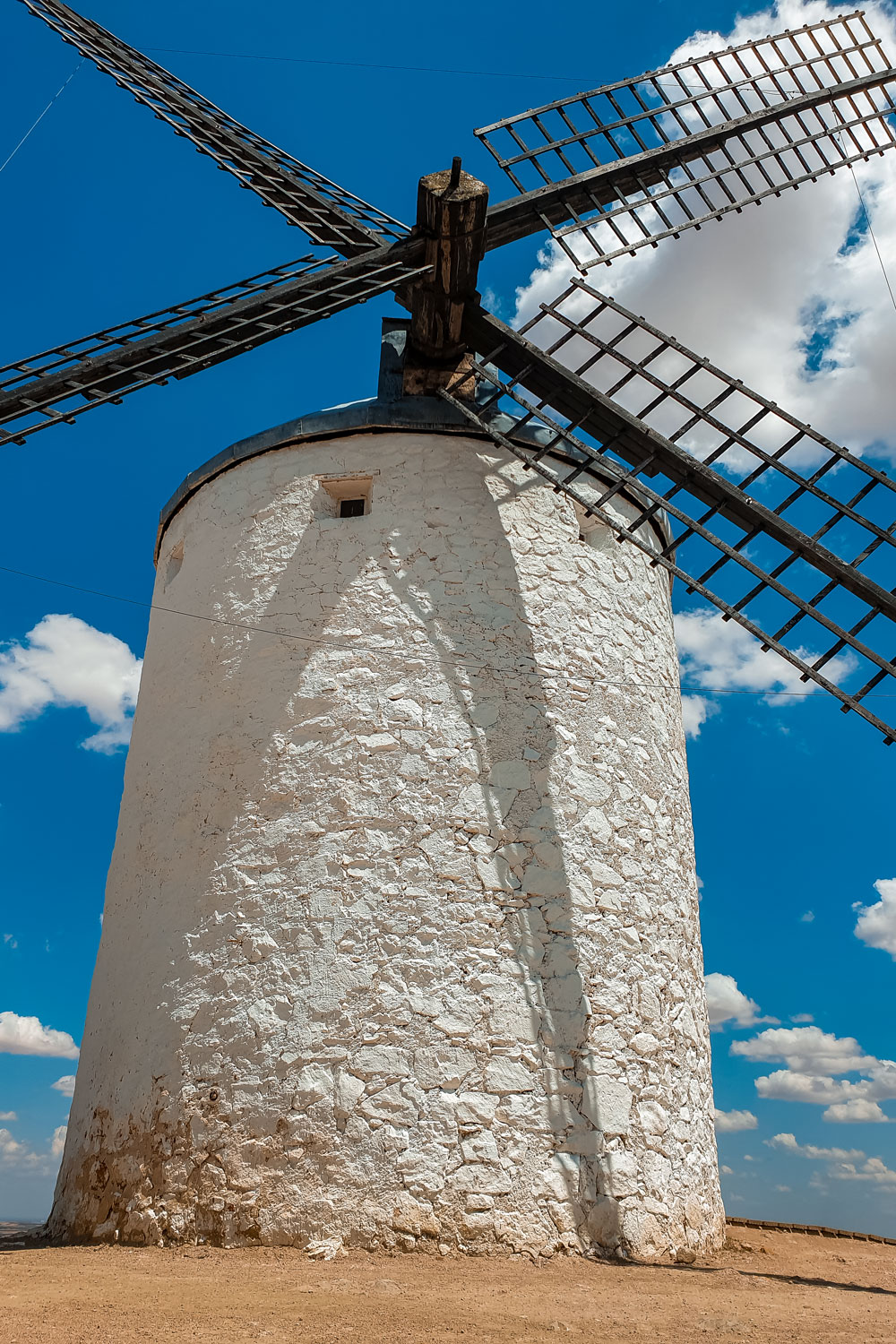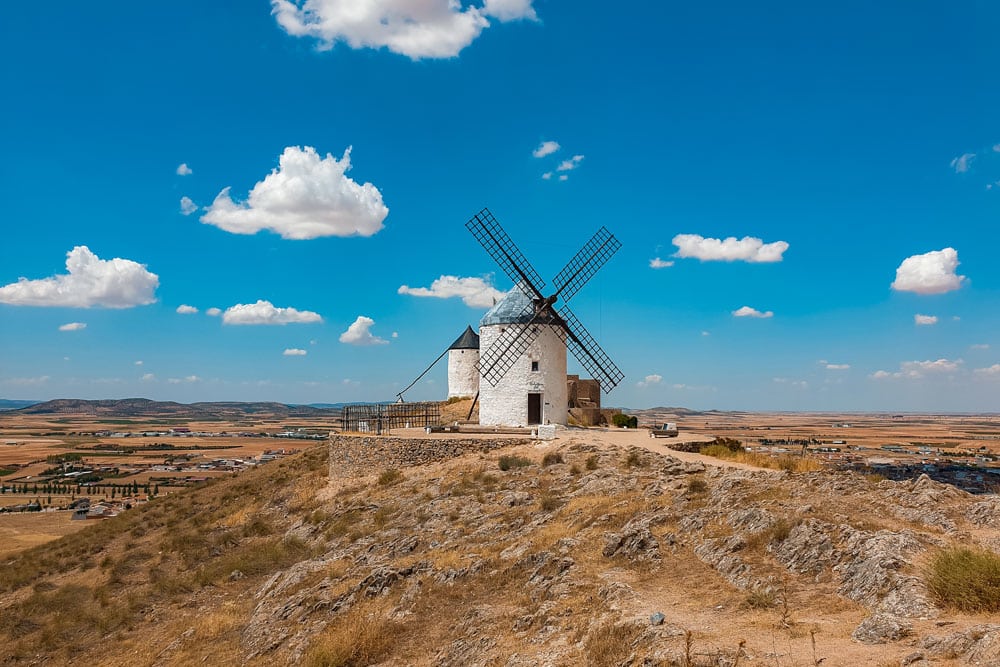 Pro Tips:
Skip the castle and plan your arrival to the windmills either early in the morning or around 3 pm to avoid crowds.
The visit to the windmill is self-guided. There are 2 floors and it is nice to see the mill from the inside. Not sure, if you can visit the place on its own as there was no information or prices. If you are on a budget but plan on traveling in the area, you might want to visit one of the windmills in Mota del Cuervo where you can enter some of them for free.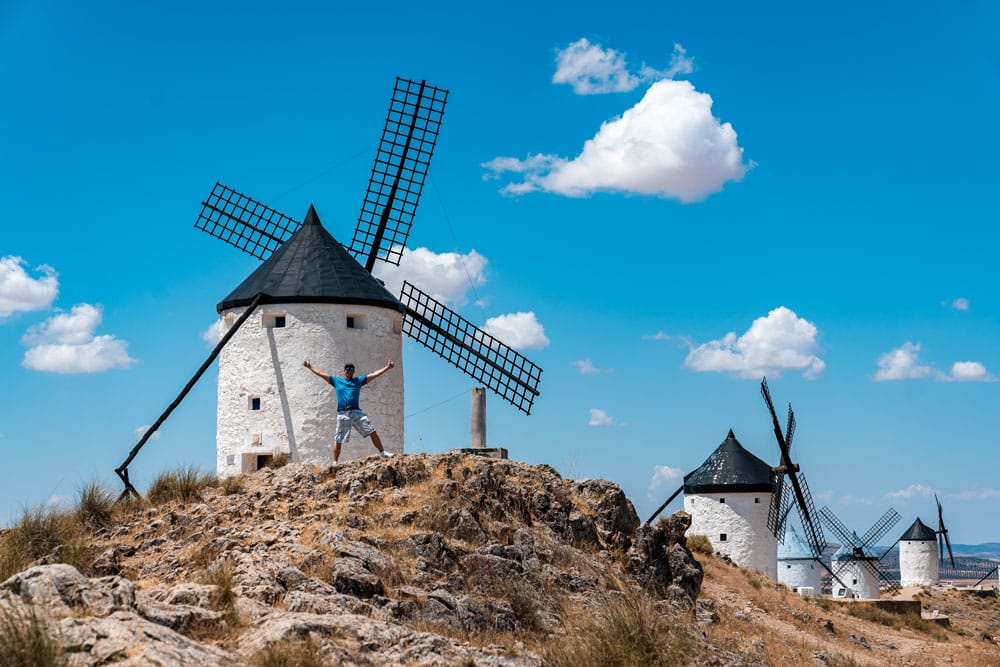 Consuegra Windmills and Castle: