This Toledo travel guide includes the best tips and information for your upcoming visit. What to see in Toledo, what to buy, or what to avoid – it is all here!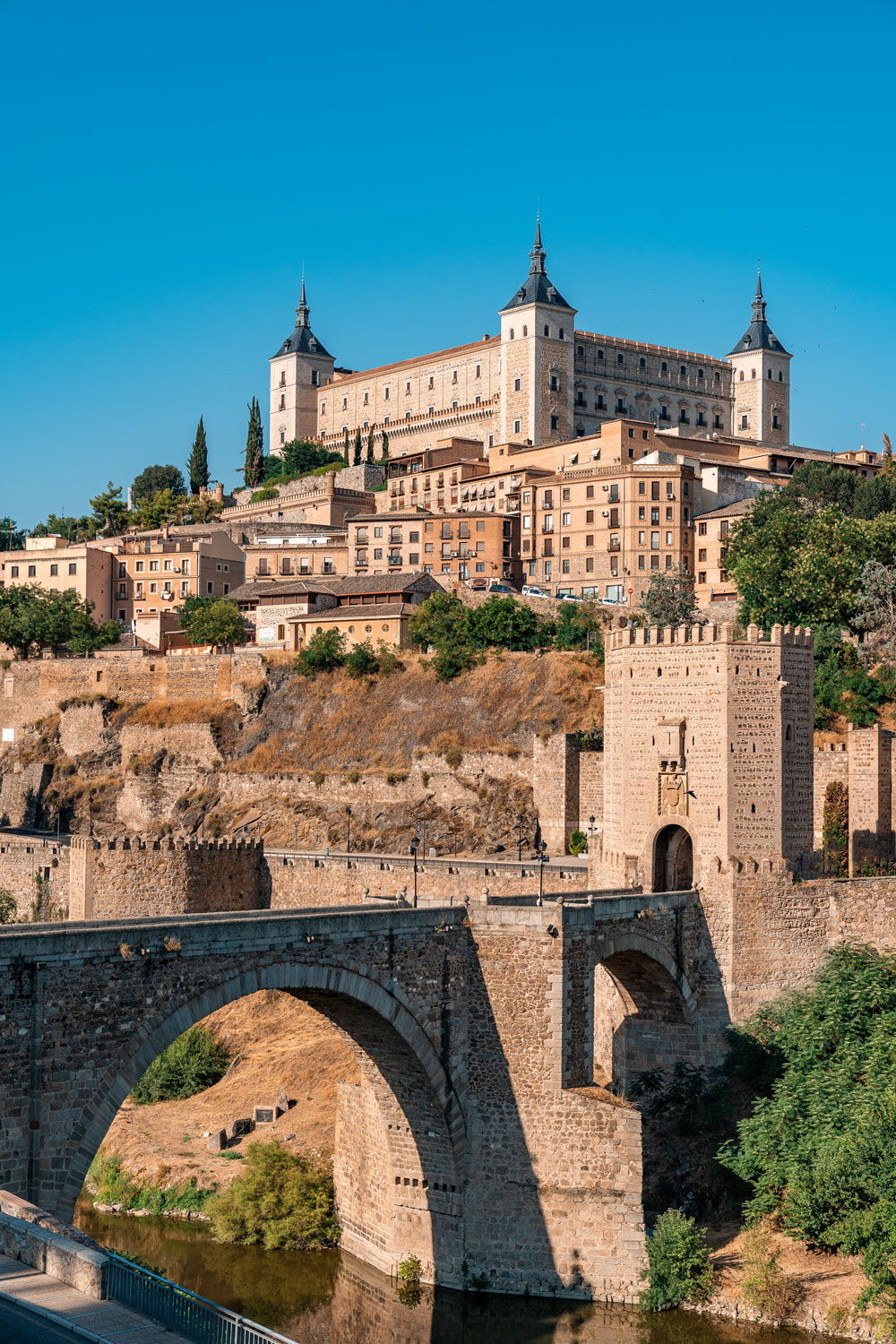 Once the capital of Spain, Toledo was also known as the city of 3 cultures (the Jewish, Christian and Muslim). Nowadays, one of the most popular destinations to visit from Madrid, it is without a doubt a favorite among travelers.
Is Toledo worth visiting?
Absolutely! Packed with history, this medieval city is a favorite travel destination for travelers from all over the world.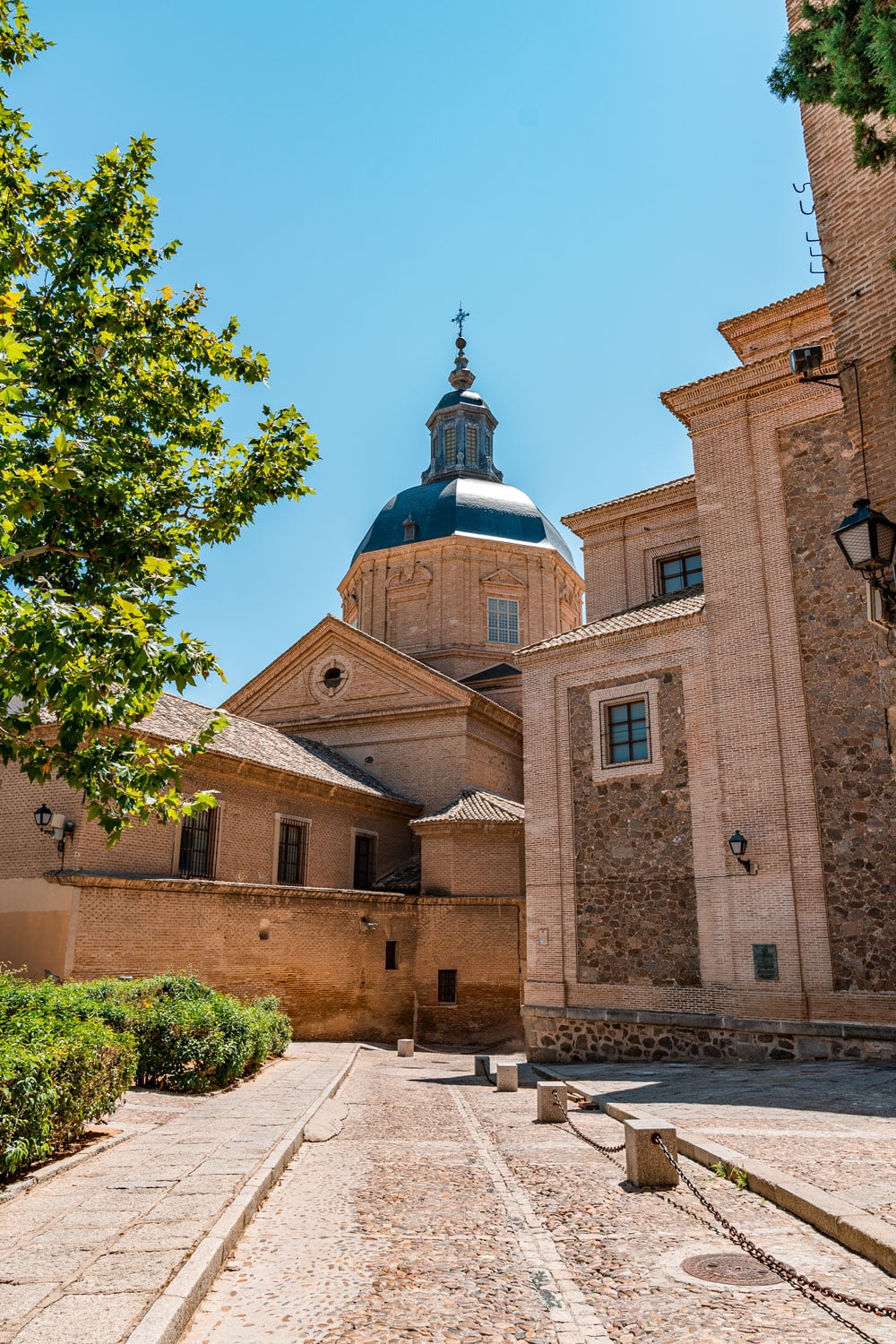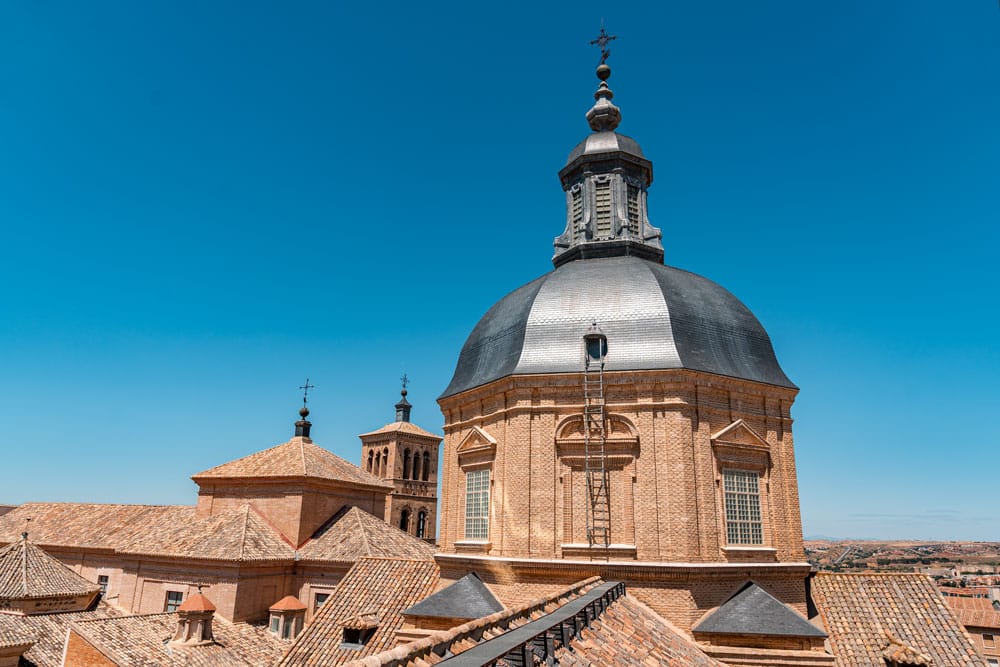 How much time do I need to allocate for the visit?
You can spend there from a few hours up to several days and you won't be bored.
If you are planning a short visit, then make research ahead to see what you would like and what you can do. My post Toledo in a Day might help you with that.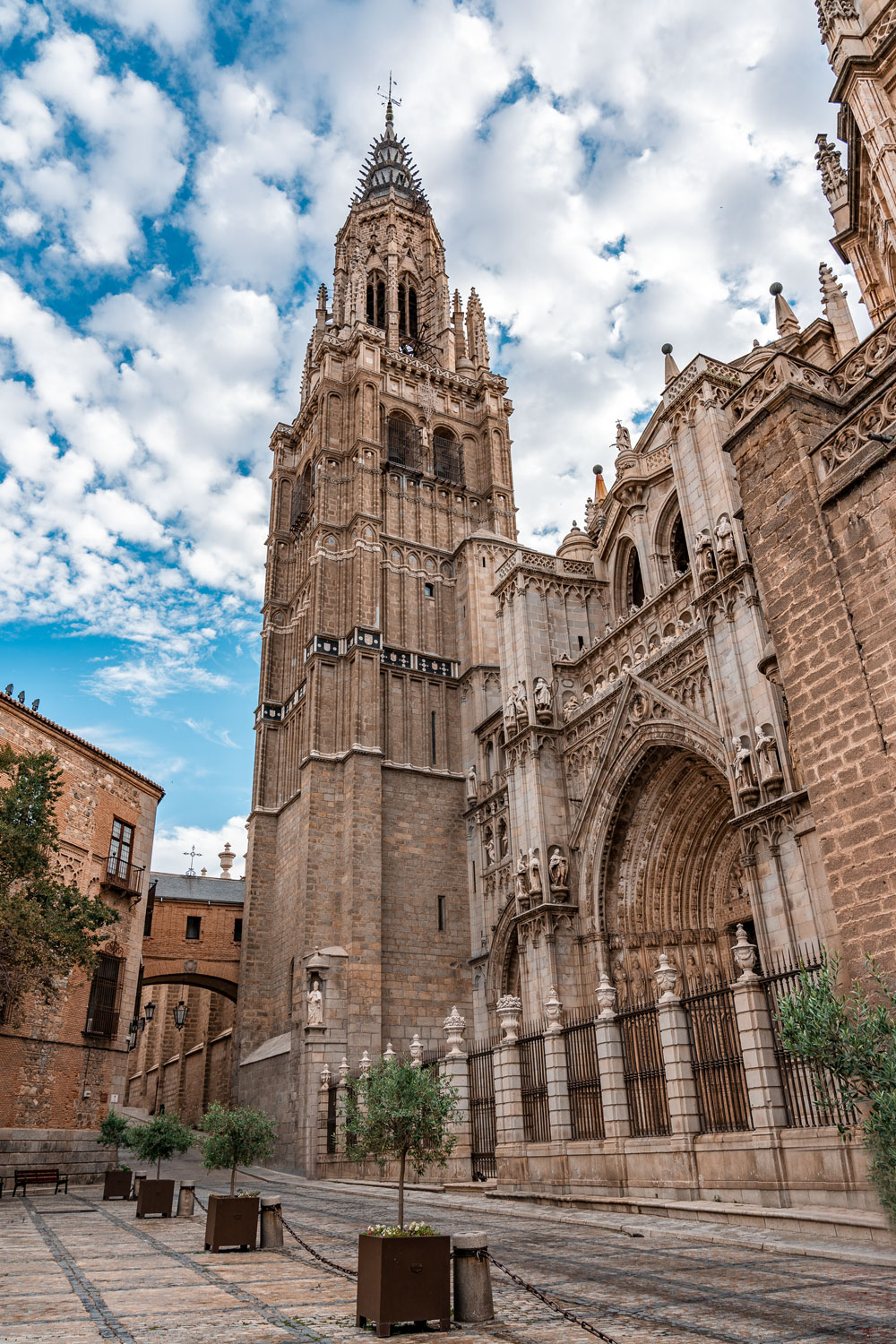 What to see in Toledo?
The city has so much to offer from monasteries, museums, churches, synagogues, mosques… Here are the most popular places to visit:
Alcazar of Toledo – houses the army museum now.
Roman Baths – ruins where once the Roman baths were.
Museum of Visigoths Councils and Culture
Synagogue of El Transito
Santa Cruz Museum – religious paintings by El Greco and other painters and artifacts.
Bisagra Gate
Mosque of Cristo de la Luz
The Cathedral
Monastery of San Juan de los Reyes
Synagogue of Santa Maria la Blanca
Sol Gate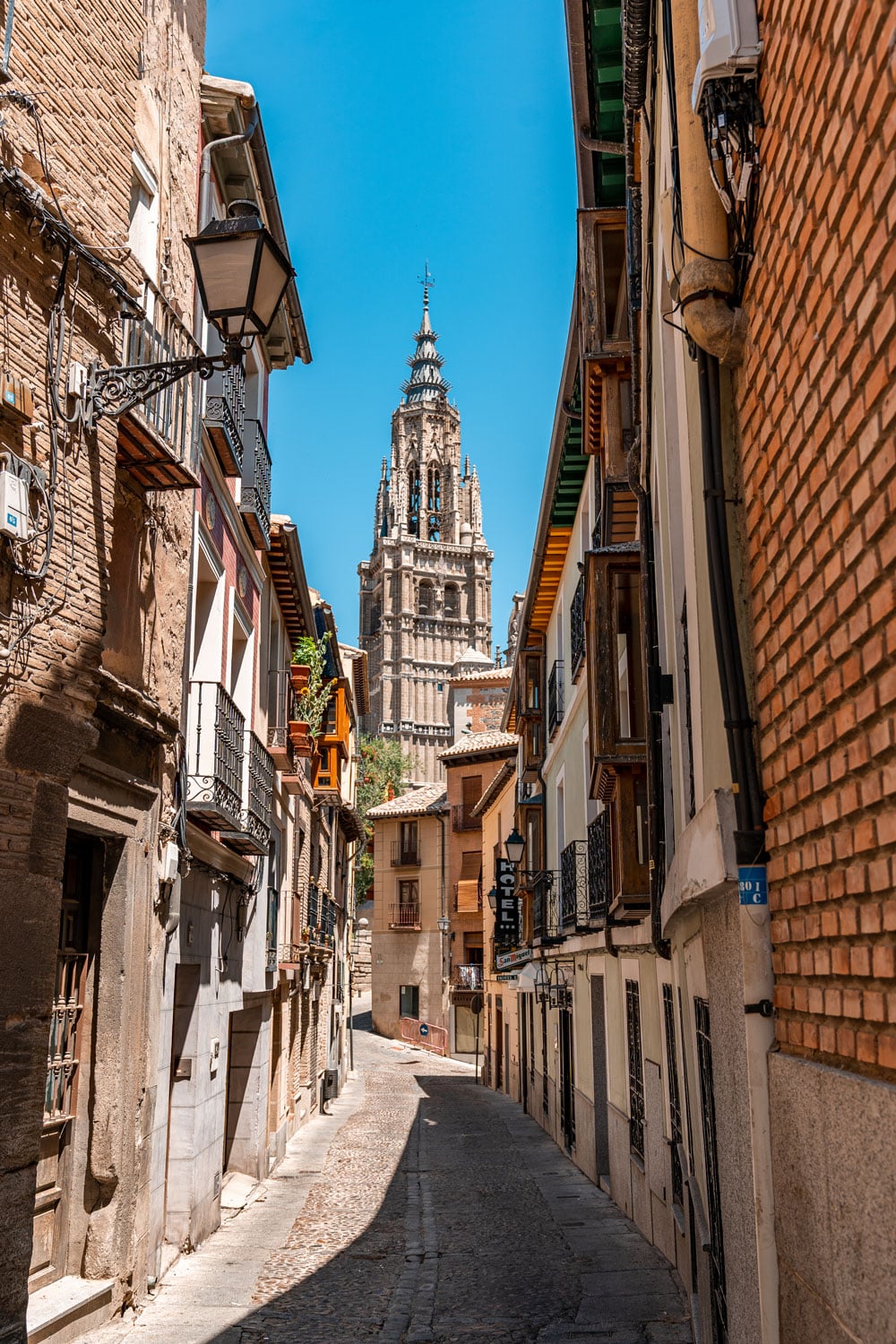 Is Toledo walkable?
Yes, it is. You can easily cover all the main sights on foot. In fact, it takes about 35 minutes to get from one side of the city to another.
However, there are a few things to remember though. This ancient city was built on a hill, it has narrow cobbled streets with very narrow or no sidewalks.
While some might not find this an issue, it can be challenging at times for those with limited mobility or families with small kids. You can still visit by all means, but I would recommend taking it slower and perhaps choosing fewer places to see.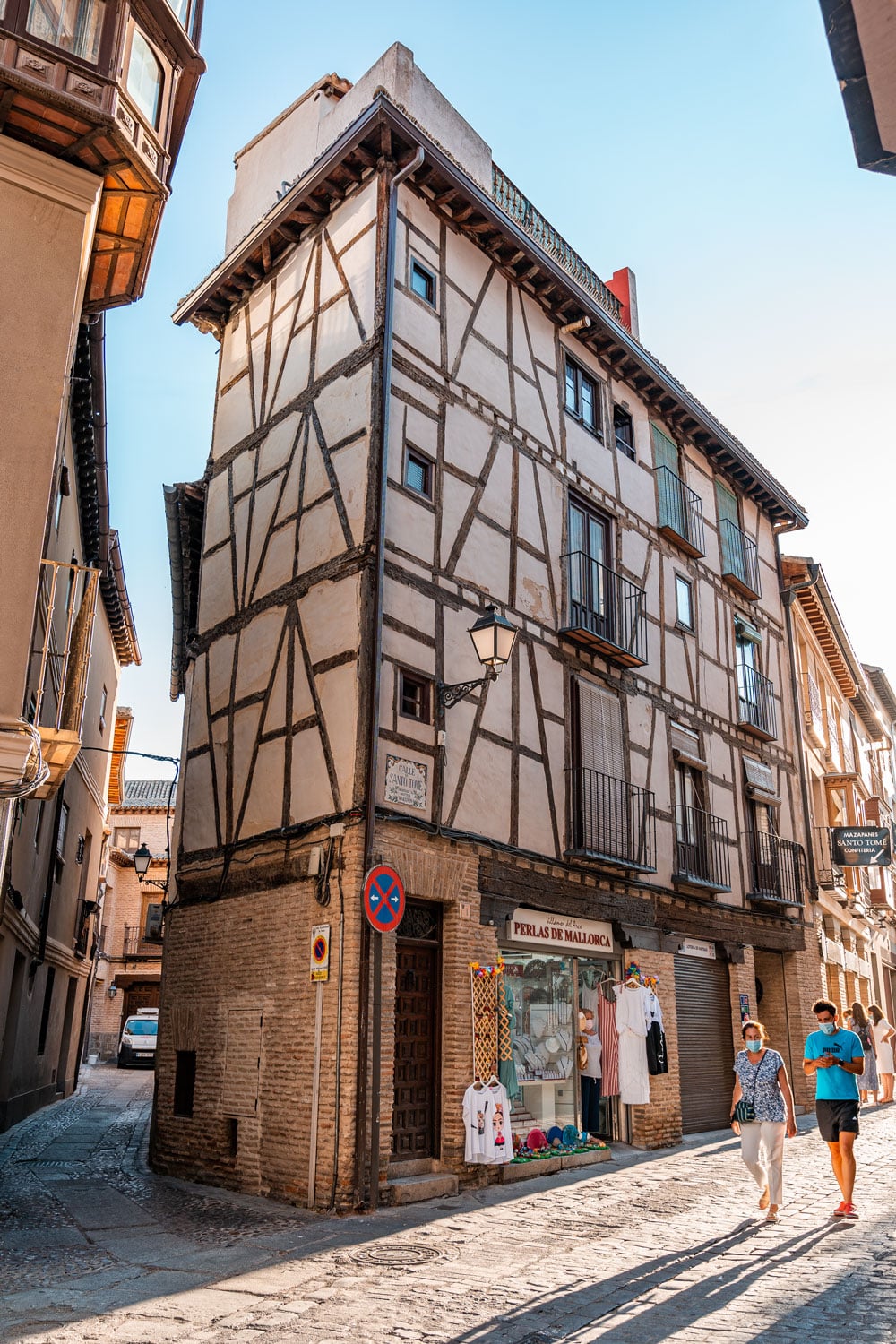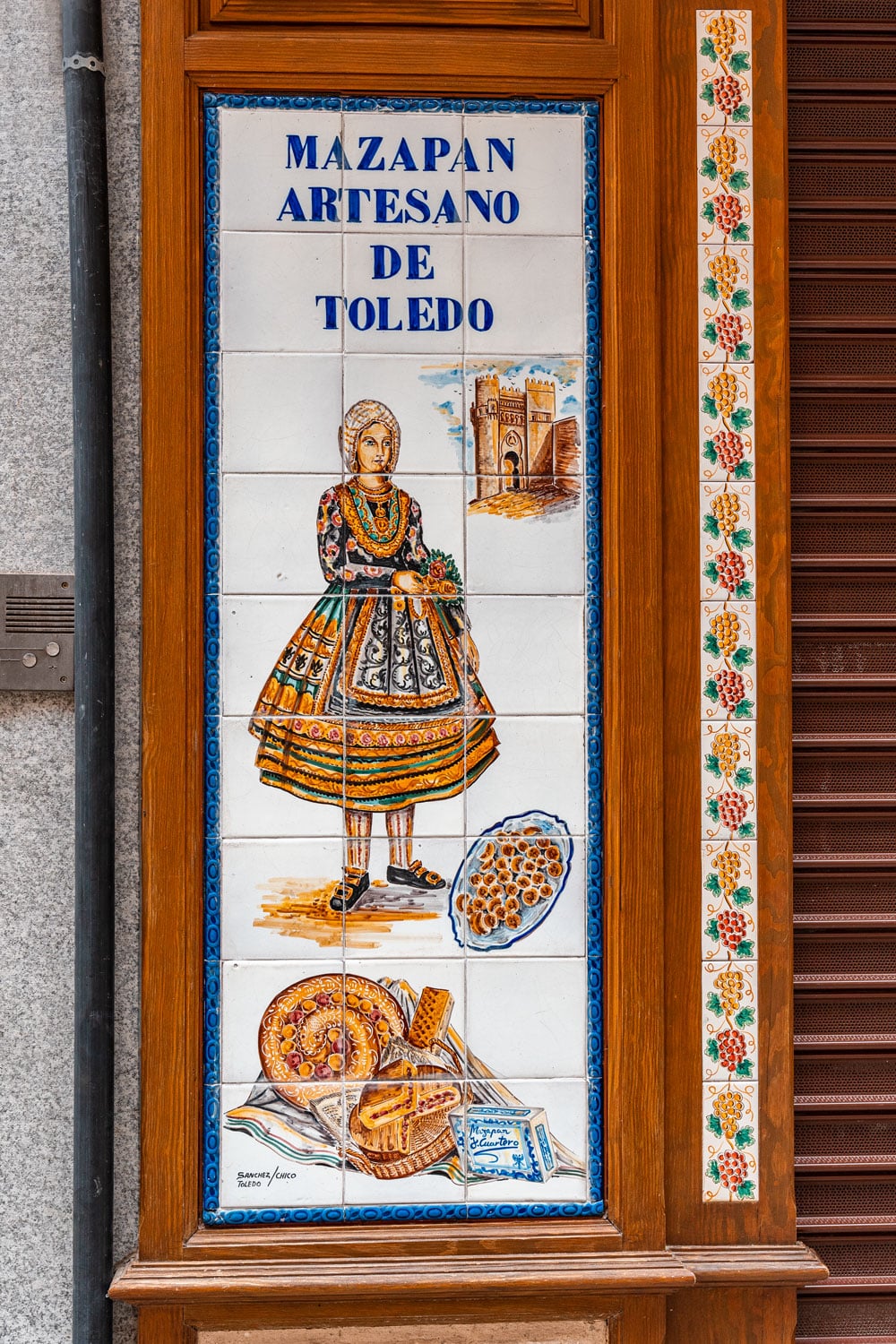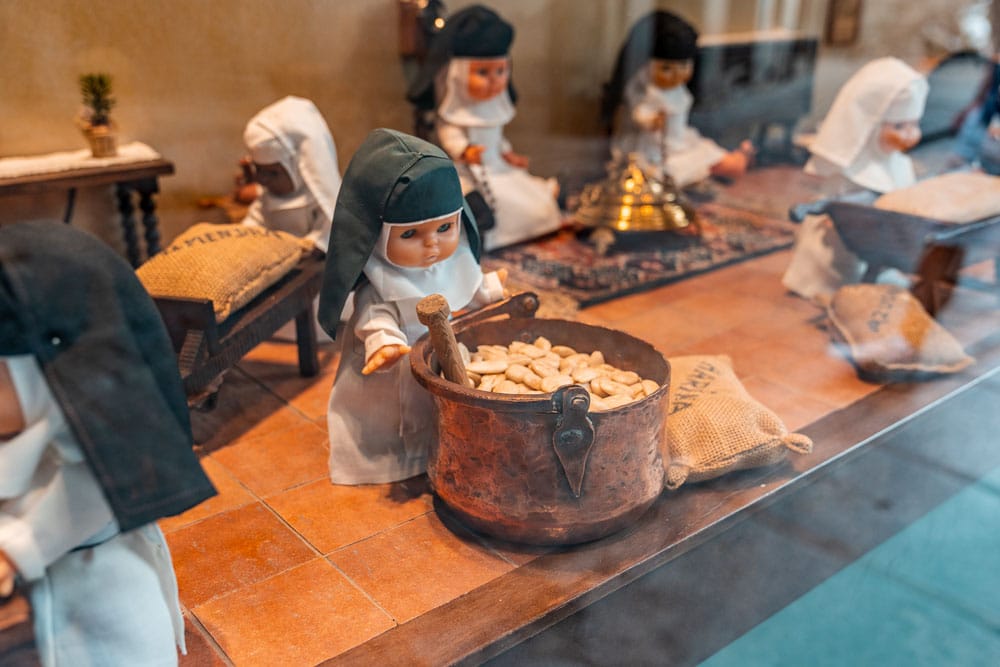 What souvenirs to buy?
Toledo is known for marzipan – in fact, it is said it was invented here in the San Clemente Convent during a famine at the beginning of the 13th Century.
Manchego cheese – The best gift for any cheese lover!
Swords – You'll find them in every single souvenir shop and it may be due to the fact that the quality of Toledo steel has been known for ages. If you happen to collect handmade swords, this may be your chance to get one (Fabrica Zamorano also does workshops so it can be interesting to check it out).
Figurines (and anything really) of Sancho Panza from the famous Cervante's novel of Don Quijote. By the way, if you happen to be spending more time in the area, I highly recommend visiting some of the Consuegra windmills in the Castille-La Mancha region that are also mentioned in this novel.
Painted tiles and ceramics
Knight's armor
I'd say that these are the best souvenirs related to Toledo but it doesn't end there. Spanish fans, T-shirts, clothes, keyrings, mugs, you will find it all there so pick what you like!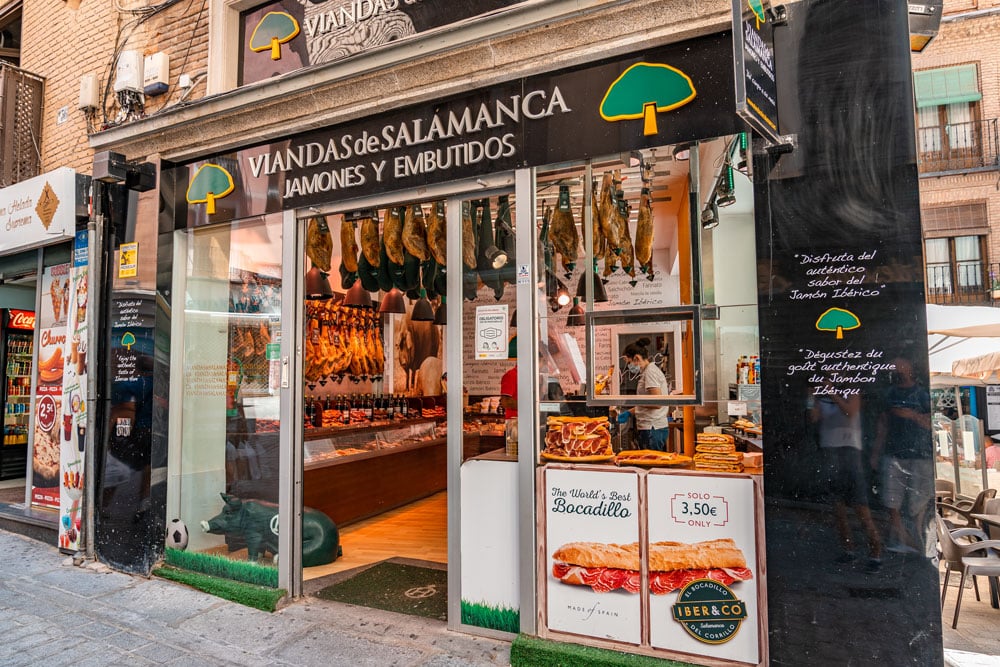 Insider Pro Tips
Most of the monuments/sights open at 10 am which might be a little bit inconvenient especially if you want to start exploring Toledo as soon as possible.
Always check the opening hours (as well as prices) with the local tourist office or online as these can change.
Note that many places close for siesta, usually between 2 – 4 pm (but this can vary from place to place) so plan your trip accordingly. Either have a quick lunch at one of the restaurants or find out which sites are open during siesta and decide whether you would like to visit those or not.
Toledo city is pretty compact but if you take a wrong turn you might end up at a completely wrong end of the city. For that reason, make sure to visit one of the tourist office points and grab a map. It includes timetables and entrance fees for all the places of interest in Toledo! 
Wear comfortable footwear! The hilly streets of Toledo can be quite challenging.
When planning your day trip to Toledo, keep in mind that most of the sites are closed on Mondays. You can still have a nice time in this city but if you want to visit some of the sights, it is better to choose another day.
Weekends are extremely busy. However, many places have a free entrance on Sunday so if you are on a budget, this is a great day for it.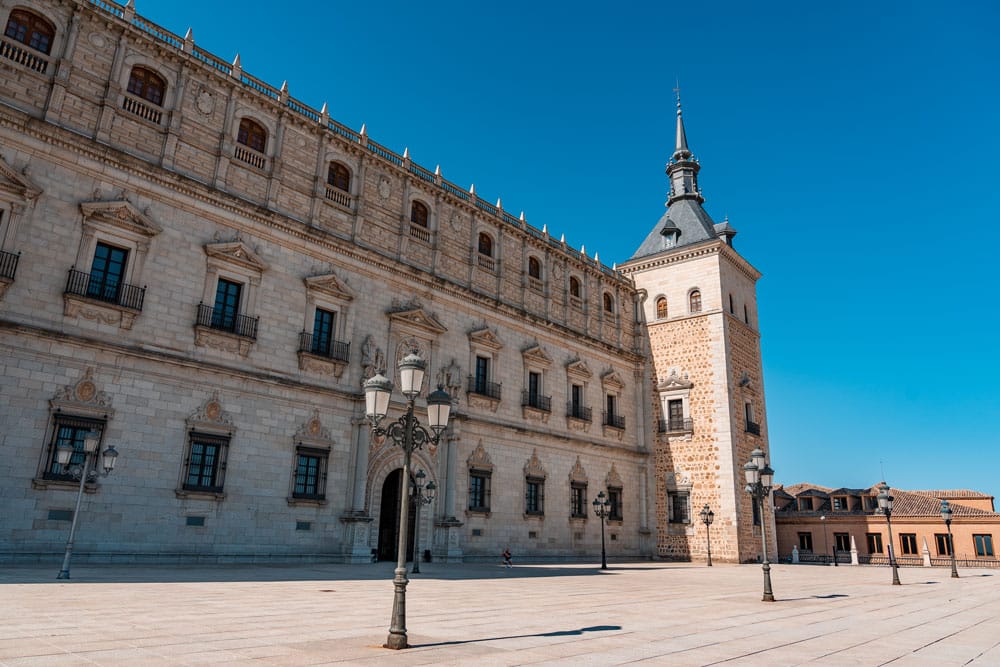 Keep in mind that this little "town" will be packed with tourists but the weekends are extra busy there. One of the reasons is that many monuments are free on Sunday and some also on Saturday. This means you can save a lot, especially if you are a budget traveler or a large family.
To see if you are eligible for the free entrance, either ask at a tourist office or check their website. At the moment, EU citizens and Latin American nationals can visit many places without having to pay anything. Though, this applies to certain days and hours only!
Most of the places ask for a reasonable entrance fee of 3 euros (3.50 USD), except for the Cathedral where you should expect to pay 10 or 12.50 euros per adult (depending on your choice of a ticket).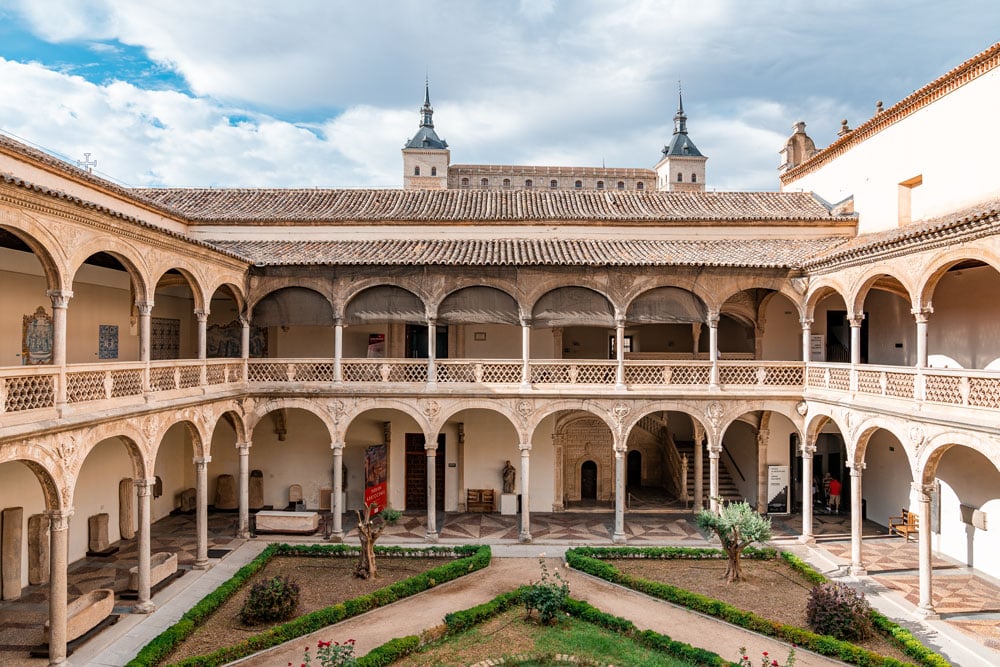 Useful information and resources:
There is a Hop-on Hop-off tour bus available to explore the city. Tickets are from 20 euros to 35 euros.
Toledo Trainvision – tourist train with audioguide in 13 languages, runs every day, tickets from Plaza de Zocodover (from Trainvision kiosk), leaves at 11 am, 12 pm, 1 pm, and 2 pm. Remember, there is a 2-hour break (siesta) and then it starts again from 4 pm up to 9 pm. During the weekends it runs up to 10 pm. Their official website has most information in Spanish but it is still good to have a look if that is what you would like.
If you are not sure what to do in Toledo in a day (or 2, 3), don't hesitate to visit a tourist office (Oficina de Turismo).
Madrid (Atocha Station) to Toledo trains run several times a day. The journey takes 33 minutes and costs about 14 euros (15 USD as of summer 2023) for a single ticket.
Spanish train network – where you can also book tickets.
Many websites (like Viator) offer various tours to this city or combine several other places (like Segovia, Escorial) in a day. If this is what you like, it is worth having a look into it.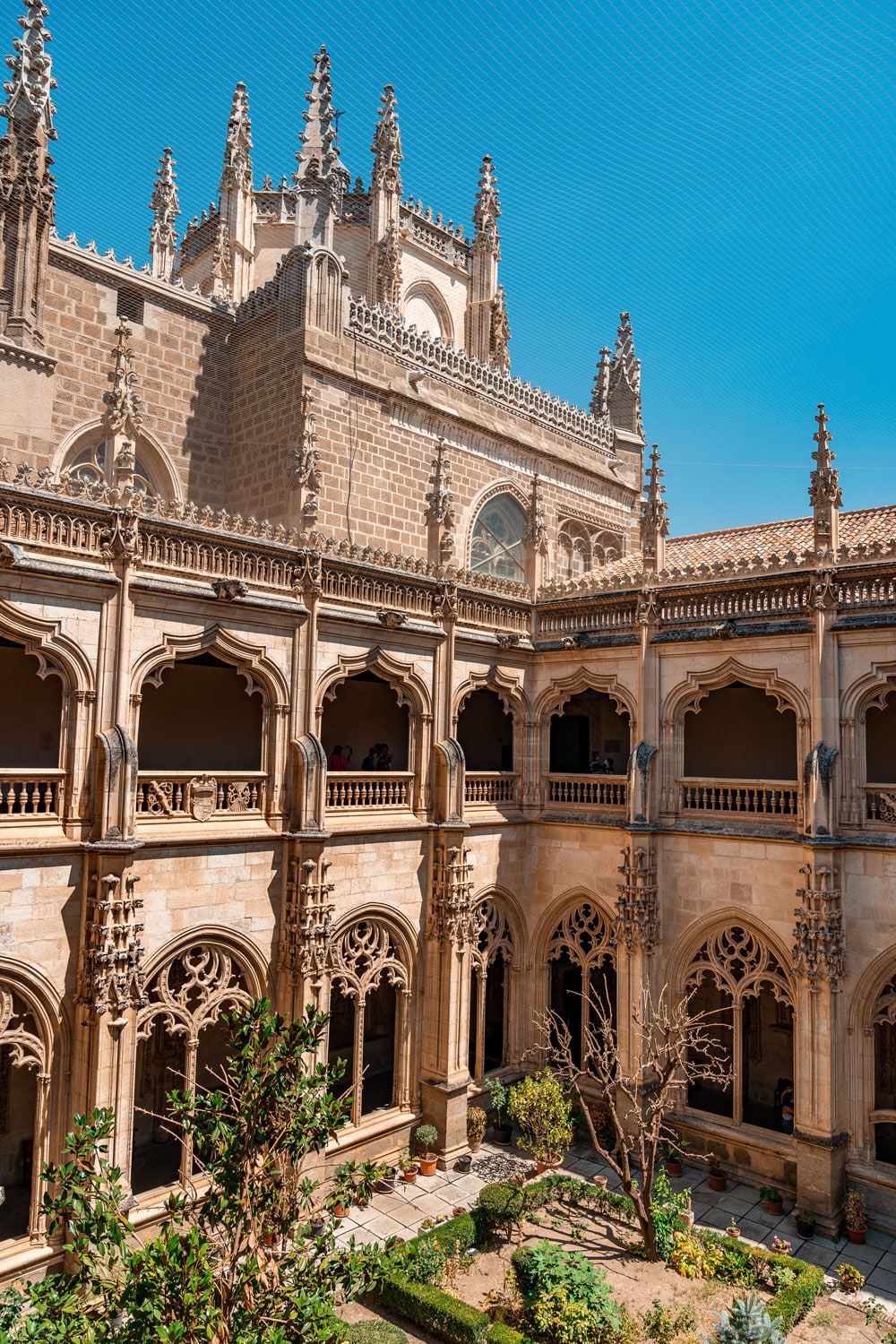 Where can I find a tourist office in Toledo?
Here are some of the locations:
Toledo Train Station
Puerta de Bisagra
Plaza de Zocodover (near Santa Cruz Museum)
Plaza de Ayuntamiento (opposite the side entrance to the Cathedral)
That is all for now.
Hope you found here what you were looking for!
Safe travels!