This detailed guide to the Monastery of San Lorenzo de El Escorial in Spain will tell you all you need to know before you plan your trip.
Prices, opening hours, parking options as well as insider pro tips are all included!
This Renaissance monastery is one of the favorite day trips from Madrid. It was built to be the kings resting place. There are crypts of most of the Spanish emperors that ruled over the last 5 centuries including Carlos V and his wife Isabela II.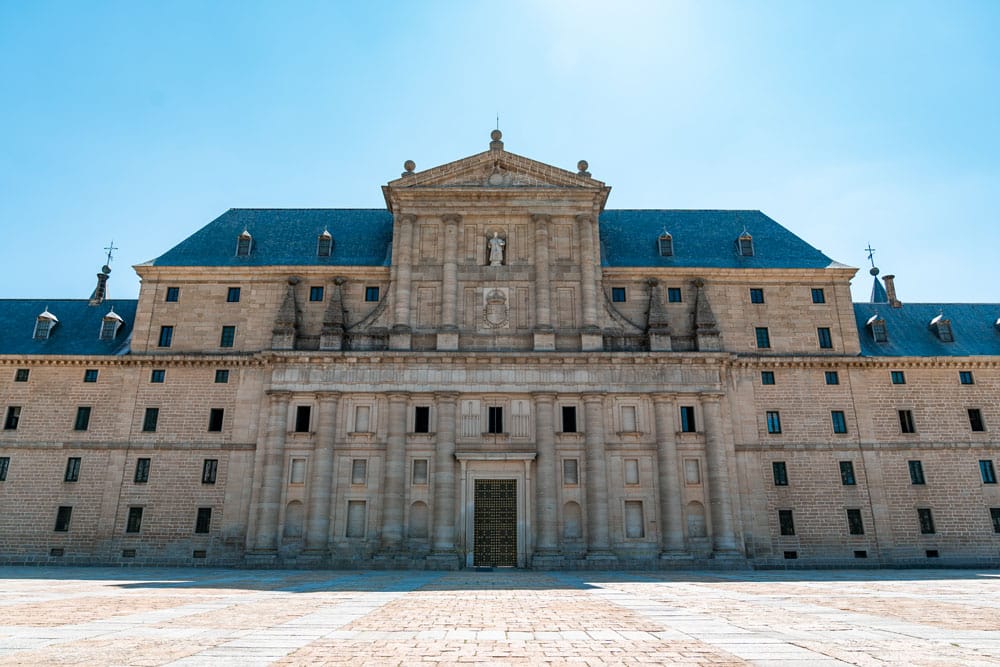 Where is El Escorial?
This monastery is located in the Guadarrama mountains (central Spain), about 58 kilometers/36 miles (50 minutes by car) from Madrid and 125 kilometers/78 miles (1 hour 20 minutes by car) from Toledo.
Who built El Escorial?
The construction began in 1563 under King Felipe II who commissioned architect Juan de Toledo. The monastery was finished by Juan de Herrera in 1584.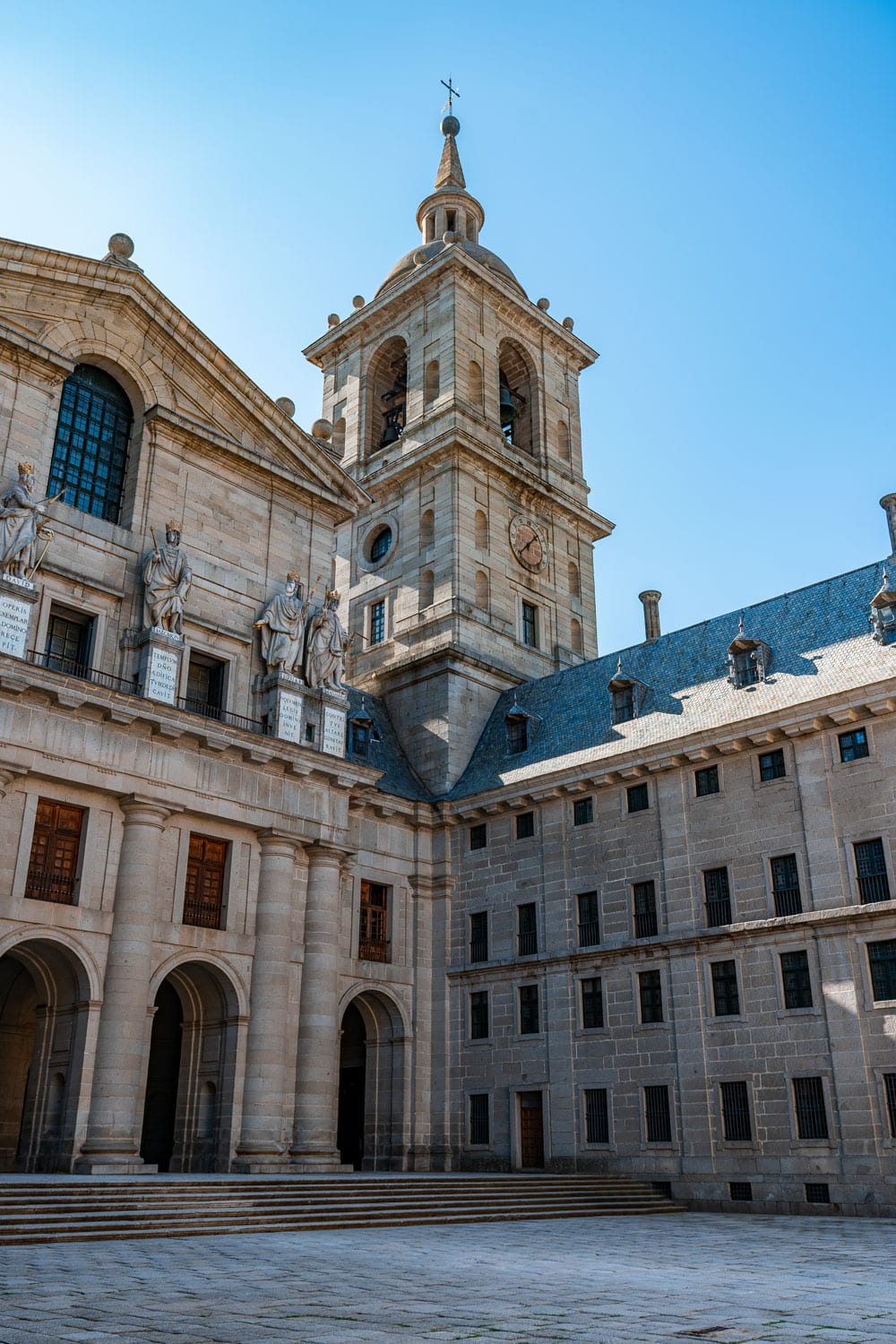 How to get there?
There are several ways to arrive at San Lorenzo de El Escorial from Madrid:
Car – the most comfortable option, via A-6, AP-6, M-600. Most of it you will drive on a highway.
Bus – to get the most out of your day, book a tour. For example, Viator combines the Monasterio de San Lorenzo de El Escorial with a trip to Avila and Segovia. It is also a great option. The tourist office might also be able to help you with this or have some other tours on offer. Or take a public bus nr. 664 from Moncloa.
Train – There used to be trains departing Madrid Atocha Station but when I checked it did not show me anything at all so not sure if it was only a temporary glitch or they have changed something. If on a budget and you feel like a train would be the perfect option for you, ask in Madrid Atocha Station for more information.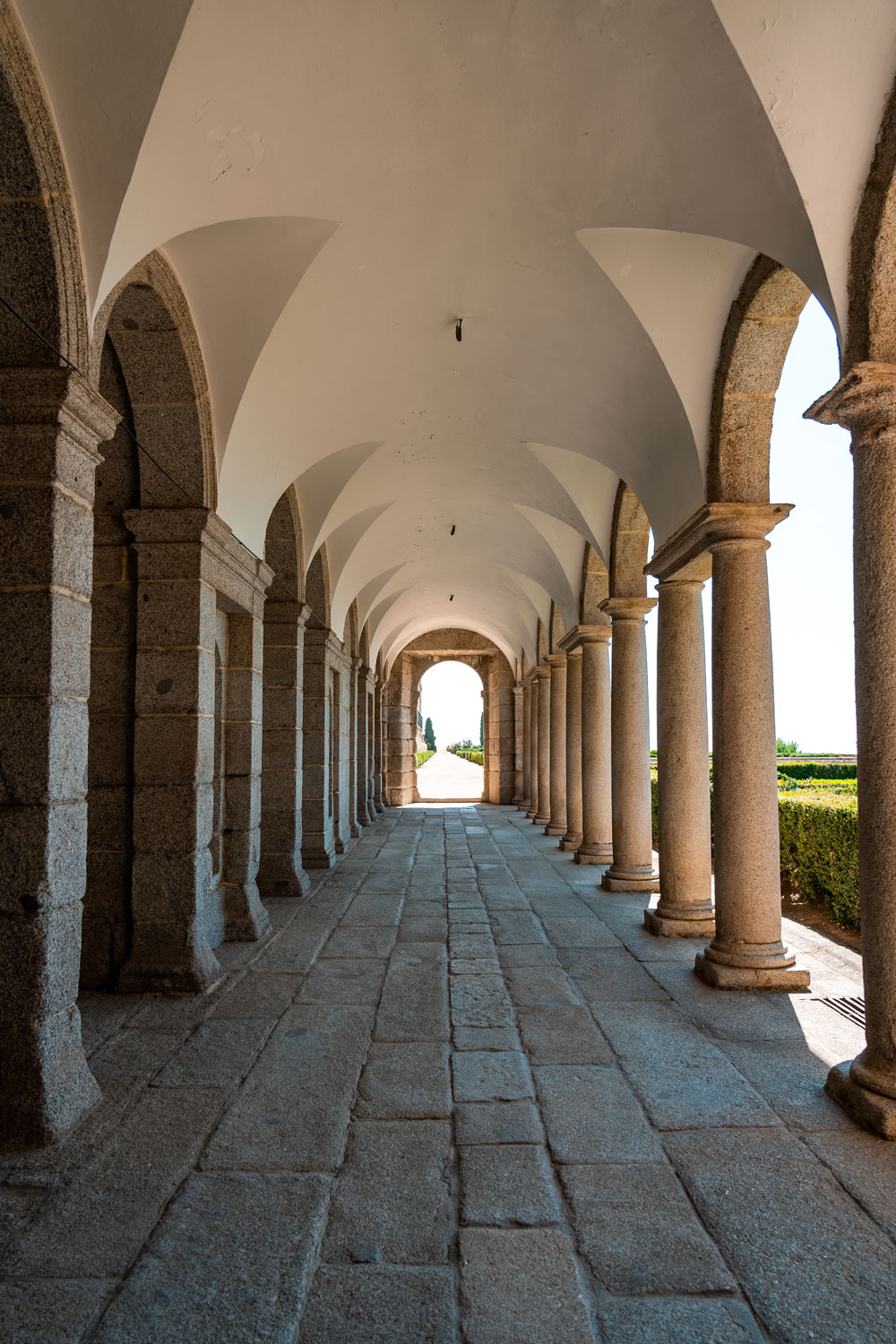 Opening hours:
Summer (April to September): 10 am – 7 pm (Tuesday – Sunday)
Winter (October – March): 10 am – 6 pm (Tuesday – Sunday)
Note: Mondays are closed! Always double check with the official website (see below) or the tourist office for the times as they can easily change.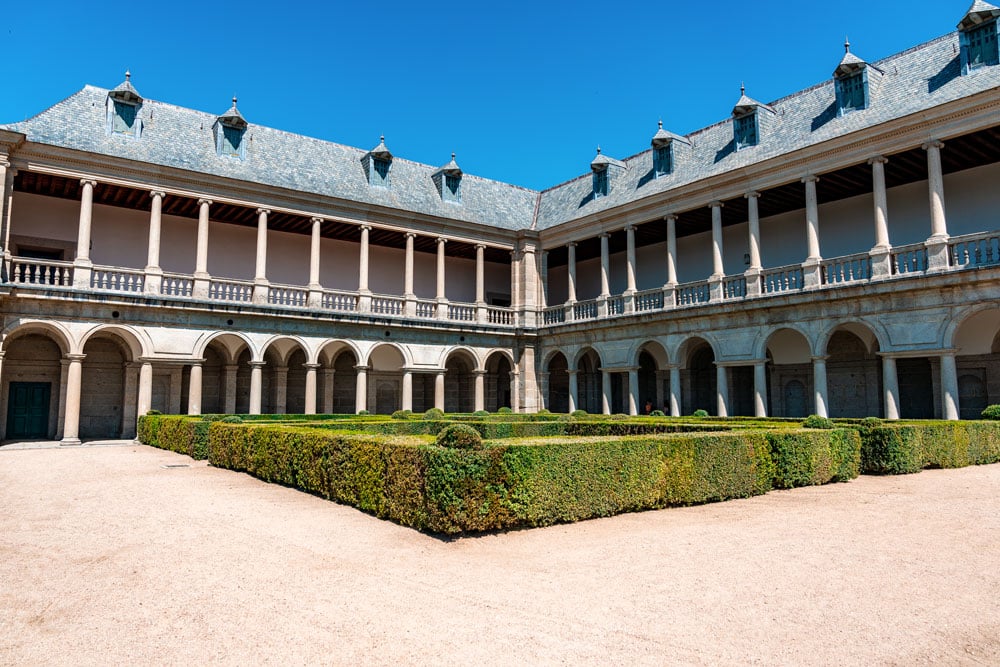 Can I pay with cash?
All entry tickets are to be paid with a card. This may change in the future but at the moment all signs say that they accept cards only. Be sure to double-check before you arrive.
Tickets – 12 euros (adults), 6 euros (kids over 5 years of age), and 6 euros (students and seniors)
Insider Pro Tip: EU citizens and Latin American nationals have free entry on Sundays and Wednesdays (certain times) so be sure to check it, especially if you are doing a budget trip around Spain.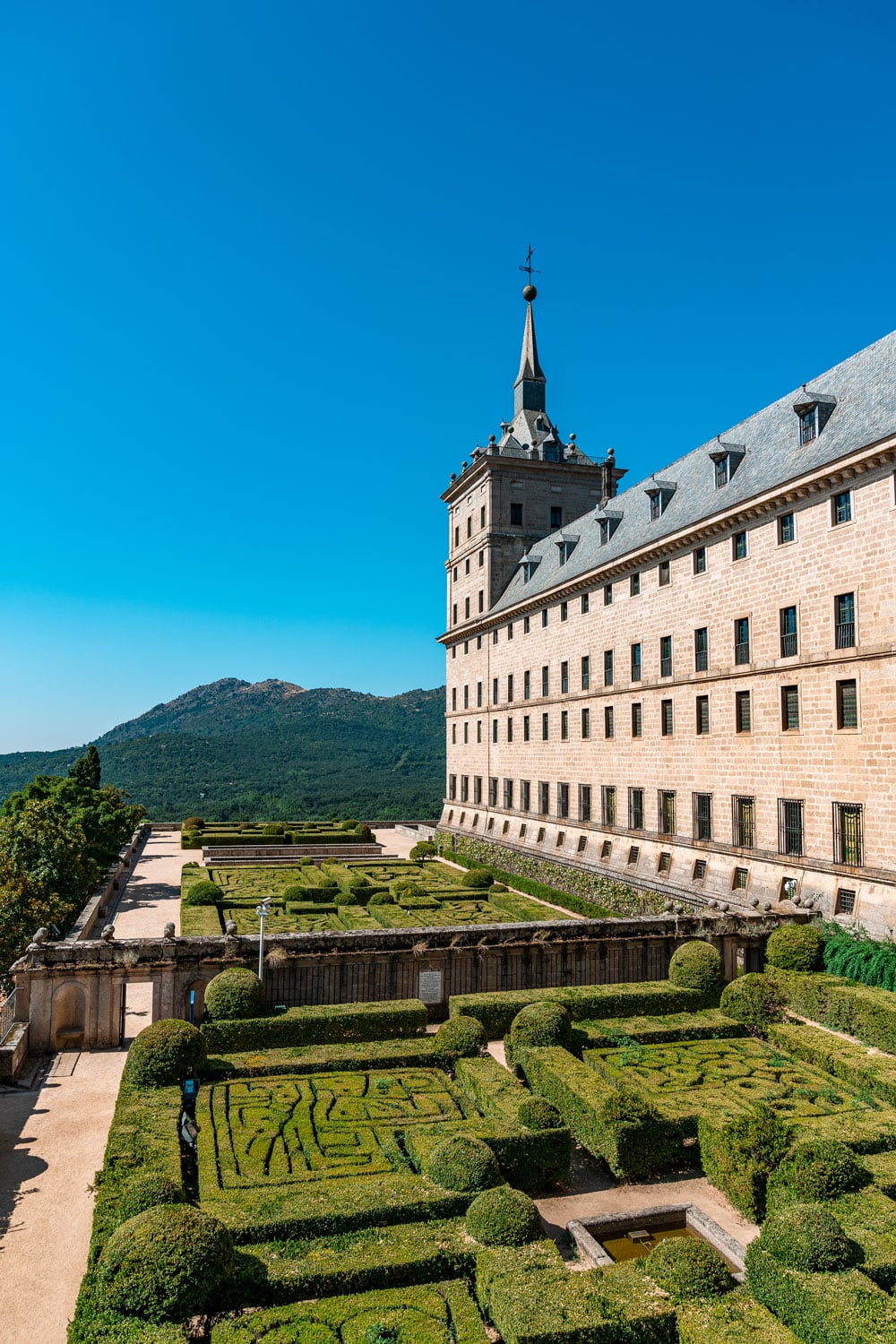 Where can I park at El Escorial Monastery?
Option 1 – Paid street parking on Avenida de Juan de Borbon y Battenberg (right across the street from the west side of El Escorial Monastery, it is literally a 3-minute walk).
Option 2 – Paid parking garage (Aparcamiento Monasterio). From there, it is a 5-minute walk to the ticket office (about 400 meters/ 0.25 mile).
Option 3 – Free street parking alongside the Calle Calleja Larger street. It is located right next to a park and gardens with a La Casita del Principe museum. Count with a 6-minute walk uphill to get to the entrance of the Monastery.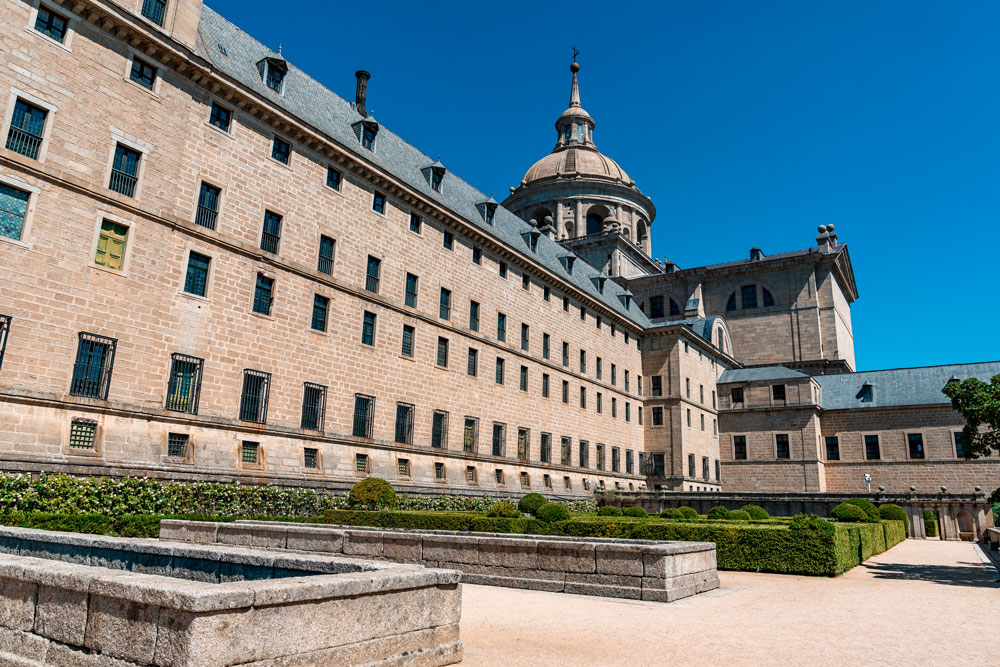 Our experience:
The highlights of this visit were definitely the Library and the Pantheon with crypts of Spanish kings and queens as well as princes and princesses.
The visit took us 2 hours as stated on their website. To this, add an extra 30+ minutes to walk through the gardens.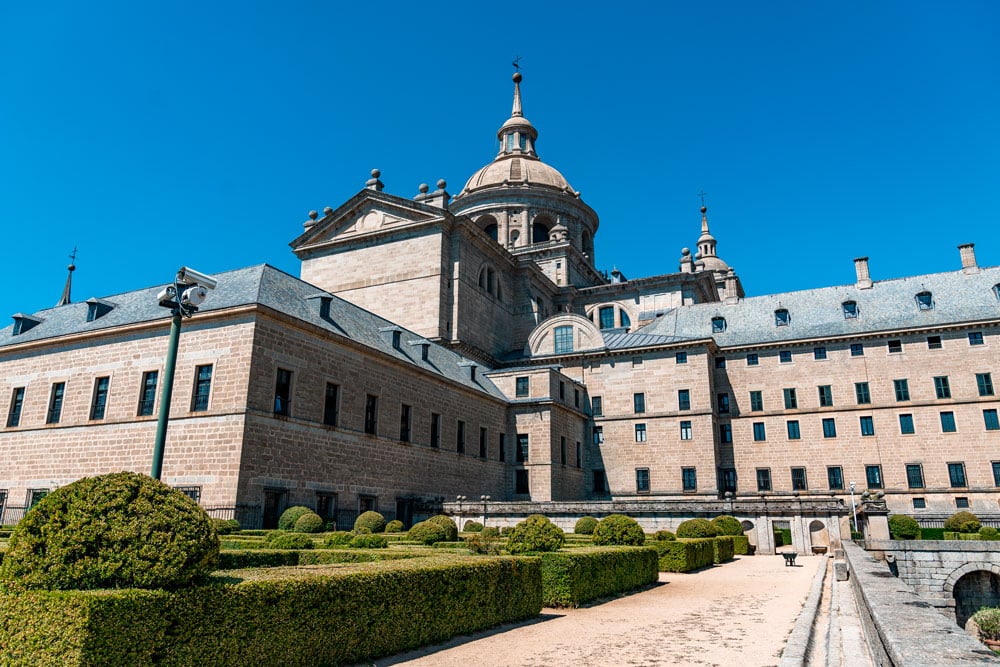 Is it worth visiting the Royal Site of San Lorenzo de El Escorial?
I'd say that if you happen to be in the area on a Sunday or Wednesday and you qualify for a free visit, then YES.
But, If you are stuck for time but still want to do a day trip from Madrid or looking for some places to see near Toledo, then I would suggest The Royal Palace of Aranjuez. It is slightly cheaper and you will be able to see more. Plus, the grounds are very pretty, especially when the fountains are on.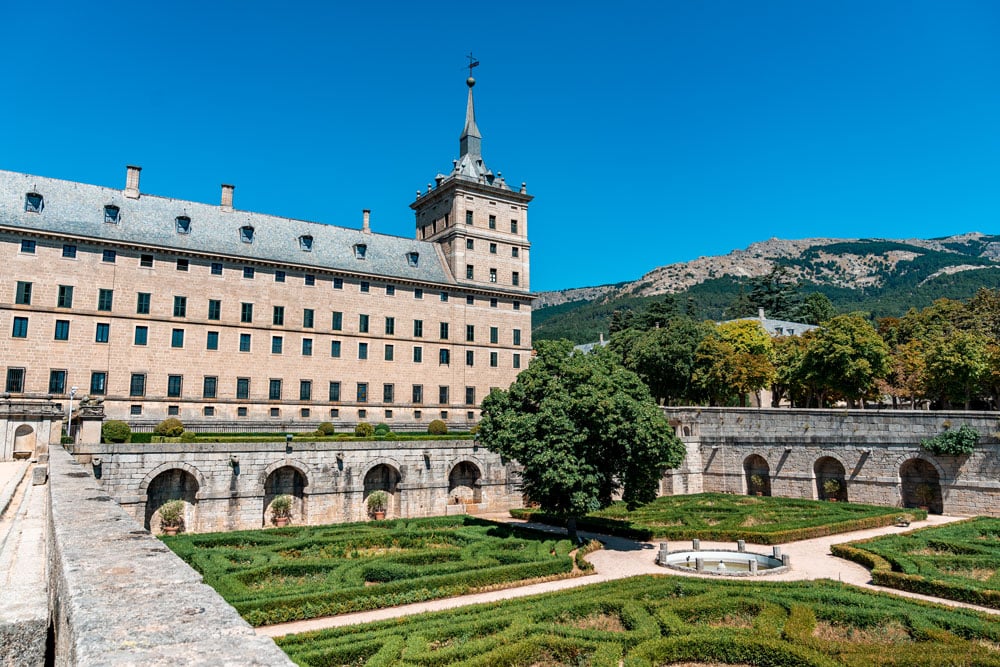 Insider Pro Tips:
To get to the monastery gardens, you need to get out of the building (from the same place where you started) and walk left to reach the end of the monastery and then again turn left. Take the "exit" on your right like you wanted to leave the grounds and follow the footpath down until you get to a covered "bridge" that connects the Royal Monastery with the buildings across the street. There on your left, you will see a door that leads to the gardens. There is not much to see but if you want to get nice photos of the buildings, I recommend visiting them.
Parking – We were a little bit confused about the parking situation and did not want to go to the underground parking garage as many reviews said it was dark and not easy to park. We found free spots on Calle Calleja Larger street. It was the perfect place, especially if you want to visit the other park and gardens as well.
There are no photos allowed inside, only outside.
If your bag is very large or if the security does not like it, they will tell you to leave it at lockers. You will need either 50 cents or 1 euro coin for that.
The Monastery is well-marked with many signs but because of its size sometimes it can get confusing where to go. Simply ask one of the guards (they are in every single room) and they will point you in the right direction. The self-guided tour includes the library, the basilica, the pantheon and the "museum" or rooms where you can see paintings, furniture and collections of other items from that era.
Most of the signs were also in English.
The entrance to the site is from the Northside (from Avenida de Juan de Borbon y Battenberg).
Why not combine the visit with the Valley of the Fallen – a basilica with a memorial where the Spanish leader and dictator Franco was buried until 2019. It is a 20-minute drive from the Monastery.
Useful links:
Note: None of the links provided were sponsored. I included them to help you organize your trip quicker as I know from my own experience that it can take ages to look for something. Hopefully, you will find some of them helpful.
Safe travels!