Are you wondering what to do in Mallorca besides lying on the beach? Here are 11 things to do in Mallorca including answers to FAQ's and useful websites that will help you plan your trip to this Balearic island.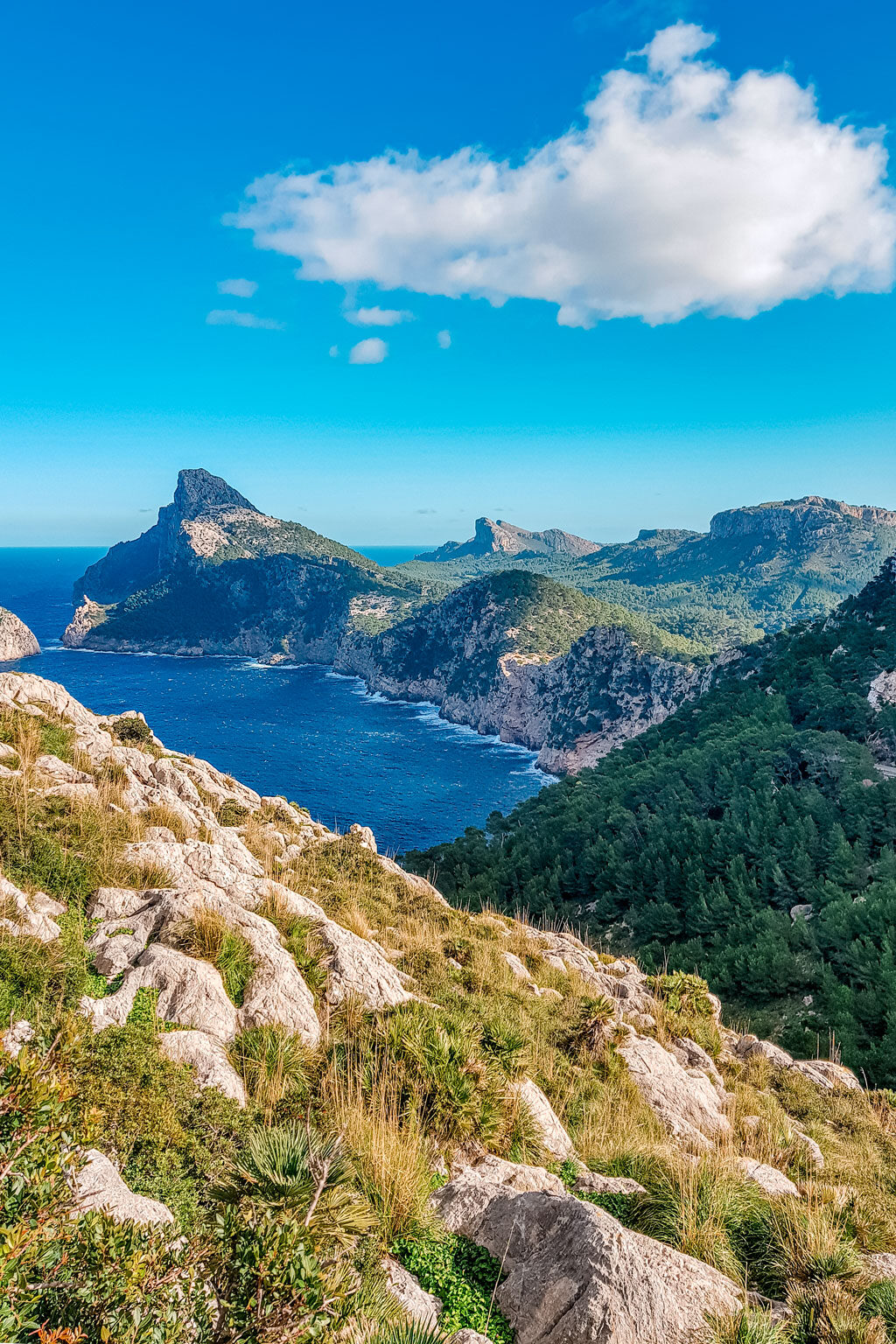 What is Mallorca famous for?
Mallorca is one of the 3 Balearic Islands, that belong to Spain. Also spelled Majorca, this Spanish island is known for its beautiful beaches and warm weather, perfect for sunbathing and relaxing near the sea. In summer, the beaches are packed with tourists from all over the world in summer.
Is Mallorca worth visiting?
Absolutely! There are so many things to do in Mallorca for all sorts of travelers from cyclists, and explorers, to families, hikers, or nature lovers.
By the way, if you prefer traveling when the crowds are gone, this post: 10 Reasons to Visit Mallorca Off Season may help you decide whether traveling to Majorca off-season is for you or not.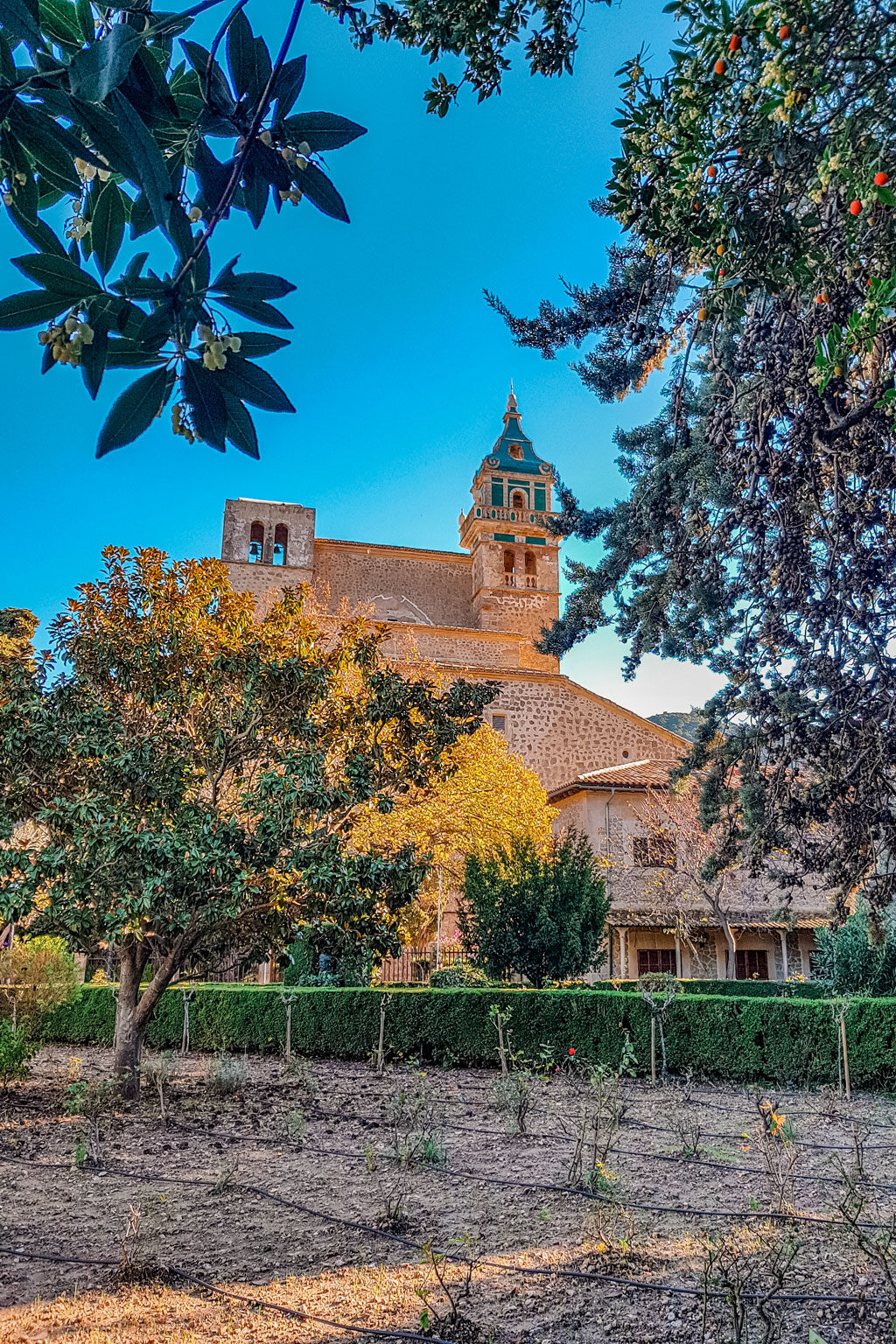 Here are 11 things to do in Mallorca:
Visit Bellver Castle – this gothic-style castle, located 3 kilometers (1.8 miles) from the center of Palma, is one of the few circular castles in Europe. Originally, it was built for the kings of Majorca but was later used as a military prison. Once you bought an entry ticket you can walk around and inside at your own pace.
Make sure to climb up the tower that offers panoramic views of the city of Palma! If you are looking for things to do in Mallorca with your family, this is one of them!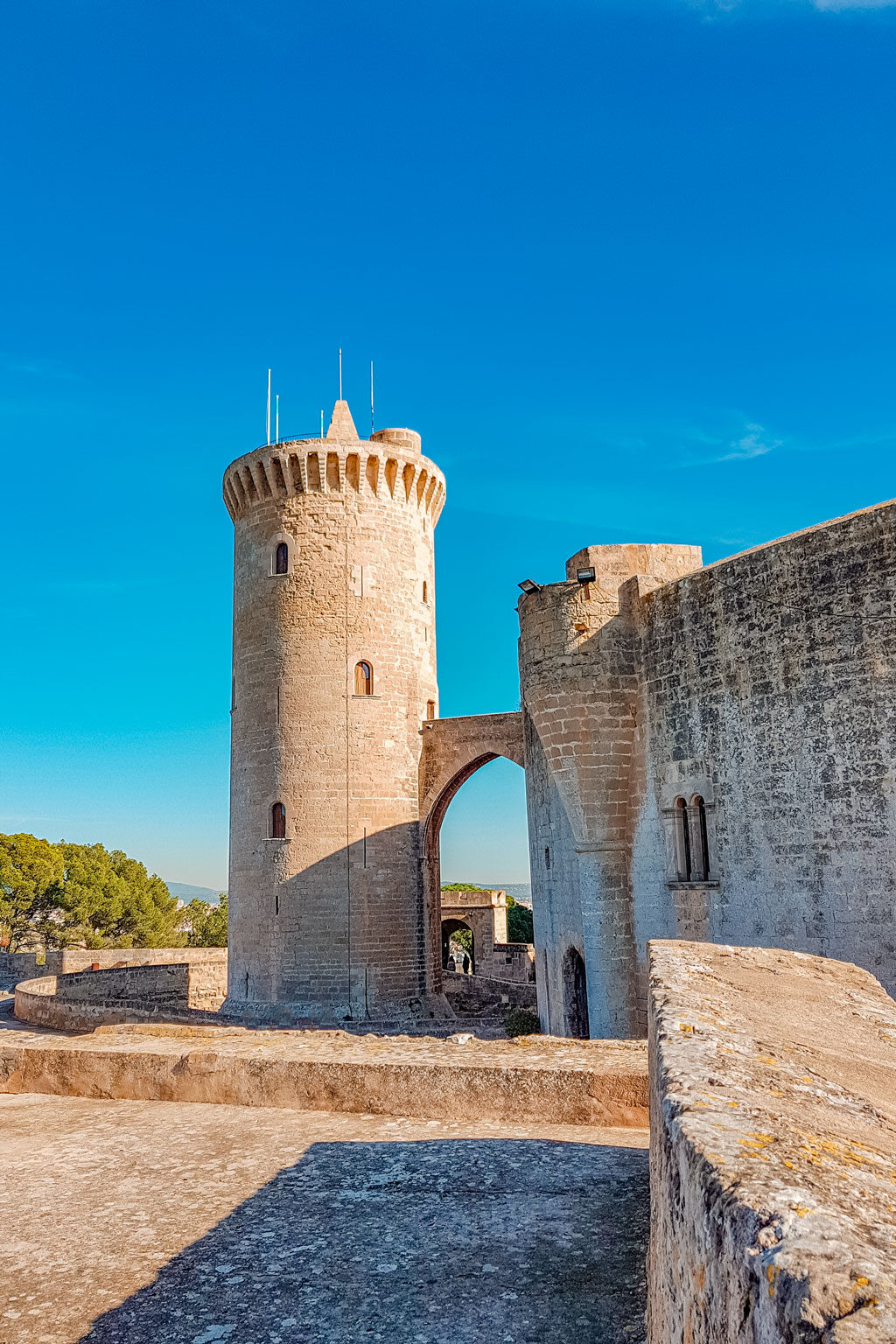 Drive through Tramuntana mountains – Rent a car and enjoy the scenic drive with plenty of viewpoints on the way. Tramuntana mountains are also popular among cyclists and hikers.
We started from Port de Soller and drove through the mountains to the small village of Lloseta but there are more similar drives with roads twisting and turning (Valldemosa to Deia, Deia to Soller, …).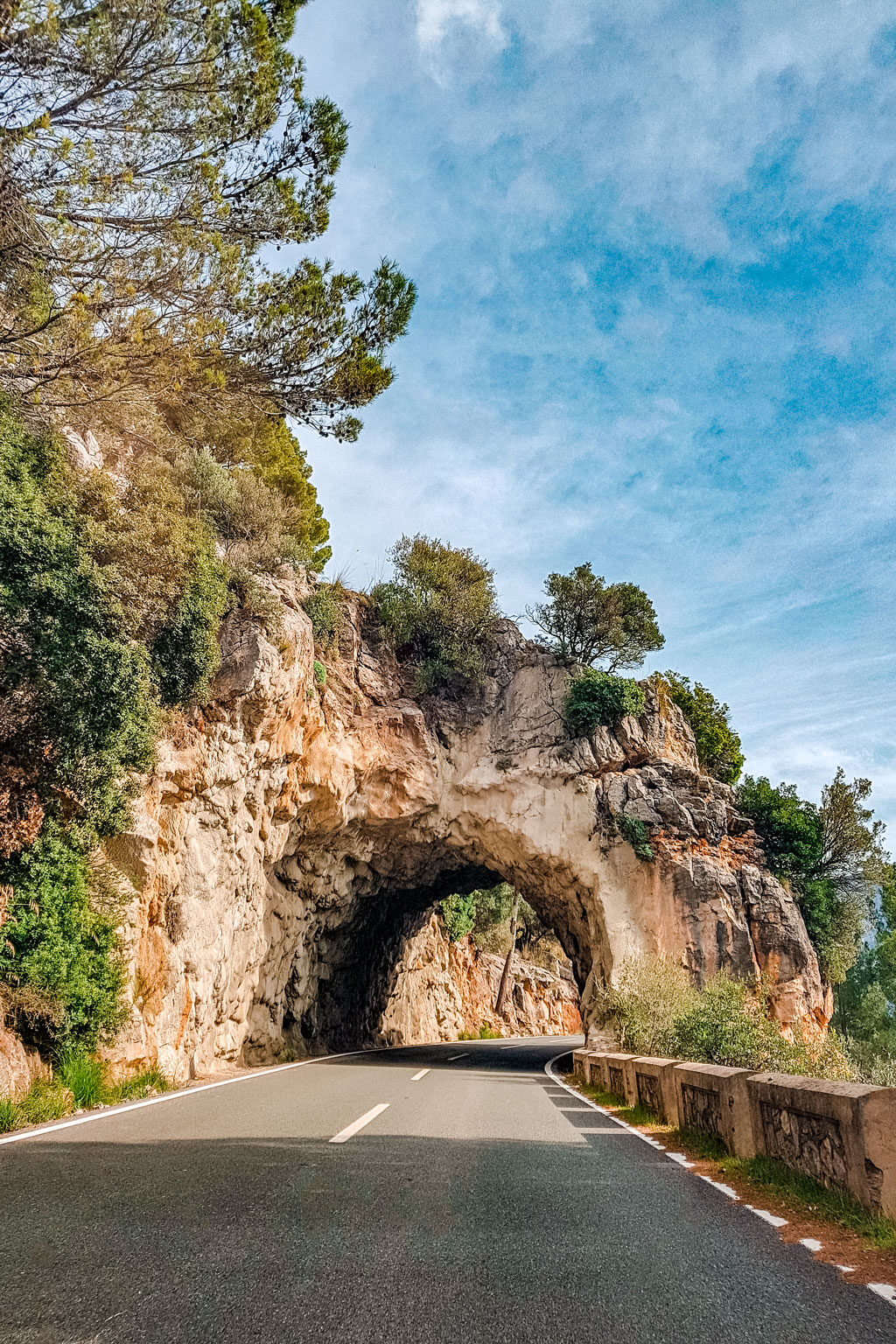 Make a stop at Mirador des Colomer – A beautiful viewpoint up in the Sierra Tramuntana mountain (near Puerto Pollensa) with stunning views of the sea and nearby cliffs. This is one of the things to do in Mallorca that you can't skip when you visit this island! It's free and the views are breathtaking.
Tip: When visiting this place in high season, I highly recommend getting there early in the morning (before 10 am) to avoid the crowds from tourist buses.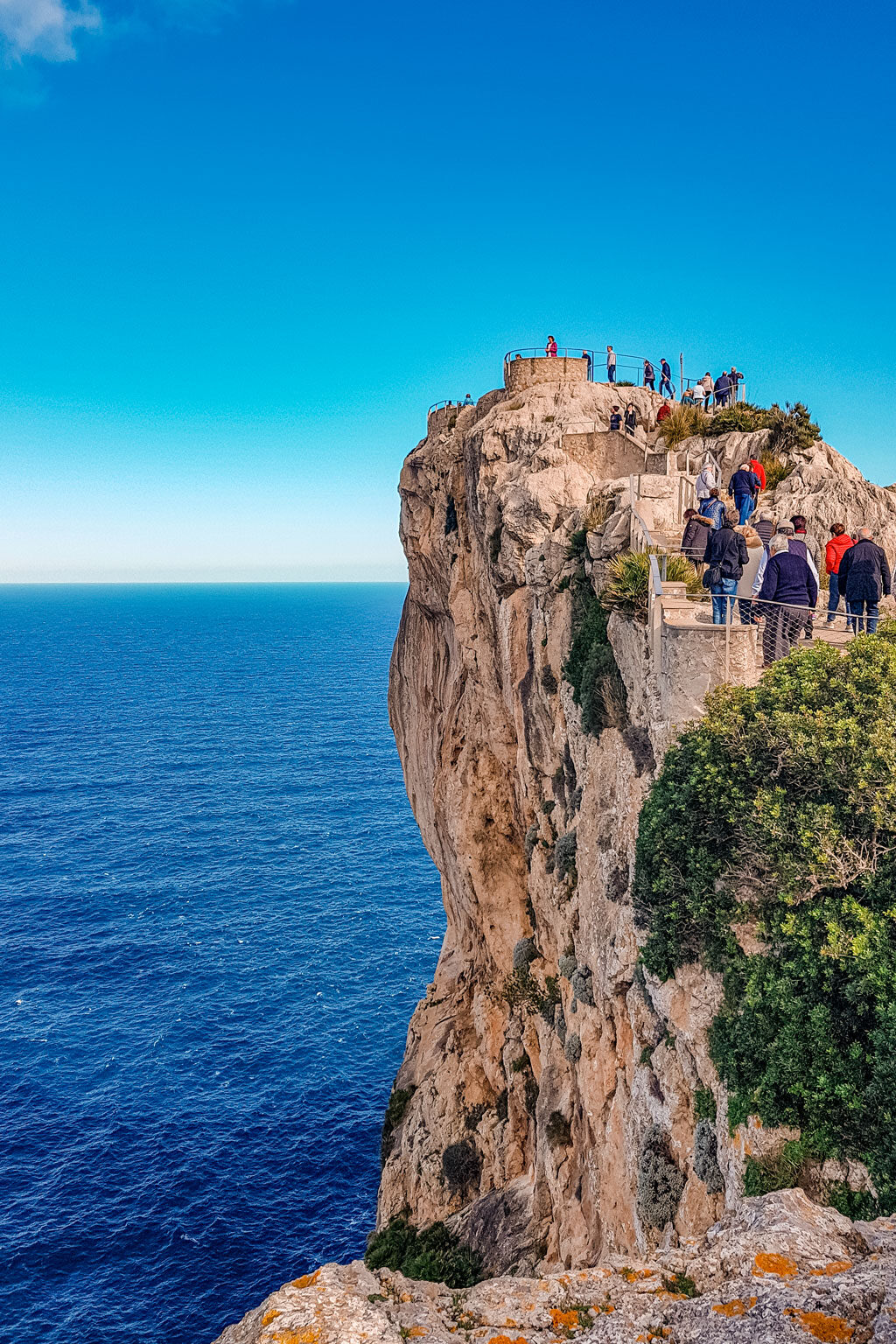 See the famous Almond Blossom – they say that Mallorcan almonds are sweeter than other varieties thanks to this island's climate. At the end of January and beginning of February all almond fields turn into what looks like blankets made of white and pink blossoms.
Walk the cobbled streets of Valldemossa, check out the La Cartuja de Valldemossa palace, find the Miranda des Lledoners Viewpoint, or visit the Costa Nord Cultural Center (originally owned and designed by Michael Douglas) to learn more about Majorcan history and gastronomy.
This quaint village is located 17 kilometers (10.5 miles) far from the city of Palma.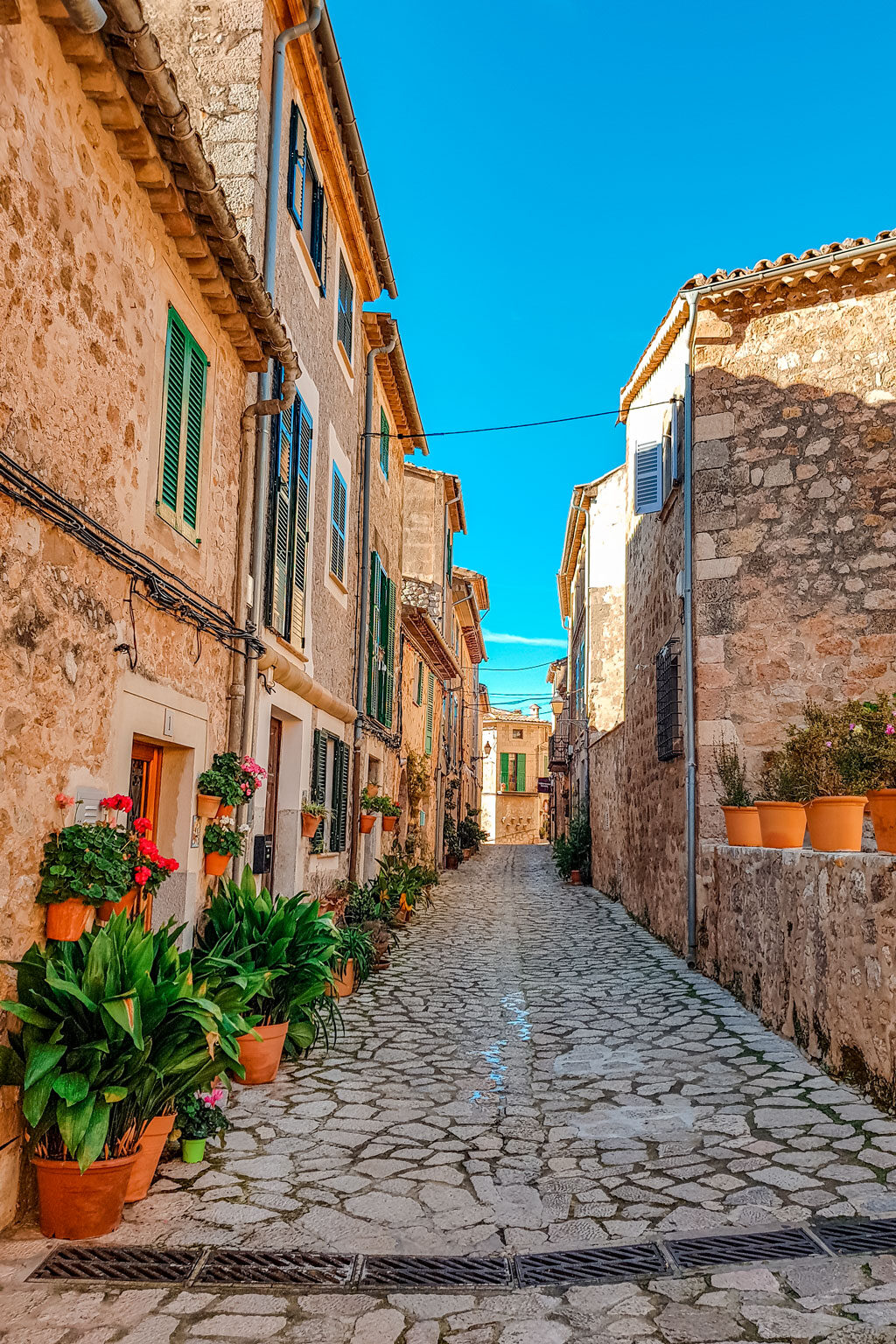 Good to know: Parking costs around 2 euros for 2 hours (which is around 2.20 USD), there are plenty of signs everywhere and public toilets are free.
Visit the Drach Caves – a bit pricey experience (on the east coast of the island) but a great option if it is raining or if you like exploring caves. Part of the tour is also a boat ride and a short concert.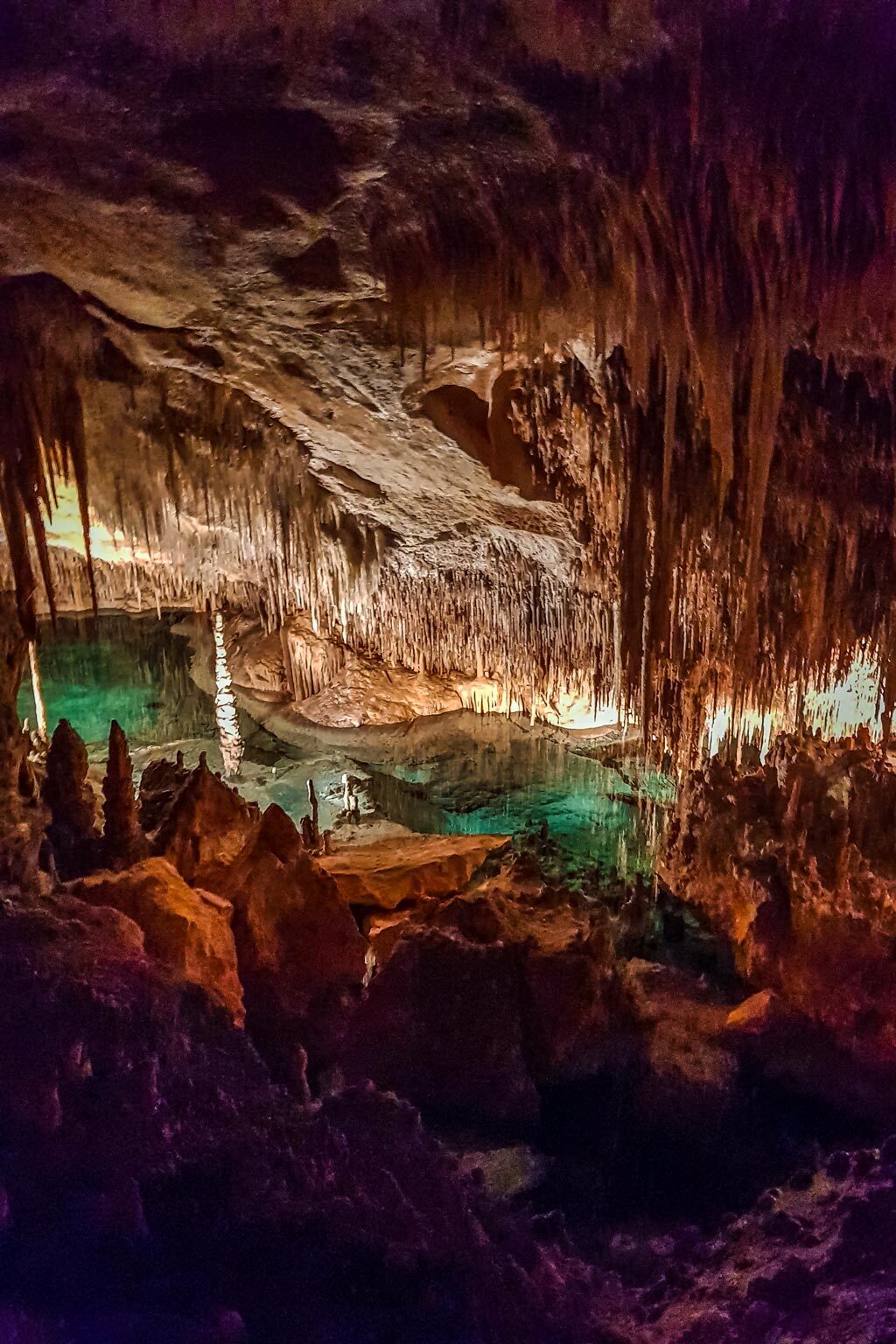 Taste local foods & drinks – roasted almonds, sobrasada (If you visit a fair or fiesta you might see vendors selling sobrasada on toast. It's a raw cured sausage), ensaimada (a spiral-shaped breakfast pastry), olive oil, Angel d'Or liqueur, local cheese, salamis, jams, coca Mallorquina (a.k.a. Spanish pizza).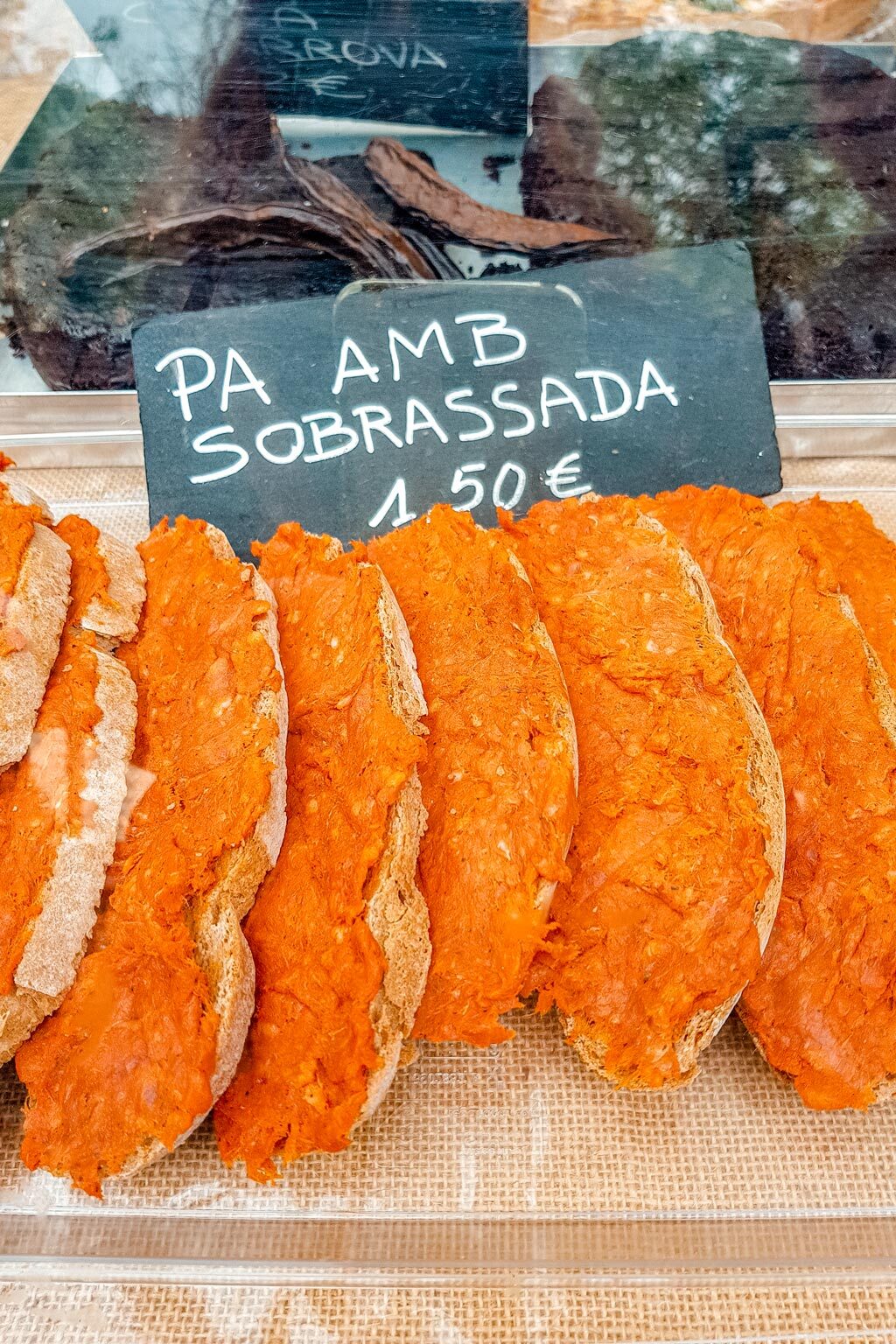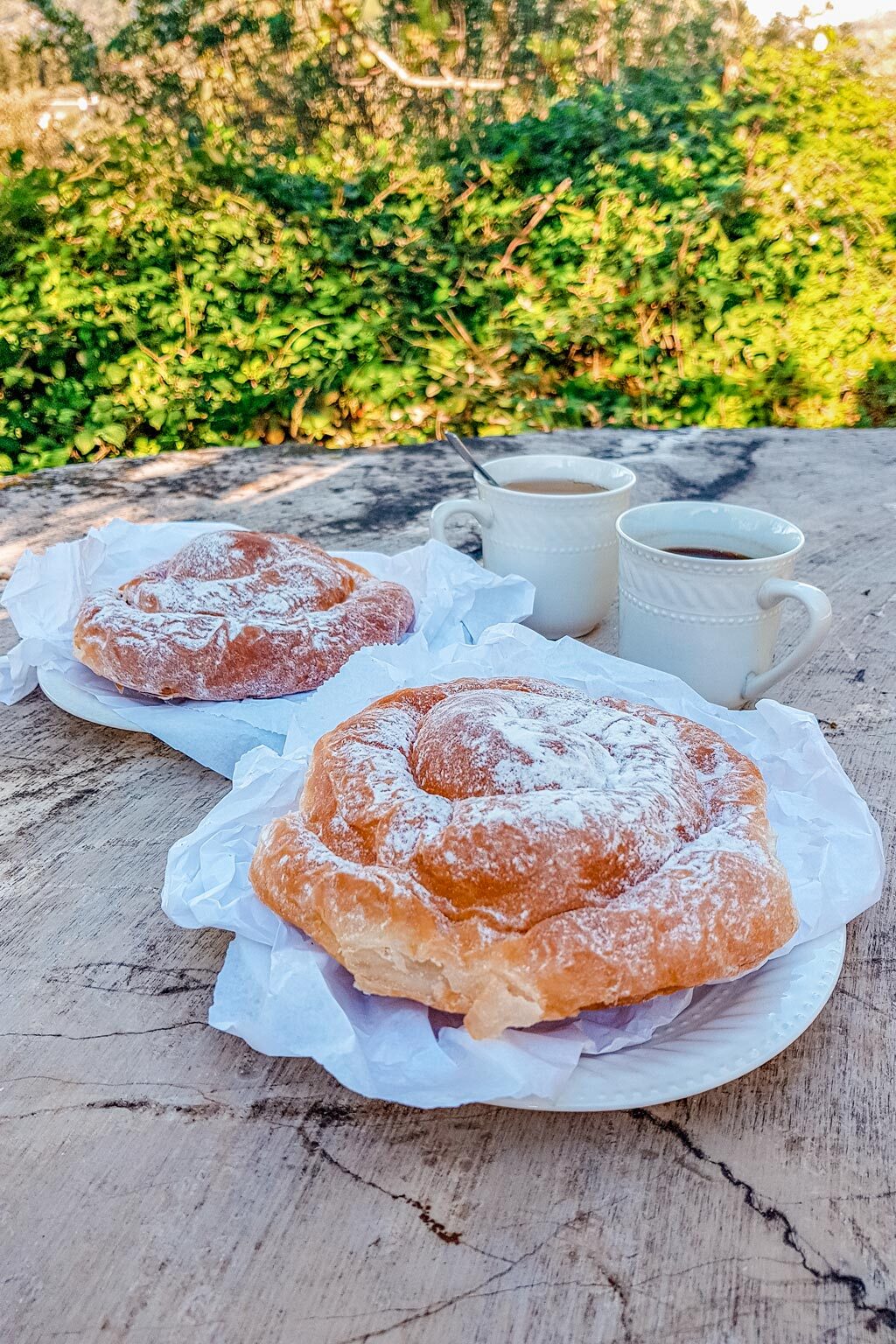 Have a stroll in Soller village & port – Take a tram ride from the inland village of Soller to the port and enjoy the views of olive, lemon, and orange groves. There is also a train that takes you from Palma to Soller (official website with timetables and prices provided down below).
Buy edible souvenirs for yourself and your friends. There is so much to choose from so why not bring home some tasty products instead of fridge magnets (unless you collect them, that is)?
Take a cooking class, pottery, or handbag making class. There are various choices on Airbnb and it's a fun way to spend your day, especially when the weather is not perfect.
Visit local fairs or festivals – San Sebastian Festival in Palma takes place in January (20th to 28th January 2024) and it's the biggest one in Mallorca. The festivities usually last for about a week so if you are thinking of visiting Mallorca in January, this is something to consider.
There are also many village fairs where you can find vendors selling typical Majorcan snacks and handmade products. We were lucky to stumble upon a mushroom fair in Mancor de Vall, a little village located North West from a little town of Inca where we bought some Majorcan craft beers, tasted local delicacies, and watched some live performances.
Which part of Mallorca is the best to stay?
There are many options when it comes to accommodation in Majorca. Airbnb offers some beautiful places to stay.
This island is quite small so if you rent a car in Mallorca, you will be able to cover a lot in a short period of time. This means that you can be quite flexible when it comes to choosing a place to stay in Mallorca as you can find good deals away from the hustle and bustle of Palma.
Palma de Mallorca – the capital of the island and probably the busiest place.
Any small village on the East as well as North coast – for hiking the Tramuntana Mountains, driving through quaint villages, finding beautiful viewpoints, …
East coast – for beaches & caves.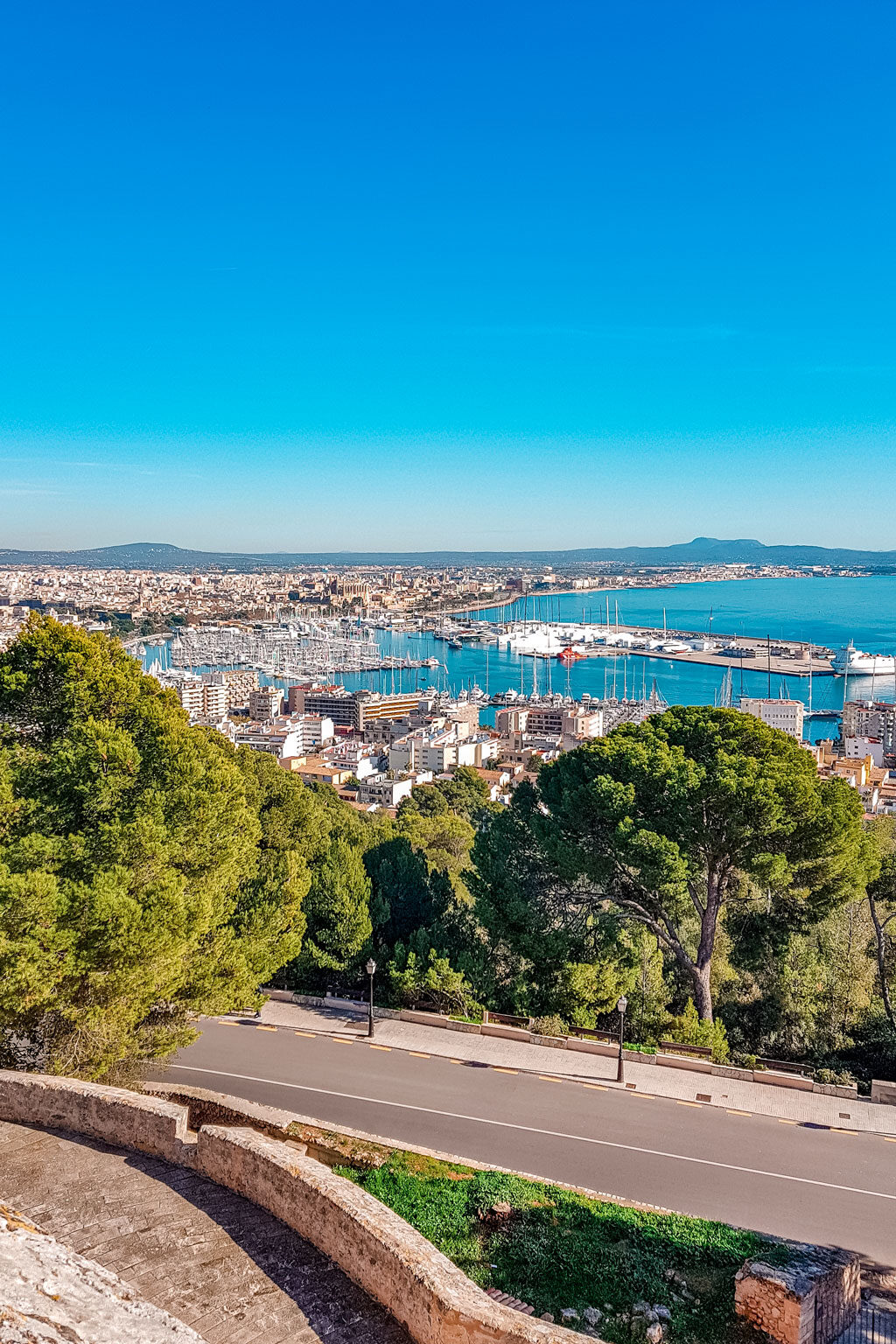 If you need more information about some of these things to see in Mallorca, I have added some websites that might help you plan your trip:
Opening hours and prices of Castell de Bellver.
The official website for the Train from Palma to Soller village as well as a timetable for the tram from Soller village to Soller port (including prices).
RELATED