Located in the heart of the Picos de Europa National Park, in the Spanish region of Asturias, you will find a real gem. There, up in the mountains lies Covadonga, a place full of history and natural beauty.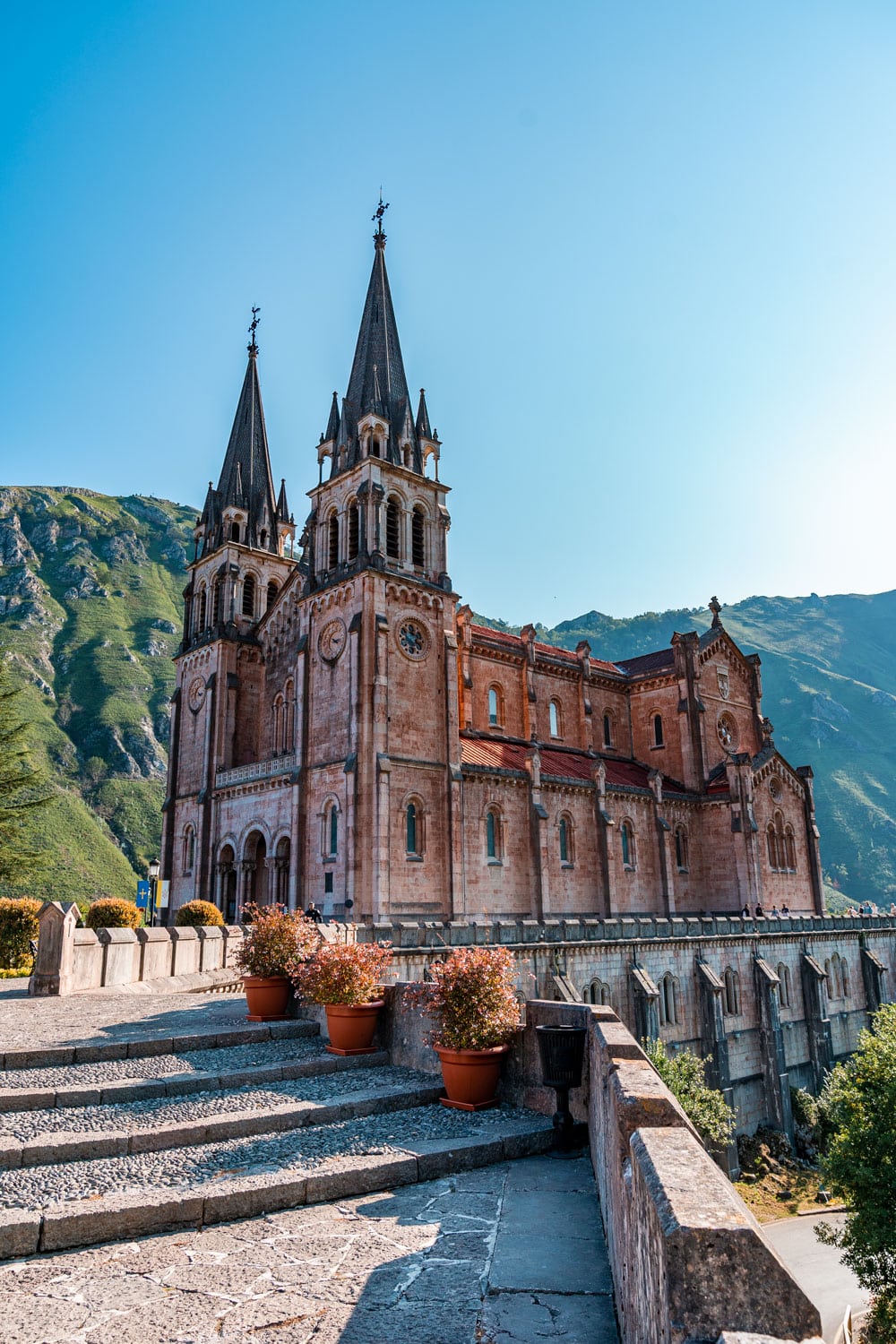 Also a pilgrimage site, this small parish has a lot to offer and it is definitely one of the must-visit places when in the area.
To make your visit as smooth as possible, I included some tips, recommendations, and information you need to know before you go!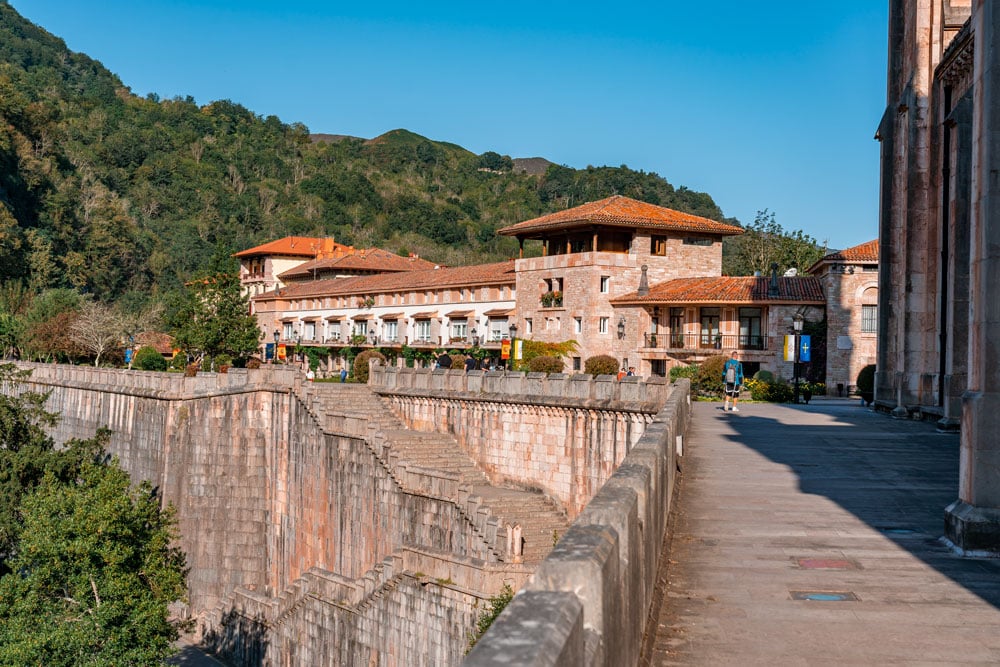 A bit of history:
In 722 AD, King Pelayo of Asturias won the Battle of Covadonga. It was an important victory as he was the first Christian king to defeat Muslims.
He considered it a miracle and believed that a statue of the Virgin Mary hidden in a cave in Covadonga helped them win the battle.
Many consider that day as one of the most important dates in the history of Spain and believe it was the start of the "Reconquista" – the reconquest of Spain from Islamic rule.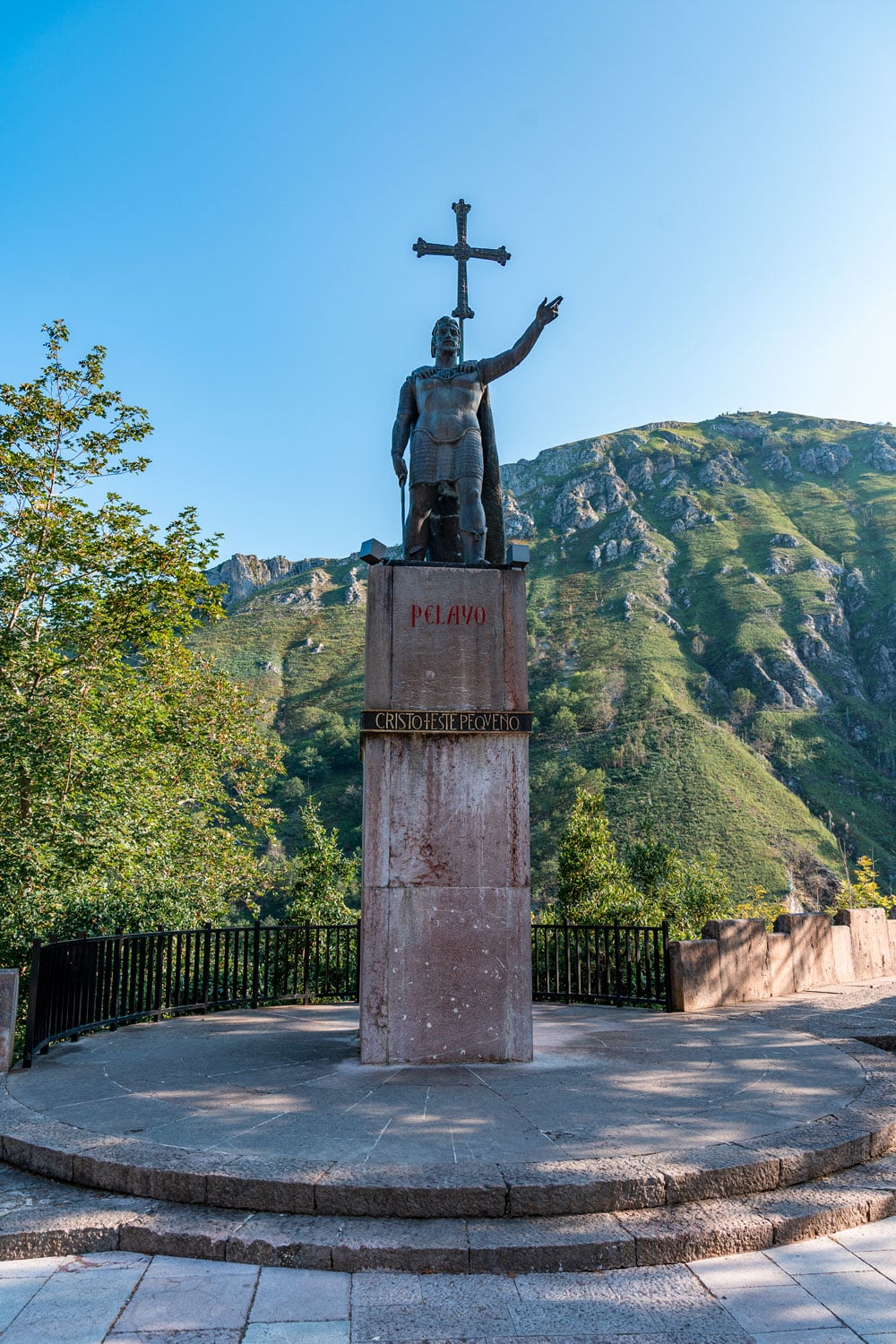 What to see in Covadonga
Basilica de Santa Maria la Real de Covadonga – a beautiful Neo-Romanesque Church that you can't miss!
Statue of King Don Pelayo – right in front of the Basilica.
Santa Cueva – "Holy Cave" where the body of King Pelagius lies. You will notice it right when arriving on your left-hand side, right above a small waterfall.
Shrine – right in the cave you will find an altar with a statue of the Virgin of Covadonga. This can be accessed either by stairs or a tunnel.
Royal Collegiate Church of San Fernando – built in the 16th Century and located right next to the cave.
Museum – where you can learn about the history of the Sanctuary and the battle of Covadonga.
Souvenir shop (you will find it right in front of the 2nd roundabout).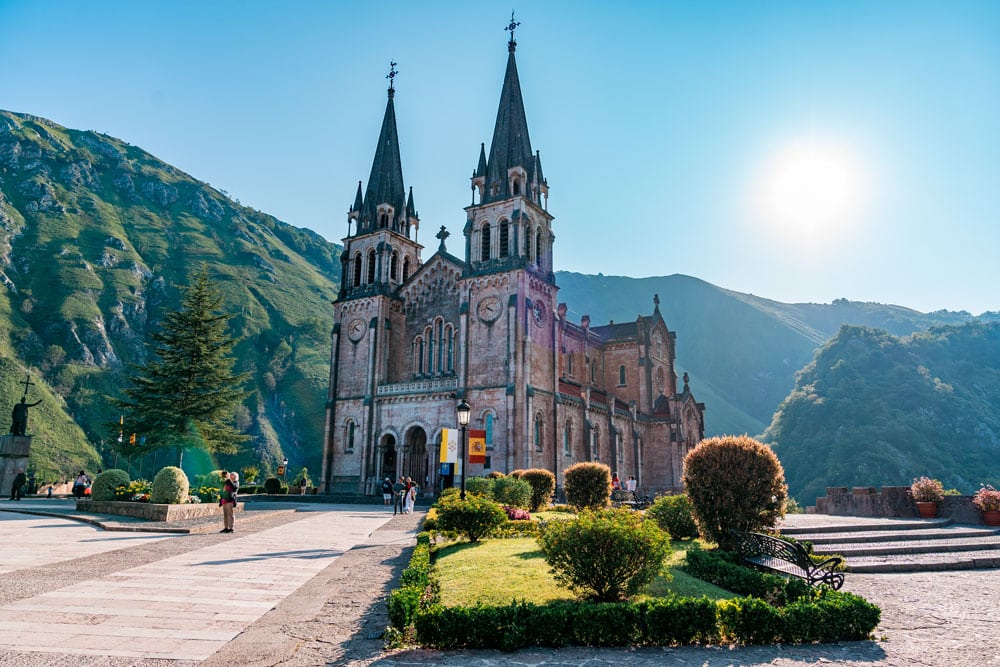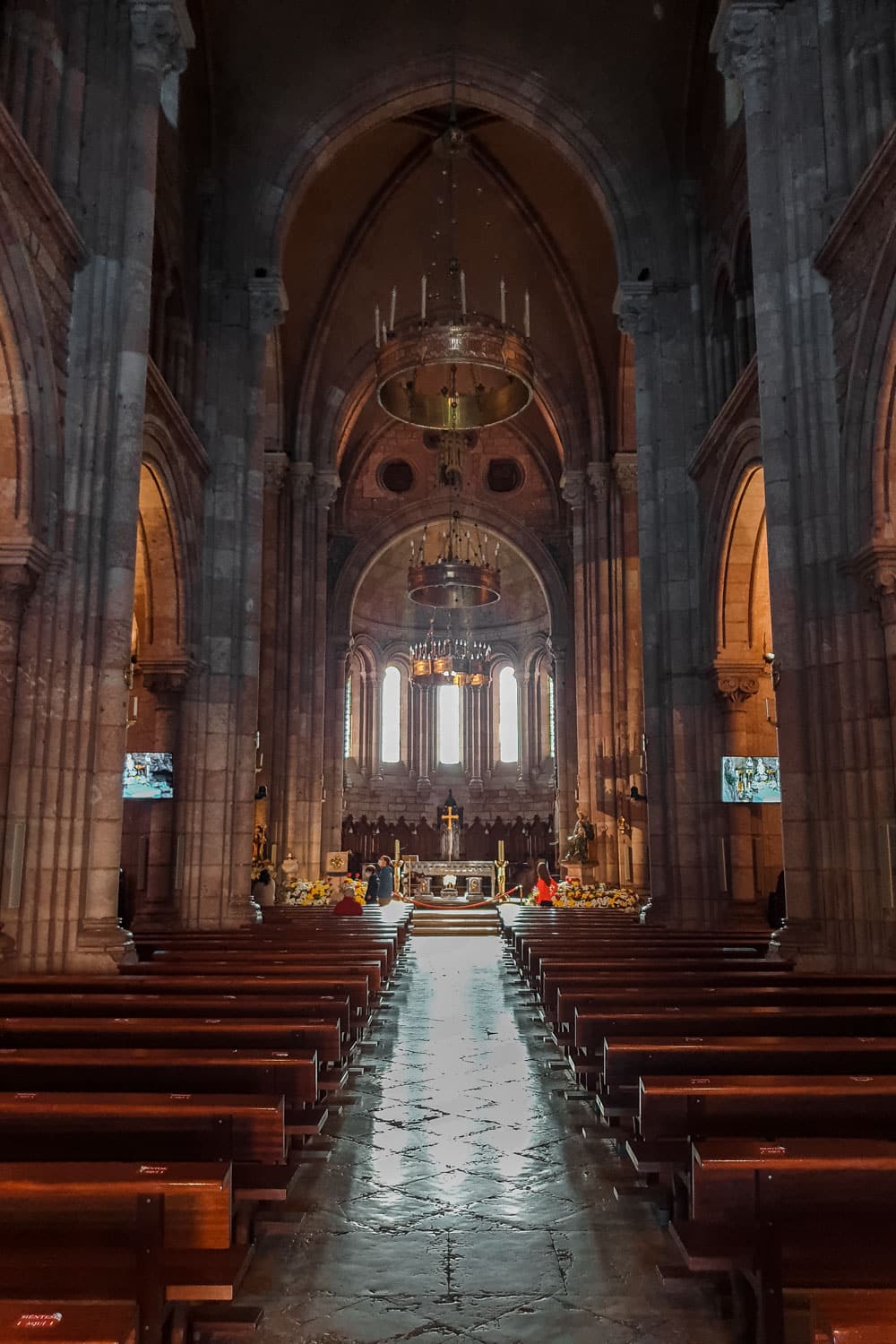 From the Sanctuary area (Santuario de Covadonga), a drive up along a winding road will get you to the Lakes of Covadonga, 2 glacier lakes set in a breathtaking location.
Due to its popularity, access to the Enol and Encina Lakes is regulated (especially during summer, Easter, and long weekends) and one has to be prepared before visiting the lakes to know what to expect.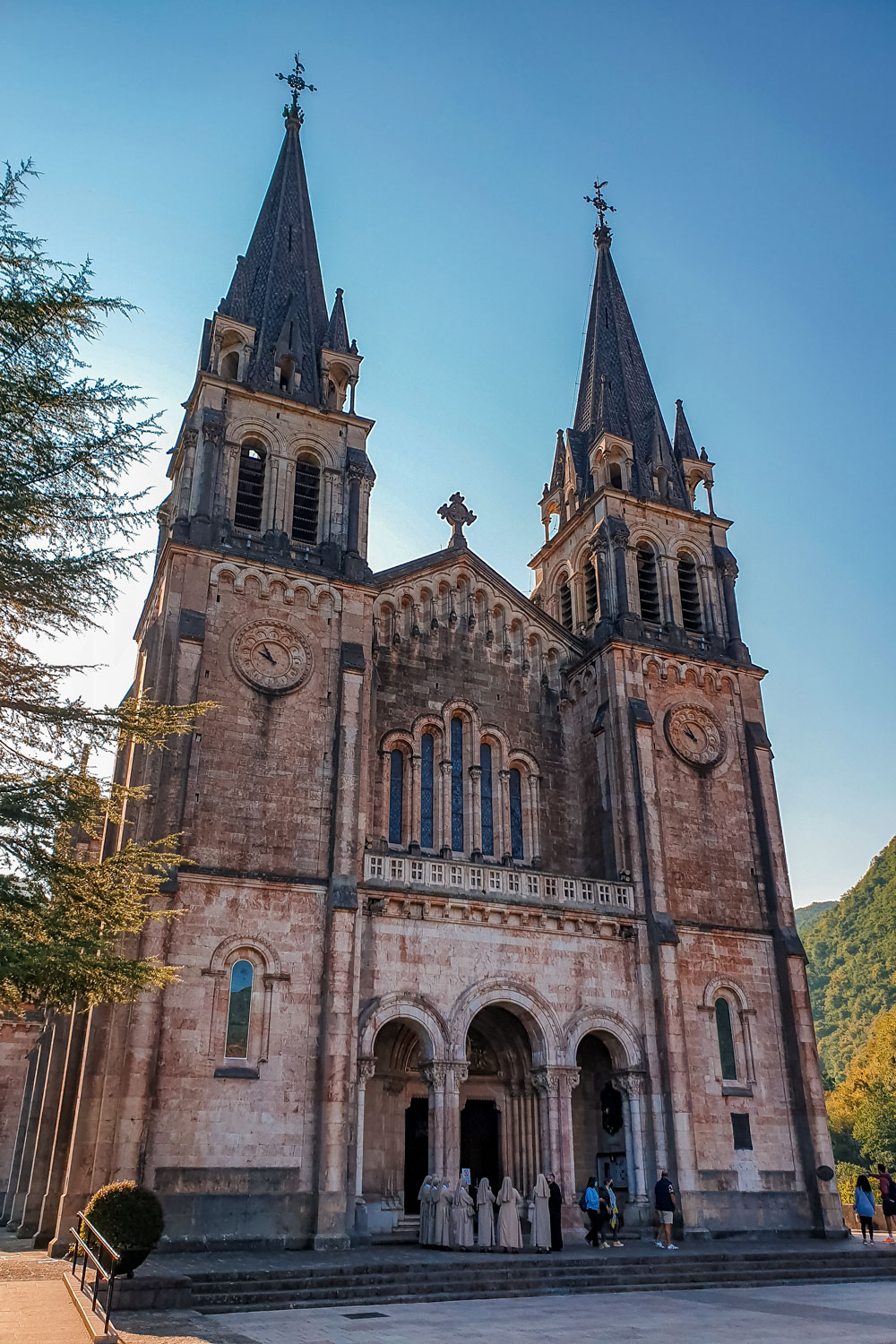 Hiking from the Sanctuary – Yes or No?
Right under the sanctuary, to your left, you will notice a wooden "structure" with the "Ruta de la Reconquista" trail (GR-PNPE 202). It was the only official trail we found there.
Note that this is not an easy trail and to hike it, one should be well prepared. It takes about 10 hours (one way) and apparently, it passes the lakes, however, I can't say whether you would be able to see them on this hike or not.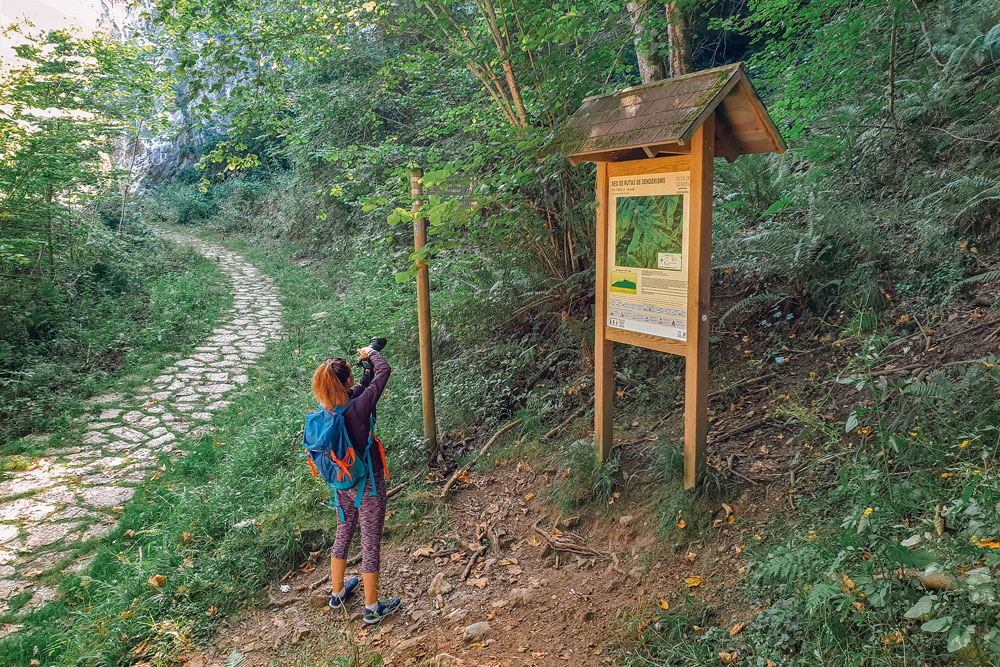 We were "craving" a hike so we decided to give it a go and walk as far as we could. A little farther along the path, we noticed a sign for a shorter hike: The Orandi route. After about a 2-hour of a steep climb up a mountain with no views whatsoever and at times a very slippery path we reached what looked like a meadow with a stream to our right.
At that stage, we knew it was the endpoint for us so we took a break, ate our packed lunch, and afterward walked back down.
We did not feel that the path was marked well and even though we found some signs we felt like we could have easily missed the trail.
If you really want to challenge yourself, do give it a go but make the meadow your turn-back point. Keep in mind that this is not a kid-friendly hike and if you have mobility difficulty or other walking problems, I would not even attempt it.
Instead, stay a night in the area and drive up to the lakes as early in the morning as you can and walk around the lakes – you will be able to enjoy beautiful scenery, and nice views and have a nice lunch in the restaurant if you like.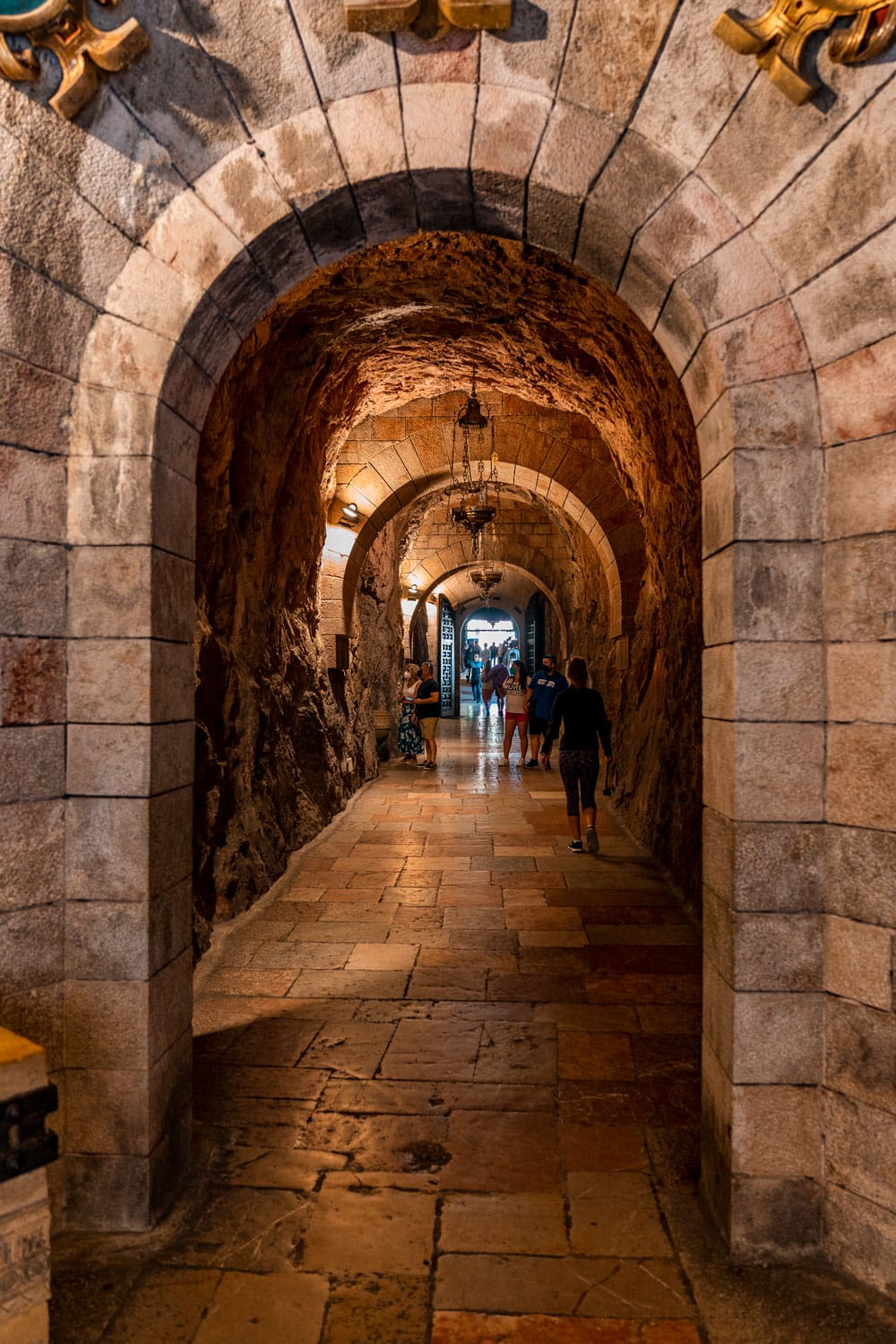 Frequently asked questions:
When is the best time to visit Covadonga?
The best time to visit the area is spring or fall. Summer months and all bank holiday weekends as well as Easter are over-crowded and finding spaces to park can be a challenge, unless you arrive very early in the morning.
I can tell you more reasons why avoiding visiting Spain in the summer is a good idea!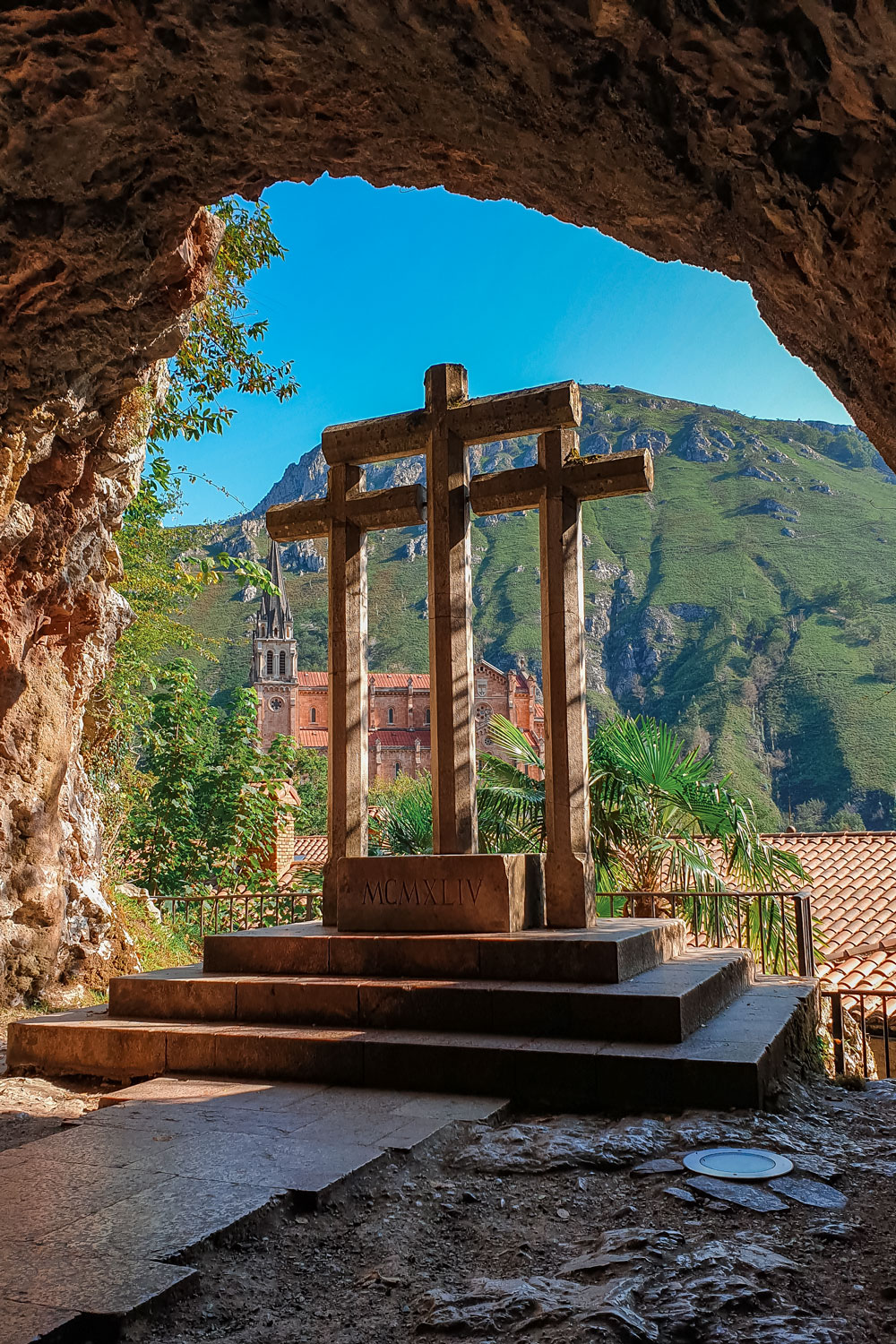 Can I go up to Covadonga Sanctuary by car or do I need to take a bus or taxi?
Yes, you can drive up no matter what the season. There are 2 public car parks free of charge. The spaces are limited though and often police officers navigate the traffic. If there are no free parking spaces they send cars back down.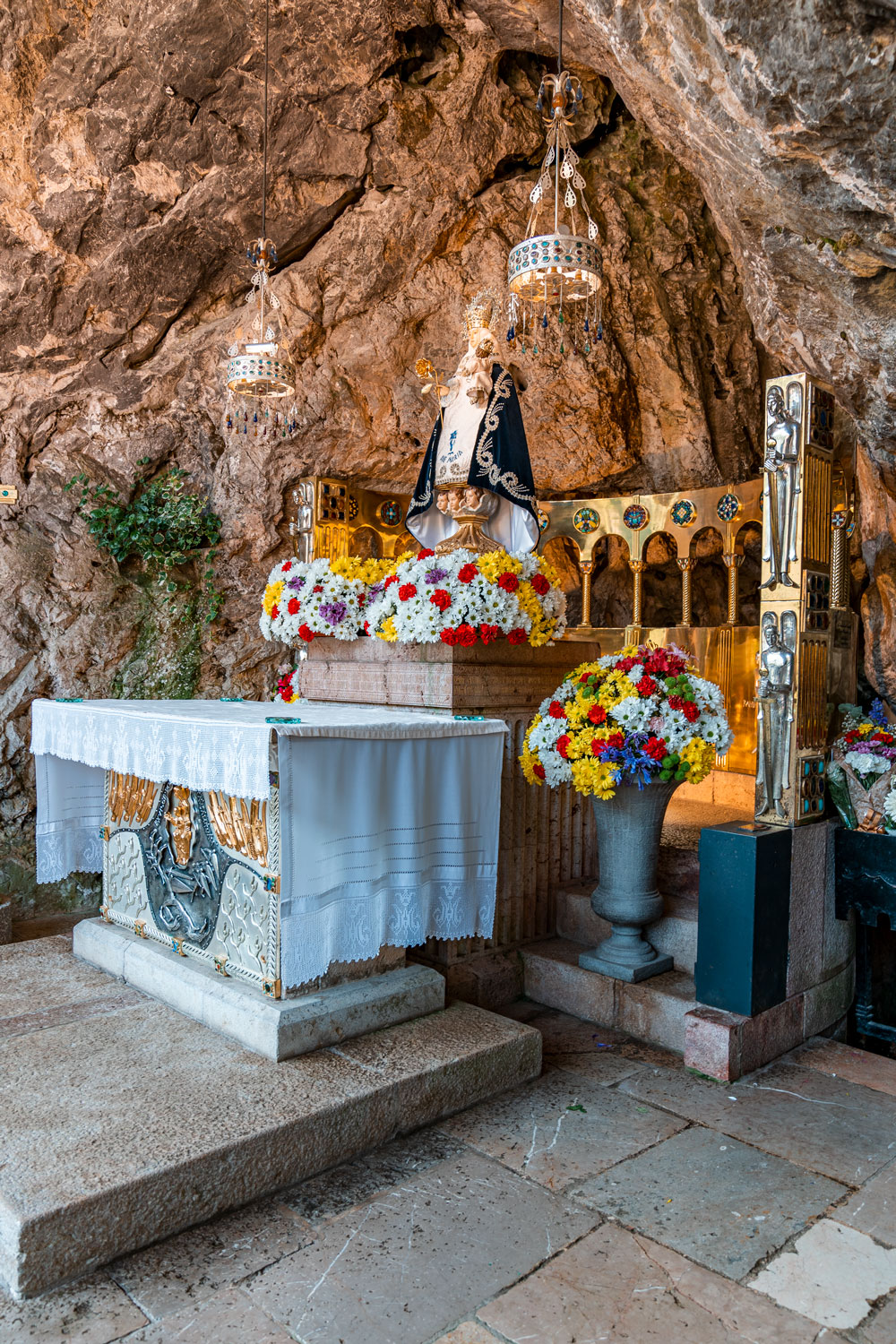 I would like to spend a night there. Are there any hotels or B&B accommodations available?
Yes, there are a few places to choose from in the proximity of the Sanctuary. Note that prices double during the high season, so it is always good to book well in advance and off-season!
Another alternative is staying around Cangas de Onis which is a bit farther from Covadonga, but still close.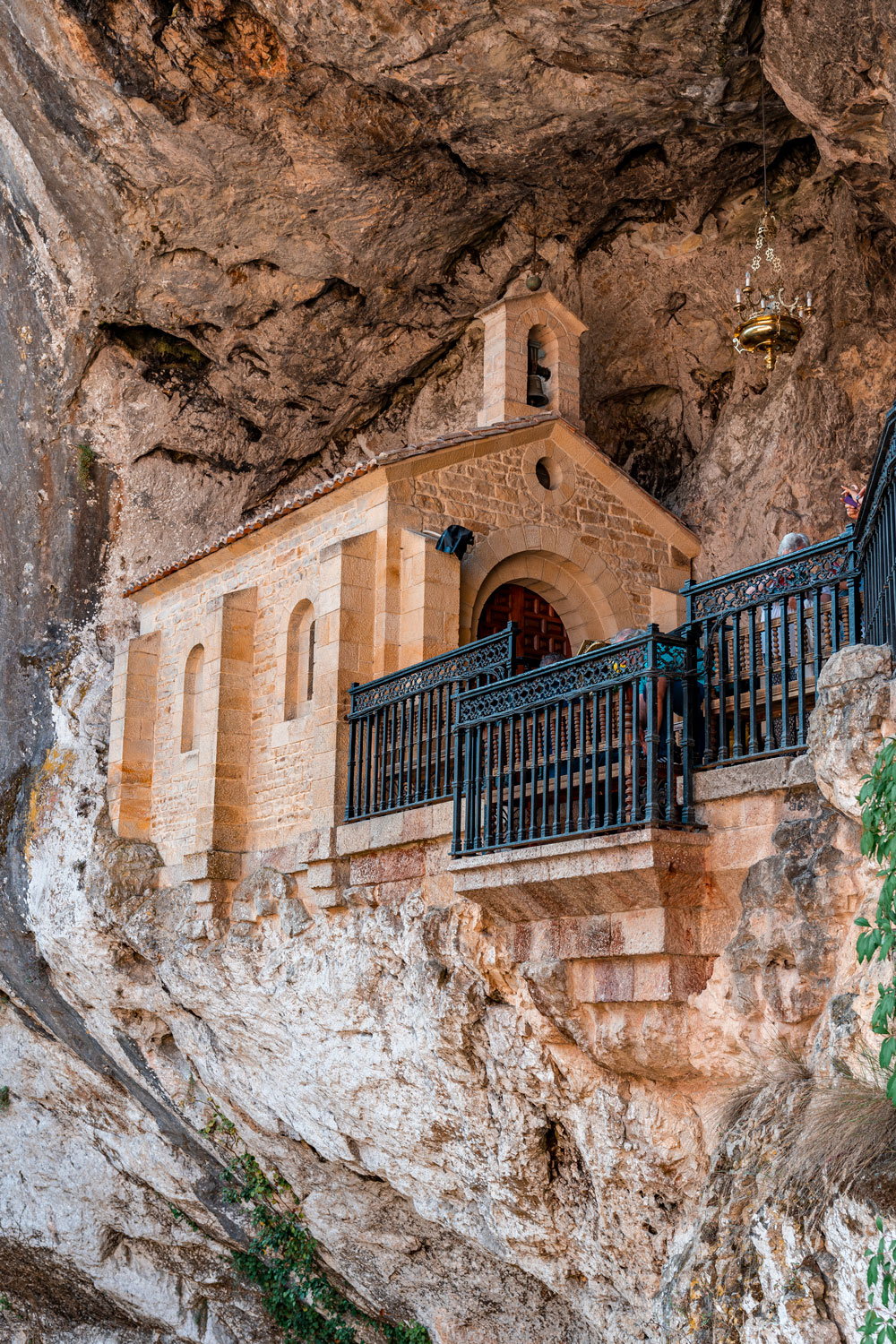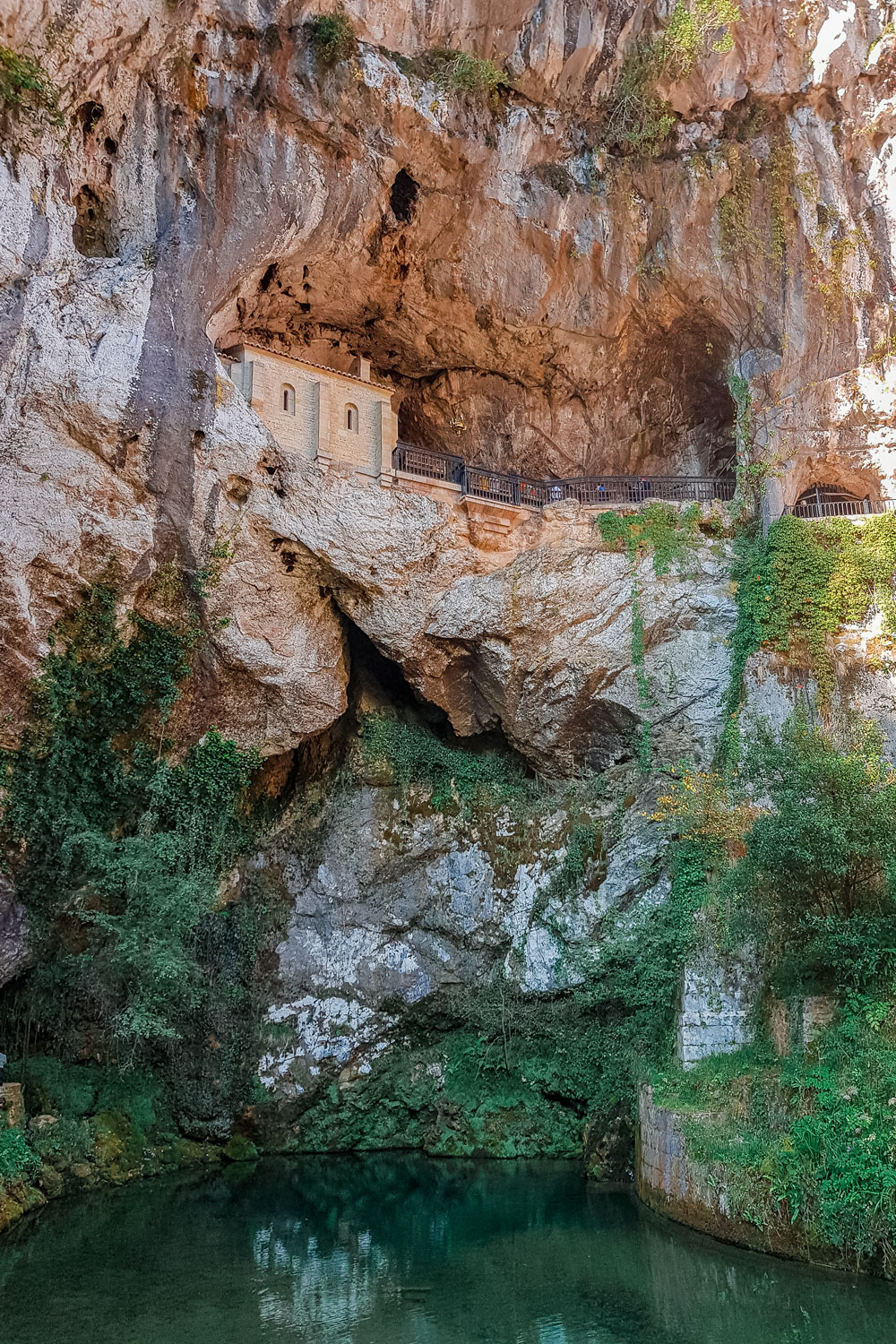 How much time should I allocate for the visit?
Count with at least half a day. If you are planning to go up to the lakes of Covadonga, you will need a full day, if not more and you will need to be well-organized.
Note that to combine these two, it is best to stay in the area at least overnight as it is one of the most popular places to hike in Asturias. Also, it is not possible (time-wise) to hike from the sanctuary up to the lakes and back in a day.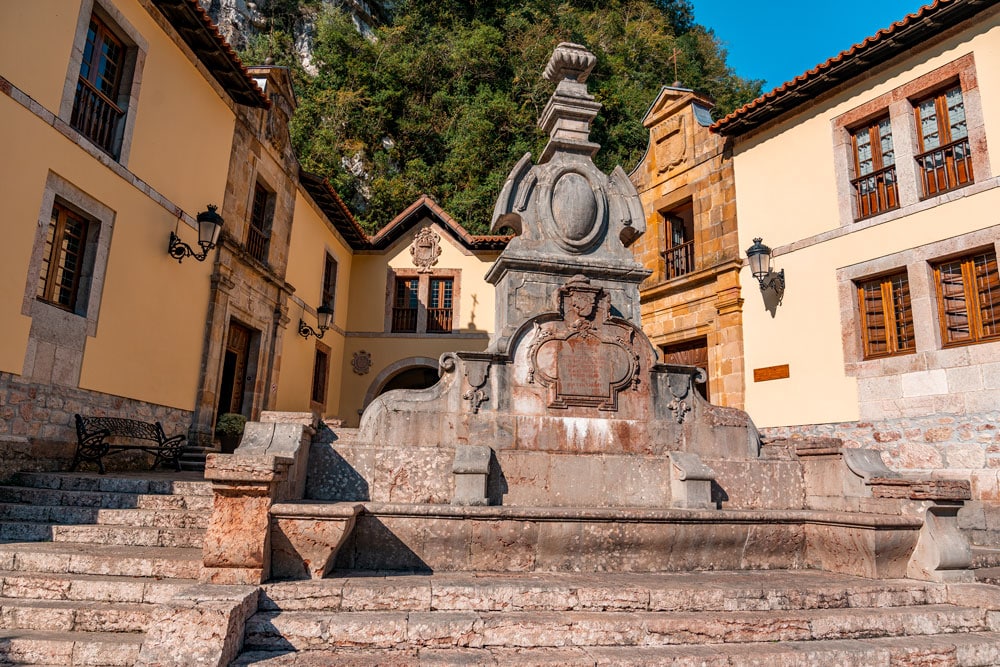 Tips for visiting Covadonga:
Avoid traveling in summer – this place is hugely popular among Spaniards and pilgrims and is crowded during the peak season as well as Spanish fiestas. Plan well and double-check when you want to travel. Imagine arriving just to find out the place is closed to the public because of La Vuelta – Spain's most famous bicycle race (In 2022 it is planned for August-September).
Allocate plenty of time for your visit!
The entrance to the Museum costs only 2.50 euros (children 1 euro) but it does close during siesta (between 2 – 4 pm) so plan around it if you want to have a look inside.
On your way up to the Sanctuary you will pass Cangas de Onis. It is a place that offers a lot of outdoor activities from canoeing, horse riding, and trekking to mountain climbing, fishing, and more.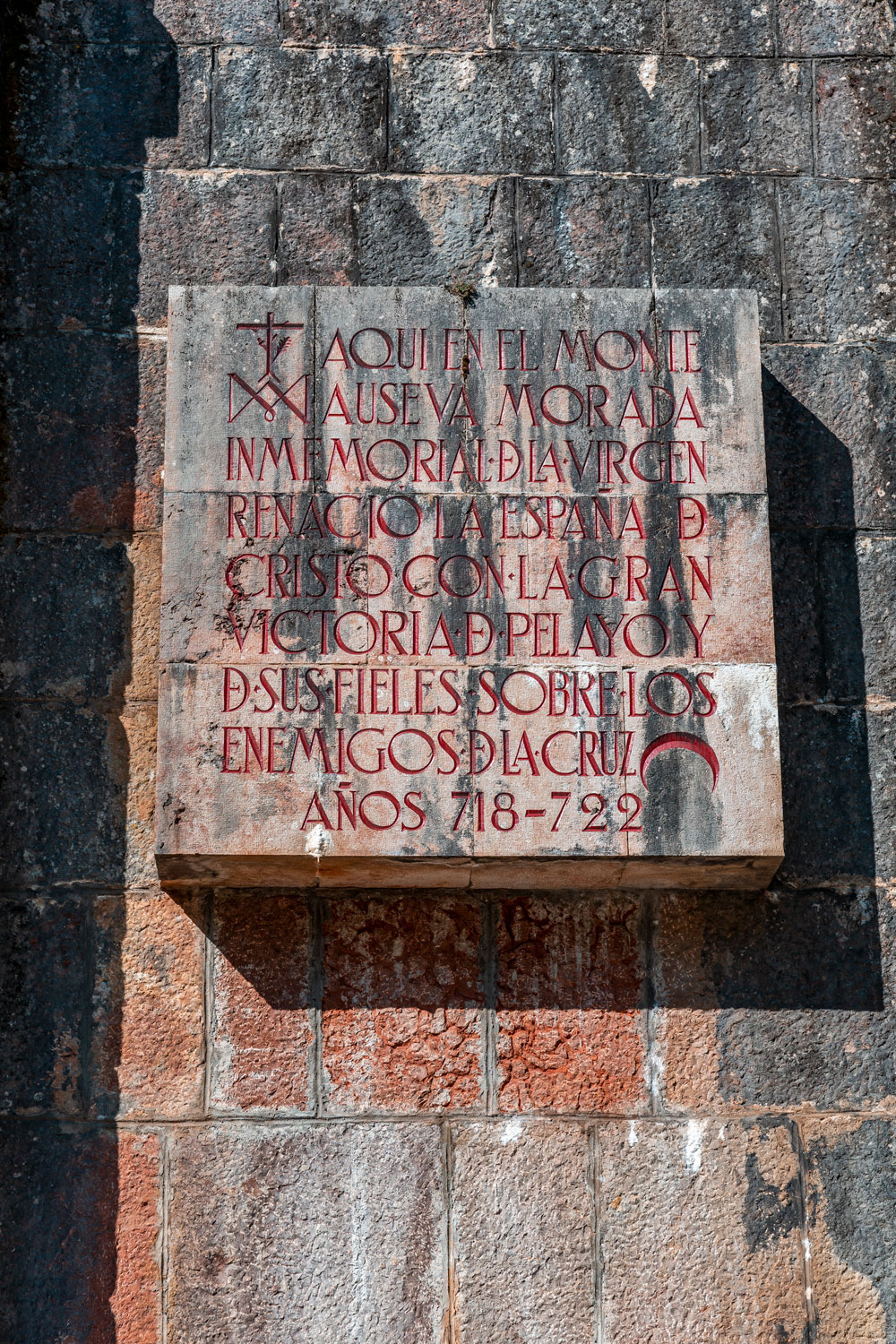 Our own experience:
Visiting the Covadonga Basilica as well as the sanctuary was something we hoped to do but it was not what we came there for. We were staying in the city of Leon (which has a beautiful cathedral by the way) and it was the closest we had been to Picos de Europa on our trip through Spain so I really wanted to do some easy hikes there.
It turned out that the place I chose was probably one of the busiest in Asturias and there are rules and restrictions in place to control the number of visitors.
So that day we did not get to see and hike around the beautiful lakes. However, we were lucky to find one of the last parking spots behind the museum, so we spend half a day exploring this Holy place. Throughout the day the weather changed from being foggy and dull to sunny and we were lucky to get some amazing pictures. Just know that the weather is unpredictable in the mountains so be ready!
It is a place worth stopping by if you are in the area, but before you go preparation is needed to avoid any possible disappointment especially if you want to see the lakes as well. I am writing a separate post on things to know before visiting Covadonga to give you all the information I gathered so you don't make the same mistake as we did.
I hope you have a nice time if you ever get to see this part of Northern Spain. Please let us know in the comment section what you think about the place or if you know of something that has changed since our visit and should be updated.
Safe travels,
Julia & Siim