To most foreigners, the Burgos Cathedral is one of the hidden gems when visiting Spain. Not so hidden though, this fine example of French Gothic Style is a must-visit place in the Castile and Leon region.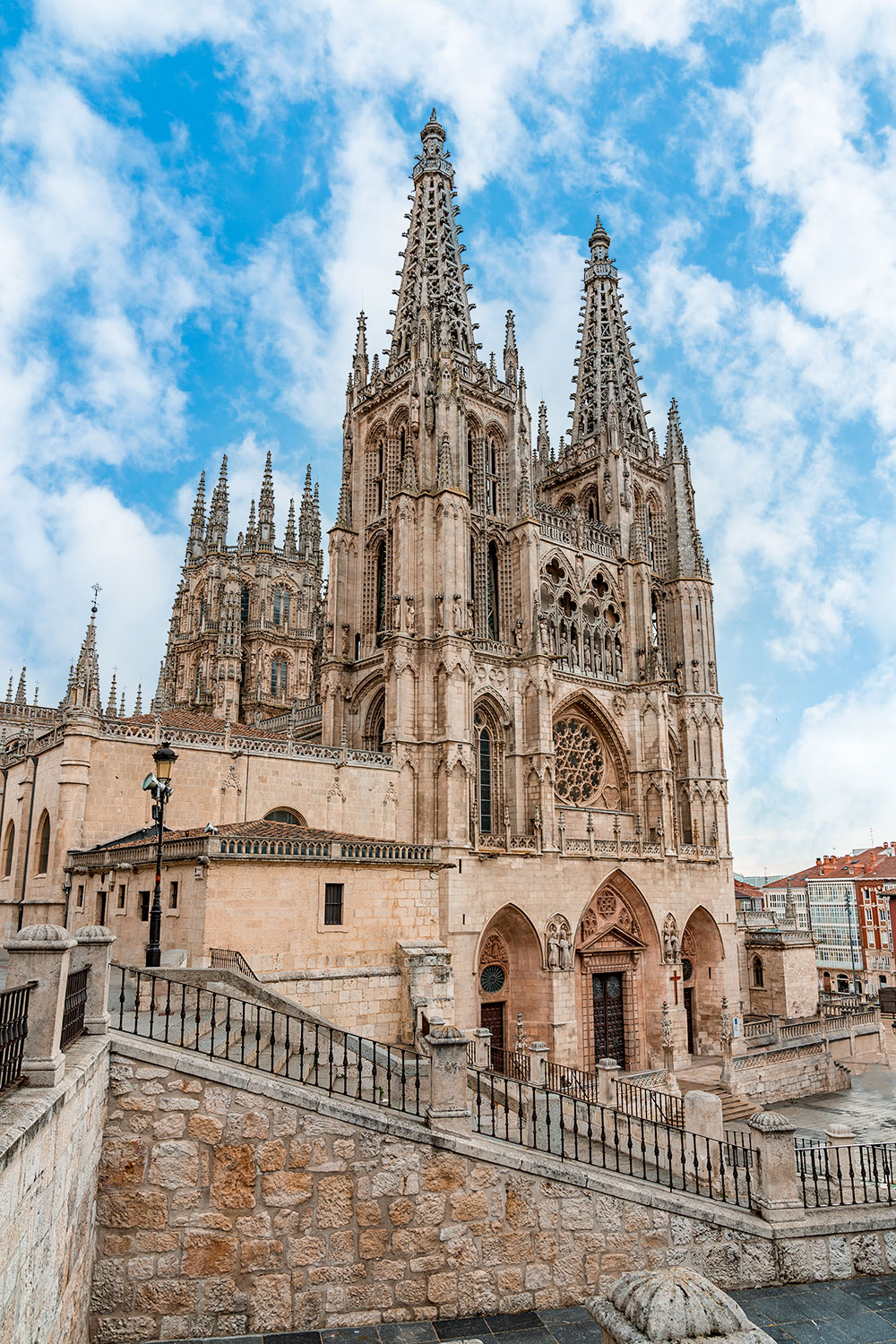 The Cathedral of Saint Mary in Burgos is located in Northern Spain, in the city of Burgos. By car, it is a 3-hour drive (300 kilometers/186 miles) north of Madrid, the country's capital.
In this ultimate travel guide, you will find all the information about this place. Opening hours, ticket prices, history, what to see there, how to buy tickets, and insider's pro tips to make your visit as smooth as possible.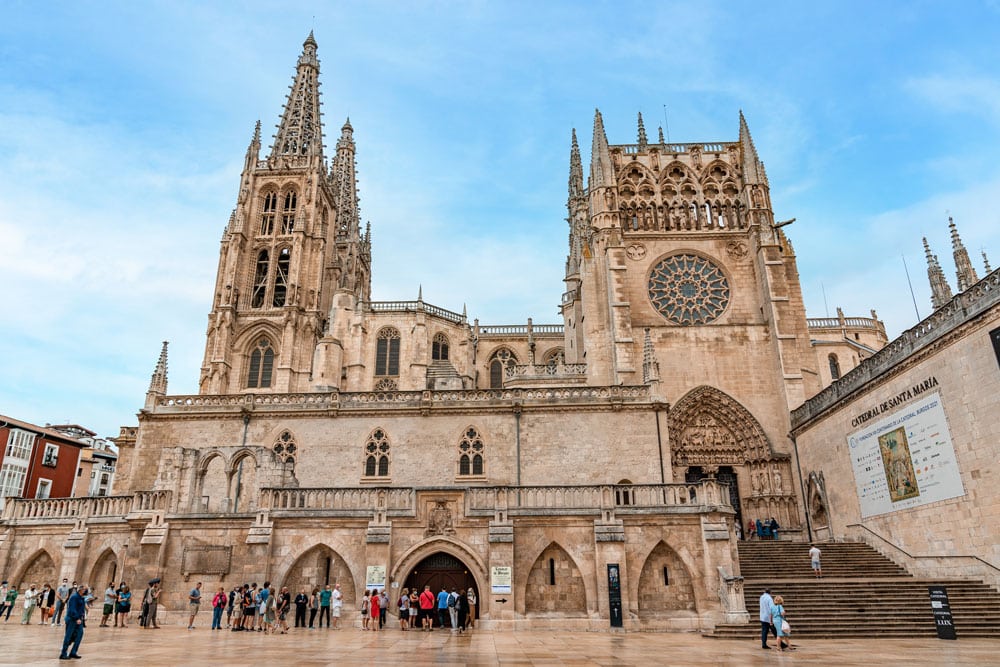 Where is it situated?
In the historic center of Burgos with its entrance to Mass from Plaza Santa Maria and entrance to general visit from Plaza Rey San Fernando.
Coming from the southeast you cross the bridge "Puente de Santa Maria" towards the medieval gate of "Arco de Santa Maria", once you pass the gate, you are at the square with the cathedral.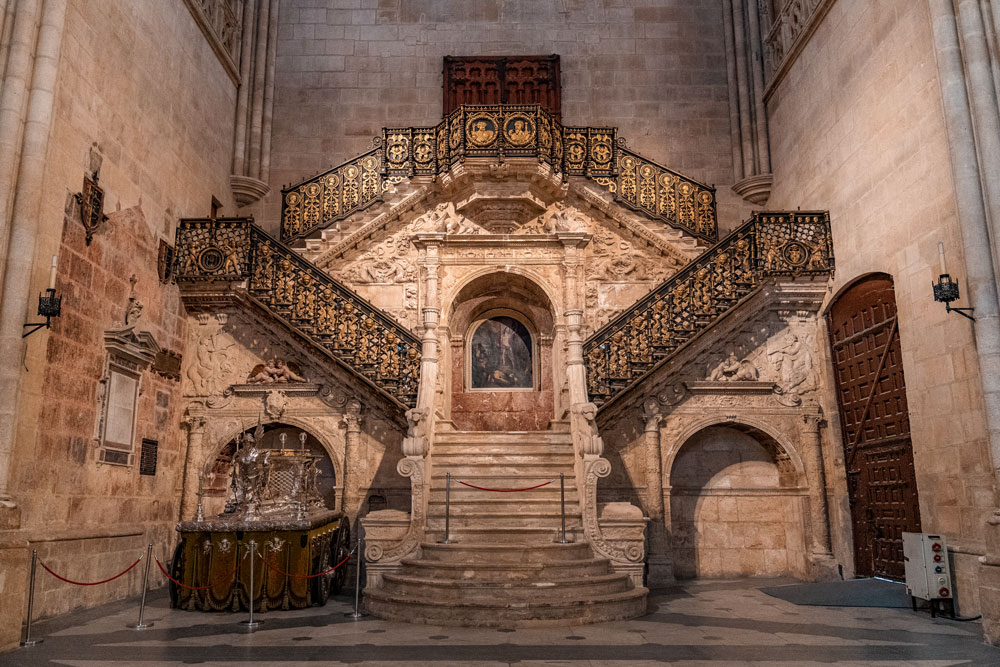 A bit of history
A UNESCO World Heritage Site since 1984, this architectural beauty was built on a site of an old Romanesque cathedral.
Its construction began in 1221 and was done in 2 phases over 300 years. It is believed that Santa Iglesia Basílica Catedral Metropolitana de Santa María de Burgos (which is its official name) is the first Gothic Cathedral in Spain and most definitely one of the most beautiful ones altogether with Leon Cathedral, Toledo Cathedral, and Salamanca Cathedral.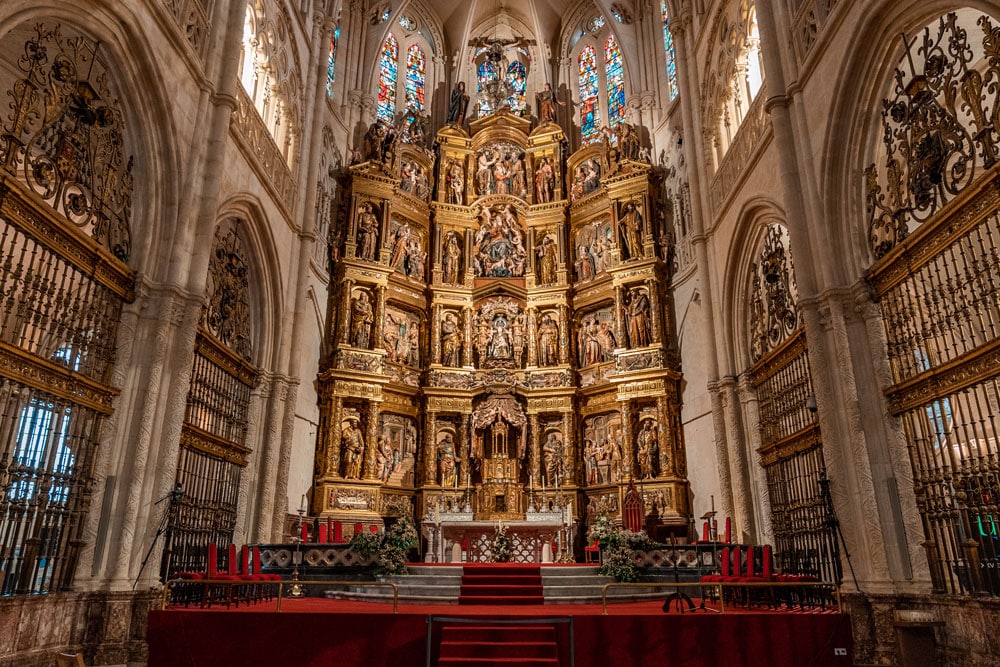 The floor plan of Burgos Cathedral was designed to have a cross-shape like most Gothic Cathedrals. However, when you get inside, you would have a hard time noticing this for its 15 chapels that can be found at all angles as well as the choir positioned right in the middle.
Looking at the cathedral from a bird's eye view it would be similar as part of the cathedral is a 14th-century cloister (this is on your right when entering through the visitor's gate).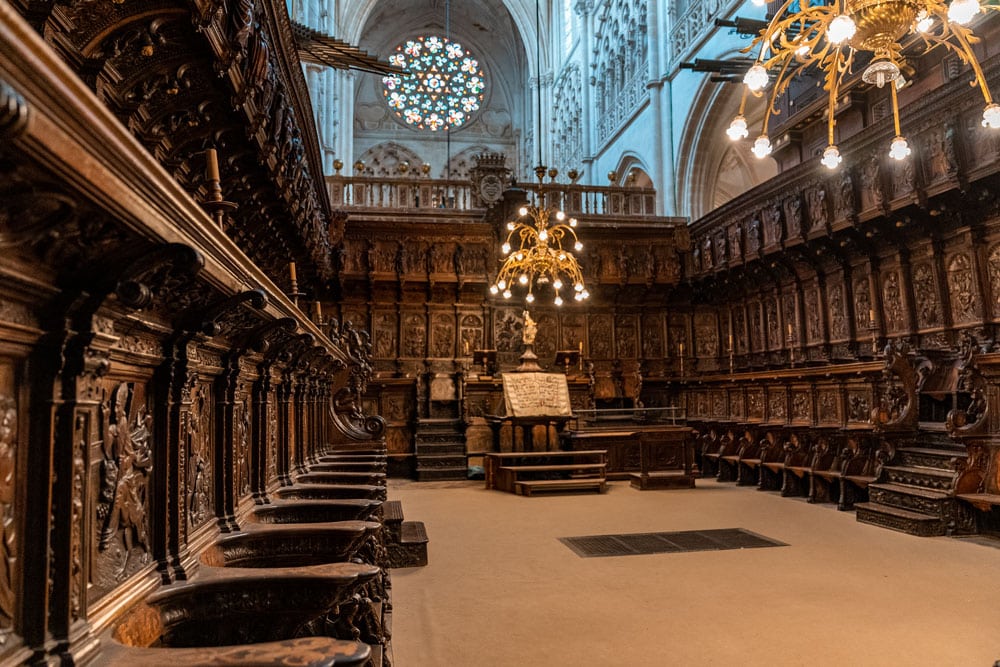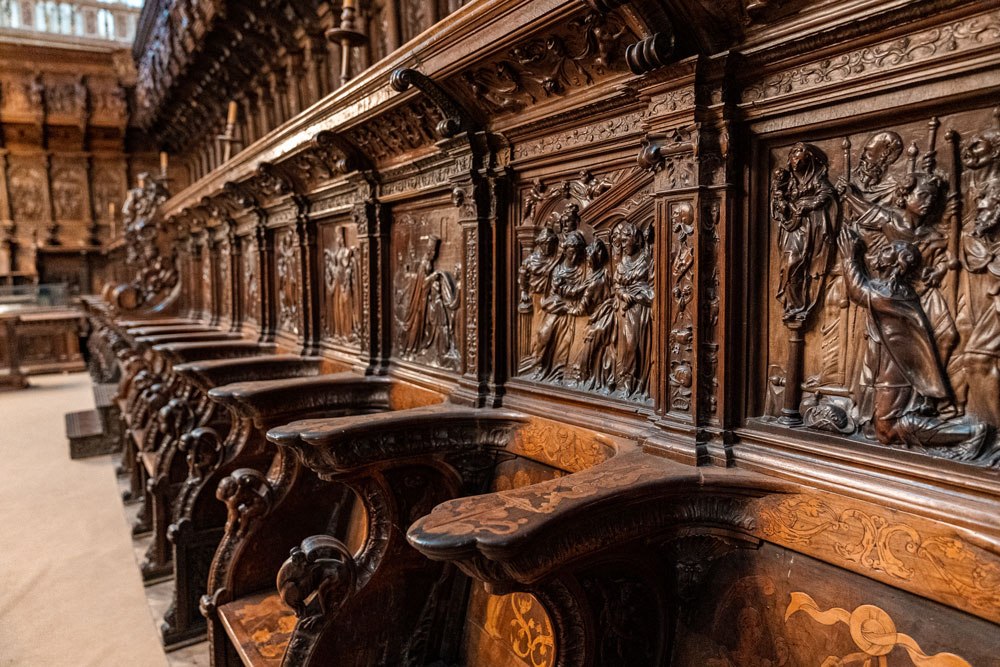 Who is buried in Burgos Cathedral?
At the beginning of the 20th Century, the Cathedral of Burgos became the burial place of Rodrigo Díaz de Vivar and his wife Doña Jimena.
Rodrigo Diaz de Vivar (also known as "El Cid") was a medieval knight from a small village near Burgos. During his life, he fought for both Christian and Moorish armies.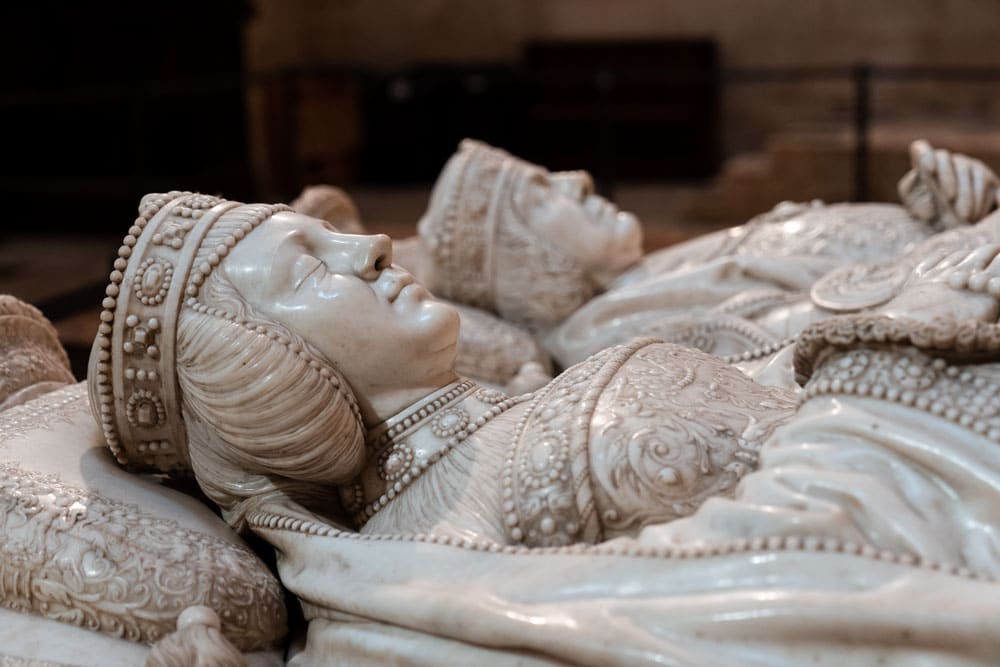 A 12th-century poem "Cantar de Mio Cid" portrays him as the ideal medieval knight so perhaps that was one of the reasons why shortly after he became Spain's national hero.
It is also a resting place of the Constables of Castile – Don Pedro Fernandez de Velasco and Dona Mencia de Mendoza.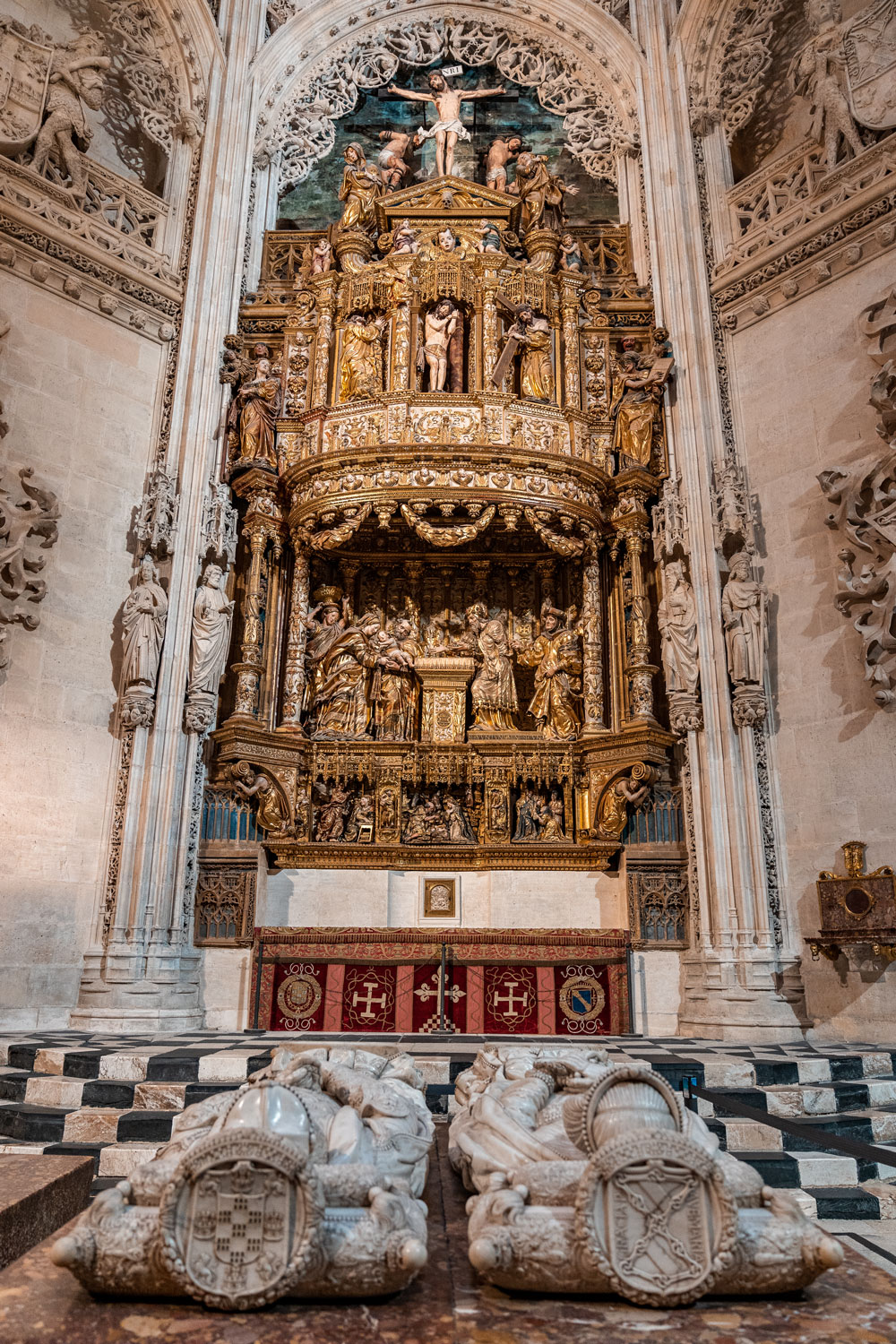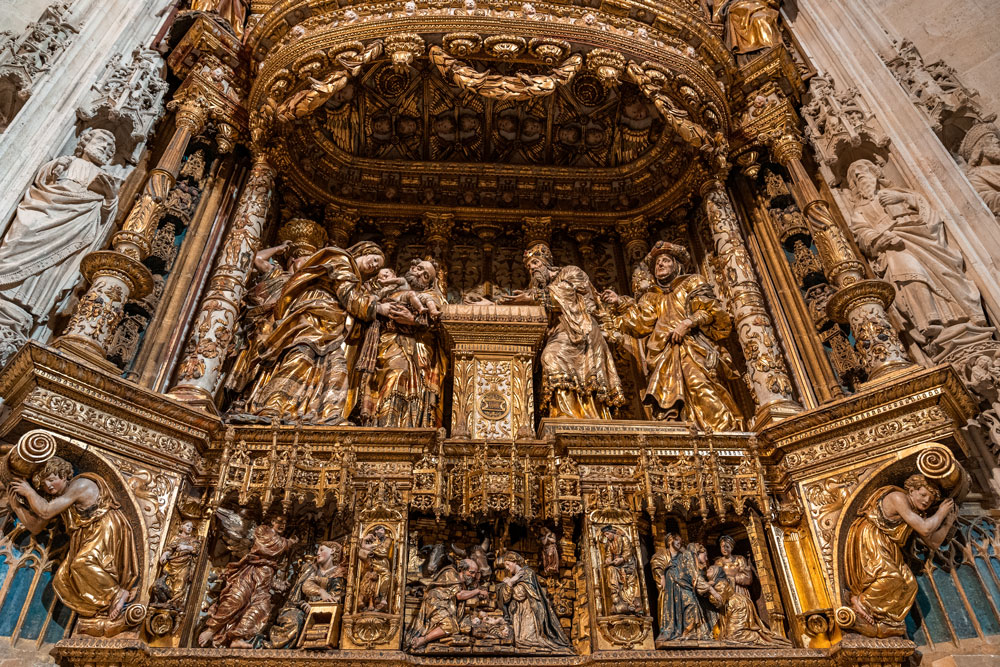 What else can I see inside?
15 chapels
14th-century choir
Cloister
Golden Staircase
Chapel of the High Constable – it is said to be one of the most beautiful resting places in the world with a star-shaped vault, marble statues of the Constables of Castile, gilded and polychromed Renaissance altarpiece
Main Altarpiece
Small exposition of religious items used during Mass
Apart from these, you can admire stained-glass windows, domed ceilings, various statues of saints, and paintings.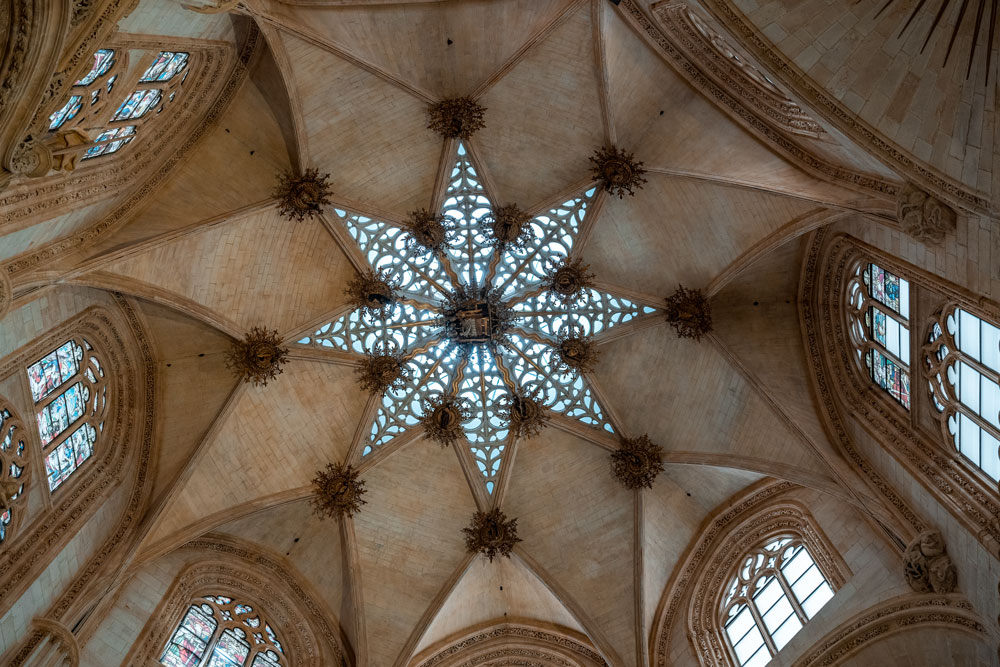 How tall is the Burgos Cathedral?
At its highest point, it reaches a height of 88 meters (289 feet).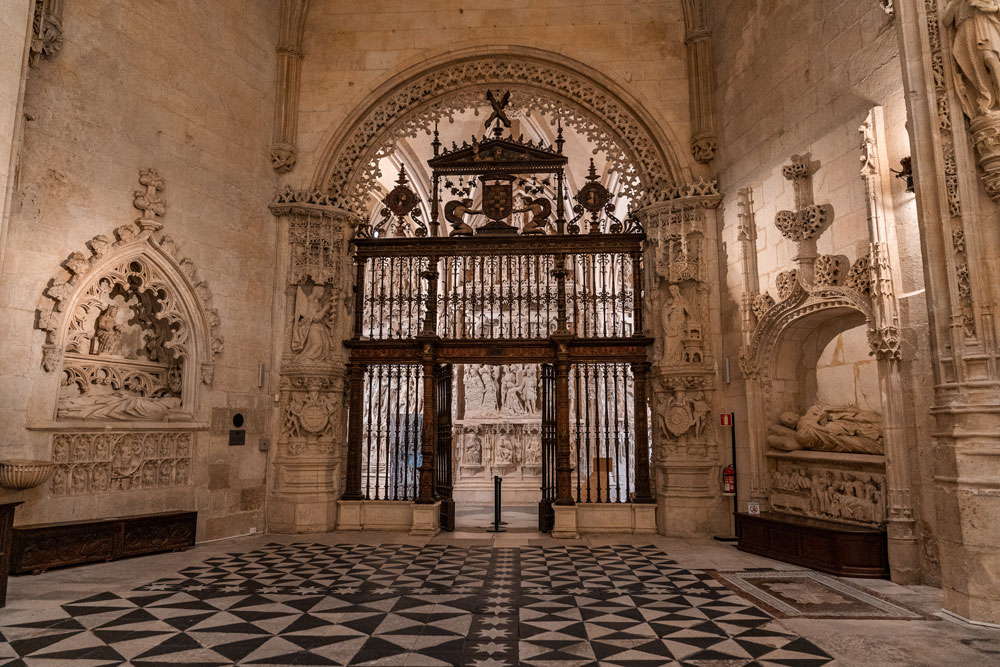 Is it a guided tour?
No. You can download an audio guide to your mobile and listen to it. N.B.: Make sure you have enough free memory on your phone to do so! It is a great guide – you can either listen or check on the phone a virtual tour – it's very well made!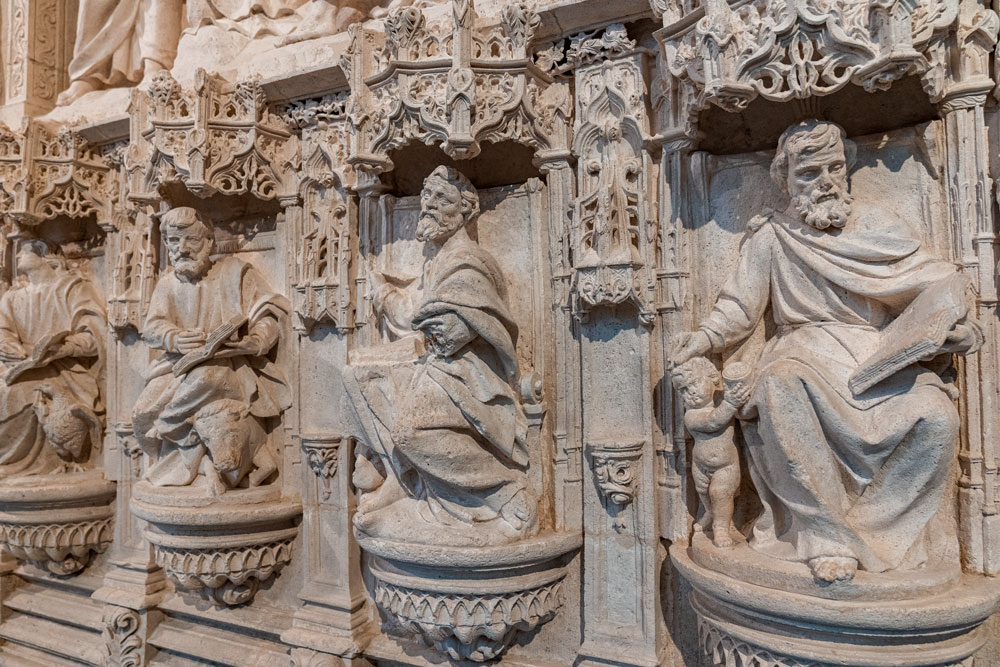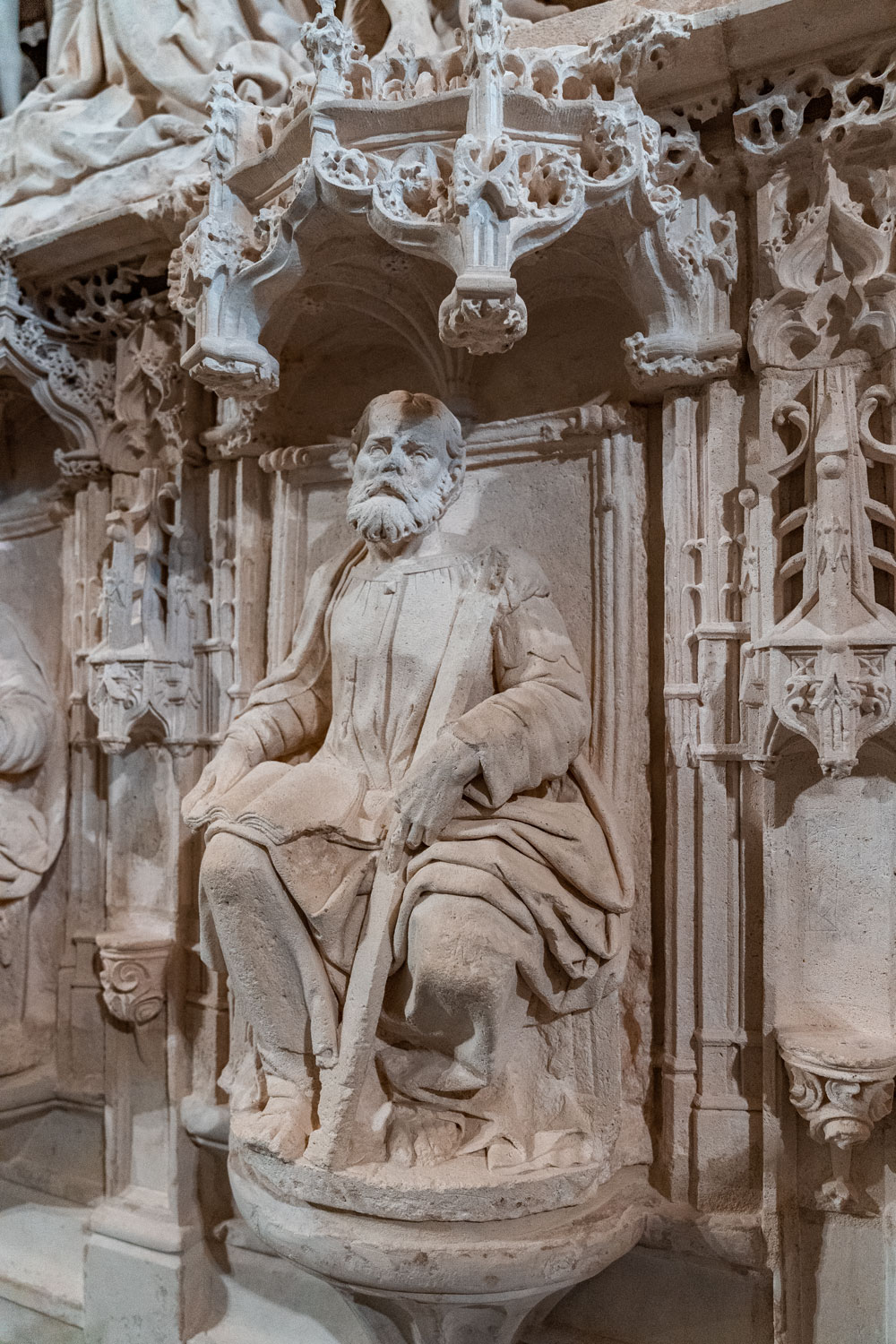 What is the average length of visit?
Count with at least 60 minutes for the Cathedral of Burgos itself. If you wanted to visit the LUX exposition, you would need more time than that.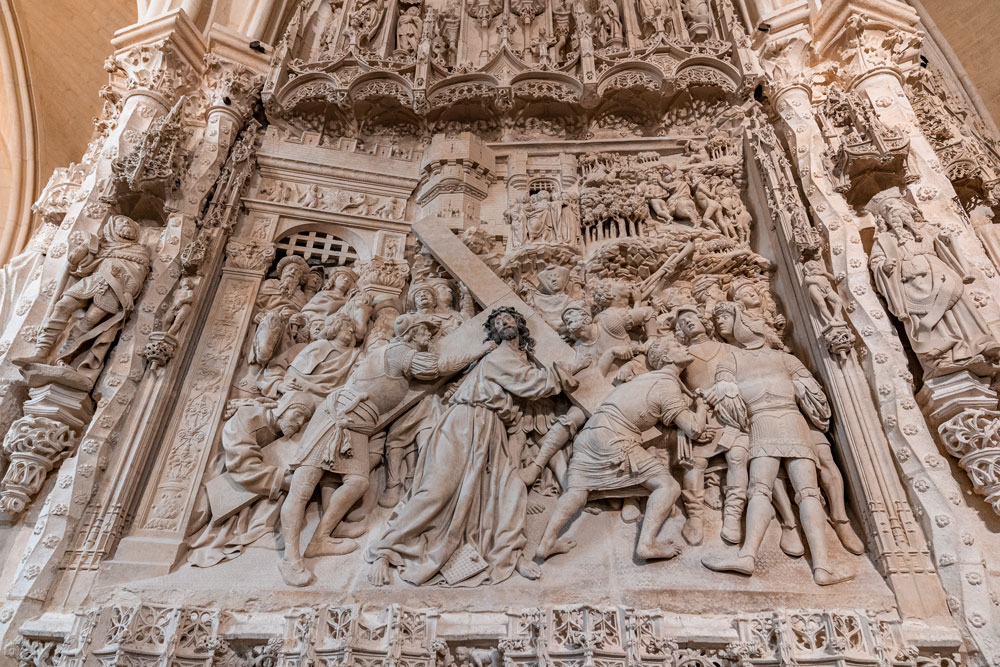 Is it a busy place?
Yes, it is. For that reason, I recommend buying the tickets online. You simply choose a time slot that works for you and pay online.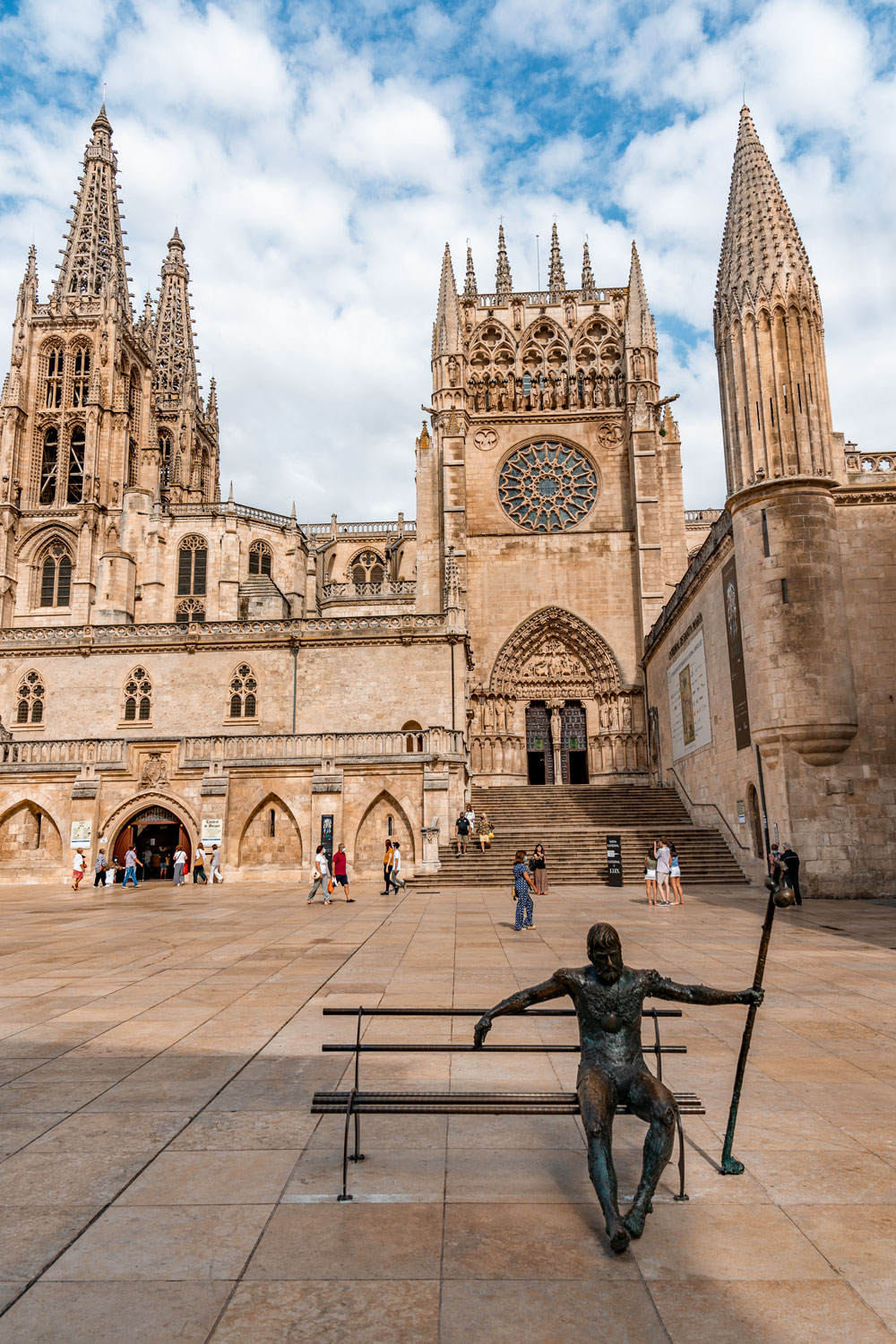 How to book tickets to Burgos Cathedral online?
On their official website (it is in Spanish only), you click the 3 horizontal lines, find "visita cultural" and click on it. "Horarios de visita" are the opening hours. There you can see a calendar and check when it is open (abierto) or closed (cerrado).
The good news is that it does not close for afternoon siesta which gives you more freedom as to when to go and visit.
Like many other Spanish monuments, the Cathedral of Burgos opens at 10 in the morning. The closing times vary.
"Precios de Entrada" will show you the ticket prices and it is here where you can buy them "comprar entradas". First, you choose a day, then a time slot, and finally what tickets you need (it also shows you how many are left – i.e.: quedan 210 = There are 210 spaces available at your chosen time slot).
It will ask you for your details (name, email, mobile,…) before you can pay by card.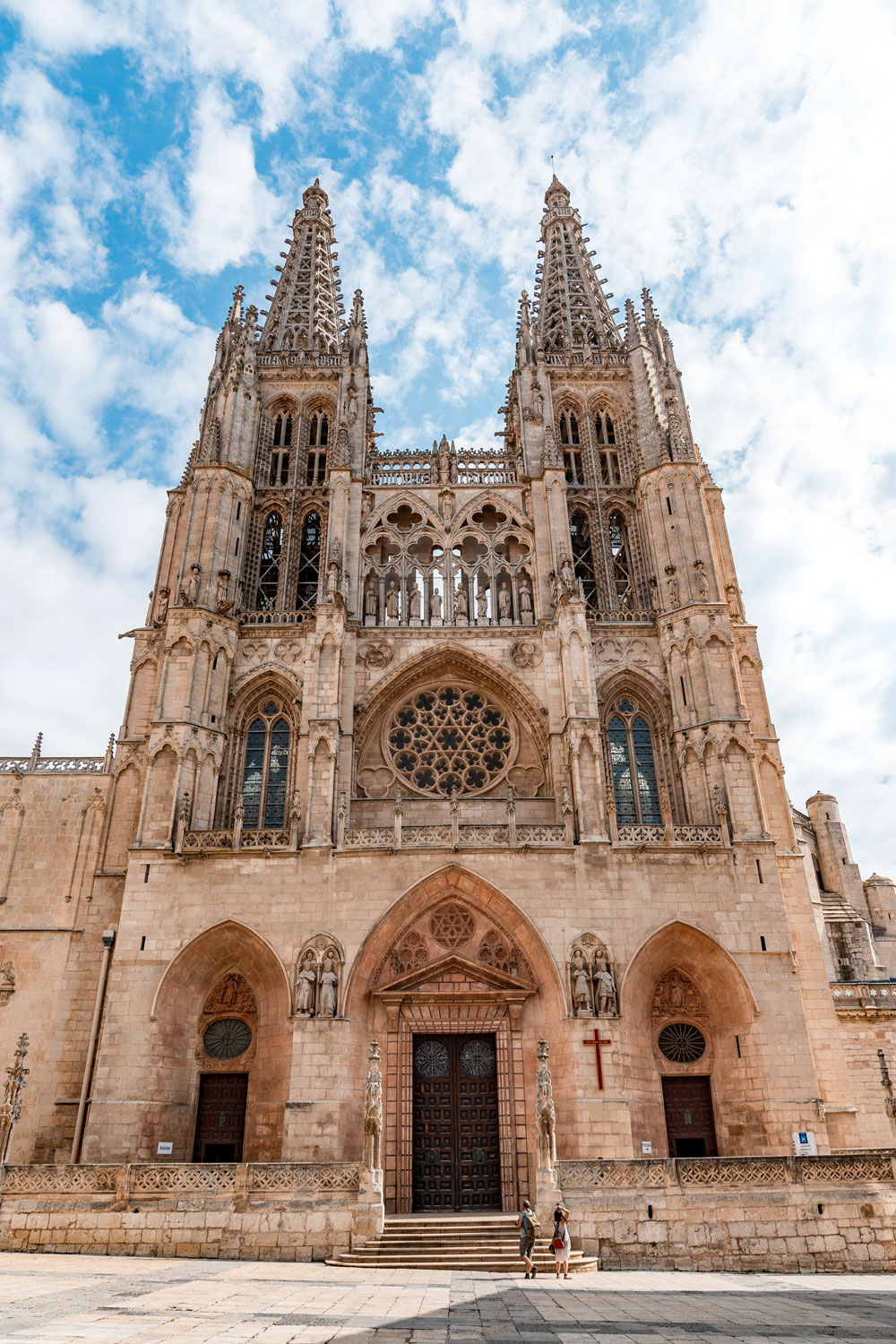 How much does it cost to visit the Burgos Cathedral in Spain?
An adult pays 10 euros, kids between 7-14 years of age pay 2 euros, and pilgrims (you will need some kind of proof) pay 5 euros.
Now, note that there is also a LUX exposition which we did not know about so we only bought the Cathedral tickets. This exposition costs 6 euros but for a combination ticket, you would only pay 9 euros so it is good to think about it. I am not sure what it includes but once you enter the cathedral, to your left is the general visit and to your right is a queue to the LUX exhibition.
Note 1: Unfortunately, if you want to avail of the reduced ticket prices, you need to buy them at the ticket office as they need to see proof that you are entitled to it.
Note 2: Apparently, the entrance to Burgos Cathedral is free on Tuesdays after 4:30 pm. I did not find any information on their official website. However, if you wanted to book tickets online, there are no time slots after 4 pm which may be the indicator for free admission. I recommend double-checking this before you go.
Note 3: When I tried to "test book" the Lux exposition tickets online, I noticed that the prices did not match those that were stated on their website. Unfortunately, I was not able to not figure out the reason behind it.
These prices are for the year 2023.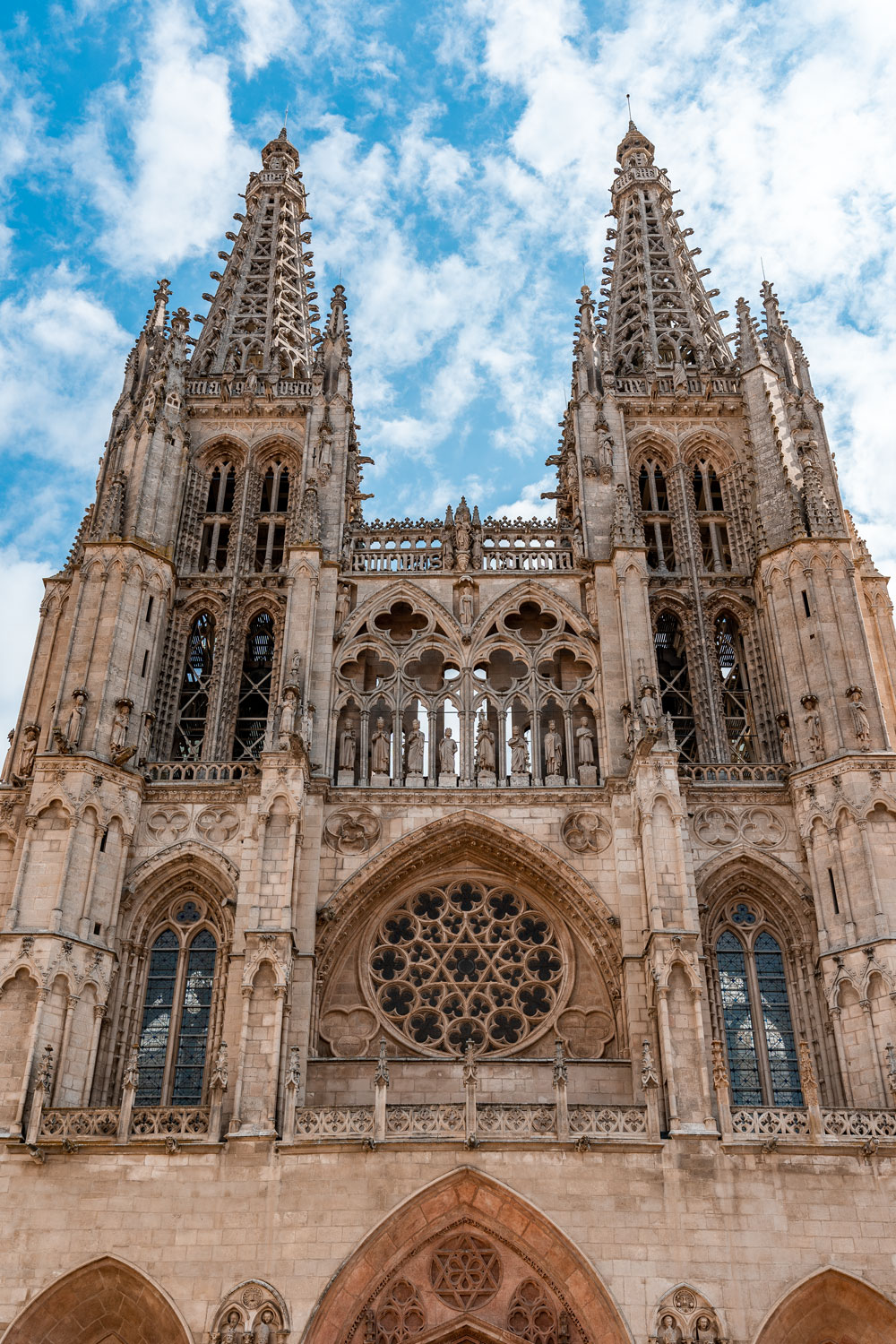 Travel Pro Tips:
Best time to visit to avoid crowds – is 10 am on a weekday with online tickets! That way you will be one of the first ones inside without having to queue for the Burgos Cathedral tickets outside. Once you are inside – turn left for the general cathedral tour or turn right for the Lux exhibition tour (if you have the ticket for it. If not, you need to go to the Reception area first).
Best photo locations – Plaza Rey San Fernando, Plaza Santa Maria, right outside the Hotel Meson del Cid (it is called Mirador Catedral) and Calle de Fernandez Gonzales.
Keep in mind that during high season the maximum number of people they let in might be limited. You can see online how many tickets are left at certain time slots so you can plan accordingly.
Puerta del Sarmental is the visitors' entrance to the Burgos cathedral but not the place to buy admission tickets! To get those (if you haven't booked them online) you need to queue in front of the "Reception area" accessed from Plaza Rey San Fernando. If you have online tickets, you simply go directly up the stairs towards the "Puerta del Sarmental" gate. If it is not open yet, simply wait – there might already be a few other tourists waiting as well.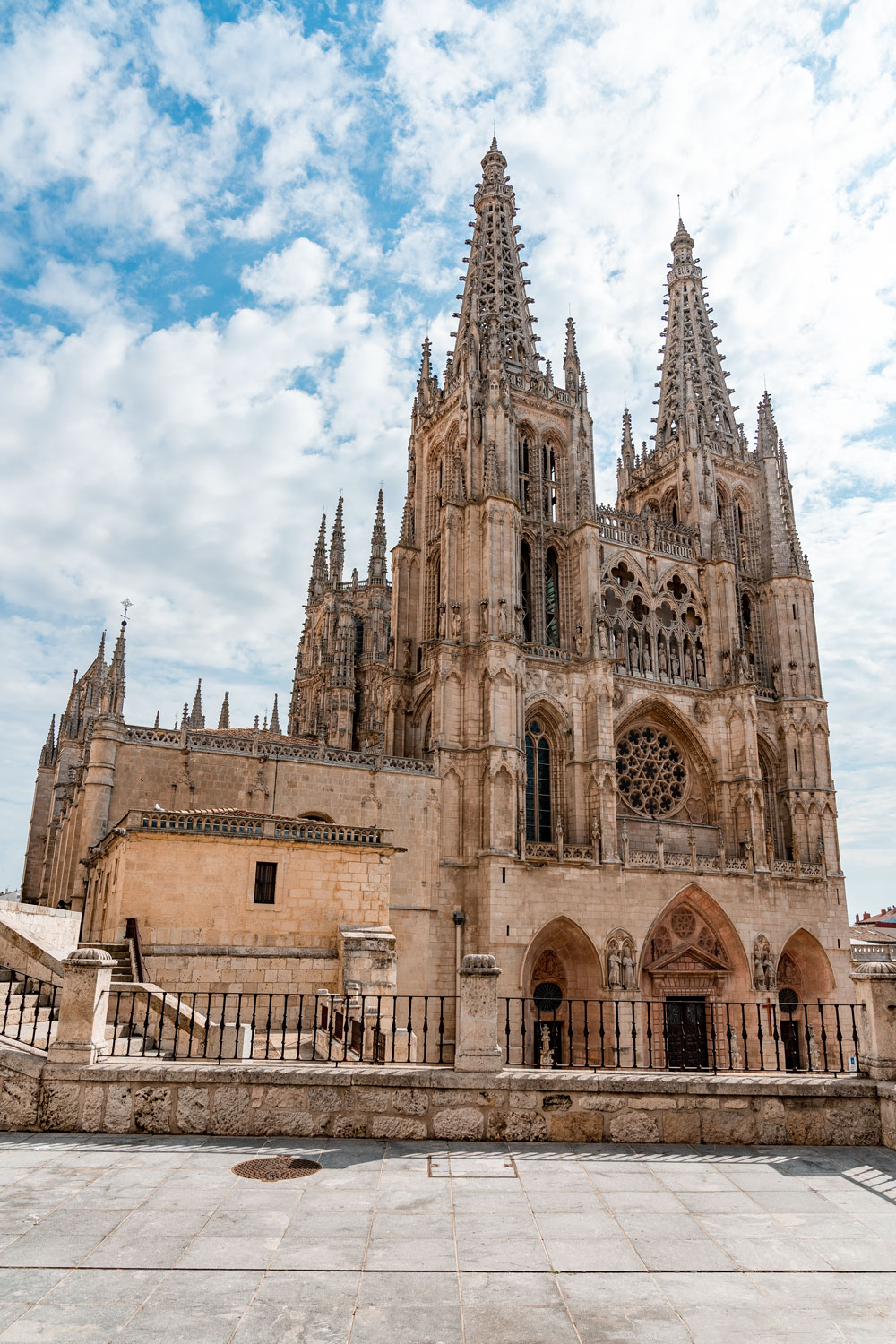 Our experience:
I think I have pretty much explained everything in this detailed post, but to sum it up I would say if you are traveling through Spain or if you are wondering what are the best places to visit in Spain, Burgos is one of them. The cathedral is so beautiful, it is a must but you can also visit the castle or Cartuja de Miraflores (outside the city) – a monks' monastery which is for free.
Burgos is also located as well as the city of Leon on the Camino de Santiago (St. James' Way) pilgrimage route to Santiago de Compostela.
We arrived early in the morning by car and parked along the "Calle San Esteban" street. It was free but the spaces were limited. There is also a parking area near "Arco de San Esteban" and it looked like you don't need to pay as well. However, it was full when we arrived.
I hope you found here some valuable information before planning your trip to Spain.
If you ever visit, please let us know what you think!
Safe travels!